Two shows, running concurrently at the Frye, are bound by a strand of DNA—and then something more. The solo exhibit The Unicorn Incorporated (through Sept. 21) is a career retrospective for Seattle's Curtis R. Barnes that reaches back to the '60s. His son, Maikoiyo Alley-Barnes, is one of three artists in Your Feast Has Ended(through Sept. 14). As usual, it's easier to get a handle on a single artist than a group, though all four men discussed their work at the opening last month.
Barnes, shy, modest, and soft-spoken, had to be coaxed to say much about his creative output—mostly paintings and drawings, plus a small number of carved wooden figures. "I'm not in the habit of talking about my work," he said, leaving the curators to do it for him. As a child during the '50s, he took his first art classes at the Frye, which is now claiming him—and publishing a catalogue—with institutional pride. (He later trained at Cornish.) But, really, most of his work here was forged by the politics of the '60s, rather than by some particular school.
After serving two years in the Army, Barnes became associated with the Afro American Journal, contributing drawings and cartoons. Racism, Vietnam, Muhammad Ali, MLK, Malcolm X, black power, and the civil-rights movement all figure in these caricatures and illustrations. You can't really sort out Barnes' views from those of his editors, who supplied headlines like "White Seattle Is Doomed" (1971). Digs at an unequal school system and Boeing's SST debacle make you want to see more archival material from that radical period in Seattle's history—perhaps a show at MOHAI.
It's one thing to protest racism and injustice, another to depict its effects. Many of Barnes' drawings show somewhat grotesque characters who've been warped and twisted by society—made into monsters, in effect. The Green River killer, '80s subway vigilante Bernhard Goetz, apartheid enforcers, used-car salesmen, D.C. politicians, child molesters... these are the oppressors, yes, yet Barnes presents them almost like taxonomic specimens. By the time he gets to the late '80s, in his Urban Gargoyle series, anthropology becomes bestiary. There's a suggestion of George Grosz in this urban menagerie, with what Barnes calls our "predatory nature" revealed. Elsewhere, ugly masks cover uglier faces (or blend into those faces).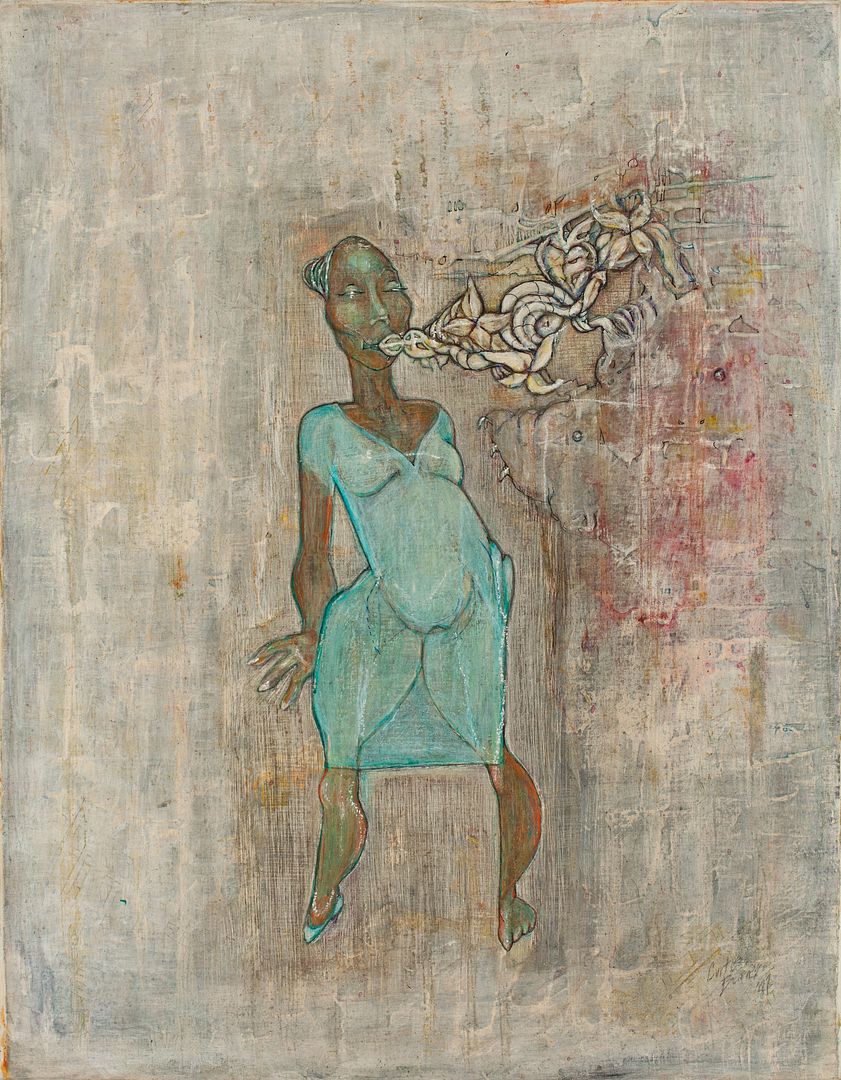 Barnes' Big Mama Thornton Letting the Hound Dog Loose.
Photo By Richard Nicol
Alternatively, and this comes as something of a relief, Barnes also draws a pantheon of the jazz icons he reveres (Monk, Bird, etc.). These figures become one with their instruments, transmogrified like some of his other characters—only in a good way. A magical distortion is at work; here Barnes praises "musicians who weave the spells they weave." That notion of enchantment extends to paintings of unicorns mixing with people; mythology comes down to the ground and the human realm where, Barnes says in his catalogue remarks, "the land is alive, family and ancient traditions are present" at the same time.
The sense of a living mythological past, of Ovid-like transformations right here in the present, informs Barnes' most famous Seattle work, represented here with a memorial. He and his wife, Royal Alley-Barnes, spent four years in the early '70s creating the outdoor Omowale mural at Medgar Evers Pool. (It was controversially removed in 1995 after essentially rotting away in the elements; money couldn't be found for its restoration.) In Yoruba, Omowale translates roughly as "children return home," and it's a common name—one bestowed on Malcolm X as an honorific during his 1964 visit to Nigeria. In photos and preliminary studies, the huge mural—kind of a fanciful timeline—represents "a romantic yearning for something that may or may not have ever existed," says Barnes. We see the mythic and the mortal, walking together, hand in hand.
The next generation of minority artists represented in Your Feast Has Ended largely eschews painting and drawing. Instead of allegory, uplift, and inspiration, there's more of an explicit critique of the power structure and its sometimes violent manifestations.
Alley-Barnes conflates trophy hunting with the death of Trayvon Martin in Wait! Wait! Don't Shoot (An Incantation for Jazz and Trayvon), a wall-mounted assemblage of thrift-store clothing, sleeves help upward in a gesture of surrender. Animal pelts and taxidermy hint at an uncomfortable racial legacy of species collection and display—like the notorious Hottentot Venus (Sarah Baartman) of the early 19th century. Varsity letter jackets, textiles, and other found artifacts are massed and arranged in totemic patterns. There's a tribal code implied here, like the patterns of old Indian blankets (to which Alley-Barnes also refers); past and present outrages are woven together, though with more craft than subtlety.
A Briton now based in Toronto, Nep Sidhu likewise invests a huge amount of effort in his large metalworked texts. The dense Arabic scripts are "a sculptural translation" of texts by Alley-Barnes, Ishmael Butler (also a member of the Shabazz Palaces collective), and the artist's late mother, he says. The present (or near-present) takes on an arcane and even possibly occult power—like Egyptian hieroglyphics or sacred objects found in a tomb. Sidhu's jewelry and clothing suggest a kind of neo-shamanism, like tokens for forgotten rituals. There's a spirit of tribal mashups that you also see in Alley-Barnes' work: the hip-hop tradition of sampling that here extends from the turntable to the history museum.
Still, the most conceptually cooked works here are by the Tlingit artist Nicholas Galanin, who's based in Sitka, Alaska. To me, he's the real discovery among the four artists exhibiting this summer, the guy most deserving of a solo show. The politics and history he evokes are the most specific, and he does far less borrowing and appropriation. In a signature work from 2009, from the Burke's permanent collection, a taxidermy wolf struggles to emerge from its hindquarters—already a flattened rug. A low-wattage radio station broadcasts Tlingit language lessons, its signal too weak to be heard outside the museum. And the 2010 SPD murder of John T. Williams is commemorated both with a drum (to be beaten with a police nightstick) and a video of a Tlingit dancer wearing cedar body armor. Of course that cladding wouldn't stop a bullet, no more than art can stop history or redress historical wrongs. Frye Art Museum 704 Terry Ave., 622-9250, fryemuseum.org. Free. 11 a.m.–5 p.m. Tues.–Sun., 11 a.m–7 p.m. Thurs.​
bmiller@seattleweekly.com