Thursday, Aug. 7
---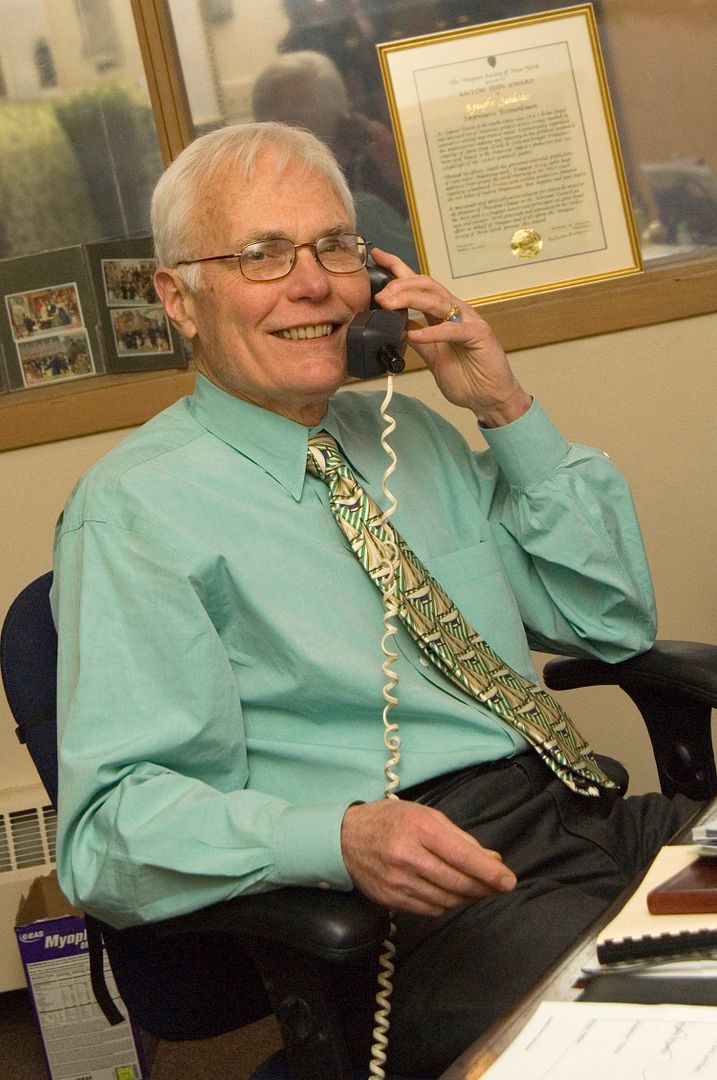 Jenkins in 2008. Photo by Rozarii Lynch
International Wagner Competition
In addition to some luscious singing, the great fun of Seattle Opera's International Wagner Competition is the audience award. Even among opera fans, who tend to be opinionated, I've never heard such engaged musical conversation than the intermission chat at previous competitions, people earnestly discussing, arguing about, and agonizing over their favorites. Tonight's IWC will run along the same lines: four male and four female finalists will each sing two Wagner arias with full-orchestra backing. The orchestra members get to pick their favorite, too, alongside the $60,000 in prize money to be distributed by the official panel of judges. This kicks off a grand weekend saluting Speight Jenkins, the man who's led SO for 31 years, as he prepares to step down. At Saturday's Speight Celebration Gala Performance (concert only, no competition), favorites from The Pearl Fishers, Otello, Porgy and Bess, and Tosca—plus of course plenty of Jenkins' beloved Wagner—will be sung by a dozen or so of the star singers associated with the company: Greer Grimsley, Stephanie Blythe, and many more. McCaw Hall, 321 Mercer St. (Seattle Center), 389-7676, seattleopera.org. Competition: $46–$66. 7 p.m. (Gala concert: $99–$399. 6 p.m. Sat.)
By Gavin Borchert



Friday, Aug. 8
---
The Terminator
James Cameron made a star of Arnold Schwarzenegger in this tremendously enjoyable and propulsive 1984 action smash, which has spawned three sequels to date, plus a fourth in the works, and influenced countless movies and video games. (In fact, The Terminator may have been responsible for combining those two industries.) In a masterstroke of casting, the Austrian bodybuilder plays a robot sent back in time to kill mankind's future savior. His overmuscled stiffness and puny command of the English language become the movie's strengths, of course, as Michael Biehn and Linda Hamilton (the chosen mother) battle a hulk that seems unstoppable—except for a telling inability to improvise. The Terminator launched Cameron to Aliens and from thence to the apex of the Hollywood pyramid. As for Schwarzenegger, the movie saved him from being typecast as Conan the Barbarian (too many musclemen before him had gone the sword-and-sandal route). Here was a newer, better form of typecasting, brawn with a bit of humor, that made Arnold the biggest star of the '80s (and, indirectly, the future governor of California). How he'll fare in next year's Terminator: Genesis is anyone's guess. Thirty years ago, there was much less mileage on the machine. (Through Tues.) Central Cinema, 1411 21st Ave., 686-6684, central-cinema.com. $6–$8. 9:30 p.m.
By Brian Miller



Sunday, Aug. 9
---

An early issue of Woodring's Jim.
Art by Jim Woodring/Fantagraphics
Jim Woodring
In his new anthology JIM (Fantagraphics, $29.99), the local artist reaches back over 30 years into the phantasmagoric trove of his imagination, first manifested on paper with a 12-page zine in 1982. His is a world of everyday hallucination and unexpected transmogrification. Monsters are always at hand, woven into life's ordinary texture (if anything can be called ordinary in Woodring's art). Much of JIM riffs on the early reading matter of his youth, including comic books, ads, and Highlights magazine. Certain threads of autobiography are present, as we see a young artist taking classes and gathering material, gradually gaining confidence in his craft. Even so, disgust—at himself and the world in general—and self-doubt are pervasive. At one point in his misadventures, cartoon avatar Jim despairs, "I'm just a bloated bladder pulsing with appetites and shallow schemes." Animals, including that famously quizzical, lopsided frog, are no help when they speak to cartoon Jim, who seems perpetually bedeviled, beleaguered, and forlorn. His creator, of course, is more in command of the ever-mutable situation. Woodring's signing event coincides with this month's Georgetown Art Attack, which includes live music, gallery receptions, open studios, and even a drag competition in the Trailer Park. Fantagraphics Bookstore & Gallery, 1201 S. Vale St., 658-0110, fantagraphics.com. Free. 6–8 p.m.
By Brian Miller



Tuesday, Aug. 12
---
Angels in America
For the first two years of its reconfiguration as a summer theater festival, starting in 2012, Intiman went the traditional route for summer stages: several plays and genres, selling both series and individual tickets, with an à la carte approach that meant if you didn't like one thing, something else might appeal. This year Intiman is going all in, betting the house—well, it no longer truly has a house—on Tony Kushner. The playwright won a Pulitzer and two Tony awards (among others) for his two-part Broadway extravaganza in 1993–94, subtitled "A Gay Fantasia on National Themes." (Part I is Millennium Approaches. Part II is Perestroika.) Kushner wrote the famously brainy, sweeping plays in response to, among other things, the AIDS epidemic and the Cold War. But now, with 20 years' distance, how should we view the twinned works? Are they old history now, too tied to the times and Kushner's peculiar passions (Mormons among them)? And given the length of both shows, about seven hours in total (with two intermissions each), will audiences have the endurance for such an ambitious revival?
Millennium Approaches, if you need reminding, is set back in 1985, with the gay right-wing homophobe Roy Cohn (Charles Leggett), a figure now nearly forgotten, dying of AIDS and haunted by the ghost of Ethel Rosenberg, if not his conscience. Meanwhile there's a Greenwich Village couple (Adam Standley and Quinn Franzen) whose relationship will founder because of AIDS; and, married to a closeted gay Republican husband (Ty Boice) is the pill-popping Mormon housewife Harper Pitt (Anne Allgood), into whose paranoid hallucinations we gradually enter. And overseeing both plays is Kushner's famous, omniscient angel (Marya Sea Kaminski). Andrew Russell directs the whole daunting enterprise. (Previews for Part I begin tonight; opens Fri., Aug. 15; Part II opens Fri., Sept. 5; both end Sept. 21.) Cornish Playhouse, 201 Mercer St. (Seattle Center), 441-7178, intiman.org. $25 and up. 7:30 p.m.
By Brian Miller
CORRECTION: "Women, Relationships, and the Internet" has been rescheduled for September, 11th. You can find the updated information on The Project Room's website.