Exactly one year ago, award-winning journalist Joe Ray and his wife moved from New York to Lummi Island and rented a woodworker's home. They didn't come just for the island's beauty and the change of pace; they came because two years prior, Ray had gotten word that "the chef" from noma, the Copenhagen restaurant that's been ranked the best in the world, was coming to take over The Willows Inn. Ray, who's reported on food for much of his career, seriously doubted that René Redzepi, noma's owner and chef, would be packing up shop in Europe and relocating to a sleepy island in the Pacific Northwest. He was right—partly.
Redzepi wasn't coming, but his chef de partie, Blaine Wetzel (born in Olympia), was. Ray knew this was momentous, quickly hopped on the story, and became the first reporter to cover the guy who last month was named the 2014 James Beard "Rising Star Chef" of the Year. Since then, Wetzel and the food utopia he's created at The Willows Inn have been written about in just about every food magazine known to culinary man, as well as in travel and lifestyle magazines. Several articles later, Ray and Wetzel decided to write a cookbook chronicling the Inn's recipes and stories, forthcoming from Running Press in September 2015.
To do so meant Ray was moving in for a year. We caught up with Ray, enjoying his last few months on Lummi before he looks for a home in Seattle, to talk about his magical year at The Willows Inn.
SW: So how did writing an article for a newspaper turn into a year living on the island and collaborating with Wetzel on a cookbook?
Ray: I kept coming back. My wife is from Vancouver and I have family in Seattle. When I did, I'd check in to see what Blaine was up to . . . what kind of magazine stories I could get. I'd spent 10 years in Europe writing about restaurants like elBulli, and it was very apparent to me that he was going in that direction. Then I realized that if I'm doing this stuff so much, there's a book in it. So in early 2012, I pitched it to him and got him on board. We had built a good rapport over the last couple years, and I'd watched him evolve, take the reins, and train his staff.
Why did you decide to move there?
Look, I'm sitting on my porch right now and there are three bald eagles coming at me, a garden overflowing, it's like a bonanza of food. Also, it's not the kind of thing you can phone in. The recipes are long and complex enough as they are. So when you're there, it's fantastic because I can watch a technique. It really helped, so that when I'm writing the recipe I can explain it well. I'd shadow one chef on one dish all day long.
Did you ever feel like you were in the way, or annoying the chefs while they worked?
When I first got there, I'd just help out in the kitchen to get a sense of how things worked. I'd cooked before—worked in kitchens right out of college as a prep cook, from cheap diners in New Hampshire (where I'm from) to a fancy pan-Asian place in San Francisco. So I can function in a kitchen and be helpful or stay out of the way, depending. And what happens is the better I get, the more comfortable I am to say [to a chef], "You've got to tell me about this again." Sometimes I have to slow them down. That year gave me a cushion, a chance to develop rapport.
Were you involved in other aspects of the restaurant, like the farming and fishing?
For several months, I spent every Wednesday morning working on the farm for a few hours with Mary Von Krusenstiern. She's this local rock-star farmer that Blaine brought on. All that stuff in Dan Barber's new book [The Third Plate], the stuff where they talk about caring for the soil, she's been doing that for years.
What about the famous Lummi Island reef fishing?
I'd been out reef netting, and then did it again last fall for The Willows. It's amazing, the way the fish appear . . . this gorgeous mirage that emerges up from the water to the space between the two reef boats. It's beautiful and quiet, and if you're paying attention you can tell something's about to happen, and then everything happens all at once. When they're having a good day, it's like nothing you've ever seen. It's also one of the most humane ways of fishing. It's just one of the many goofy advantages Blaine has at his disposal here; the salmon down the street, the island lamb. You take that and combine it with his talent . . .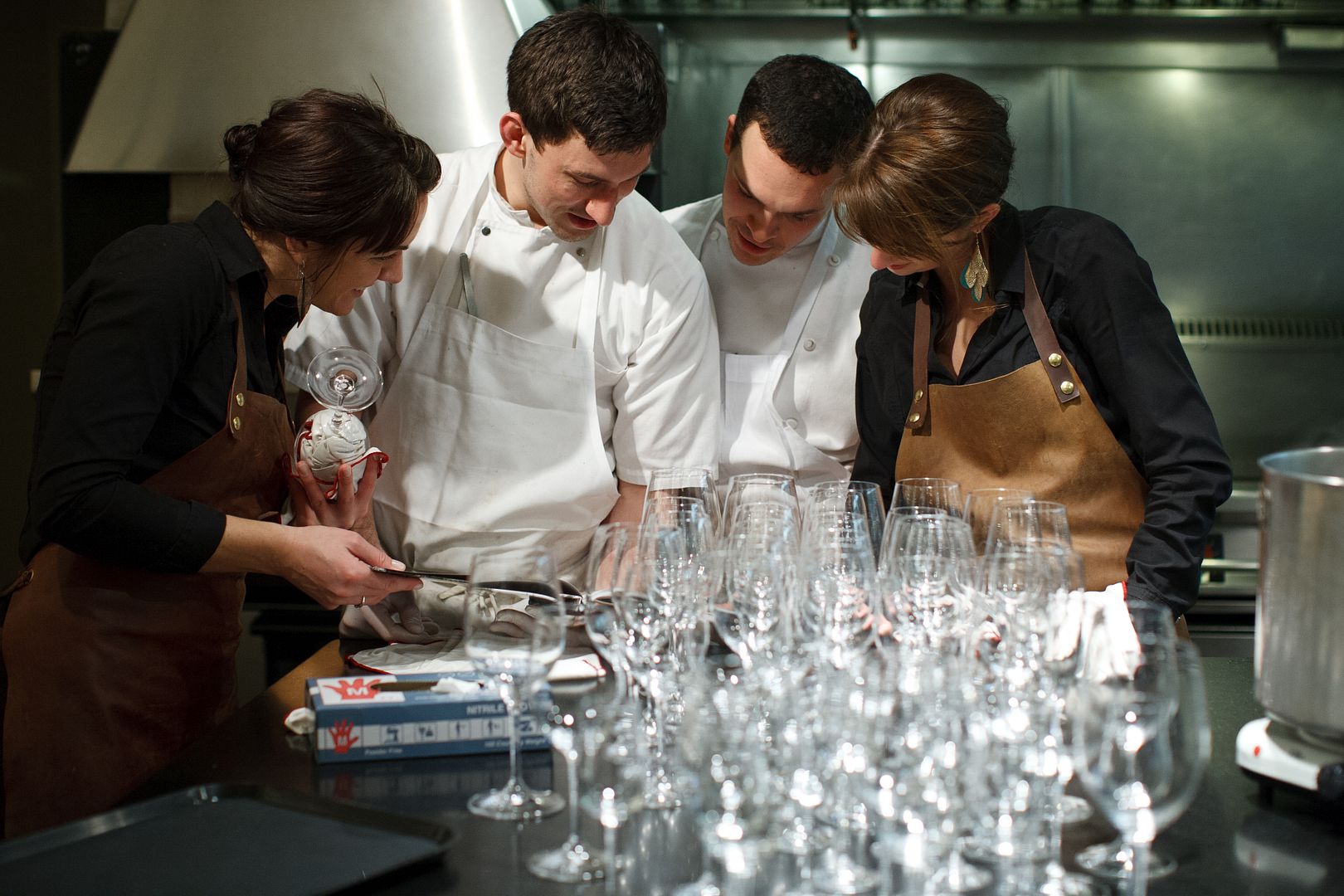 Photo by Joe RayYou've been a journalist for years, but this is your first cookbook. What were the challenges in writing in this form?
The learning curve was like hitting a wall in the beginning. I've written some recipes for stories, but most of these recipes have sub-recipes as part of it. But I went out right away and got The Recipe Writer's Handbook, and have highlights everywhere. In the beginning my second drafts were as difficult to get through as the first drafts.
How hands-on was Wetzel?
He had a pretty clear idea about everything. But we worked up a list of recipes together, and then eventually we reached a good rhythm. We had a spreadsheet and a calendar; this day you're going to work with this person on this dish. But mostly we just figured it out as we went along.
Wetzel has reached astonishing fame at such a young age. You've got some seniority on him. Did that age gap ever present any issues?
Coming into it, sure, I thought about the age gap. There's 13 or 14 years that separate us. That moment you meet him and he's got that boyish look and is so humble, but he moves into the kitchen and he has more experience than many chefs. He's got the chops, so you don't really think about that in the kitchen. Plus, the book's divided into stories and recipes, and stories are what I know how to do. He trusted me on that side of it.
What have you learned about Wetzel that surprised you?
How food-focused he is; there's a lot of distractions pulling at him from every angle, but he does a really good job of making sure your food and dinner come first.
What was the best part of your experience?
One of the perks is I get to eat there. Having been a restaurant critic, one of the best is watching people eating and trying things here for the first time.
What's your favorite dish?
It's one that the guys in the kitchen call a "prawn bomb." It's spot prawns poached in prawn butter in a bowl of broth that's made by blending whole prawns. At the end, that prawn butter is enhanced with prawn roe. It's that intellectual side: this layering of techniques, but then you have a bite and it's the bomb.
So what's next for you when you move to Seattle this fall?
I've had this perfect reintroduction to the Pacific Northwest. I'm looking for a new way to keep writing about it and being involved in it. Working in a restaurant, maybe, but it would have to be a very specific kind of role . . . working in a test kitchen, for a restaurant group, more cookbooks.
You know those six-word memoirs that Smith magazine does? Give me six words to sum up life at The Willows Inn.
A year on the island. Perfect.
After I finished talking to Ray, a picture popped up on my phone from him of rustic shoreline framed by low hills and trees. The accompanying text: "This isn't the photo for the story, but thought you'd like to see the view on my bike ride to the inn."
Indeed.
nsprinkle@seattleweekly.com