One thing that immediately stood out when I moved to Seattle from New York was the scarcity of Italian trattorias. I wasn't looking for anything earth-shattering, just a place that was dependable and homey. In New York, between the awful touristy restaurants in what's left of Little Italy and the hallowed temples of Mario Batali's Babbo or Del Posto, there exist hundreds upon hundreds of these small, inviting "red sauce" restaurants. Head to any neighborhood blindfolded, throw a stick, and it's sure to land in a bowl of Bolognese.
Here in Seattle, however, a small Italian population means that when you want Italian, you usually head to an Ethan Stowell place, Il Corvo (if you can get a seat), or somewhere more inventive (and expensive) like Spinasse or Agrodolce. Speaking of Italian immigrants: In the early 1900s, Rainier Valley was the largest enclave of them, though now most reside on the south side. In fact, Seattle Weekly's very first issue, March 31, 1976, contains a restaurant review of Filiberto's in Burien (still open) titled "Life Is One Long Search for a Good Italian Restaurant." That search continues.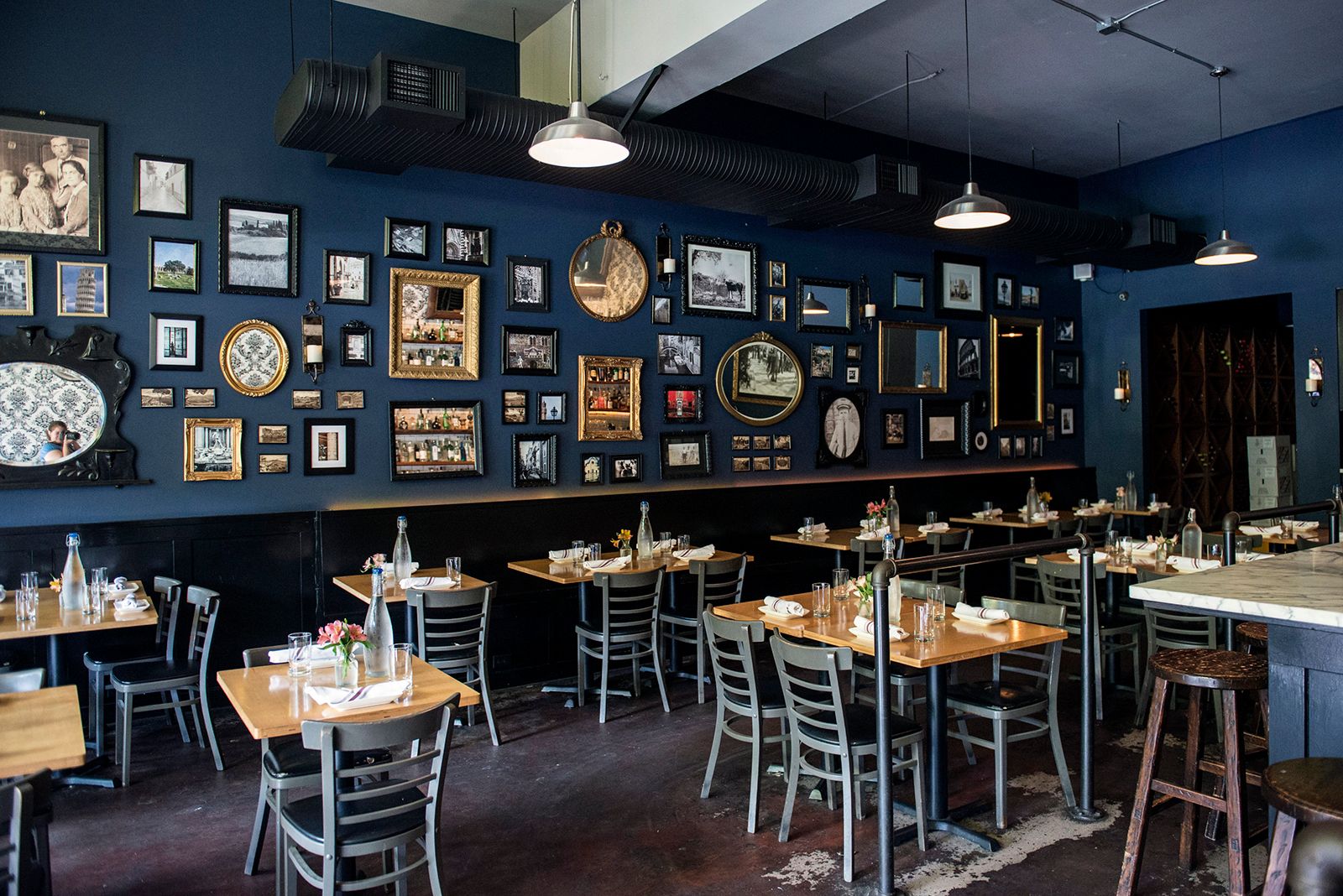 All photos by Morgen SchulerThat's why I was excited to try Corretto on Capitol Hill. Housed in the former Panevino spot, the restaurant, owned by Travis Rosenthal (of Rumba and Tango), has as its main conceit Italian coffee cocktails (caffècorrètto is coffee "corrected" with a dash of liqueur), which were developed with help from Brandon Paul Weaver of Slate Coffee. (More on those later.) But what really makes Corretto stand out is its casual but funky atmosphere: a focal wall of black-and-white floral-patterned wallpaper with a real Italian bicycle suspended in the center; deep navy-blue walls opposite it charmingly crowded with gold- and black-framed photographs of the rustic Italian countryside and Roman ruins (some from Rosenthal and his wife's honeymoon); and small glass vases on each table with alstroemerias in various colors.
That cozy, quirky ambience extends to the food itself: non-fussy Italian standards from chef Laura Licona (formerly of Osteria La Spiga) with enough details worked in to bring distinctiveness. While bruschetta has long since given up any pretentions to cool, Corretto reminds you just why it became so popular in the first place. One night I was there it was served in the traditional Caprese style, toasted with roasted tomatoes, mozzarella, and slivers of basil. The tomatoes were skinned, though, which made them extremely juicy and spreadable—a very nice touch.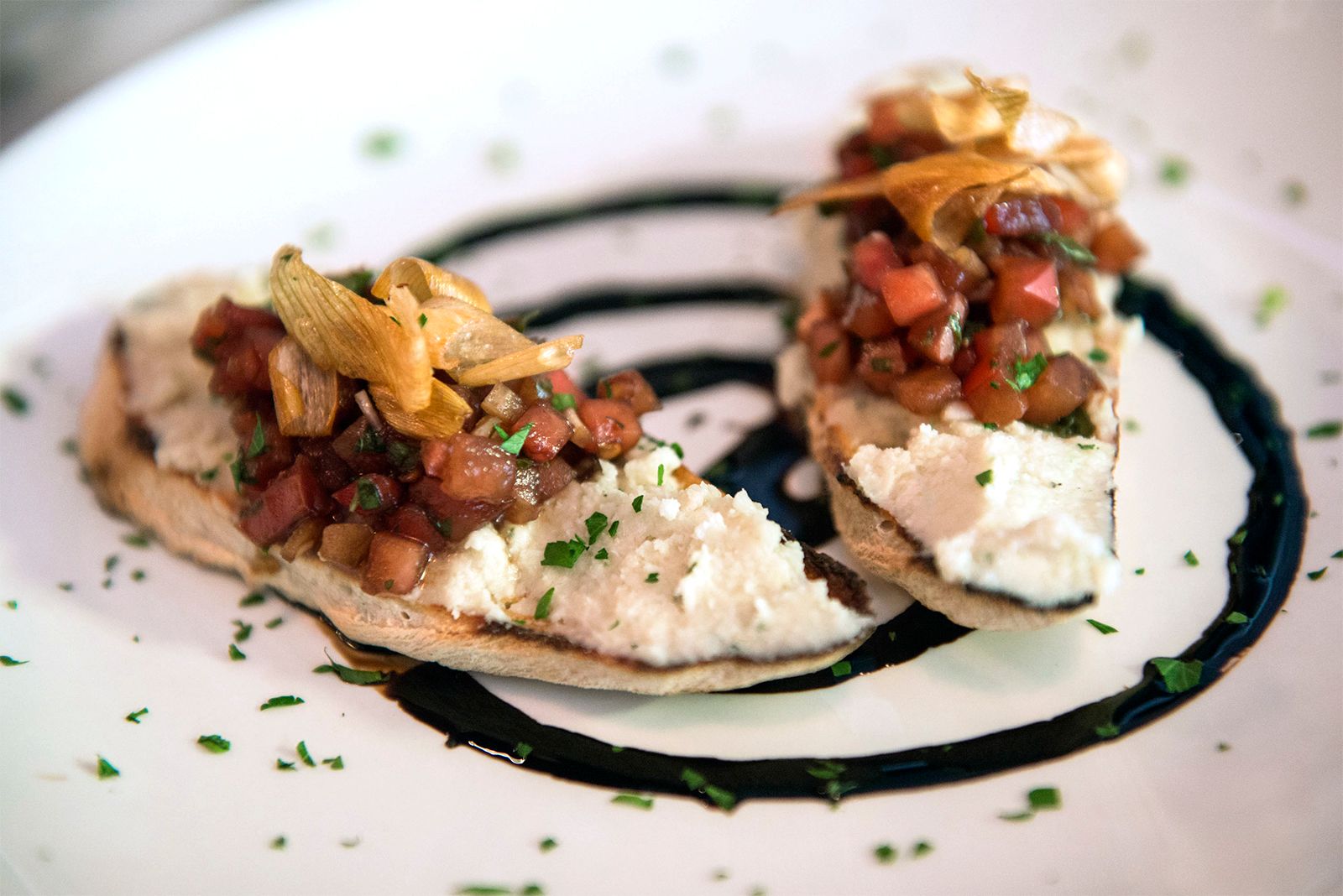 Another evening it was served with a white-bean purée and delicious bits of crispy fried leeks. I would say that this simple appetizer was the epitome of summer, except I reserve that designation for Corretto's Soliloquy in CM cocktail: gin, apricot liqueur, simple syrup, muddled basil, and the juice of cherry tomatoes served in a dainty vintage crystal glass (most of their glassware is, delightfully, of the Italian-grandmother variety). The bruschetta, by the way, is part of the happy-hour menu, offered 4:30–6:30 p.m. and 4:30 p.m.–close on Mondays, and costs only $5 for two generous-sized pieces.
On my first visit, I ordered the soup special, spring onion, expecting it to be of the disappointing cream-laden potato-leek ilk. Instead, the bowl of light-green broth, made from a housemade veggie stock, was sweet and redolent of onion. It wasn't there on my next visit, but I hope it comes back.
Standards like the rigatoni al sugo (available with meat or marinara sauce) or the pesto gnocchi bring no surprises but are pleasantly stalwart. The lasagna, unfortunately, was on the dry side and lacked oomph. A more "inspired" ravioli dish, filled with oyster mushrooms, kale, Treviso, mushroom sauce, and spring vegetables, is unique for its lack of cheese and unapologetic vegetable-forward flavor, though it could use a bit of butter or oil to give it a modicum of decadence.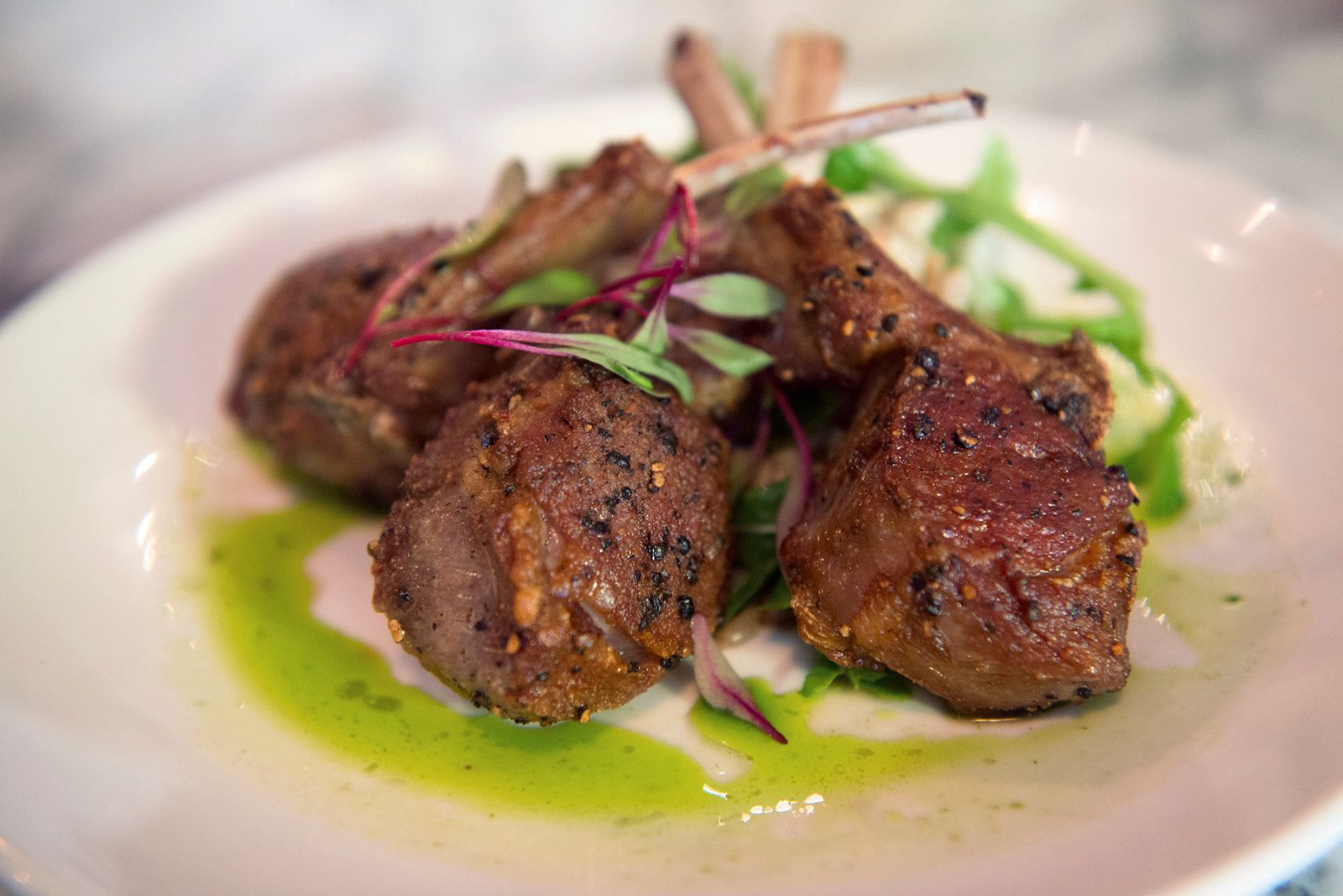 Aside from pasta, the seared lamb chops with roasted fennel served over a faro salad with vinaigrette were cooked perfectly and needed only a dash of salt. The brightness of the faro coordinated happily with the lamb. The classic involtini di pollo—rolls of chicken breast filled with prosciutto, asiago, herbed ciabatta, and braised greens—didn't fare as well. But while the chicken was slightly overcooked, it was hard not to take solace in the rich filling.
So back to those coffee cocktails: Four are served daily, listed on a chalkboard behind the marble-topped bar. Served in flutes, each is filled with belly-warming alcoholic goodness: generally a mix of espresso, grappa, and various Italian liqueurs, some with cream. They are sweet enough to pass for dessert, yet not so sweet as to forgo pairing with a slice of tiramisù cake—nicely structured (instead of a moussey mess) and topped with a generous layer of bittersweet chocolate. Bewitching, dark, and smooth, the drinks alone are worth the visit.
But come too for the friendly, easygoing, yet attentive service; food that's a comforting, familiar part of the Italian-American lexicon; and a Capitol Hill vibe that keeps this new trattoria full and bustling with young and old on weeknights and weekends alike. You won't go away discussing the sublimity of a particular dish, but that's OK. You'll be too full and happy to care.
CORRETTO TRATTORIA & BAR 416 Broadway E., 328-7817, correttoseattle.com. 4 p.m.–midnight Sun.–Thurs., 4 p.m.–2 a.m. Fri.–Sat.
nsprinkle@seattleweekly.com