all photos by Anna Erickson
My table is set for six. Flowers are in their vase. Wine glasses are at the ready, and wine is chilling. I've arranged the chairs on the deck and put the final touches on my makeup. I'm doing my usual dinner-party regimen—until I hear a ring at the front door. A tall man with sandy brown hair introduces himself and brings in a couple of duffel-sized bags. I've met "Chef Tom" online, but now he's here in the flesh, ready to take over my kitchen for the night as part of a new venture called Kitchensurfing, which debuted July 15 in Seattle but is already running in five major markets. It's a service that matches you with local chefs (20 in Seattle at press time) who come to your house and prepare, serve, and clean up a meal for as few as two and as many as 50. I've agreed to test-pilot it, at regular price.
As we await our guests, I give Tom a quick rundown on our kitchen, though he's brought his own equipment and told me ahead of time what sortof tableware is needed for the various courses, all via the Kitchensurfing online platform (which also allows you to send your guests formal invitations that showcase the menu and the chef's profile page). As he gets to work prepping, we hover a little awkwardly around our island making small talk with him, chatting mostly about Miami, where he spent the past two years working in restaurants. Tom is so friendly and easygoing that I'm having a bit of an internal dilemma as to whether to keep up the conversation or leave him alone to do his thing. I've never had a personal chef, and I'm the type who, on the rare times I've hired a cleaning person, spends a week "pre-cleaning" beforehand. Finally we decide to recede to the living room and sit down with a glass of wine, where we can still talk to Tom without being all up in his grill.
I'm trying to relax because, well, there's simply nothing for me to do. But that's not so easy, considering I'm used to throwing my own dinner parties and being harried until the moment before the first guests arrive. Tom apologetically tells us he's forgotten his eggs, but he only needs two and we have them on hand. Considering he's a well-packed one-man show for a multicourse meal in a stranger's home, I don't hold it against him. We're all new to this.
When people begin rolling in, I do my usual greeting, plus introduce them all to Tom. Then, instead of bustling back and forth from kitchen to dining room or deck, I refill my wine glass and take a seat outside, the sun still shining brightly at 6 p.m. When a platter of coffee-crusted fillet with red-onion jam, blue-cheese crostini, and tiny poached purple potatoes topped with smoked-salmon mousse is set before us, I eat and laugh and continue to talk—with no thought of rushing back to the kitchen to check on my roast or stir a pot of risotto. It's kind of surreal. I guess this is what it feels like to be rich—though I still have the tiniest tremor of angst thinking about Tom alone in a foreign kitchen, under the gun to deliver a great experience to a Seattle food critic.
After about 30 minutes, he quietly asks me when I'd like to begin the sit-down dinner. We decide to get the 7-year-olds taken care of first—and 10 minutes later they're seated on stools at the island with a Yakima-cherry yogurt parfait and slices of herb-roasted chicken with tomatoes and penne pasta before them. Since he's a dad of a 7-year-old himself, Tom is doing a smashing job of keeping their attention, which any parent would obviously appreciate.
Ten minutes after that the adults are seated, and I'm pleasantly surprised that Tom has surreptitiously tucked a lovely printed menu under each guest's napkin. He serves the first course, a sea scallop over a bowl of truffle corn chowder and sweet-potato hash, after a perfectly brief and not overly formal explanation of it. It's got just the right touch of truffle oil, not too little or too overpowering. Everyone oohs and ahhs, then conversations ensue. As we talk about everything from gun control to legalized marijuana to Amazon's latest "innovation," part of me is conscious of the fact that Tom is hearing everything we're saying (we have an open kitchen plan). The hostess in me starts thinking about whether any of our spirited talks might offend him. He is, after all, a stranger. We're not stay-away-from-politics-and-religion kind of people, but we're typically surrounded by those who are simpatico with us on most touchy topics.
I urge myself to chill out. I mean, the whole point of using a service like this is to relax and not have to play hostess. But old habits die hard . . . I am ultimately my mother's daughter, and my relationship to hostessing is one of rampant neurosis mixed with joyous exhilaration.
There's about a 20-minute pause between the first course and the main dish; Tom later tells me he felt it was too long, but to me it flew by, bearing no responsibility for the meal's pacing and finally giving in to the hedonism of being fully present in the conversations, as I would as a guest at someone else's dinner party. It feels luxurious—and besides, the passed apps were filling. The kids are full and have long since retreated to the yard, further adding to my state of bliss.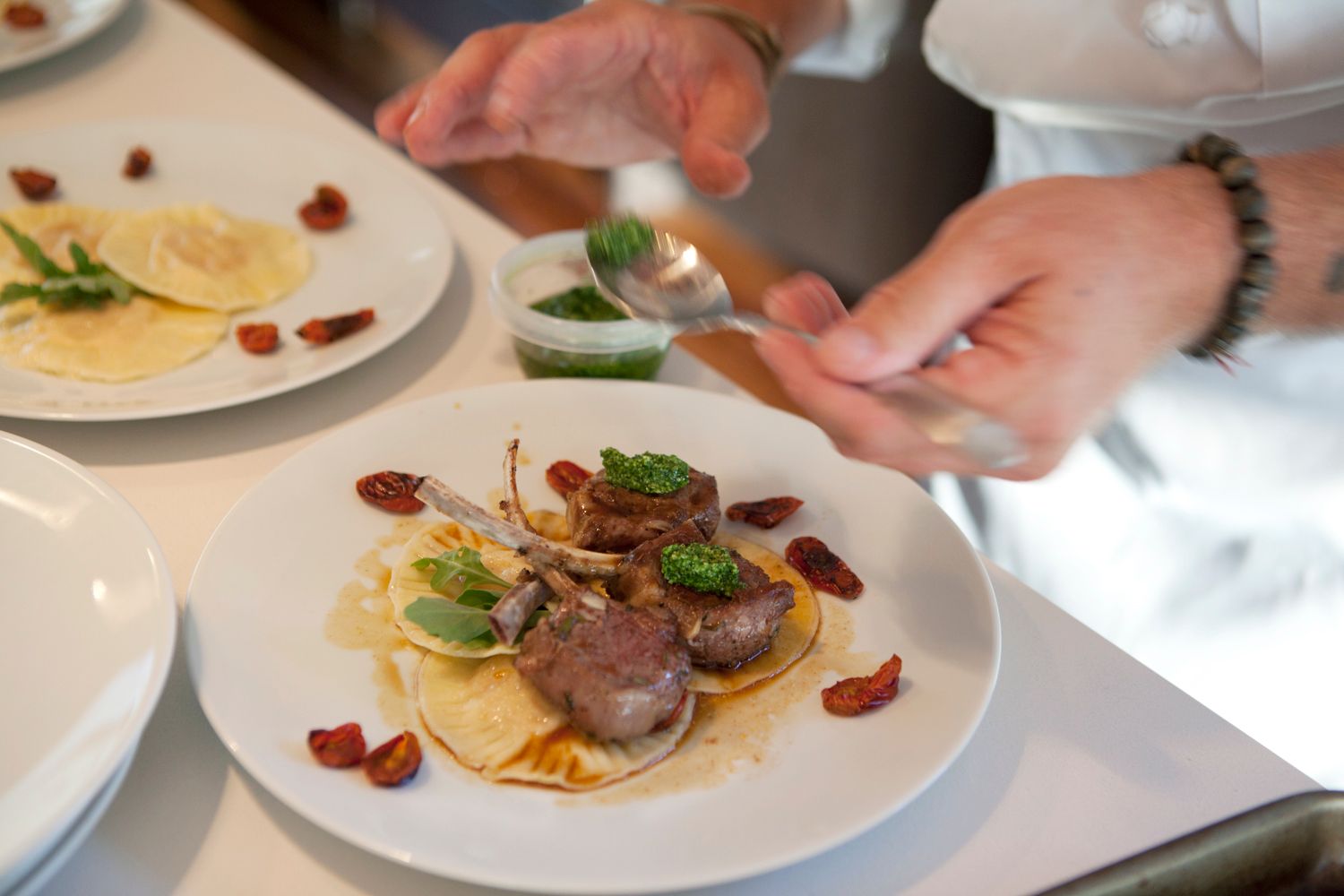 When the lamb chops arrive, three for each of us, served over butternut ravioli with a bright pop of arugula pistou and lamb jus, I've allowed myself a third glass of wine because I have no obligations, no dishes to whisk away, no cream to whip for dessert, no water glasses to refill. And, even better, when everyone leaves I'll just be climbing the stairs to my bedroom, not hopping into a car. It's ridiculously thrilling. I get to be that preternatually, seemingly effortless hostess I've always envied. The one who calmly chats with her guests while chopping vegetables.
It's time for dessert, and I call the kids in from their outdoor reverie so that they can dig into huge molten brownies with Snoqualmie vanilla-bean ice cream. (Would they like the brownies warm? The ice cream on the side or sandwiched into the middle of the brownie? I'm wondering if this guy also babysits . . . )
As they dig into desserts bigger than their heads, Tom is furiously whipping cream in the kitchen for a sabayon and my hostess guilt is back. I'm the one usually doing that, exhausted at the end of the night, beating with fierce intensity to get that cream to just the right consistency without making the guests wait a second too long. My partner can't help himself, either; he asks Tom if he'd like to use our hand-held blender, and Tom politely answers as any self-respecting chef would—nah, he's fine and the texture of the sabayon requires hands. The sabayon is infused with maple chipotle and served with in-season stone fruits: peaches and cherries. In July, what could be better?
We've gone through the wine, it's nearing 10 o'clock, and now I'm really feeling the awkwardness around what is actually one of the incredible perks of this service: clean-up. Somehow Tom leaves my kitchen in even better shape than it was before he got here: all plates and flatware in the quietly humming dishwasher, all surfaces shining, the usual crumb-fest from the kids absent. Yet that nagging inner hostess feels the need to talk to Tom while he begins to disassemble, to treat him like a guest in my house too—even though I'm paying for his time. But I don't mind: We have kids in common (he's met mine), and I'm happy to hear all about his son and look at pictures of him on his phone. This is, in fact, calming—especially since I have nothing left to do except kiss my guests' cheeks on their way out. Tom gives all the guests little bottles of sage salt he's made, with a note from him tied on—a lovely touch that I store in my hostess brain for future dinner parties.
It's been five hours, with six "gourmet" dishes for approximately $45 a person ($20 each for the kids)—way less than we'd all have spent on a comparable restaurant dinner, especially considering we supply our own wine and there's no tipping or registration fee. And unlike a typical dinner party, this had an air of exclusivity and eventfulness, which, while I wouldn't want it all the time—I really do love the act of cooking for my friends—was a great dalliance.
Kitchensurfing allows you to view chefs' profiles and menus, which are suited to a variety of cuisine types, budgets, and party sizes. You can send a request to get bids from chefs based on your needs, or direct-message a chef to see if his style and menu work for you. Prices range from approximately $40–$125 per person, based on the chef's experience and the cost of ingredients. While you won't find Seattle's best-known restaurant chefs here, Kitchensurfing's chefs do have good resumes and have been trained at respected culinary programs and/or worked in notable restaurants or hotels, and are often between jobs or working part-time. Friends you refer get $50 off their first Kitchensurfing meal, and you'll get $50 off a subsequent meal for making the referral.
nsprinkle@seattleweekly.com