When you name your restaurant after a tiny French commune in the Bordeaux region known and respected for its red wines, you'd seem to be setting some pretty high expectations. Yet Pomerol is something of an anomaly in France—its wines not officially ranked by the strict and traditional French classification and the area itself atypical of wealthy, traditional Bordeaux.
Pomerol, the new restaurant in "Frelard"—the no-man's land along Leary Way (which becomes North 36th Street) between Ballard and Fremont—seems to play to that offbeat version of France, with plenty of French-style dishes conceived within a Pacific Northwest context that includes many a wood-fired grill preparation. In fact, owners Vuong Loc and his wife Tricia, who previously owned Portage in Queen Anne, claim they chose the name not for the famous wines per se (though there are three bottles from the appellation), but for the family-owned vineyards "that are still operated as they were 100 years ago." Likewise, the service, extremely friendly and accommodating, feels very un-French. When I left half of my chilled heirloom tomato soup with Gruyère croutons (it was too thick and heavy for a cold soup), the waiter took it off the bill with no peep from me. They also bring you tastes of wine if you're undecided (and you might very well be with this French-heavy list; see sidebar), and will remix a drink for you if you take a chance on something you're not sure you'll dig. What's especially nice is that they never make you feel unsophisticated for expressing dislike—a very refreshing style that many a new and precocious restaurant would be well-advised to adopt.
Even better: There's something for everyone on this menu—even if you don't like foie gras, which appears on it at least three times. The most unadulterated foie on the menu, a $24 starter (other menu items are much more reasonably priced), comes as an obscenely large piece. It's almost too much of the decadent dish, set atop brioche and dressed with some oak-ember-roasted berries and nuoc mam caramel (a nod to the owner's Vietnamese heritage). My friend and I actually couldn't finish it. Good thing we didn't, because on our first visit we had quite the hearty entrées to follow.

Slow grilled beef short ribs. Photo by Kyu Han
It's those dishes at which Pomerol excels—meats served with rich, savory French-style stews and cooked to perfection. Take their roasted chicken. It's truly something I'd expect to get in a bistro in France, moist throughout but crispy on the outside, with golden raisins in a sherry sauce with thyme, delicious Nelson carrots and baby turnips soaking in the sauce. The short ribs, not braised but hung on hooks over the fire to smoke, are then grilled. While they're a tad on the fatty side (the traditional braising of ribs helps melt that fat off), they're still damn good. The mustard confit on the side is a nice touch and the smear of cauliflower purée was dreamy, though I would have liked more of it. Speaking of the purée, the restaurant is a little too smear-happy. Nearly every dish comes with that '90s-style "painting" of a purée or jus on the plate—and while they're very tasty, there's just too little of them to really add anything to the dish. They either get lost in the mix or, on the flip side, leave you wanting. I wish they'd just own those wonderful flavors they've coaxed out and drizzle them over things with gusto, not just tease us with them.
Pomerol does offer lighter options as well: Their arctic char was cooked expertly, the skin beautifully seared, the meat melting in your mouth with each forkful. A duck-confit salad with sea beans and chanterelles wasn't unctuous, served as it was over a nice plate of salad greens and balanced by red onion and a sharp vinaigrette. The wood-fired octopus—a staple on many a restaurant menu of late—was again cooked just right, tender (not rubbery), spiced well with chili and garlic, and very well complemented by one of the tastiest, very tangy aiolis I've had. I used my fingers to lap up every last drop.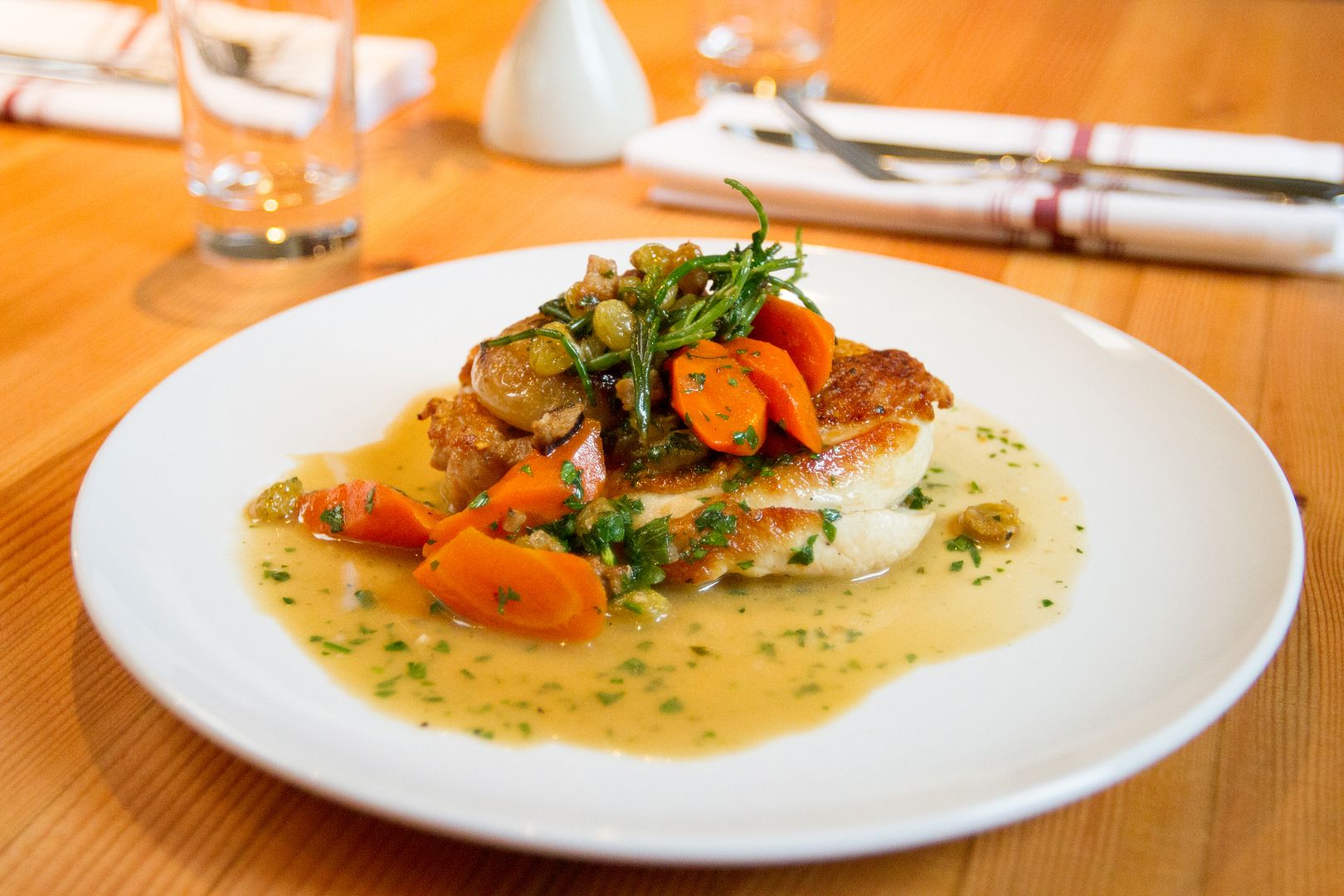 Pan Roasted Chicken with Golden Raisins and Sherry. Photo by Kyu Han
Some things were less successful: besides the cream-laden chilled tomato soup, I also didn't enjoy the "lamb pie" appetizer: kind of a deconstructed shepherd's pie that was small and precariously erected. A slab of lamb sits atop a whole braised baby onion, the clumsy pairing wedged between two tiny pieces of pastry and garnished with a mint pistou (delicious, but, once again, lost among all the rich flavors). There was just no way to get it into your mouth in one piece without it all slipping and sliding and falling apart. Basically you had to destroy it to eat it. Their Washington albacore, though "scented" with fenugreek leaf and peppercorn and served with faro, squash-blossom zucchini, and tomato jus, was awfully bland, but admittedly I often find that to be the case with tuna.
Desserts are fine, if not fabulous. Grilled peaches with bourbon caramel sauce and crème fraiche ice cream over a cardamom shortbread cookie was not very sweet—all the more noticeable since it was the heart of peach season—and disappointingly cold. But an IPA berry sorbet with pineapple weed was tart and palate-cleansing after such rich food.
While Pomerol's muddy-yellow exterior with its understated sign feels uninspired, it's hardly representative of what's happening within. Get there while the weather is still good and you can sit on the back deck. Otherwise, come fall and winter, when those soul-satisfying meaty dishes are all the more tempting. The interior is cozy, with dark-brown leather banquettes against walnut-stained bench-style seating, red wooden chairs, and colorful carp "jumping" on golden wallpaper. The fire—and genuine service—is sure to warm you too. Pomerol 127 N. 36th St., 632-0135, pomerolrestaurant.com. 5–10 p.m. Mon.– Thurs., 5–11 p.m. Fri.—Sat.
nsprinkle@seattleweekly.com
About Those Wines
Pomerol is just one of many restaurants lately highlighting relatively obscure wine regions in France—like Savoie, the Jura, and Languedoc. It's a trend driven both by finances and experimentation: Wines from well-known areas in France have become too costly for most glass-pour lists at the same time as wine buyers and sommeliers have become infatuated with lesser-known varietals and styles. There are some true gems to be found, and some of these wines are tremendous values for both restaurants and diners, but they do require a knowledgeable staff and a discerning buyer. Or you could just use this cheat.
Picpoul: a tart, crisp, light-bodied white varietal grown throughout southern France.
Jacquere: a relatively neutral white grown in the Savoy region of France at the foot of the Alps. Often a classic pairing for fondue.
Touraine: a region in the central Loire Valley known for austere, mineral-driven sauvignon blancs. Similar to Sancerre, if not quite as striking.
Cahors: a region in southeastern France noted for malbec. Unlike the fruitier versions from Argentina or Washington, malbecs here tend to be dark, earthy, and powerful.

By Zach Geballe