Gerald Hankerson walked into the governor's office with a letter in his pocket. He had been summoned by Jay Inslee that March day to talk about the state's main contractor on the Seattle tunnel project. It had recently been exposed that Seattle Tunnel Partners had fallen woefully short of its agreed-upon goal of subcontracting 8 percent of the work to minority-owned firms. Hankerson—president of both the NAACP's Seattle King County branch and the three-state conference overseeing Alaska, Oregon and Washington—had called on the state to fire the contractor, and the governor had taken notice.
Generally, Hankerson evinces a relaxed, unpretentious charm. Often attired in jeans and hiking boots, he's more plainspoken than some of his predecessors in the civil-rights movement, who favored a commanding, preacherly style. Dressed up for the occasion in gray slacks, a button-down shirt, and dress shoes, he held his fire while Inslee explained that the state was moving forward with Seattle Tunnel Partners but expected the company to deliver on its minority-subcontracting goals, according to Hankerson's recounting.
But then, Hankerson recalls, "I asked him straight up: 'If and when they violate [Seattle Tunnel Partners' agreement with the state] again, will you hold them accountable? Will you impose sanctions?' The answer was 'Yes.' " Hankerson left it at that.
But he wasn't done. The 45-year-old leader had one more thing he wanted the governor to address. He stood up, pulled out the letter, and handed it to Inslee. "Explain this to me," he said.
The governor looked at it. "Have a seat, Gerald," Hankerson remembers him saying. "Everybody else get out."
The letter, dated February 7, was from the governor's office to Hankerson. It had nothing to do with the tunnel project, and everything to do with Hankerson and how remarkable it was for him to be in this meeting with the governor—talking, of all things, about policy. For many years, Hankerson had but one request of the governor's office: his freedom.
Five years ago, Hankerson was in prison, where he had been sentenced to spend the rest of his life. He had been convicted of aggravated murder for his role in robbing and killing a man outside a Central District mini-mart. He has always maintained his innocence, denying any malicious intent, but prosecutors portrayed the then-18-year-old as an accomplice—and even briefly considered seeking the death penalty.
In 2009, after Hankerson had spent almost 23 years in prison, then-Governor Chris Gregoire granted him clemency—the result of a rare kind of leadership he had shown in prison. But she balanced that act of mercy, always a political risk, with an unusually lengthy period of parole: 80 months. The average is about 24 months, according to Inslee's general counsel, Nick Brown.
"Governor, I've given you 60 months," Hankerson says he said to the governor on that March day. "Can't you relieve me of 20 months?" His request echoed another letter—one he'd sent the governor some months earlier. The letter Hankerson now handed Inslee contained the governor's reply: No.
"You've done a great job," Hankerson recalls the governor explaining. "But we have a policy in place that we don't alter a prior governor's decision."
"The reason it's problematic for me," Hankerson tells me a week later, "is that there's a clause in my clemency package that if at any time there's a violation of any [parole] condition, I'm to be returned to the Department of Corrections to finish out the sentence imposed. That's the rest of my life."
Hankerson is also required to check with a community corrections officer before every out-of-town vacation or work trip and is barred from certain civic rights, like voting. And yet, parole isn't exactly holding Hankerson back. He not only operates at a heady political level as the county's and region's leading NAACP figure, but he is also the lead organizer for the Seattle branch of a coalition of liberal small business owners called the Main Street Alliance. Somebody always wants to meet with him, often somebody of stature.
One recent day, it's 1st District Congress member Suzan DelBene. "I'm not doing it," Hankerson says firmly to a Main Street colleague at their Georgetown office after being told that DelBene called. Hankerson explains that she wants him to participate in an event she's staging. Although he had willingly done something similar for U.S. Senator Patty Murray, who on short notice had asked Hankerson to drum up a few small-business owners for a press conference in support of a federal increase in the minimum wage, Hankerson says of DelBene: "I don't know her like that."
Those he does know well include City Attorney Pete Holmes, with whom Hankerson shares an annual drink on their joint March birthday, and who considers Hankerson "an important conscience and reality check." Then there is Seahawks coach Pete Carroll, whom Hankerson met at a Center for Children and Youth Justice fundraiser (at which Hankerson was the keynote speaker), and state Supreme Court Justice Sheryl Gordon McCloud, who while a defense lawyer represented Hankerson for many years and sat at his table at a centennial celebration for the Seattle King County NAACP in November. It was there that James Bible announced he was stepping down as president and making room for Hankerson, then vice-president, to take his place.
Richard Mitchell, who served as general counsel to Gregoire, wonders aloud whether any other former prisoner has risen to such heights. "Think about this for a second," Mitchell asks. "Really, think about it." I couldn't think of anybody, certainly not anybody who had been sentenced to life. Mitchell couldn't either. Adding to his palpable sense of awe, Mitchell, who visited Hankerson in prison while Gregoire weighed his clemency, now finds himself sitting across the table from the NAACP leader, debating the future of the tunnel project as a special assistant to the state Attorney General representing the Department of Transportation.
"You demonstrate the power of redemption and forgiveness," Mitchell recalls telling Hankerson recently.
Hankerson also demonstrates something else to his many supporters, particularly those in the African-American community. Mary Flowers, a longtime prison volunteer and board chair of an antiracism group called Village of Hope, puts it this way: "We've got many, many capable people that we lock up and throw away the key." Many of them, she points out, are black.
Prison "is a realm where inequality is most pronounced," Bible says. "That's where the NAACP needs to be." To Bible, a lawyer who championed Hankerson's cause when he was in prison and mentored him once out, the former inmate is qualified for the NAACP post not in spite of his prison past, but because of it.
That has not stopped some people from grumbling about Hankerson's lack of political "experience." But even if he had the longest civic resume, Hankerson would face challenges as an NAACP leader, including a lackluster membership base. Then there is the organization's reputation, bruised in 2005 when then-branch president Alfoster Garrett stepped down amid a series of missteps and alleged financial improprieties in his legal practice.
"Is it relevant?" Hankerson says people always ask him with regard to the NAACP. In a way, his own life story is an answer.
"He was just a little kid." That's how Henry Grisby, who served a portion of his life sentence with Hankerson, recalls the then-teenager when he arrived at the Washington State Penitentiary in Walla Walla in 1988. Grisby means that literally: Hankerson, at 5´6˝, weighed just 135 pounds.
How he ended up in prison is still a matter of dispute. In his own telling, Hankerson was outside a mini-mart at 23rd Avenue and East Union Street in Seattle on the night of May 18, 1987, when he saw a young man running out of the store with a bag in his hand. He says he heard a yell for somebody to stop him. At that point, Hankerson says, he gave chase and reached out to grab the runner, causing the man to stumble. He explains that he thought the man, 25-year-old Nai Vang Saeturn, had probably taken money from some teens to buy beer for them (a common scenario at the store, and actually the reason that Hankerson had himself come to the mini-mart that night) and then kept the beer.
Hankerson maintains he had no idea that when the pursuers caught up with Saeturn, who had been momentarily slowed by Hankerson, one would steal the 25-year-old's bank card, pull out a knife, and lunge repeatedly at the victim's throat, chest, and back.
Killer Alvin Mitchell, however, named Hankerson as a willing accomplice. Two other witnesses said they saw Hankerson not only block Saeturn's path but hold him down and punch him.
Hankerson and Mitchell were tried together. Despite a note from the jury indicating they questioned whether Hankerson intended to kill Saeturn, both were convicted of aggravated murder. Many years later, the two witnesses recanted, saying police had threatened to pin the murder on them if they didn't implicate Hankerson. Mitchell is not around to question further. He died in prison.
"We don't have it on videotape," says King County Prosecutor Dan Satterberg, who did not hold that position at the time of Hankerson's prosecution. Satterberg says Hankerson's contention that he didn't expect Mitchell to pull out a knife "has a ring of truth to it."
Nevertheless, Satterberg says, the jury was evidently convinced that Hankerson intended to rob Saeturn. At the time, an aggravated murder could be pinned on someone involved in a robbery that ended in a death, even if that person had no intent to kill. That changed with a 2000 state Supreme Court decision in a case that was won by McCloud, the lawyer who would later represent Hankerson.
Whatever Gerald Hankerson's role, he was not the man he is now. Grisby, speaking by phone from the Coyote Ridge Corrections Center, where he is now housed, describes a teenager whose slightness of build belied a hellion spirit. "He was entwined so deeply with that gang mentality," Grisby recalls.
Hankerson says he was never an actual gang member, but ran around with some Crips he had met at the county jail, where he was held after the murder while he was awaiting trial. In prison, he explains, it's impossible to "belong to nothing." He went by the moniker "9-0," which referred to a street he once lived on in Los Angeles.
Hankerson got into fights and even tried at one point, after three years in prison, to escape. While at the Clallam Bay Corrections Center, he climbed into a delivery truck headed out of the compound. He was caught and spent the next year in isolation.
When he got out, Hankerson was assigned to work in the prison kitchen. There he got to know a staffer named Maurgee Merritt. Although she was 20 years older, they developed a close friendship. "I could talk to her about everything," he says. As a lifer, he says he had felt like a "walking dead man." Merritt changed that. "Live your life to prevent yourself from becoming what others assume you to be," she would tell him. Hankerson now has the quote inscribed on his iPad.
Merritt eventually retired from the DOC, but was placed on Hankerson's visiting list. The two grew so close that they wanted to be part of the same family. At first, Merritt suggested adopting Hankerson. When that proved difficult logistically, they decided to get married instead, although Hankerson says the relationship was never romantic and destined to be short-lived: She had by then been diagnosed with late-stage breast cancer.
Six years after their 1999 prison wedding ceremony, she died. "It was equivalent to when I first got convicted," Hankerson says of the loss.
Hankerson credits Merritt with teaching him about unconditional love. How to conduct himself in prison—that he says he learned largely from Grisby.
Like Hankerson, Grisby had been convicted of murder and sentenced to life without parole for his purported role as an accomplice. The 1978 crime involved a drug deal that turned into a shooting melee that killed five people, including two children. He too had sworn that he'd never participated in the killing, a view his onetime prosecutor came to believe after his conviction. (The prosecutor testified as much at a 2005 clemency hearing, but Grisby was turned down.)
In prison, Grisby had transformed, availing himself of a self-help program that he says made him realize he had something to offer. What he represented to Hankerson was a father figure—something the younger man, abandoned at birth by his drug-addicted parents, never had. "I called him Pops," Hankerson says of the man 30 years his senior, the only inmate he knew to be universally addressed, even by the guards, with the appellation "Mister."
The two did time together at both Walla Walla and the Monroe Correctional Complex, at one point sharing a cell. They would talk until 2 or 3 in the morning, until Grisby would get tired and exclaim, "Shut up, I'm going to bed." The older man says he tried to steer Hankerson away from gangs and the urge to keep up a certain image. "I used to tell him all the time, all he had to do was to be Gerald," Grisby says.
"Don't be stupid" is the thrust of the advice as Hankerson remembers it.
A turning point for Hankerson came in the late '90s at Monroe when he and Grisby attempted to join a prison group called the Concerned Lifers Organization. It offered certain programs that sounded interesting, like one in which a Seattle University criminal-justice professor brought in students to interact with prisoners. But the Organization was in the hands of inmates who identified with the Aryan Nations. Those leaders told Hankerson and Grisby, who is also African-American, that they needed a member to "sponsor" them. An invitation was not forthcoming.
"That's when I started organizing," Hankerson says. He got a community volunteer who worked with the group to approve new membership applications, sponsor or no. Then he and Grisby stood in the prison yard, handing applications to every lifer they knew. They also put together a biracial slate of candidates to challenge the Lifers' leadership in an upcoming election.
"Don't come here and start shit," Hankerson recalls some of the prison's black veterans telling him. He did anyway. Prison guards found a cache of knives in an area frequented by the Aryan crowd. Black inmates started sharpening soup cans into potential weapons. Hankerson says prison authorities, fearing a race riot, put the National Guard on alert. Tension, but no violence, greeted election day. The results came in: By a narrow margin, the biracial slate had won.
Neither Hankerson nor Grisby were on it, but both eventually served leadership positions in the group. For a stretch, Hankerson was president of both the Concerned Lifers Organization, now fully integrated, and a large group called the Black Prisoners' Caucus. Both organizations turned into forums for inmates to interact with the wider world on issues that affected them, like criminal-justice policies and parenting from prison. A steady stream of public officials and academics came to the prison to take part.
One of the first was Mayor Ed Murray, then a state senator. Hankerson gave a presentation about the disparity in sentencing in crack and cocaine offenses and the resulting racial impact. (Blacks are more often convicted on crack offenses, whites for cocaine.) Hankerson says he held up a piece of chalk to represent crack and a bag of flour to represent cocaine. "Why does this carry 20 years and this five?" he asked.
"I don't know when you're getting out of here," Murray remembers telling the inmate. "But let me know. Because I would love to have you as my campaign manager."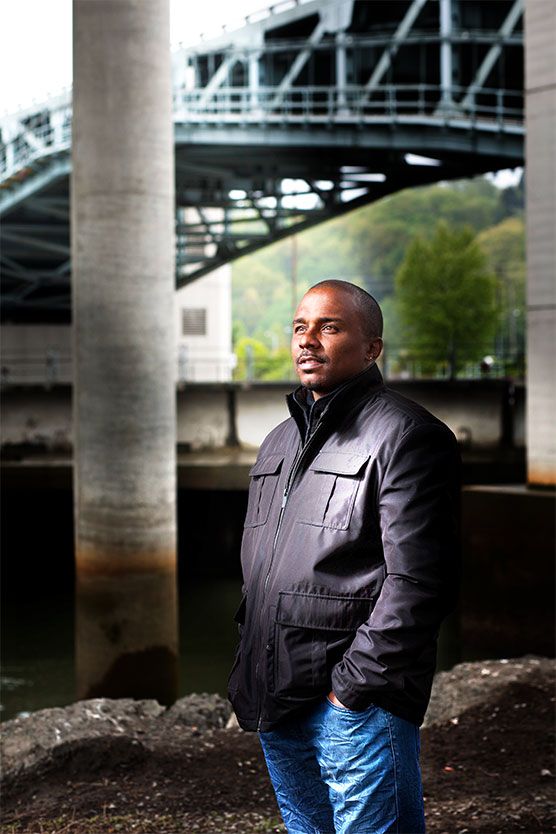 When in the late aughts a group of respected African-American leaders asked Satterberg to take another look at Hankerson's case in the hope he might support clemency, the King County prosecutor was surprised. Why this case? he recalls wondering. Why not one of the cases involving the controversial three-strikes law, which has sometimes sent people to prison for life on robbery charges alone?
But Hankerson's case struck a nerve with people. First of all, there was the cloudy evidence, including the recanting witnesses, which led a number of people to believe in his innocence. "He ended up being railroaded," says the Rev. Kenneth Ransfer of the Greater Mount Baker Baptist Church, co-chair of the Free Gerald Hankerson Committee that formed.
Then there was Hankerson's work in prison. Not only had he spearheaded the dramatic transformation of the Concerned Lifers and led the Black Prisoners' Caucus, but he had started a program that brought at-risk kids to Monroe to warn them off behavior that would land them in prison.
Leading any organization is an accomplishment, but one in prison—"there's nothing out here that compares to the pressures of that," says Flowers, the longtime prison volunteer. Richard Mitchell says that most people are "ignorant" of the "complicated dynamics that Gerald managed in prison."
The chasm between Hankerson's potential and his destiny was more than poignant; it was symbolic. "The system has always worked against African-American youth," says Ransfer, stressing that Hankerson was only a teenager when he was sentenced to life. When making presentations about Hankerson's case, Ransfer included statistics about racial disproportionality. African-Americans constitute only 3.9 percent of the state's population, but 18.7 percent of its prison inmates.
In her influential 2010 book The New Jim Crow: Mass Incarceration in the Age of Colorblindness, Ohio State University law professor Michelle Alexander maintains that law enforcement has targeted black men through its harsh enforcement of drug and other laws, producing a new way of turning African-Americans into second-class citizens. So advocating on behalf of inmates is "not a charity thing," Flowers clarifies. "These are our mothers, our fathers, our brothers, our sisters." Asked whether she herself has a relative serving time, she answers: "I'm a black woman. You'd be hard-pressed to find one who doesn't."
Despite moving in well-educated circles as a lawyer, Bible says that if he visited a prison, he could "look down the tiers and see everyone who lived on my block" as a child. At a certain point, one of the inmates might have been one of his brothers, whom Bible says had a troubled youth and spent 10 years behind bars on an assault charge.
Mitchell, who is African-American and educated not only as a lawyer but an architect, wrote an essay for the King County Bar Association bulletin last year entitled "Mass Incarceration, The Time to Change Is Now!" In it, the then–association president wrote about several occasions on which he'd been stopped by police. One early-'90s encounter, while a tourist in Washington, D.C., found him "face down on a car hood, spread-eagled, and recovering from a pat down that left me bruised in unusual places. I asked what was going on. The officer said, 'Someone reported suspicious behavior.' " Talking about it now, Mitchell says he understands the impulse to say "Enough is enough" and respond aggressively—only to wind up in jail.
All that may not have been going through Satterberg's head as he weighed Hankerson's clemency request. But the prosecutor says he was impressed that Hankerson had respected people backing him, and also came to believe that Hankerson had been "aggressively charged" with aggravated murder, which carries a mandatory life sentence. Given the change in the law now requiring an intent to kill, Hankerson would certainly be charged with a lesser crime if the case came to the prosecutor today.
Satterberg had weighed in on the matter once before, in 2006. As chief of staff to then-Prosecutor Norm Maleng, he wrote a letter to the state Clemency & Pardons Board opposing clemency. His office believed that Hankerson hadn't yet done enough time—just under 20 years at that point. The board unanimously voted to recommend clemency anyway. But Gregoire, vested with the final decision and citing Satterberg's letter, turned the lifer down.
Now Satterberg was ready to offer his support. In talks with the governor, he says, "She made me promise that if something went wrong, I would be right there."
Recidivism claims almost 50 percent of Washington's ex-convicts, according to DOC figures. The pitfalls are many, including barriers to housing and jobs, addiction, and mental-health issues. Hankerson, though, largely managed to escape these.
As his friends note, Hankerson seems free of bitterness and psychological scars—a mystery even to him. "There are still a lot of questions I don't have the answer to," he says, mulling it over. He hazards a guess that it has something to do with the young age at which he was incarcerated. Having not yet lived all that long in the world, he says he "didn't have an opportunity to miss a whole lot." Coming out was like being a kid again—riding a ferry for the first time, diving into Internet culture, taking a trip this past March to New Orleans for his 45th birthday.
He also had extraordinary support. When he had trouble getting financial aid to study at North Seattle Community College because he hadn't registered for the draft at 18 (he was already incarcerated), state Sen. Adam Kline, a frequent guest of Concerned Lifers and the Black Prisoners' Caucus, and Ari Kohn, president of the Post-Prison Education Program, intervened.
At Monroe, Hankerson had developed a relationship with a woman who had come to the prison as a criminal-justice student. At first they were friends. "I was married. She had a boyfriend," Hankerson says. Then his wife died. "I was a mess," he recalls. "Can I come see you?" she wrote. The relationship blossomed. When he finally won his release, he moved into her Ballard home, where they still reside.
Almost as soon as Hankerson was released, Bible, who wanted to devote more time to his law practice and new family, started grooming Hankerson to take his place at the NAACP. The onetime prisoner became branch vice-president, running meetings when Bible couldn't and serving on various civic committees.
It was in this capacity that he took a seat on a city-convened Race and Social Justice Initiative. Serving with him was Will Pittz, executive director of the Washington Community Action Network, a social-justice advocacy group. "I was impressed with the way he operated," says Pittz, who recalls Hankerson persuading the group to take a stand on a juvenile-justice bill in the legislature, even though the Initiative's focus was intended to stay on city matters. "He challenged us to think about what we really stood for," Pittz says.
When an organizing job came up at Washington CAN! in 2011, Pittz offered it to Hankerson. "It really wasn't a hard decision," Pittz says. At Washington CAN!, Hankerson worked on campaigns related to corporate responsibility and foreclosure, but much of his work there has focused on organizing small businesses with sister organization Main Street Alliance, whose small Washington branch is housed in Washington CAN!'s office. At Main Street, which he now directs, he has worked on immigration reform (the coalition supports it), paid sick leave (ditto) and raising the minimum wage (still under debate by members). Sidestepping his own views on the contentious minimum-wage issue, Hankerson says, "My job is to organize and negotiate."
His position at the NAACP allows for more fire-breathing. Even so, he sometimes sounds much more like a manager in his role there. He says he decided to challenge Oscar Eason, the longtime head of the organization's three-state conference, in an election last September, after looking at the conference's website and finding it "completely blank." "The reality was a lot of people were doing nothing," he says.
Eason insists that under him, the organization was "one of the most notable state area conferences." It's Hankerson, the veteran contends, who will have trouble getting up to speed given his past.
By a narrow margin, however, conference members voted for Hankerson—an upset that survived a recount request and some degree of chaos in the aftermath. Nobody even knew who was going to pay for the banquet that night, Hankerson says. "It was like they threw the keys over their shoulder."
Hankerson says one of his first acts was to require all 11 branches under his jurisdiction to file reports on their activities. "Those that were dormant, the request was 'Why?' " Then he went to Portland to visit what he said is known as a "headache" branch—"either doing nothing or doing too much"—to find out how he could help. On a recent day, planning another trip to Portland, he says he intends to deliver this message: "Look, I can't answer 10 e-mails a day from every branch."
It was two months after Hankerson took the reins of the three-state conference, during the November 2 centennial gala for the Seattle King County NAACP, that Bible asked him, "Are you ready?"
"For what?" Hankerson responded.
"Tonight, the transition begins," Bible said.
Hankerson says he was sitting at his table still puzzling over what that meant when he heard Bible announce that the branch president was stepping down and letting the vice-president—already the organization's regional leader—fill the role.
"I felt the shock in the room," recalls Sakara Remmu, a former NAACP official who was there that night. While the branch's executive committee knew the handover was coming, it didn't know when.
By resigning midterm, Bible avoided the rancor that could have been sparked by an election. The branch—which had experienced so much bad blood during Alfoster Garrett's one-year tenure that he had accused an executive committee member of hiring a hit man to assault him (an accusation never proven)—had had enough of that.
The branch seemed on a much evener keel since Bible took over in 2007. He cites as big accomplishments Hankerson's release and the organization's role in persuading the Department of Justice to investigate the Seattle Police Department.
Still, Lacy Steele, 82, a retired Boeing manager who served as branch president from 1972 to 1998 and who still operates as branch office manager, acknowledges that membership is a fraction of what it was in his heyday, when school desegregation was on the table and memories of the civil-rights era were fresh. Approximately 5,000 people belonged then. Now about 1,000 do.
Some 20 calls a week still come into the NAACP office, located at the bottom of a Central District church, most from people who believe their civil rights have been violated and want legal help, according to Steele. "Even when you help them, you don't hear from them again and they don't join," Steele says.
"Only time will tell" whether Hankerson will prove an effective leader, the octogenarian says, but he approvingly notes that the branch's new leader has at the very least brought some fresh blood on the executive committee.
"The energy and passion he brings to the work is very contagious," says one new member, Rachael DeCruz, a savvy 28-year-old communications professional who worked alongside Hankerson at Washington CAN!
Hankerson's work at Washington CAN! also informed a town hall on foreclosure that the branch hosted one March evening. Some 60 people filled an event space in Columbia City known as Southside Commons, helping themselves to Ezell's fried chicken before taking a seat.
Hankerson made a short introduction. "All of us are struggling. We're all part of the same fight," he says. Then he turned over the meeting to branch economic-development director Sheley Secrest, who held forth on the impact of foreclosures on the black community and invited everyone present to introduce themselves. One by one the audience members gave impassioned speeches about what had brought them to the town hall. One has a daughter who lost her house. Another felt swindled at closing when what was supposed to be a fixed-rate mortgage suddenly turned into a riskier variable-rate mortgage. A number are worried about gentrification.
"All of a sudden, everybody loves this area," said one middle-aged man, who cites Brooklyn's hyper-development as a warning. "Brooklyn don't even look like Brooklyn anymore," he said. "Everybody is speaking Russian. You're going to come down here 20 years from now and everybody is going to be speaking Russian."
"It's the Chinese who are buying the land," another audience member chimed in. Still another pointed toward Seward Park and ventured that the "Jewish community here, they're not bothered by what's about to happen."
"My work is for black people and I don't care who knows it," added an older woman. "I'm not for the Africans. I'm just for the black people born in the United States."
The speeches went on so long that Hankerson broke in after about a half-hour to implore the crowd to "speed it up" and get to a discussion of solutions. A half-hour later, with the introductions still in progress, Hankerson slipped out for the evening.
A few days later, the man who integrated Monroe's Concerned Lifers offers a palatable spin on the anti–Russian/Chinese/Jewish/African comments. They stem from a concern that African-Americans are getting pushed out of their historic neighborhoods, he says.
But, he says, one of the main things he wants to change is the "perception of NAACP as an all-black organization. We don't only represent black people. We represent anyone who has had their civil rights violated. The NAACP wasn't even founded by black people. It was founded by whites."
Later in the month, Hankerson is back in Columbia City for a weekly meeting of a group called Career Bridge, which supports disadvantaged African-American men, especially those re-entering society after serving prison time. It grew out of the work done by the Black Prisoners' Caucus, and recently found a facilitator in the Urban League and funding in the form of a $400,000 grant from the city.
Hankerson makes it when he can. Tonight, sitting next to his branch director Secrest in a large circle spread out in the Life Enrichment Bookstore, he seems particularly loose. He introduces himself as 9-0, praises the "genius in this room," and volunteers that "the NAACP is willing to use whatever power we have, whatever power we have" to support the group's mission.
Career Bridge is at a critical juncture. The city grant comes with strings attached, one being a pending "evidence-based" evaluation of its effectiveness, another the hiring of a program manager (the Urban League will soon choose Secrest for the job). There's a lot of concern in the room about bureaucrats and consultants taking over what had been a self-led group, oriented largely around peer mentoring and a sense of community.
Hankerson is one of the chief skeptics. He says he's "sick and tired" of organizations getting paid millions of dollars "to sit in Smith Tower writing about you." That money "should be ours," he says, as should the control. "We got to create our own shit," he declares. "This belongs to us."
Sometime during the meeting, two young men come in and hang around a food table off to the side. "You guys just get out?" a man in the circle asks.
"Yeah," says one of the newcomers, heading over to the group.
"Let's give these brothers a hand," someone says. Everybody applauds, and the two visibly relax, taking seats in the circle.
Hankerson cocks his head back and smiles. "Welcome home, brothers," he says.
nshapiro@seattleweekly.com