Every day on the Web, movies, music, apps, and porn fly through the air around us. People around the world are silently sharing millions of files with one another. Nicolas Maigret wondered what that digital highway of peer-to-peer networks might look like, so he opened the Internet and stepped inside.
"The sensation is like being at the corner of a big highway," he says over Skype. "It's a lot like the cyberpunk fantasies of the '80s, where people would be inside this flow of information. When you read something like Neuromancer, you imagine something like this."
The result of Maigret's curiosity is The Pirate Cinema, a video installation receiving its U.S. premiere in Seattle, which places you inside a peer-to-peer network in real time for a brief, pixilated moment. What does that look like? Well, in preview form, it's like Taylor Swift, Bruce Willis, Dr. Who, and a healthy heaping of orgasms all thrown into a blender.
Chopped into fragmented, schizophrenic, millisecond increments, the images come at you all at once in a laggy maelstrom.
How it works is surprisingly simple. Maigret enlisted a developer friend, Brendan Howell, to create a program based on technology that some businesses use to spy on peer-to-peer networks. Maigret explains,"A lot of publishers like Universal will hire companies to monitor downloads, like who got the latest Rihanna or something, and they'll send them to court. These are totally tricks that are available; you can program them without crazy skills. I was super-interested in using this same technique, this same sort of mechanism, for the opposite purpose—just to show what is happening on these networks, the vitality and dynamism of these networks, the collages they produce. I want to expose the geographic networks they create as well. It's really a shift for our generation, the super-globalist scale of the exchange."
Indeed, if The Pirate Cinema reveals one thing, it's the massive scale of file-sharing culture. Maigret's three screens show snippets of video from the 100 most-requested files being pirated that moment via BitTorrent, a popular program that allows people to share files from their computers by breaking them into small, easily transferable chunks. Thus, if a computer is transferring one second of video (plus audio) from a highly requested file of The Avengers at the moment The Pirate Cinema is active, you'll see that second of The Avengers on screen. Or maybe Iron Man, arm outstretched, with the sound of a laser beam blasting through the speakers, only to be replaced by Macklemore popping tags in his music video a second later, and Samuel L. Jackson yelling at John Travolta about foot massages a second after that. When you have three screens doing this simultaneously, things get crazy.
In addition, graphics on each screen indicate the files' origin and destination. Watching a preview of the piece, in one three-second burst I saw files from Italy, Greece, Hungary, India, Indonesia, the United Arab Emirates, Nigeria, and Argentina transport fleeting clips of The Rock wielding machine guns and Daft Punk with Pharrell trying to get lucky. All Maigret has to do is start the software and the piece drives itself. (The program, different each evening, runs about 55 minutes.)
"More and more," says Maigret, "I'm pushing into stuff that is playing with leaving the frame open, not deciding all the rhythms of the project. My work is, you could say, setting up the structures to reveal dynamics."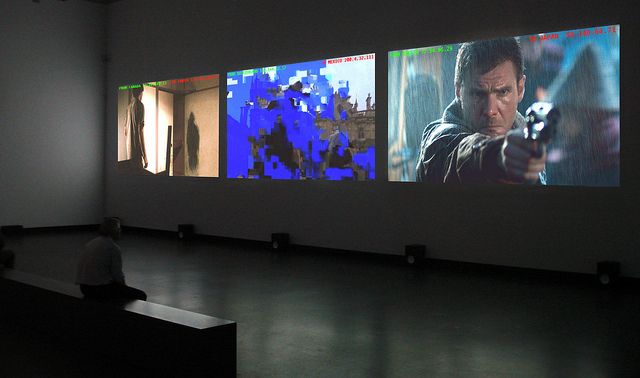 The Pirate Cinema has been exhibited in different form in Canada, Europe, and China. Commissioned by Northwest Film Forum to bring the piece here, Maigret says that audience reception varies with each country. "The interaction in China was super-interesting," he recalls. "People didn't really understand what the project was about. There's not something like piracy over there, because you can just buy the copied DVD, movie, or game on the next street. The concept of copyright is not a hot topic there like it is here."
Seattle's incarnation of the project will be different from prior versions, which Maigret didn't personally orchestrate. This weekend he'll attend each performance—with audience discussion to follow—while actively "composing" the files to explore different niches and subcultures within the larger sharing/pirating culture. Structuring The Pirate Cinema in acts, Maigret will explore blockbusters, porn, music, and more by tracking the flow of those specific files.
While peer-to-peer file-sharing of copyrighted materials is controversial (particularly for struggling musicians and filmmakers who find their intellectual property being given away royalty-free), Maigret isn't interested in that debate. He simply accepts file-sharing culture for what it is, as do mashup artists like Girl Talk and Christian Marclay. He says The Pirate Cinema is "totally a commentary on this sort of omnipresent surveillance"—referencing the NSA's notorious PRISM data-mining program, which also spied on peer-to-peer networks. "You can reveal it as something illegal, or as a culture that's very vibrant and rich and interesting. I don't impose a specific understanding or moral or vision of it."
The people Maigret effectively spies on without their permission aren't the owners of the content underlying The Pirate Cinema. Rather, they—meaning you and I—are the users or traffickers of that copyrighted content. He's not out to bust us, but to monitor us. "People are honestly not scared when they see that I have this technology," he says. "They are more just surprised and intrigued that we can actually watch the content of these information packets being passed back and forth in real time."
In the end, ethics aside, The Pirate Cinema is certainly never dull. If you consider the Internet a place, what a kaleidoscopic landscape it is. Watching the Ying Yang Twins, Hannibal Lecter, and Batman scrambled around with blurry clips of blow jobs is as strange as anything you'd see in real life. As Maigret and the NSA monitor our searches, 99 percent of the time they'll probably just find Sasha Grey queries, unless Edward Snowden has anything to say about it.
ksears@seattleweekly.com
NORTHWEST FILM FORUM 1515 12th Ave., 267-5380, nwfilmforum.org. $12–$15. 8 p.m. Thurs., May 29–Sat., May 31.