* Denotes Seattle Weekly suggested event

Wednesday, June 25

Write With Pride Writers and performers attending include Mattilda Bernstein Sycamore (The End of San Francisco), local poet and comic-book artist Roma Raye, activist and organizer Gunner Scott, and journalist Sarah Toce.
Gay City, 517 E. Pike St., 860-6969, gaycity.org. Free. 7 p.m.
Portraits of Pride Works by Amy C. Abadilla, Cody Blomberg, Andrew Caldwell, Dale Davis, McCade Dolan, Scott Dunn, Stephen Eaker, Juan Franco, Elise Koncsek, Nan Leiter, Mario Lemafa, Lector Morales, Grego Rachko, Brian Reindel, and Matt Wencl remain on view.
Gay City, Free. 3–8 p.m. Wed.–Fri., 12:30–5 p.m. Sat. Ends July 7.

Thursday, June 26

* Flash Gordon The unintentional camp classic from 1980, based on the wonderful old serials of yore, features Max von Sydow as Ming the Merciless. Hunky Sam Jones plays Flash. Among other actors who should've known better: Timothy Dalton, Topol, and Brian Blessed. The theme song, as you know, is by Queen. Hosted by Mark Mitchell and Jordan Christianson.
Northwest Film Forum, 1515 12th Ave., 267-5380, nwfilmforum.org. $6–$11. 6:30 p.m.
Chuck Roy & Cameron Esposito The two popular TV comics have joined forces for a pride tour. Esposito was long a regular guest on Chelsea Lately.
Parlor Live Seattle, 1522 Sixth Ave., 602-1441, parlorlive.com. $20–$30. 7:30 p.m. Thurs., 7:30 & 10 p.m. Sat.–Sun.
OutDancing DJ Hallie Kuperman and MC Koop spin the hits.
Century Ballroom, 915 E. Pine St., 324-7263, centuryballroom.com. $10 suggested. 21 and over. 7:30 p.m.
* Totally Gay Sing-Along Night Movie clips, music vids, and more screened for your camp-tastic appreciation.
Central Cinema, 1411 21st Ave., 686-6684, central-cinema.com. $10–$12. 8 p.m.
* Gender Blender Attending the party will be Ben DeLaCreme, Le1f, and Josyln Fox (RuPaul's Drag Race).With music from Riff-Raff, Roy G Biv, and Tiffany Roth. Hosting is Tiffany Pollard. Benefits Gay City Health Project and the Gender Justice League.
Neighbours, 1509 Broadway, narkmagazine.com. $18–$70. 8 p.m.
PrideFest '70s Kickoff Party Robbie Turner hosts, with a Cher drag contest pegged to Saturday's concert at the Key. Music by Colby B.
W Hotel, 1112 Fourth Ave., seattlepridefest.org. $10. 21 and over. 8–10 p.m.
Pulse Pride Drew and Jessica Paradisco host this dance extravaganza, with an assist from Jessica Wild (RuPaul's Drag Race). Spinning the tunes are DJs Dirty Bit and Trent Von.
Neighbours, 1509 Broadway, narkmagazine.com. $5–$10. 18 and over. 9 p.m.

Friday, June 27

* Trans* Pride Parade The march begins at Seattle Central Community College, where awards will be given to Heklina and Mama Tits, and concludes at Cal Anderson Park, where CeCe McDonald will speak. Music (the Nasty Habits, DJ Trinitron) and food will also be featured, along with remarks from Laverne Cox (Orange is the New Black) and author Janet Mock.
genderjusticeleague.org. Parade starts at 6 p.m.
Pride Shabbat Speakers, music, prayer, and dinner. Free, but register via templebetham.org.
Temple Beth Am, 2632 N.E. 80th St., 525-0915. 6:15 p.m.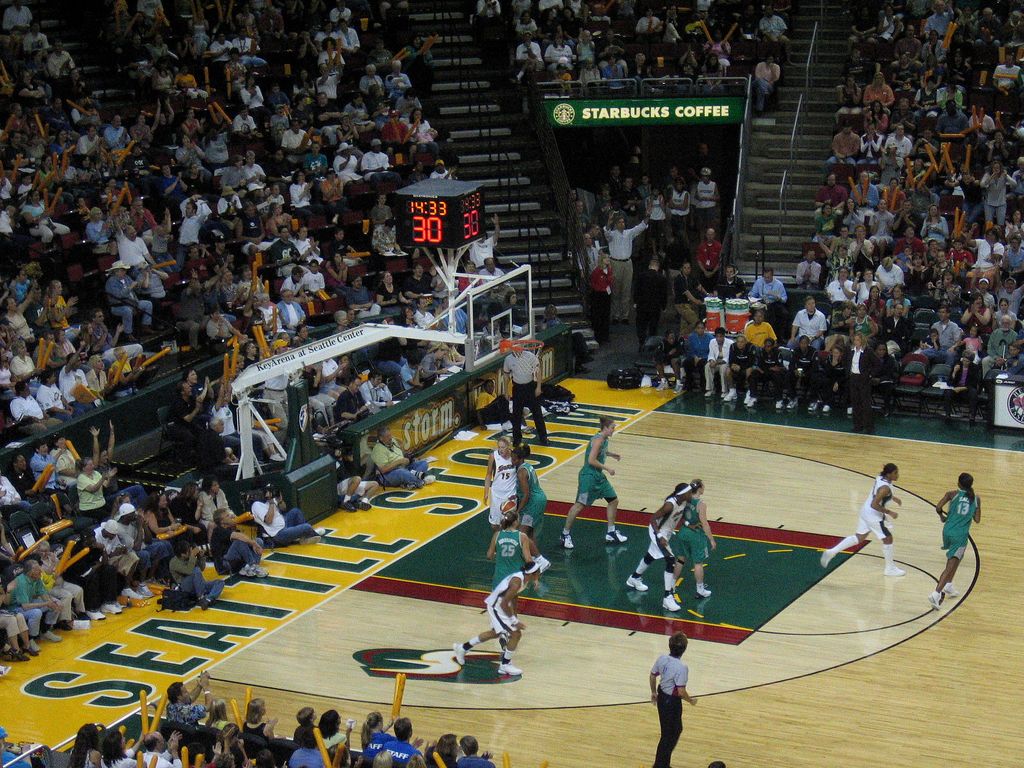 Seattle Storm, photo by flickr user Don Nunn* Seattle Storm Pride Party Game We're playing the Minnesota Lynx. Rainbow beads to the first 3,000, with music from DJ Ricki Leigh before and after the game.
KeyArena (Seattle Center), wnba.com/storm. $18 and up. 7 p.m.
GLSEN Youth Pride Dance DJ Puerto Roc provides the tunes, with a makeup table manned (so to speak) by the Sisters of Perpetual Indulgence.
Belltown Community Center, 415 Bell St., seattlepride.org. Probably free. All ages. 7–11 p.m.
Hairspray John Waters' campy, affectionate tribute to the '50s Baltimore teen culture of his youth, with music and hairstyles to suit. With Sonny Bono, Divine, Ric Ocasek, and Ricki Lake in her career-making role. Not to be confused with the 2007 Travolta-starring remake (not that there's anything wrong with it). (PG-13)
Central Cinema. $6–$8. 7 p.m. Fri.–Wed., 3 p.m. Sat.–Sun.
TrannyShack Seattle Pride Edition Featuring Heklina, Holotta Tymes, Turleen TailSpin, Sasha Stephane, and Ginger Snap.
The Unicorn/Narwhal, 1118 E. Pike St., seattlepride.org. $5. 21 and over. Doors open 8 p.m., show 10 p.m.
Dickslap Pride Cucci Binaca hosts, with cage boys Dave Raring and Rich Kelly.
The Eagle, 314 E. Pike St., seattlepride.org. 9 p.m.
Madonna: Truth or Dare Wow, has it really been 23 years since Madge commissioned this 1991 pseudo-documentary to follow her Blond Ambition tour? Remember that? Back when she was dating Warren Beatty, after Sean Penn, before motherhood? A lot of water has passed under the bridge since then, but here we see the steely determination that keeps her an arena-filling star, two decades later. (R)
Central Cinema, $6–$8. 9:30 p.m. Fri.–Wed.

Saturday, June 28

MOHAI Family Pride Day Winners from Pride Idol will be on hand. There are also children's activities and bingo with Lunch Lady Mama. And note the ongoing exhibit Revealing Queer, about gay history in the Northwest, which ends July 6.
Museum of History & Industry, 860 Terry Ave. N., 324-1126, mohai.org. $14–$17. 10 a.m.–5 p.m.
* PrideFest Family Day Games, food, bubbles, and a balloon toss are just some of the fun activities planned.
Cal Anderson Park, 1635 11th Ave., seattlepridefest.org. Free. 1–5 p.m.
* Capitol Hill Pride Festival All of Broadway shuts down, all day, for this block party. Attractions include a pony ride for the kids, a special Latino stage, food vendors, Keith London from American Idol, '80s cover band The Nasty Habits, the Samurai Bon-Dance Team, a mini-staging of the musical The Wonderful Wizard of Oz, a dogs-in-drag contest (yes, for your pets), and musician Ayron Jones.
Broadway between E. Mercer St. and E. John St., capitolhillpridefestival.info. Free. 11 a.m.–10 p.m.
Pride Cruise
Hello, sailor! Cruise around Lake Union, with drinks, dancing, and music from DJs Trinitron and Jens Irish.
The Islander, 1611 Fairview Ave. E., narkmagazine.com. $25–$75. 2–6 p.m.
PrideFest Cyndi/Cher Welcome Party Heklina and various other luminaries discuss the most important concert of the weekend—if not the century.
Seattle Center, PrideFest Main Stage, seattlepride.org. Free. 3–8 p.m. Sat., June 28.
PrideFest Street Festival Over 20 food trucks will be featured, plus music from DJs Bret Law, Rob Hall, and Colby B.
11th Ave. & Pine St. (east of Cal Anderson Park), seattlepridefest.org. Free. 4 p.m.–dusk.

Seattle Dyke March Lamar Van Dyke is the emcee for this 20th annual event (see Q&A, here), which concludes with a party in Cal Anderson Park (with music from The Redwood Plan). Other featured performers include Chonie Vargas, Sistah Hail Storm, Nina Packenbush, Rainbow City Band, and Militant Child. Speakers include representatives from Trans Pride, QLaw Foundation, Northwest Network, and Emerald City Metropolitan Community Church.
Seattle Central College, Broadway & Pine St., seattledykemarch.com. Free. 5 p.m. rally, 7 p.m. march, 8 p.m. afterparty.
* Cher Almost a decade after ending her three-year "farewell" tour, Cher's still got it. The Goddess of Pop is currently on the D2K (that's "Dressed to Kill") tour in support of her 25th album, last year's Closer to the Truth. Expect elaborate sets, costume changes, and of course hits spanning her nearly 50-year career, including "If I Could Turn Back Time," "Believe," and "Woman's World." With Cyndi Lauper, who likely has an even bigger Pride following.
KeyArena, Seattle Center, 684-7200, keyarena.com. $45.50 and up. 7:30 p.m.
Tryst No cover; various drink specials are offered.
Tommy Gun, 1703 E. Olive Way, 323-4866, tommygunseattle.com. Free. 21 and over. 8 p.m.
Sketch Disko Come dressed like a comic-book hero, or have one of the makeup artists make you look like one. Hosted by Tina Tokyo, with DJs Trouble and Futurewife.
Kremwerk, 1809 Minor Ave., narkmagazine.com. $14. 9 p.m.
X Dance until dawn (almost) with DJs Brian Gorr and Bret Law.
Neumos, 925 E. Pike St., seattlepridefest.org. $20–$25. 21 and over. 9 p.m.

Sunday, June 29

* Seattle Pride Parade Everyone wants him, but we got him! (Well, we and Columbus, Ohio.) Grand Marshal for this year's Seattle Pride Parade is actor/activist George Takei, America's favorite gay grandpa, comic high priest of social media, and refuter of Fitzgerald's dictum about second acts. He'll lend his fabulous presence first to a 9 a.m. brunch at Tom Douglas' Palace Ballroom ($57.50), then to a Westlake Park pre-show, including performances by Lavender Country, Captain Smarty Pants, and the Seattle Women's Chorus, before the 11 a.m. parade down Fourth Avenue (if it's a warm day, you'll appreciate those shade trees). Pack your lawn chairs and stake out a spot early, or splurge on reserved, unobstructed-view bleacher seating at Fourth and Bell—$15 includes a complimentary mimosa! It'll run two and a half hours, organizers predict, starting (unless this year is different, and why would it be?) with a long and loud contingent of Dykes on Bikes (bring earplugs).The parade ends at Seattle Center, which hosts PrideFest—just as it did 40 years ago (though not necessarily voluntarily—see feature, here) at the city's very first pride celebration. (Also, read Kelton Sears' interview with Pride emcee Mama Tits here.)
Westlake Park, Fourth Ave. & Pine St, seattlepride.org and seattlepridefest.org. Free. 11 a.m.
* PrideFest Three stages of entertainment and 150 or so vendors might just be enough to distract you from what's sure to be a feast of eye candy. Be sure to cavort in the International Fountain in tribute to your courageous elders (finger wag, finger wag), whose pioneering 1974 celebration consisted of just that. No multinational corporate sponsors or fancy-ass closing concerts with Steve Grand and Chely Wright (Delta Stage, 7:45 p.m., $25–$30, brownpapertickets.com) for them, kids! For their Seattle Center Pride, they had a few dozen people getting wet, and they liked it! 
Seattle Center, seattlepridefest.org. Free. Noon–8 p.m. Sun., June 29.
Pride Day All-Day Happy Hour Drink specials will include "Man-mosas."
Hard Rock Cafe, 116 Pike St., 204-2233, hardrock.com. Free. 11 a.m.–11 p.m.
* KEXP Pride Party This all-day event features a beer garden, drink specials, and a pig roast. And as you'd expect—nay, demand—all the top turntablists will be there, meaning DJs El Toro, Riz, and Alex. Also note the special "GAY-E-X-P" broadcast hoasted by DJ El Toro (9 p.m.–1 a.m. Wed., June 25).
Tilikum Place Park, 2701 Fifth Ave. (at Denny), kexp.org. $15. 21 and over. 10 a.m.–6 p.m.
* Silly Goose Pop-punk is the blues of this generation, the modern outlet for confused, my-stomach-hurts-I'm-so-lonesome emotions. Enter Seattle's resident Blink 182 cover band Silly Goose. It'd be easy to write off the group as a novelty, but Jenn Ghetto's (Carissa's Wierd) breathy voice replaces Blink's snarky sneer with earnest longing. Part of the Pride-affiliated "Queer as Fuck" showcase, this show is a chance for those struggling with their identity to embrace what Blink says are "all the small things." With Sashay, Chastity Belt, NEEDLECRAFT, Diversions.
By Dusty Henry
Chop Suey, 1325 E. Madison St., 324-8005, chopsuey.com. $7. 21 and over.5 p.m.