Just in time for the Fourth of July, here's your essential guide to throwing a blowout bash—or just finding the perfect dish or refreshment to bring to any party. Meat, sides, dessert, booze—we've got all your barbecue needs covered. We talked to the experts: Jason Wilson, Maria Hines, Jason Brzozowy, Jen Doak, Charlie Garrison, Nick Novello, and Kyle Nicholson.
So let's get the main dish out of the way. Who better than the guy who cooks over fearsome flames at Miller's Guild or the chef who made eating an entire pig's face at Radiator Whiskey popular to tell you what hunk of meat to choose?


*********************************************************************************************
**THE MEAT**
From Charlie Garrison of Radiator Whiskey: "I love to barbecue salmon collars—they are a great kind of cut that you can usually find at fish markets."
From Jason Wilson of Miller's Guild: "Lamb necks: Get them from your butcher and have them boned out into 'steaks.'  The neck is super-tender and delicious. I usually do a garlic and rosemary sea-salt rub and grill it.
"Bavette steak: a hanging flab meat that is gaining popularity, it's so well-marbled that it takes very little cook time. So don't overcook it; let it rest once medium-rare and give it some nice olive oil and sea salt. Again, ask your butcher for the cut."
---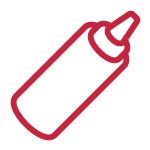 **THE SAUCE**
You don't have to make a sauce from scratch—or even serve one at all, since the meat's natural juices and flavors should really steal the show. But there's no shame in being a finger-lickin' sauce lover. One easy, homemade version: Just grill some fruit (like peaches) and onions and add vinegar to taste.
Or try taking your favorite store-bought sauce and giving it a blast of bourbon or beer, as Jason Brzozowy of Tilth does. If you tend to go for spicier, heavier sauces, a few dashes of fresh citrus can brighten them up.
---
**THE SIDES**
Whether served before the meal or right alongside it, indulgences like coleslaw and potato salad never go out of style. But you can add a tasty twist to them—or try something completely out-of-the-box. Maria Hines and Jason Brzozowy at Tilth makes a slaw out of Brussels sprouts and a smoked potato salad (below).
For something really inventive, go with Wilson's "Grilled Guacamole": Simply grill avocados (on all sides), red onions, jalapeños, and a lime. Chop them all together with some fresh cilantro.
Another fun twist on Mexican: Take a traditional pico de gallo salsa recipe and swap out cubes of watermelon for the tomatoes (or let the two fruits co-exist; yes, the tomato is a fruit). The rest is the same: serranos, onion, lime juice, salt.

nsprinkle@seattleweekly.com
Art credits: "Mustard" and "Steak" by Tom Glass, Jr., "Wine Glass" by Dan Hetteix, "Burger" by Patrick Trouvé, "Marshmallow" by Milky - Digital innovation, "Salad" by Edward Boatman from The Noun Project collection.
Brussels Sprout Slaw
(serves 4-6)

Ingredients
2 lbs. Brussels sprouts, outer leaves removed, thinly sliced
1 cup thinly shaved radicchio
1 cup thinly shaved fennel
1 ea Honeycrisp apple, thinly sliced, julienne
1 bu picked Italian parsley leaves
⅓ cup apple cider vinegar
1 tsp. caraway seed
2 tsp. Dijon mustard
1½ cups olive oil
Salt and fresh black pepper
Directions
In a mixing bowl, combine sprouts, radicchio, fennel, apple, and parsley leaves. In a small mixing bowl, whisk together caraway, Dijon, and olive oil to make a vinaigrette. Lightly dress the slaw and season with salt and lots of fresh black pepper.
Smoked Potato Salad
(serves 4-6)

Ingredients 2 cups applewood chips, soaked and drained
½ cup olive oil
2 lbs. new potatoes (small, uniform size)
½ cup bacon lardons, rendered (optional)
3 ea green onion, thinly sliced
2 cups Brussels sprout leaves, blanched
¼ cup dry cured black olives, pitted and quartered
2 stalks celery, sliced thin
2 sprigs tarragon, roughly chopped
½ bu Italian parsley, roughly chopped
1 tsp. Dijon mustard
¼ cup red wine vinegar
Salt and fresh black pepper to taste

Directions
Set up the grill with the coals lining one side. Aim to keep the temperature between 400 and 450 degrees. Lace the wood chips in a perforated pan directly over the coals. Toss the potatoes with 2 tablespoons olive oil and season heavily with salt and fresh black pepper. Place the potatoes in a pan on the grill away from the coals. Cover the grill and cook until tender, about 20 minutes. Let cool. Combine remaining olive oil with Dijon and red wine vinegar to make a vinaigrette. Halve the potatoes and combine with remaining ingredients.
---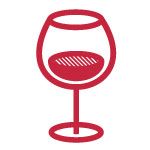 **THE BOOZE**
Sangria is pretty much sacrosanct in summer. But again, you don't have to play it safe. Over at Brimmer & Heeltap they've devised updated red and white versions.
White Sangria
(makes one batch or eight servings)
Ingredients
4 bottles of inexpensive dry white wine
1–2 cups pear brandy (to taste)
1 cup Domaine de Canton (ginger liqueur)
6 bottles San Pellegrino grapefruit soda
½–1 cup shrub* of green apple, grapes, and fennel
Serve on rocks with 2 tsp. fruit mixture.
Red Sangria
(makes one batch or eight servings)
Ingredients
4 bottles of inexpensive dry red wine
1–2 cups brandy (to taste)
6 bottles San Pellegrino blood-orange soda
½–1 cup shrub* of strawberries and rhubarb
Serve on rocks with 2 tsp. fruit mixture.
* Though either of these recipes will taste just fine without the shrub, it's pretty simple to make. It's just the remains of fruit that's been fermented for at least a week in vinegar and sugar. A general ratio to go by is 1 part fruit/1 part white vinegar/a quarter-part sugar. Mash the fruit of your choice with sugar and refrigerate overnight. Then add the vinegar and let sit refrigerated for 1 week. Strain and serve, or keep refrigerated until ready to use.
Beer Sangria
(makes one batch or eight servings)
In this version of sangria from our drink columnist, Zach Geballe, you get the best of both worlds: beer and wine. Instead of wine, use a Belgian beer for your base (about 8 pints). Add cut-up apples, stone fruits, and fresh strawberries, and about an ounce of brandy per serving. Says Geballe: "It's a strange yet captivating drink: fruity but dry, refreshing yet a bit potent."
Wine Spritzers
These are the easiest of all to make: combine your favorite white wine with soda water, 1 cup wine to ½ cup soda. Liven it up by choosing a flavored soda or adding a splash of a fruity liqueur. I like to then add frozen blueberries in lieu of ice cubes (which also make a nice addition to a glass of non-alcoholic lemonade).
---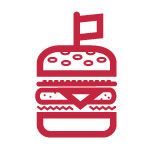 **THE BEST BURGER**
Of course you can never go wrong with a juicy burger. Well, actually you can, but not if you follow these do's and don'ts from Nick Novello, supervising chef de cuisine of Skillet Diners and maker of one of the best burgers in town.
DON'T: go to the freezer.
DO: check out your neighborhood butcher. We only get so many sunny days in Seattle, so don't skimp on quality—get a nice 80 percent beef/20 percent fat all-natural beef patty.
DON'T: overcook your burger. Constantly flipping your patty and pressing the patty on direct flames will squeeze all the natural juices out and cause flare-ups on the grill, all that flavor burning right up.
DO: cook it medium rare. Flip your burger once! Really, just once. I wait for signs that it's ready to be flipped: blood cooking through, change in color. Once this happens, flip it. Then add cheese; use something like a blue, fontina, or brie. When the cheese is melted, you've got medium rare.
DON'T: use a bunch of spices.
DO: keep it simple: fresh-cracked black pepper and kosher salt. Anything more and you're making meatloaf.
---
**OFF THE GRILL**
If you really want to surprise (and hopefully delight) people, you might forgo the grill altogether and serve your meat inside the Northwest Vietnamese Crepe that Kyle Nicholson from San Juan Island's Duck Soup Inn makes. Stuffed with smoked pork shoulder (which I recommend just buying from Bourbon & Bones) and spot prawns, it's an interesting and really delicious take on surf & turf. The beauty of this recipe is that the crepe batter can be premade and brought in a cooler on camping trips. The crepes can even be cooked in a pan over a fire pit.
Northwest-Style Vietnamese Crepes
Yields 1½ qts
Ingredients
½ cup dry split mung beans (or substitute lentils)
3 cups coconut milk (or substitute rice, almond, or dairy)
2 cups rice flour (or substitute wheat or other grain)
1 tsp. ground ginger
1 tsp. ground coriander
½ tsp. salt
2 tsp. sugar
1 tsp. ground turmeric
2 tsp. canola oil
Filling
Cleaned spot prawns
Smoked pork shoulder or belly
Various herbs and greens such as pea shoots, miner's lettuce, and wood sorrel

Directions
Place dried mung beans in blender with ¼ of the liquid and purée until smooth. Add the remaining ingredients and continue to purée. Heat skillet over medium heat and coat generously with oil. Nonstick pans work well. Pour batter into hot pan and distribute evenly. When edges of the crepe are set and start to crisp, begin to add your prawns and pork over half the crepe. Cover the pan with a lid or place in a hot oven for 2–3 minutes to cook the prawns. Place herbs over proteins and fold in half like an omelet. Serve as is, or with a dipping sauce such as nuoc cham or vinaigrette.
---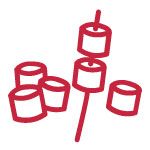 **THE DESSERT**
No Fourth of July bash is complete without s'mores. But take them to the truly decadent side and replace the graham crackers with your favorite cookies (like ginger snaps). You can smash the traditional marshmallow between them, but instead of plain old Hershey's squares, go with a rich chocolate truffle. For an even more over-the-top version, throw in a grilled apple or pineapple ring. Don't even try to eat it daintily.

All illustrations by Tom Glass, Jr., Dan Hetteix, Edward Boatman, Milky - Digital Innovations, and Patrick Trouvé all from The Noun Project

nsprinkle@seattleweekly.com