Best of Two Mid-Summer Fests
What you need to know about Doe Bay and Summer Meltdown this weekend.
By Azaria Podplesky
Tue., Aug 5 2014 at 06:35PM
Summer is heating up, and festival season is in full swing. With both Doe Bay and Summer Meltdown taking place this weekend—and with only so many hours in the day—we've got the scoop on what to do and when to do it.
For Doe Bay, resort owner Joe Brotherton tells us he selects artists and bands as if they were friends he was inviting over for a waterfront jam session: "It's got to be people that [I] would like to personally spend a weekend camping with." Brotherton's clearly a funky, eclectic dude, because he booked soul singer Cody ChestnuTT (8:30 p.m. Fri.) and folk-rockers Thao & The Get Down Stay Down (8:25 p.m. Sat.) to headline the Big Field Stage.
Brotherton says he also strives to feature up-and-coming bands. "We've had bands signed by Sub Pop more years than not," he says. On that tip, the Seattle Weekly music brain trust recommends two emerging acts also playing the Big Field Stage. Mark Baumgarten calls D'Vonne Lewis' wild jazz four-piece Industrial Revelation "brash and ballsy" in his "Best Jazz Combo" pick (3:45 p.m. Friday; read about the group here), while Dave Lake explains why Hobosexual's "detuned fuzzy guitars and hard-grooving riffs" make the badass guitar-and-drums duo Seattle's "Best Rock Band" (6:50 p.m. Saturday; check out what we had to say here). So if we're doing our math right, you can pretty much plant your butt in front of the Big Stage Friday and Saturday and have your mind blown in the process. No need to thank us, we're happy to help!
Meanwhile in Darrington, Summer Meltdown producer Josh Clauson (who performs in funk band Flowmotion, also playing) says this year's roster will get the crowd on its feet. "We're always looking to find acts that bring out the moves in people," he says. "We don't favor one genre over another, which is why it's called the Meltdown."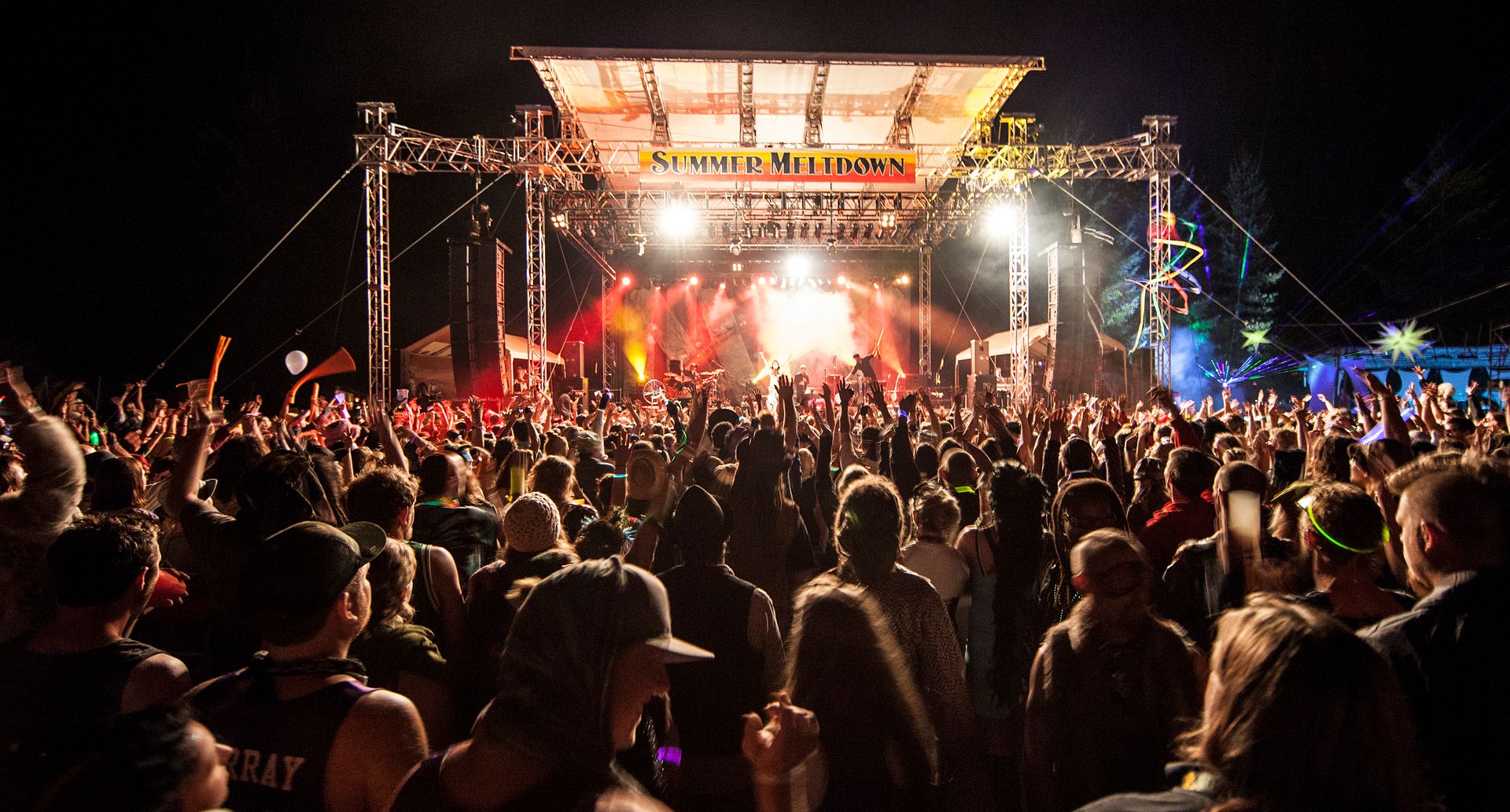 Mainstage at Summer Meltdown Festival. Photo by Matt Mcdonald
Clauson booked electronic quartet STRFKR (Main Stage, 11:05 p.m. Fri.), soul singer Allen Stone (Main Stage, 11 p.m. Sat.), and Sir Mix-A-Lot (Garden Stage, 8:10 p.m. Sun.) to get the party started, and we at Seattle Weekly Music Factory wholeheartedly endorse those acts. But don't miss Manatee Commune (Garden Stage, 2 p.m. Sat.), this year's "Best Electronic Artist" (see here), followed by Kris Orlowski (Main Stage, 3 p.m. Sat.), whose recent single "Believer," from the album of the same name, "is filled with a booming, inspirational chorus, calling from a reserve of optimism" (read more about that here).
By now you also know both Doe Bay (in its seventh year) and Summer Meltdown (in its 14th) feature a variety of camping options, activities for children, and opportunities to explore the Pacific Northwest's awe-inspiring natural surroundings (including yoga, natch). While we can't make you go, we're pretty sure you're not offically a music-loving mossback until you do. So slather on the sunscreen and get out there—if you only hear about it from your friends, you can't say we didn't tell you.
Doe Bay Fest 107 Doe Bay Rd., Olga, 360-376-2291, doebayfest.com. $310 and up with only a few spots remaining. All ages. Thurs., Aug. 7–Mon., Aug. 11.
Summer Meltdown Festival 42501 WA-530, Darrington, summermeltdownfest.com. Text ColorFourText Color-day weekend pass $165, with other options available. All ages. Thurs., Aug. 7–Sun., Aug. 10.
music@seattleweekly.com