The artists represented in Modernism in the Pacific Northwest: The Mythic and the Mystical may seem like old news to museum-goers who already know the hallowed names of Mark Tobey, Morris Graves, Kenneth Callahan, and Guy Anderson. Still, for all the city's many tech-industry newcomers, I suspect this summer survey show—now in its final month at Seattle Art Museum—is an entirely fresh introduction.
The notion of a Northwest School, like most labels, was devised from outside Seattle during the late '30s and war years, when Tobey—eldest and most traveled of the Big Four—and Graves first drew notice in New York museums and galleries. A distant provincial port city, newly significant for Pacific shipping and Boeing, was briefly deemed an avant-garde hub. The eminent critic Clement Greenberg famously cited Tobey, following a 1944 show in New York, as an influence on Jackson Pollock, but that association was soon washed away by the tide of Abstract Expressionism. "They didn't fit the narrative, and they were edited out" of the postwar art canon, says Patricia Junker, who curated this large, important show—containing nearly 100 works—and wrote its catalogue essay.
It was the famous 1953 LIFE magazine article, "Mystic Painters of the Northwest," that introduced the Big Four to national readers. (You can see it, enlarged, along with a helpful timeline, in one of the gallery corridors.) SAM granted Tobey a career retrospective in 1959, but the following year he decamped for Switzerland. (Graves had by that time already absented himself from the Northwest.)
Tobey's and Graves' work still sold, but it was Callahan, Anderson, and heirs to the school who remained an active, living presence in our local art scene during the following decades. (Paul Horiuchi, George Tsutakawa, Leo Kenney, and others are represented in the show's final gallery.) Significantly, and foundational to this new show, it was during the '70s—when Tobey and SAM founder Dr. Richard Fuller died—that a new generation began to reassess that wartime flowering. Marshall and Helen Hatch became major collectors, and their 2009 bequest to the museum brings several works to public view for the first time.
Geography apart, what do these guys have in common? All were pacifists repulsed by the war. (Graves was notoriously jailed for 11 months for refusing to serve when drafted.) All were syncretists looking East for both artistic and spiritual inspiration. (Graves favored Zen Buddhism, Tobey identified as Baha'i, and all were somewhat pantheistic seekers in a Thoreauvian sense.) The natural world was sacred, along with its original denizens (animals, Pacific Coast Indians, etc.); Graves famously invested his birds with numinous symbolism; and Callahan—who worked in a fire lookout during the war—would depict mountains throughout his career.
The influence of Asian art—Fuller's great obsession—can't be overstated. Callahan, who worked for many years at SAM, is quoted in the catalogue as saying that he and his Seattle peers "saw the world composed of people, not races or nationals, and found the various ancient philosophies and religions, including Christianity, based on essentially the same chart of moral laws." He continues, "As world conditions became increasingly complicated and the war spread over the world, the Northwest artists began to question the old ironclad conceptions. Why, one wondered, should America persist in looking to Europe for cultural guidance, turning its back on the Pacific and the Orient?"
Yet just as these coastal artists were looking east, as documented in the Frye's spring show Mark Tobey and Teng Baiye: Seattle/Shanghai, the war put a rude end to such cross-cultural currents. Tobey's "white writing" period was directly influenced by Asian calligraphy; then, ever restless, he moved on to sumi ink and black brushstrokes. He had to coax Horiuchi and Tsutakawa to embrace such "native" forms precisely when they were out of favor.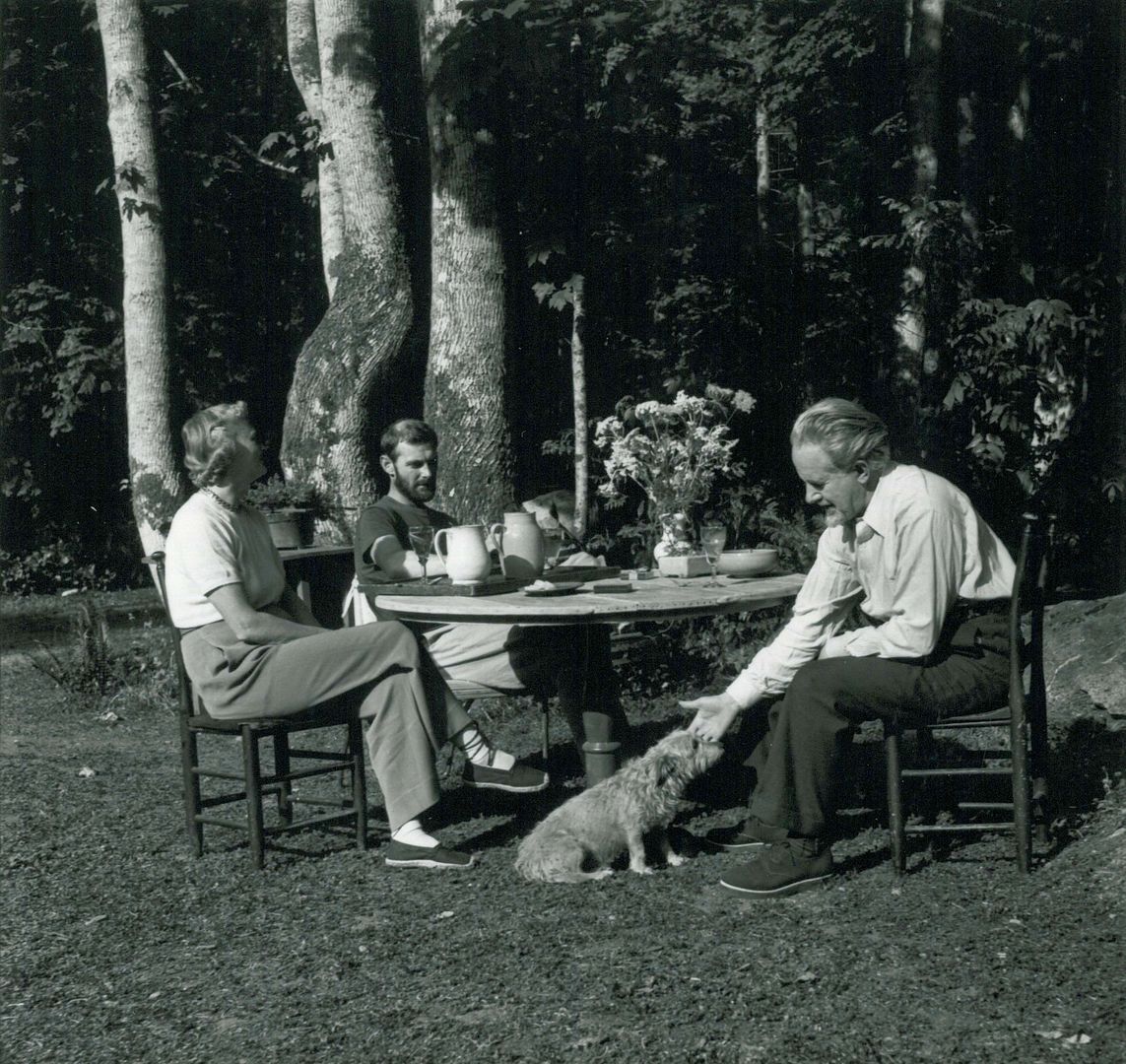 Graves (center) with Tobey and Marian Willard, their New York gallery representative, at Graves' Edmonds home in 1949.
(c) Mary Randlett 1984
At the same time, Graves—who refused to be interviewed for the LIFE story—was ever more reclusive and flighty, investing great effort in his sacred creations-of-place, domiciles on Fidalgo Island and in Edmonds (both now gone). There's a certain mossy shyness, especially with Graves, that meant these artists missed the publicity boat when it came to minting new art-world stars in New York. Pollock and company were proud, boisterous, press-savvy, and untainted by any delicate Eastern associations—all-American! (Gorky and de Kooning might chuckle at that representation.)
Again, WWII helped quash such earnest spiritual impulses and communitarianism: Asian art, especially from Japan, became suspect—a theme we see in the ongoing Deco Japan show at SAAM. Also, the Northwest School was, by New York standards, retiring and inward looking. While Tobey's pulsing, white-lined market and street scenes are certainly bold, there's no egotism to them, no capital I. Neither he nor Graves can be categorized only as figurative painters, yet their work mostly refers to something in the physical or spiritual realm. It's not abstract "pure painting," as that term would be defined in the postwar years (though Tobey of the Big Four tended furthest in that direction).
Likewise, Asian art generally simplifies—like Anderson's landscapes or Graves' birds—without losing sight of original form. The Northwest mystic artist is a humble intermediary, a medium, not the solitary, omnipotent agent of abstract creation. He's part of something larger, forever connected to the vibrant crowd around him, the whispering forest, the native spirits and creatures, and their incessant, enduring thrum. Seattle Art Museum 1300 First Ave., 654-3210, seattleartmuseum.org. $12.50-$19.50. 10 a.m.-9 p.m. Thurs. 10 a.m.-5 p.m. Weds. & Fri.-Sun. Ends. Sept. 7.
bmiller@seattleweekly.com