When the body of a deputy sheriff was found sprawled along a Washington coastal highway on the early morning of March 10, 1936, Charlie Eddy rolled out of bed, or the bar, and into action. A 55-year-old crime reporter for the Grays Harbor Daily Washingtonian, Eddy went after the story with the curiosity and confidence of a newspaperman with a drink in him. Within hours, he had scored the gritty details for that day's edition.
"Deputy Sheriff Carlton M. Stearns, chief criminal investigator for Grays Harbor county, was shot to death early this morning at Copalis Beach under mysterious circumstances pointing to murder," he began, banging the keys on his manual typewriter in the Hoquiam newsroom for the "Washie," which in those days competed with as many as a dozen other regional newspapers. "The deputy was believed slain while making an investigation of thefts and burglaries reported at the beach community since opening of the clam season recently.
"The shooting occurred on the highway at the junction of the new seaside road and the main Copalis highway"—a few miles north of what, in the 1960s, would become the resort development of Ocean Shores.
The story was a first draft of history that is still unfolding 78 years later. A recently unearthed manuscript of another, longer, apparently never-published story by Charlie Eddy challenges the official version of the shooting, one of the state's oldest cold-case slayings of a peace officer. Though the murder weapon—the deputy's gun—was found more than 60 feet from the body, and both the state and an insurance company compensated Stearns' widow for his death in the line of duty, according to Charlie Eddy's 14-page manuscript, the then-sheriff of Grays Harbor believed the powder burns on the deputy's head clearly pointed to suicide. After reading the manuscript, today's Grays Harbor Sheriff, Rick Scott, agrees that the theory has merit.It's impossible to discern what exactly Charles Henry Eddy personally believed about all this beyond the story he left behind. He died in 1955, at age 74. He was my grandfather, but I was told never to talk to him.

Charles Eddy's manuscript spread out amongst newspaper articles about Stearns' death. Photo by Rick Anderson
Among my recollections from a childhood in Hoquiam in the '50s are the afternoons my mother would double-park in front of the old Savoy Hotel in Aberdeen. I would carry in a box of groceries to Grandpa Charlie in the rundown lobby. He was old and small and usually sat with a blanket folded on his lap. I had been told not to dally or chat because he might try to influence me. My grandmother drummed into me that he was just a washed-up, drunken newspaperman, apparently worried I'd become one.
But I guess he reached me anyway, if only by blood, or ink. He had worked at the paper where I later got my first newspaper job—as a delivery boy—and where I got my first influential whiffs of printer's ink in the Washie's backshop and press room. Not that many years later, I landed my first newsroom job as a teenage copyboy at the Seattle Post-Intelligencer.
And as I have just learned a half-century later discovering Charlie's long-lost manuscript, my grandfather, like me, loved a mystery and loathed a story without an ending.
According to my grandmother Ruby K. Eddy—a tough sparkplug of a woman my friends called Sarge when they'd see her playing a pinball machine with a cigarette dangling out of her mouth—Charlie was always doing the kind of things you'd expect of a newspaperman. She used the word with disgust. Take the time, in the 1920s, that he tried to burn down their house for the insurance money. Or so she claimed.
"She said she heard Grandpa Eddy up in the attic before the fire broke out," recalls my sister, and family historian, Susan Merriman. "He was working in insurance with his dad at the time, and they were insured. She always felt he started the fire." The damage to the house in Hoquiam was extensive enough that Charlie, Ruby, my mother Elinore, and my aunt Marge—then just little kids—had to move in with neighbors. But my cousin, Jan Fisher, thinks the fire was accidental. After all, she recalls her mother Marge telling her it happened on a Christmas Eve. "It would be a horrible thing for Grandpa to do, and I honestly don't think he would have done it," Jan says. "My mother always said he was very nice and could have been a wonderful father if he hadn't been an alcoholic."
A spare and spritely man with a gift of gab, Pennsylvania-born Charlie was a printer like his father and like many reporters and editors in those days. At smaller publications, men like Charlie wrote the news and set the type and ran the press. According to Seattle's Historylink.org, Hoquiam readers received their news from a dizzying array of newspapers back then: "During the first three decades of the twentieth century, a steady flow of Republican, Democratic, Socialist, union, ethnic, and other area newspapers were issued. Most lasted only a very short time; others were started on the harbor and then moved on to Everett or Seattle. There were at the minimum 60 publications in Aberdeen, Hoquiam, Cosmopolis, and other Grays Harbor towns; the number was more likely one or two hundred."

Jeff Bartell, Sheriff of Grays Harbor County.
Photo courtesy Karl Davidson
Charlie ran several small papers, but was best known as a reporter for the Washingtonian, and later The Aberdeen Daily World, the two most respected publications. The late Murray Morgan, who went on to author one of the Northwest's most enduring histories, Skid Road, worked at the Washie from 1937 into 1941, and conceded that the World was bigger, richer, and better staffed. He told ex-World editor and now-state chief historian John Hughes that "The World, in fact, was a lot better paper, though even now I feel a twinge at saying so."
Charlie had a reporter's healthy disrespect for politicians, perhaps in part because two of the Washingtonian's editor/publishers used the newspaper to launch Congressional careers—those of Russell Mack, who served in the U.S. House from 1947 to 1960, and his predecessor, Albert Johnson, who served 10 terms into the 1930s. Both were enemies of the radical labor movement of the day that literally came out of the woods—the International Woodworkers of America. They also fought with the socialist Wobblies, several of whom were shot or lynched during the infamous Centralia Massacre of 1919. Among Johnson's avid supporters was the Ku Klux Klan, which Charlie apparently took exception to, reporting on Johnson's associations when Charlie was editor of another paper, the short-lived News. In a letter to World publisher Werner Rupp that would turn up years later, Johnson called Charlie "a fly in the ointment" and said Rupp ought to hire him and get him under control. He complained that Charlie "is a little too narrow between the eyes to suit me. He is a good reporter and so because he has the instincts of a ferret."
But his job success included post-work celebrations at bars and long spells away from home. His marriage ultimately ended in divorce in the late '40s, leaving Ruby poor and bitter. Years later, when Charlie died in his hotel room, she refused to claim the body. In all our family photo collections, there's no picture of Grandpa Charlie. What's left of him remains today in an Aberdeen cemetery, buried with other indigents in a pauper's grave.
Not far away is the red granite marker of his friend, deputy Carlton M. Stearns, who beat him to the grave by 19 years. Long after he was gone, however, Charlie was still trying to determine how and why.
There seemed little doubt that deputy Stearns was murdered. Charlie wrote in his initial March 1936 story that, according to the then-sheriff—a big, easygoing man named Jeff Bartell who kept two baby alligators in a glass office cage for laughs—Stearns was killed after he "engaged in a terrific struggle." In addition to being shot in the side of the head, Stearns had a severe scalp wound at the hairline, inflicted apparently by a blunt weapon or a fall. Stearns had been armed with a .38 Colt Police Special, a flashlight big enough to use as a club, and a gas gun, a non-lethal weapon capable of shooting a tear-gas cartridge.
"Sheriff Bartell returned to Hoquiam and asserted that he believes Deputy Stearns was murdered in cold blood."
The gas gun and flashlight were lying next to his body in an area near the local school house. His .38 was missing. The body was found at 4:45 a.m. by a man named Jesse King, whom Charlie described as a "negro clam digger." Stearns had apparently been searching for someone, walking through the brush and mud at a clam-diggers' campground. A witness had heard what he thought was a car backfire sometime before 3 a.m. It was likely the single shot that killed Stearns.
"Sheriff Bartell returned to Hoquiam this afternoon and asserted that he believes Deputy Stearns was murdered in cold blood," Charlie wrote for the paper's evening edition. "He said that his investigation would be pressed but that information would be withheld pending further progress."
Suicide was weighed, but considered unlikely by investigators. Details of the first-day story would essentially endure as an official summation of the lawman's death: The 40-year-old married father of two was attacked and shot with his own gun by someone who would never be found. The New York Life Insurance Company paid Stearns' widow $6,000 double indemnity based on that conclusion. And the state Department of Labor and Industries began shelling out regular $50 monthly death benefits in the belief that Stearns was murdered on the job.
The shooting had faded from most memories when, two years later, fellow deputy and Stearns pallbearer Arthur Cobain also died from a single shot of his own gun.* As United Press International reported on Sept. 9, 1938, Cobain, who was also the county jailer, was killed when his gun accidentally discharged, even though he didn't apparently feel the bullet hit. He was sitting on a stool at the beer counter of a store in Markham, a community on the road to Westport, when he apparently reached in his pocket for a cigarette. "The pistol dropped to the floor and discharged," UPI reported. "As he reached for the gun, he asked if anyone had been hit, and then toppled over, dying before medical aid could be summoned."
The deaths of both Stearns and Cobain were soon forgotten by the county sheriff's office. Inexplicably, no one put up a plaque to remember them—or, if one existed, it was taken down at some point. But in recent years the two have been resurrected by a relative of Stearns, shedding new light on the cold case.
Stearns' grandniece, Nancy Ashley of Chehalis, felt the lack of a memorial to the deputies was a slight to their service, and began researching the deaths. She wrote background pieces for the website Find-a-Grave. She also contacted the sheriff's office. "The sheriff's office had no records of these deputies," Ashley recalled in a Find-a-Grave entry. "The Grays Harbor Co Sheriff's Dept has now honored these fallen officers as has the Washington State Officer Line of Duty Deaths, and also the National Officer Down memorial." The sheriff's office display in Montesano, with pictures and descriptions of their deaths, says both men "Died in the Line of Duty."
That got Ashley's brother, Karl Davidson of Centralia, interested in the cold-case murder of Stearns. In February of this year, he wrote about it for the Moclips Ocean Wave, the newsletter of the Moclips-by-the-Sea Historical Society, edited by Jane Bennett. Fittingly, the Wave is a small publication on the Washington coast a few miles north of Copalis where Stearns died, and is a modern-day kin to the myriad publications that existed back in Charlie Eddy's time.
In his story—which a relative sent me—Davidson recounted the killing 78 years earlier of Stearns "by an assassin or assassins unknown." Near the end, he mentioned that "a long article, apparently intended for a magazine, was written two years after Stearns' death by his friend Charles Henry Eddy. It is not known if the article was ever published."
The Society's Kelly Calhoun put me in touch with Davidson, who told me he in fact had a copy of the manuscript, discovered among family memorabilia. "It was in a box of old family photos that I borrowed from my cousin in order to scan them," he told me. "The copy was in with things she inherited from her mother, who in turn, inherited from her own mother. Both long since passed away." The best guess is that Charlie, after finishing the manuscript in 1938, gave a copy to Stearns' widow, and it got passed down the family tree.
He sent me a copy. It runs 14 double-spaced typewritten pages, with Charlie's first entry being his byline—By Charles Henry Eddy. It is a declarative recounting with touches of wordy, flowery prose. As I began to read, the fourth paragraph caught my eye.
"Another amazing feature of this, the most mysterious and baffling case in the history of the Grays Harbor County sheriff's office, is that while the main theory of murder is based on finding the slain or self-destroyed officer's gun 63 feet, 8 inches south of the body, it is considered with a preponderance of evidence that Stearns himself sent a bullet through his brain."
The man who was absolutely convinced it was suicide? Sheriff Bartell, who originally called it murder. The deputy, Bartell's onetime brother-in-law, had even talked about ending his life, the sheriff said.
Today's Grays Harbor County Sheriff, Rick Scott, can't reopen this coldest of cold cases on the basis of a recently discovered manuscript alone. The official case files were long ago lost or destroyed, a record search shows. But, at my request, he read over Charlie's story.
"It would appear that alcohol was a factor," says Scott, a Democrat appointed sheriff in 2012 who, running unopposed, was elected this month to a full term. "And that [the deputy] was wandering about at that hour is odd in and of itself. It has been my experience for the past 37 years in law enforcement that suicide is always hard to explain and understand. I have told many survivors of suicide victims that you cannot give a logical explanation for a completely illogical act. The physical evidence as described in the story would support the theory of suicide."
"The revolver was not hidden by an assassin but by someone bent on switching a suicide to murder."
In his unpublished story, Charlie writes that "To clear this enigmatical mystery" of a suicide gun being found 20 yards from the victim, "Sheriff Jeff Bartell, veteran officer with nearly 12 years of service as sheriff behind him, has left no stone unturned in an effort to find the unseen hand which he believes removed the .38 calibre Colt's Police Special revolver from beneath the lifeless body of Stearns and placed it where [it was] subsequently found not long after the body of the criminal deputy was discovered. When this man is located, Sheriff Bartell declares, it will be ascertained that the revolver, with one shell fired, was not hidden by an assassin but rather by someone who was bent on switching a suicide to murder."
If it was murder, the usual suspects were the underworld outcasts, as Charlie put it, who populated the clam-digging colony, or a group that had been rum-runners during Prohibition and may have been out to get Stearns. Just before repeal in 1933, the sheriff's deputy had been instrumental in two big busts of rum-laden cargos worth $140,000—one hauled in by trucks, the other by steamers that sailed into Grays Harbor. Some of the bootleggers had since become money counterfeiters working the North Beach area.
"It is no secret that Carl Stearns was in possession of a number of counterfeit coins"—Charlie had seen him with them many times, he noted—and he may have been on the perps' trail. Did "two or more of these criminals seize him in the darkness, overpower and murder the criminal deputy with his own gun? Maybe so," he wrote.
But if that was the case, then "Stearns' life was taken while he grasped his revolver in his right hand, and this hand was forced upwards by the assassins until the muzzle rested against the deputy's head above the right eye and the trigger pulled. There was a telltale powder burn at the point of entry of the fatal bullet. There was another and stronger telltale, in the shape of a powder burn, in the palm of Stearns' right hand."
Why would assailants go to the trouble of forcing Stearns to shoot himself when they could more easily have taken his gun away and shot him themselves? And wouldn't he resist?
"Officers who have studied the case carefully cannot convince themselves that Stearns would refrain from firing his revolver during such an attack," Charlie wrote, noting the deputy was a 6´1˝, 226-pounder, powerfully built and considered fearless. "Rather," with the gun in his hand being forced to his head by others, "they are inclined to the belief that he would have snapped the trigger two, three, or four times in a desperate effort to protect his life."
Stearns' hat was found next to the body, with a bullet hole in it. Investigators determined he'd been wearing the hat when the head shot was fired. To Charlie and the detectives, that ruled out a struggle with assailants, "for those who knew Stearns were well aware he would fight desperately and no hat would remain on the head during such a struggle."
If it was suicide, might a fellow deputy have moved the gun to make it appear to be murder, hoping Stearns' family wouldn't miss out on death benefits? For the record, the first deputy on the scene insisted he did not see Stearns' gun anywhere, finding only an empty holster when he unbuttoned Stearns' coat. The sheriff and other lawmen began arriving at the beach crime scene and, Charlie recounts, "The sheriff at this juncture was informed that some man, not clearly recognized in the darkness, had been seen to walk away from the body and move into the brush-covered lot just south of the road." Bartell and several deputies began scouring the area for the weapon. "Ten minutes later, the sheriff himself found it nicely hidden 63 feet, 8 inches south of the body.
"It was noted that the gun was free of sand or dirt. No person with a bullet wound such as Stearns suffered could throw a gun so far, it was readily deduced. To prove it, the officers took turns throwing the revolver, muzzle first, from where the body was towards the spot where the gun was recovered. A throw of 50 feet was the best any officer could make.
"That gun was lifted from close to Stearns' body and placed where we found it," remarked Bartell for Charlie's story, recalling events at the scene two years later. "And in my opinion, the man seen entering this bush is the person who concealed it." Bloodhounds had been brought to the scene, but, without a scent to follow, could pick up no trail.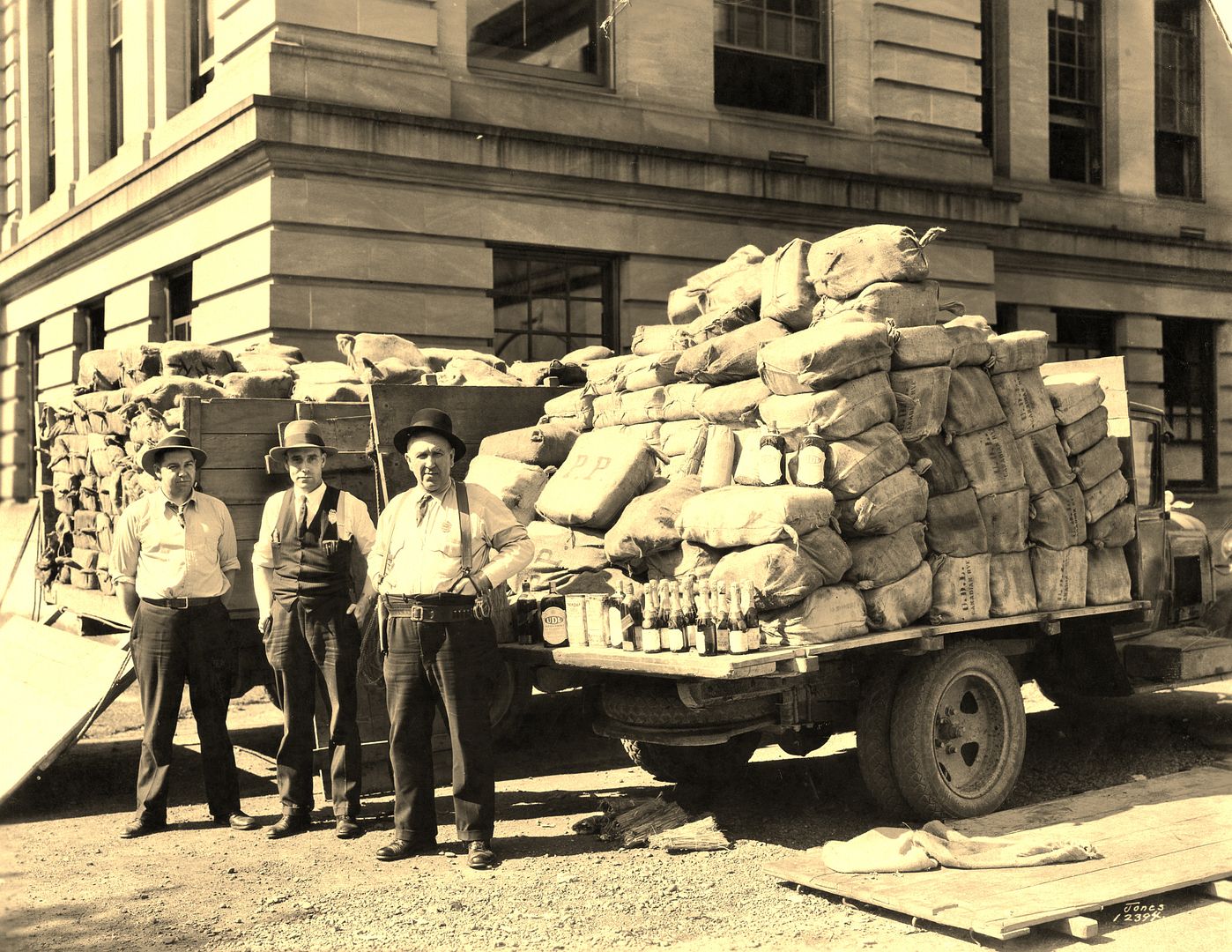 Deputy Stearns (center) and Sheriff Bartell (R) after Stearns busted a big cache of illegal liquor June 1931.
Photo courtesy Karl Davidson
Reviewing the case, Bartell said that the day prior to the shooting, Stearns had cleaned out his locker at the sheriff's office and gave the sheriff a handcuff case as a keepsake, saying he wouldn't be needing it anymore. The sheriff, Charlie writes, "was positive in his own mind" that Stearns was planning something mysterious, and might not be coming back from the beach: rather than take his own car that night, he had another deputy drop him off in Copalis. Witnesses would later add to this fatalistic notion, recalling that the deputy asked a bartender when he would re-open in the morning and when told 6 a.m., said "I will be as cold as a chunk of ice by that time."
Bartell also learned that during a drive from Montesano prior to the shooting, Stearns was sitting in the back seat of the patrol car when he impulsively pulled out his gun and pressed it against the neck of the driver, Chief Deputy A.E. Anderson. Anderson stopped the car and grabbed the gun, emptying the shells, asking Stearns what the hell he was thinking. He then gave him back the weapon. Minutes later, Stearns had reloaded the gun and again pressed it against Anderson's nape. The chief stopped the car, jumped out, and snatched the revolver from Stearns, who apparently thought it was funny. Anderson worried Stearns had gone off the deep end.
Also, it turned out Stearns' wife had recently inherited $1,000 and took off with their daughter to California. She had been gone for several months. Stearns, Charlie reported, was depressed and had taken up drinking regularly to fill the void. As he put it in a rhapsodic line, "The shadow on the threshold of Stearns' home which would not be shooed off, placed this glass of sparkle in the hand of Stearns with much regularity during the few months preceding his demise."
It is not clear whether state and insurance investigators were apprised of all these details; they completed their investigations and paid death benefits before Bartell, once married to Stearns' half-sister, had wound up the case himself. He persisted even though, if he was right, such a finding could cause Stearns' family to lose death benefits. Yet, long after the case landed in the cold file, Bartell continued to search for the elusive, gun-moving figure.
"It is difficult to say with any certainty what may have happened that night," says sheriff Rick Scott after reading Charlie's story. "The movement of the gun, however, is hard to explain. The first thought people have when they find a body is not to change the scene, and I would think that insurance is not something anyone would be considering at that moment, at that hour either. The interviews of all those who he had contact with would be important in knowing how was he behaving, what was his demeanor, and so forth. This might help in judging his state of mind. But we will never know."
Charlie went to his grave likely thinking his story would never see the light of day (much less be posted on the then-nonexistent Web). Like him, his old newspaper is also gone. The Washingtonian began as a daily in 1903, became a weekly in 1951, and printed its final edition in 1957, two years after Charlie's death.
I delivered some of those final editions on my bicycle. It didn't mean much at the time. I didn't think about all the news that wouldn't be reported anymore. But, three-quarters of a century later, at least we got Charlie's report in the paper. And surely he would have raised a cold one to what sheriff Scott said the other day after finishing the story: "I did enjoy the read."
---
*One of Arthur Cobain's four children, Leland, was the grandfather of Kurt Cobain, the Nirvana frontman who would also die as a result of a single shot in 1994—a death that despite its own cloud of uncertainty was ruled a suicide. Leland, the one Cobain family member willing to talk about Kurt's death and personal history, was quoted in an April 2004 issue of People as saying he thought Kurt was murdered. He had no proof beyond the theory. But the boy just killing himself like that made no sense to him. Leland died last year in Montesano at age 89.


randerson@seattleweekly.com