Safeco's Stellar Food and Drink Puts Other Stadiums to Shame
By Zach Geballe
Tue., Aug 19 2014 at 07:41PM
There's something about drinking beer and watching baseball that's innately American. Wherever you go throughout the US, you'll find the two being combined to great effect. While most Major League Baseball stadiums would be content to offer you a couple of mass-produced domestic light beers and a token "craft" beer (at Yankee Stadium they laughably call Blue Moon a craft beer), Seattle is a bit different. I'd heard that Safeco Field offers a nearly unrivaled beer selection, so I recruited Seth Kolloen, our sports columnist, and Cody Morris, brewmaster at Epic Ales, to put the home of the Mariners to the test.
Things started, as they often do, with a glass of wine. Steve Dominguez, the general manager for Centerplate (the company that runs the bulk of the concessions at Safeco) graciously offered to show us around, and our first stop was the new wine bar near home plate, where the M's were hosting a wine tasting event for select season ticket holders. Ethan Stowell was there, serving up beef tenderloin to hungry patrons.
It was nice to see him there, since Stowell has been at the center of the revitalization of Safeco's fare, lending his name and expertise to the centerfield concourse of food and drink options known as "The Pen." According to Dominguez, it was also Stowell's name and credibility that allowed Safeco to reach out to the larger Seattle restaurant community: it showed that the team was taking their efforts seriously, and were committed to offering an unparalleled stadium experience.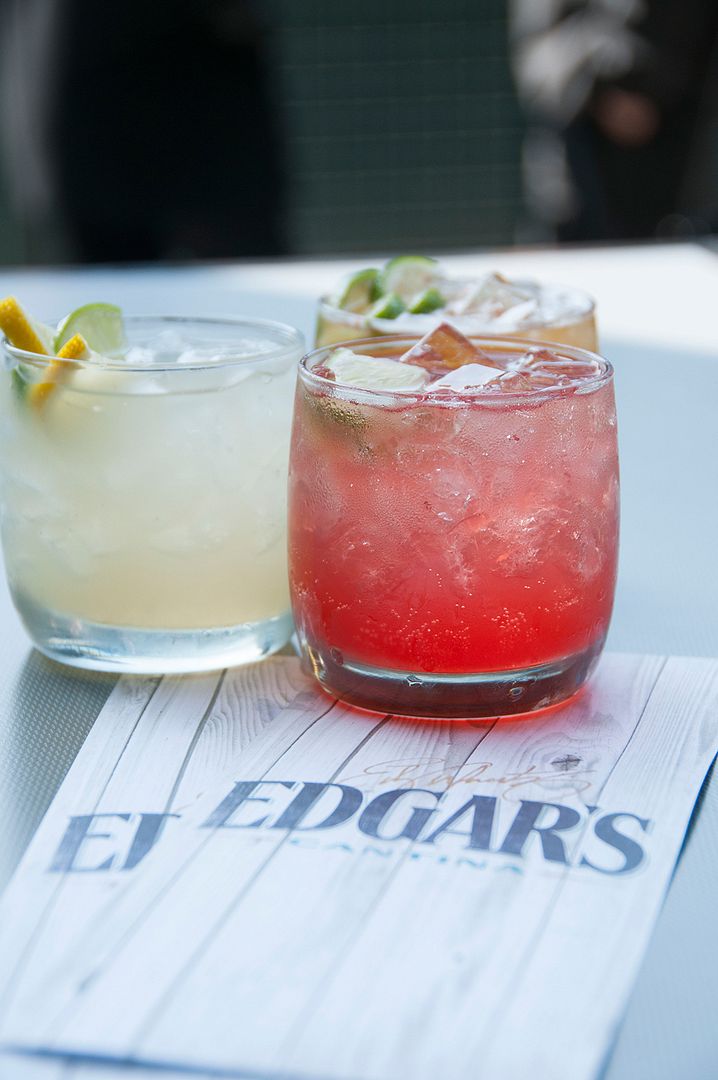 Specialty cocktails, mixed with Zac mezcal, are served in Edgar's
Cantina at Safeco Field. Photo courtesy Seattle Mariners
Then Jay Buhner showed up, and all three of us were a bit awestruck. Yet, as Kolloen observed, many of the people attending seemed at least as excited to meet Stowell. Buhner even mentioned having been at one of Stowell's restaurants the night before. I guess game recognizes game.
From there, Dominguez showed us one of the coolest new beer-related additions to stadium: three cask engines that allow beer to be drawn directly from the keg or cask without the need for nitrogen or carbon dioxide. It's generally considered to be the purest form of beer delivery, at least for true beer nerds, and Morris was totally captivated. I think if I'd let him, he'd have stayed there for an hour, and not just because the beer was tasty.
Next, we toured the Sound Bar, one of the few places in the stadium that serves hard alcohol. Due to Washington's convoluted liquor laws, you can buy a beer and walk around the stadium, but can't do the same with a gin and tonic. As such, liquor sales still represent a small fraction of overall drink sales at Safeco, but it was cool to see that the stadium has worked hard to offer spirits from a number of local distilleries. The cocktail list was created by Rob Roy's Anu Apte, another case of Centerplate reaching out to the local community for expertise.
At this point, things got a bit blurrier, in no small part because Dominguez insisted (much to our dismay) that we try quite a few different beers. Such is the price of being a professional. I remember learning that Manny's Pale Ale was the top seller (microbrews outsell mass-produced beer by about a 4-to-1 ratio at the stadium), and that the team had imported a bunch of tiny kegs from Japan to allow it to be served in individual box suites. We also learned the beer lines at Safeco are cleaned way more frequently than at most stadiums. In fact, they recently bought the equipment to do it themselves. Again, Morris was impressed: he'd heard scandalous rumors about thousand-foot-long lines that were cleaned once a year. Meanwhile, Kolloen and I had a nice discussion about how awesome Robinson Cano is.
Oh, and then there was a game! Thankfully, the level of play on the field is finally starting to match the quality of the food and drink at Safeco, and that game was no exception. The details are a bit vague at this point (see above), but I do remember the Braves' second baseman dropping a pop-up, the Mariners winning, and apparently me spilling the remainder of my beer on myself during the celebration. Again, quite the professional.
Yes, beer is still expensive at the games, though if you look at the prices in your local brew pub you might not see too much of a gap these days. Safeco does quite a bit to make the drinking experience at Mariners games more than just an afterthought: not just by bringing in a wide array of local beers from some relatively small producers, but by treating them with an impressive amount of care. As Dominguez tells me, "the demographic in Seattle has very demanding palate, and it's up to us to offer what the guests wants."
I certainly see that in the restaurant where I work each night, but it's really cool to experience it in a place where you could also catch a foul ball. Which we didn't, because I would have had to use my beer cup to catch it, and that would have been a waste.
thebarcode@seattleweekly.com