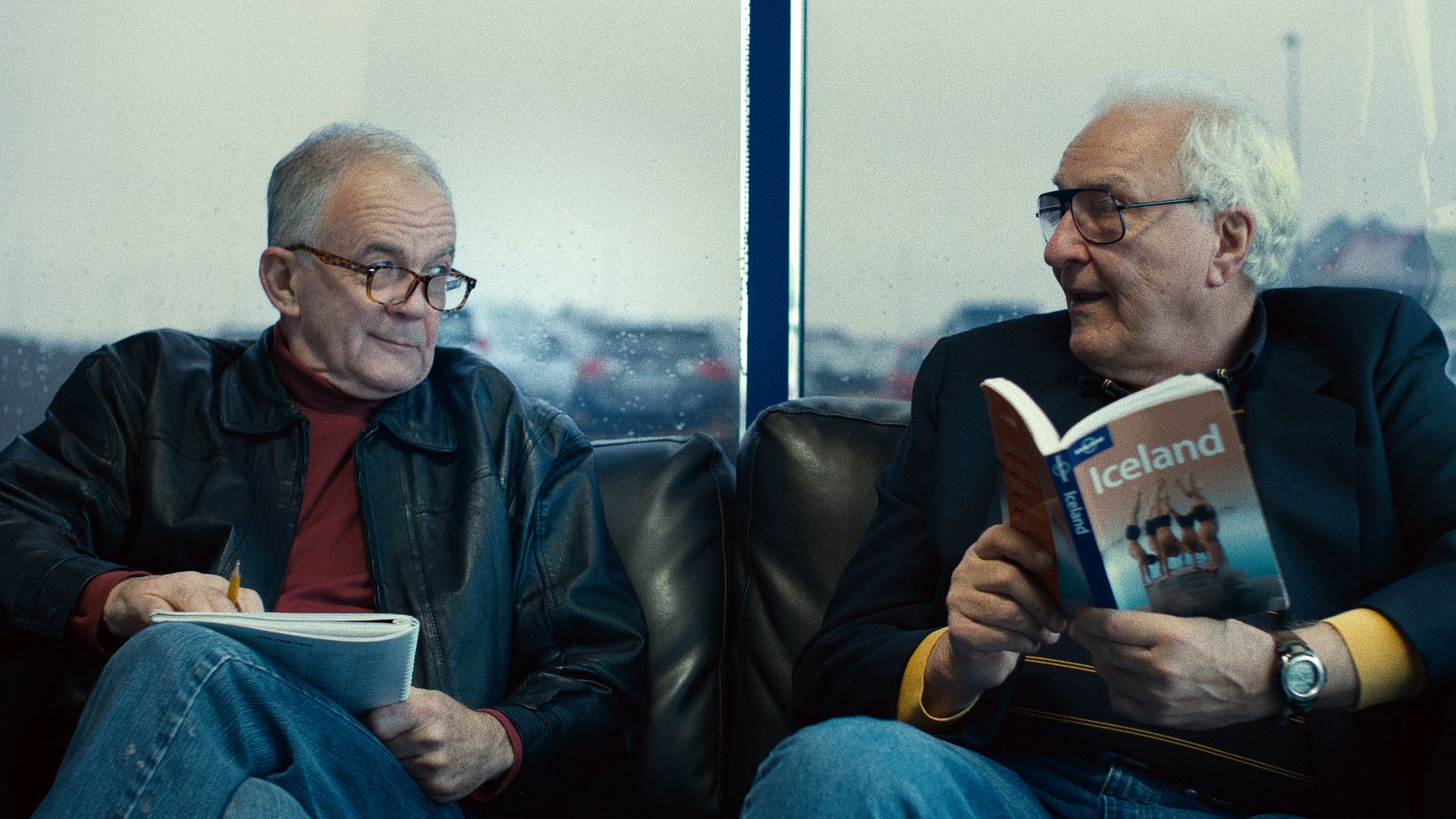 Paul Eenhoorn as Colin and Earl Lynn Nelson as Mitch. Photo by Andrew Reed/Sony Pictures Classics
Half the pleasure to a two-hander—be it a comedy duo, stage play, or ballet pas de deux—comes from each of the performers. In the case of Land Ho! (see review), most of the press attention has been focused on Kentucky eye surgeon Earl Lynn Nelson, a non-actor who plays the more flamboyant role of Mitch. But the quieter and much more actorly, responsive role—don't you dare call him a sidekick!—is that of Colin, played by the Australian expat Paul Eenhoorn, now a Bellevue resident.
So how, I asked Eenhoorn last month, did he end up in the Northwest? "I met my wife in Sydney," he explains. "She's a Northwesterner and after a few years I came here. I moved for love, 14 or 15 years ago."
Before then, Eenhoorn had mostly been a jobbing actor on Australian TV. Moving here meant he had to reestablish a career. "All my work was done in Australia. It's really hard to be an actor in the Northwest," he says. "The opportunities aren't that huge, not if you want to make a living out of it. But I've been lucky: I've got a couple good films, and that helps." Specifically, those would be This Is Martin Bonner—a festival darling that made the rounds at SIFF and Sundance last year—and now the much-praised Land Ho!.
"I appreciate the attention," says Eenhoorn, who jokingly calls himself "a person naturally inclined to depression." In the vicissitudes of his trade, "When you're an actor, you're up. And then when you get back home and down on the ground: 'Oh that's the end. My life is over. I'll never work again. What's gonna happen next?'"
Yet what happened with Land Ho!, he explains, is that co-directors Aaron Katz and Martha Stephens "both knew Chad Hartigan, who directed Martin Bonner." One good job led to another, though the project began oddly: "We didn't have a script when they hired me. Only like 20 pages. We shot the first scene. They made a 10-minute cut of the first scene, and that's what brought the financiers on board. And then they wrote the script."
After that, Iceland! There, with crew members doubling in many roles, and the script partly improvised, Eenhoorn recalls. "It was fall, and it was always cold or windy. It was relentless in Iceland. We were battling the elements at all times." (Here's a fun, related Northwest fact: Running the second camera was Seattle cinematographer Benjamin Kasulke, who also plays a honeymooner at a hotel where Mitch and Colin stay.)

Earl Lynn Nelson as Mitch and Paul Eenhoorn as Colin Photo by Andrew Reed/Sony Pictures Classics
The film came together swiftly, launched from Sundance '13 and debuting there the following January. "Ordinarily there's a year between wrapping and getting a final cut and then getting it out there [in theaters]," says Eenhoorn. "It can be a two-year cycle. I looked at Aaron and Martha's work, and I thought 'I really want to shoot with these guys.' And then David Gordon Green came on [as an executive producer; he being the director of Pineapple Express and Joe]. And I thought, 'This has got a good chance at Sundance.' And after the first screening at Sundance, I thought, 'This has got a pretty good chance of getting picked up.' More so than [This Is] Martin Bonner. Martin Bonner was a critical success, but this one could be a financial success, which is even nicer."
Back home in Bellevue, Eenhoorn works a day job between acting gigs. "I don't have a car," he says. "I'm a walker. We work and try to pay our bills. Life consists of watching movies on Comcast on demand. I'm social, but I've kind of been laying back a bit, just chilling out. I don't get to Seattle as much as I should."
Like any actor, he's waiting for the next call. "Who knows—someone might phone me. That's how I got Land Ho!." Eenhoorn sounds philosophical about living so far from Hollywood. "I've shot everything since I've been here, building a résumé. But choosing a script and playing a part I want to play... I'm not seeing them here at the moment." Even so, he adds, "Every time I fly home from L.A., I breathe a sigh of relief, because it's so beautiful here."
Eenhoorn understands his turn of luck. "We're doing pretty well," he says of Land Ho!. "How could you not feel good about it? There's plenty of good films that get made with good actors that get nowhere. If you're lucky enough to have one that gets distributed, you've done a good job. I don't think people understand how hard that is to achieve. At the same time, I'm walking on the ground, and my feet are planted. I'm not going to go buy a Mercedes-Benz."
Moreover, Eenhoorn knows how this new film falls into the same graying demo that made hits of Philomena, The Best Exotic Marigold Hotel, The Trip, and other durable favorites of the AARP matinee set. Mitch and Colin are men of a certain age, worried about being put out to pasture. You have to have lived a few years to understand their fears and failures. Even if Eenhoorn isn't nearly so quiet and reserved as his character, he knows what it's like for Colin to have been put through the wringer. ("Exactly, mate.")
And what's Eenhoorn looking for next in his late-blooming career? "Young directors are the ones to work with. They make films about people. No crashes, no explosions, just people talking. I'm very much for stories. I'm very much against zombies"
bmiller@seattleweekly.com