Seattleland: Capitol Hill Arsonist Appealing His 'Political' Sentence
By Rick Anderson
Tue., Aug 19 2014 at 07:57PM
Ex-Navy commander Charles Swift couldn't do for the Capitol Hill arsonist what he did for Osama bin Laden's chauffeur – set him free. Salim Hamdan, wheelman for the world's once-most wanted man, is out of Guantanamo prison and back with his family in Yemen, while Musab Masmari, who set the New Year's fire at a gay nightclub, is off to the federal pen for 10 years.
But Swift, a former military lawyer in private practice here, will now try to do something else for the convicted arsonist that he did for the accused terrorist, win on appeal. (See: Driving Bin Laden). Swift has filed notice challenging the length of Masmari's 10-year sentence for setting fire to Neighbours on Broadway while it was crowded with more than 750 revelers.
As with Hamdan's case, which went to the U.S. Supreme Court, Masmari's sentence was political, Swift thinks. Shortly after the term was handed down by U.S. Judge Ricardo Martinez on July 31 – doubling the five-year sentence that prosecutors and Masmari had agreed to in a plea bargain - Swift told reporters he was worried this could happen "because of the political nature of this case." The next day, he gave notice of appeal to the Ninth Circuit in San Francisco, challenging the sentence. He is set to file his appellate brief by Halloween.
Swift, who didn't respond to requests for further comment, isn't challenging the conviction. Masmari admitted to the crime, although he said he didn't remember starting the fire. He was caught on surveillance video holding a gas can used to splash fuel and then set the Dec. 31 blaze. Flames were quickly doused by two quick-thinking Army and Air Force service members who found an extinguisher. But the fire set off sprinklers, soaking the celebration.
According to a search warrant, Masmari told a witness afterward that homosexuals should be "exterminated." In a confession to the court, he partly blamed alcohol. That day, "I bought a bottle of cheap whiskey and then drank all of it," and blacked out afterwards, he said. "I do not believe that I am a bad man, but when I get drunk I do bad things."
Martinez didn't buy it. "The community does need to be protected from the defendant in the future," the judge said, sending Masmari to prison for 120 months. "It is not believable that he would've been in an alcoholic blackout."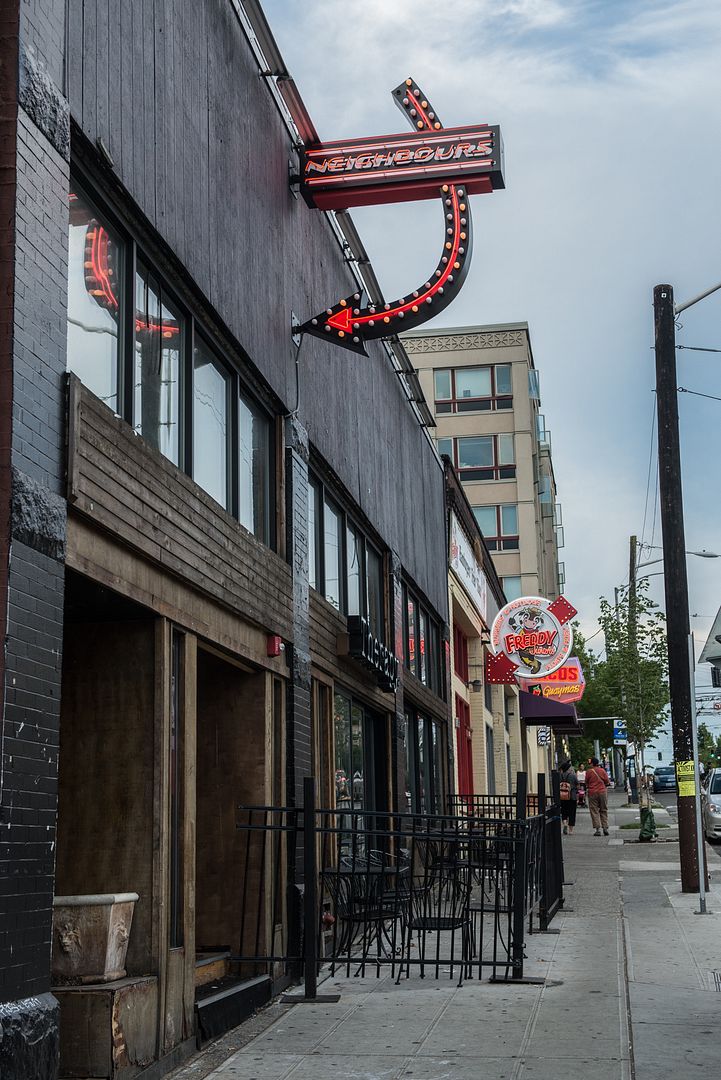 Neighbour's night club where Musab Masmari attempted arson.
Photo by Morgen Schuler
Swift had argued that a 60-month sentence was sufficient, since his client wasn't charged with a hate crime. Thirty-one-year-old Masmari was born in LA to Lybian parents, he noted in a sentencing memo. They later returned to Lybia, and Masmari went to school in Tripoli. He returned to the U.S. in 2008, working odd jobs, and spiraling into alcoholism. By 2013, he was living in his car. Swift maintained that the sentence should be predicated on Masmari's boozy state of mind. His conduct was not "fueled by hate," Swift said. His client "does, however, agree with the government that his conduct was fueled by substance-abuse, and in particular alcoholism."
Masmari was described by witnesses as "terrorizing the neighborhood." According to police, twice while in custody at the East Precinct (two of his 16 misdemeanor arrests), he defecated in his pants in protest, prompting a judge to wonder if he needed mental help. Earlier on the day of the fire, a shirtless, sweaty Masmari was seen by police sitting in a tree, hacking off some of its branches. In broken English, "He said he was doing this to save everyone," recalled a police detective.
Swift says in a court memo that he first plea bargained with King County prosecutors who insisted Masmari either accept a lengthy sentence or they'd hand the case to federal prosecutors. Swift opted to seek a federal deal, and thought he had a fair one. If the judge imposed a sentence higher than that agreed to by U.S. prosecutors, he said, that would be unjust. It "would only encourage future prosecutions to engage in forum shopping - not based on the crime but rather the identity of the victim and the identity of the defendant," he argued.
Yet, while prosecutors didn't charge Masmari with a hate crime, they made it clear they felt he committed one, which may have influenced the judge. "As indicated in the presentence report, Neighbours is advertised as 'Seattle's largest and longest running gay club,'" Assistant U.S. Attorney Todd Greenberg said. "The balance of the evidence uncovered during this investigation suggests that this was a hate crime." Masmari confided to a witness that he set the fire because "what these people are doing is wrong," Greenberg noted, adding that a five-year term would send "a strong message to the community." Judge Martinez evidently felt ten would send a necessarily stronger one. "Common sense," he said, "tells us exactly what was on Mr. Masmari's mind when he set that fire."

Rick Anderson writes about sex, crime, money, and politics, which tend to be the same thing. His new book is Floating Feet: Irregular dispatches from the Emerald City.
randerson@seattleweekly.com