There once was an NFL franchise that had existed for four decades without winning a damn thing. Then, behind an innovative white-haired coach and a young quarterback drafted in the third round, this team shocked football with a Super Bowl victory. Yes, the 1981 San Francisco 49ers were one hell of a team.
Funny, isn't it, that their fans are so envious of our Seahawks repeating their feat?
"Seahawks fans are utterly absurd," writes the fan blog Niners Nation. "I am certain they are the most obnoxious fan base in sports."
"Bedecked in green face paint, waving flags, and throwing Skittles on the field . . . [they] look foolish and obnoxious," writes C.W. Nevius of the San Francisco Chronicle.
Not all the vitriol is coming from the Bay Area. "There are certain moments when winning a title brings out the absolute worst in a fanbase, and that was very much the case with you Seahawks fans," writes Drew Magary of Deadspin. "This was not a gradual shift over from cute underdog to insufferable band of shitbags. This was zero to asshole in six seconds flat. If the 12th Man were an actual man, I would want him clubbed and tear-gassed."
Basically, this is inevitable. Go to Google, start typing "Why are [name of successful sports team] fans," and check out the autofill that comes up. For the Red Sox, it's "so obnoxious." For Manchester United, it's "so arrogant." For the Seahawks it's "so annoying." We're in good company, folks. Fans of losing teams aren't annoying because they have nothing to be annoying about—type in "Why are Mariners fans so" and Google has no suggestions.
What makes fans of winning teams so annoying is the infuriating entitlement of the winner. But it's not just other teams' fans that suffer from this entitlement. Being a good fan is about treating yourself right as much as about treating other teams' fans—pathetic as they may be—as fellow human beings. So it is for you, fellow Seahawk fan, that I present these tips on how to be a winner.
Don't Expect Greatness
Last year I sat in a bar with several newer 12s, watching the Seahawks face off against the Rams in St. Louis. The Hawks led 7-3 at half, prompting one to ask, "Why are they doing so bad?"
The answer is that they weren't. They were leading at halftime of an NFL road game, an incredibly difficult feat. The wise fan does not measure the Hawks against the expectations set by last year's 16 wins in 19 games. For maximum enjoyment, measure the Seahawks against the average NFL team. You'll have happier halftimes.
Up 4 on the road? The average NFL fan would take it. Russell Wilson sacked? Most fans would trade their quarterback for him in a heartbeat. Frightened by a 13-10 nail-biter? Thank Pete Carroll for building a defense good enough that the Hawks are even still in the game.
Don't Get Dragged into the Muck
The wise Seahawks fan may inwardly pity the 49ers fan—this is a team that over the past three seasons has lost a Super Bowl and two NFC Championships by a total of 12 points. But we shouldn't feud with them. Part of the joy of having a winning team is that instead of obsessing over the opposition, you can enjoy your own success. This jives with Pete Carroll's own philosophy, which is to compete against yourself to try to get better rather than worry about what your opponent is doing. "We don't look at our opponents as rivals," Carroll's said. "I don't want one game to be bigger than another game... that issue can change you."
Pete's right. I'm ashamed to admit that at one time I envied the Yankees so much I used to celebrate with a beer shower whenever they were eliminated from the playoffs. What a loser. Now that I have a decent team to celebrate, why be angry? Whenever you feel the urge to tweet angrily at a Niners fan, watch the Richard Sherman tip play. When you read another "NFL changed the rules to stop the Seahawks" piece on the Internet, take a deep breath and watch Malcolm Smith's pick six. And when the team inevitably absorbs its first loss of the year, unleashing an avalanche of "The Seahawks were a fluke" thinkpieces, put on your Super Bowl Champions T-shirt and take a nap.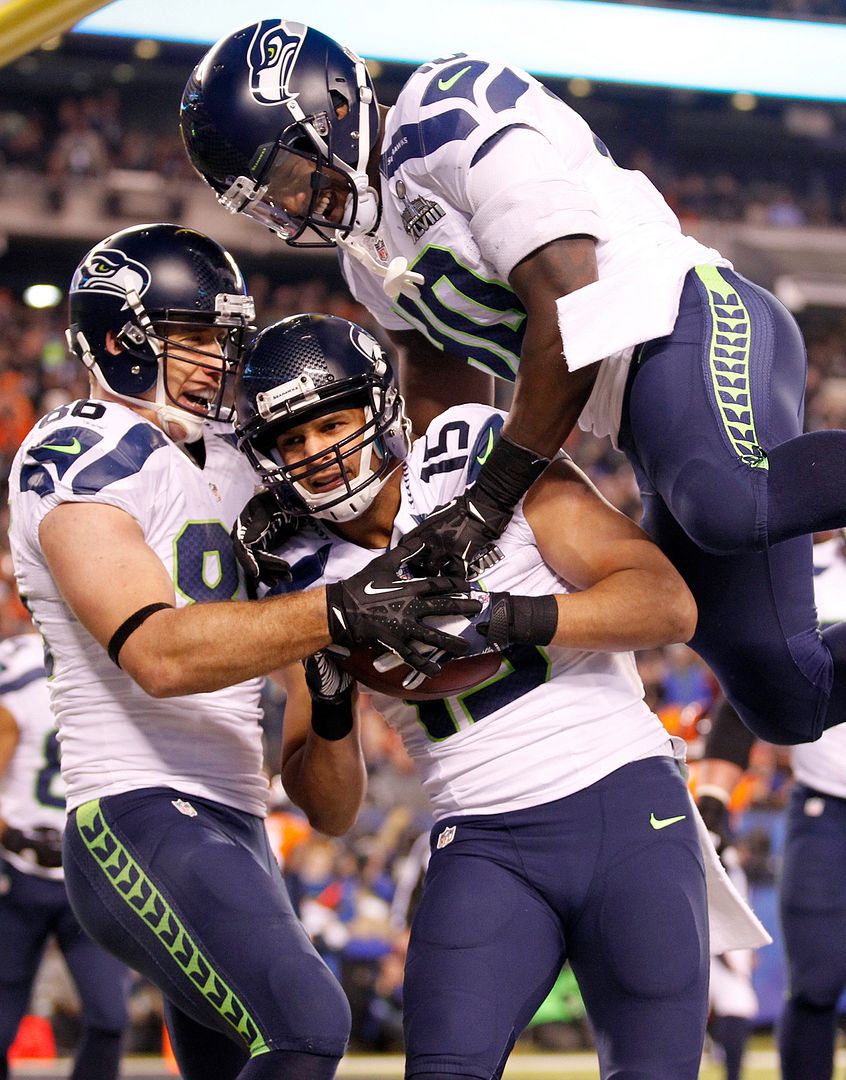 Photo by Jennifer Buchanan/The Herald
Expect to Be Hated
Earlier this year, Robinson Cano stepped to the plate in a Mariners road game, and I heard something I hadn't in years. Boos. Some opposing fan was actually booing a Mariner! For me, that's when the M's turnaround began. If they boo you, you're probably doing something right. Criticism causes a visceral reaction in Seahawks fans because we aren't prepared for it—it's like sipping from a cup of milk that turns out to be grapefruit juice instead. Well, folks, the acid is coming, and it'll only get worse the more the Seahawks win. If you gird yourself for it, it won't surprise you, and it won't bother you.

Don't Believe the Hype
Hey, everyone! Pete Carroll's solved the NFL! Russell Wilson is a born winner! Richard Sherman can shut down any receiver! Dynasty impending! Look, I'm as optimistic as anyone about the Seahawks' future, but you'll do yourself no favors by looking on the team as superhuman. In football, winning formulas get imitated, and Carroll's is no different. He won't be plucking tall, fast corners from the CFL (Brandon Browner) or the bottom of the NFL draft (Sherman) anymore. He may not get dumber, but everyone else will get smarter. Wilson is a terrific player, but he's not immune to slumps or poor decision-making. Sherman has been able to use his physicality to defeat the big wideouts favored by many NFL teams, but he's struggled against shifty, faster players like the Colts'  T.Y. Hilton. Neither promote the idea that the Seahawks are infallible nor believe it yourself—you'll end up looking and feeling foolish. As John Wooden said, "You can't let praise or criticism get to you. It's a weakness to get caught up in either one."
Throw Open the Bandwagon Door
I wrote this last October, back when a Seahawks Super Bowl parade was still just a dream. "The main reason I want you on the Seahawks bandwagon is completely selfish: the more, the merrier. More Seahawks fans means more strangers finding a reason to talk, louder crowds at the games and bars, and, hopefully, victory parades." Wasn't that fun, when "a million" people packed downtown to cheer the Hawks? So what if last September most of them couldn't have picked Pete Carroll out of a lineup of overenthusiastic Walmart greeters? Would the parade have been more fun if attendance had been limited to folks who can pass a quiz about zone blocking? (For one thing, all that body heat kept the bandwagon from freezing. God, it was cold that day.) No, the graceful winner welcomes new fans. Bandwagoners know they've missed out due to their sluggardly acceptance of the joy of Seahawks fandom. Don't rub it in. Instead, patiently show them how to be a winner, and then scream your heads off together.
sportsball@seattleweekly.com