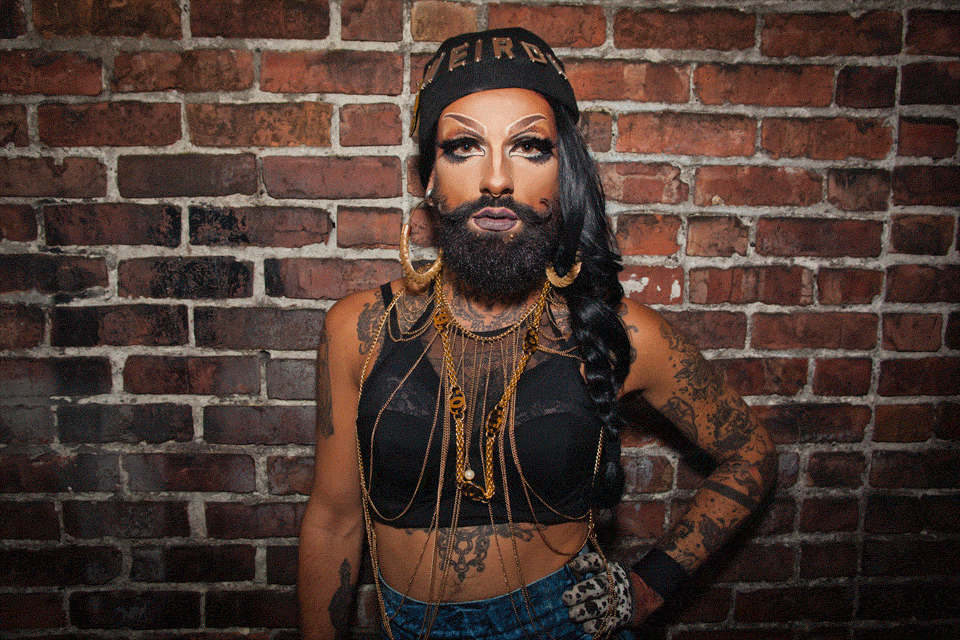 Blowing kisses from Nark's most recent Discklap party. GIF by Rachel Robinson

Everything Kevin Kauer touches turns to gold. No—maybe it's more like gold lamé. Or glitter. Or better yet, it turns into sweat.
Kauer—legendary party promoter, photo blogger, and founder of DJ collective Bottom Forty—has been the sorcerer behind Capitol Hill's high-profile gay-nightlife fantasia since he arrived in Seattle in November 2008.
"I moved here to get the fuck out of San Diego," Kauer tells me. "And I moved to San Diego to get out of the cow town I grew up in." Kauer landed in Seattle almost on a whim, and his immediate infatuation with the Hill's street style inspired him to start the photo blog Nark Magazine. "I chose the name Nark because I felt like even though I was part of the community, I was fresh to it, and I was invading these underground scenes and exposing them," Kauer says. "I thought, well, someone shot photos of club kids in New York in the '80s, and that's why we have something to look at now. Someone needs to do that here."
Kauer and his friends would go to the now-defunct War Room's Wednesday party Hard Times dressed as though it were their last night on earth. His crew included Stella Rose Saint Clair, who has since moved to New York and become niche-famous in the fashion world. The first time he met Saint Clair, Kauer told me she was in a flesh-colored leotard, a bedazzled metal breastplate, and a Mickey Mouse hat, all in the dead of winter. Around this time, Kauer wore a lot of fur, leather, jewelry, and face paint (a rather broad term considering bright stripes of color, fake blood, fake jewels, candy sprinkles, and pill capsules have all been part of his "face paint"). Kauer's photos of the scene became mythic in town.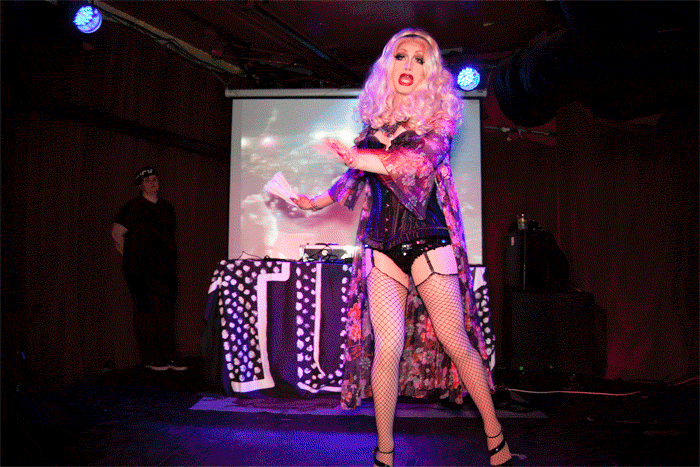 GIF by Rachel Robinson
"We just started going around and terrorizing the Hill, dressing crazy, becoming sort of instant celebrities for no reason," said Kauer. "That was a really cool time. I didn't know I was going to start DJing, I didn't know I would start throwing parties or any of that stuff, I just knew that whatever I was going to do, I didn't want it to be a hobby, I wanted it to be what I did." At the time Kauer was barely surviving, using "every possible service imaginable, from food stamps to anarchist food banks to rent assistance," staying at friends' apartments when he was technically homeless, committing himself completely to Nark. But when the War Room closed at the end of 2009, Hard Times was over, and so were the photo ops.
Then, he says, "The opportunity fell in my lap to throw two parties the next week." He'd never done anything like it before, but began hosting, promoting, booking, DJing, and shooting these two parties at Capitol Hill mainstay gay bars Pony and the Eagle to supply photos for Nark, which cyclically publicized the parties. Kauer's events became a notorious freak-chic human menagerie, incubating the boldest club-kid couture the city had ever seen. It's said observation has the power to change the observed, and Nark was the olly-olly-oxen-free every weirdo had been waiting for.
Soon after, Kauer gave this city its first queer DJ collective, Bottom Forty, which began as a Sunday party at the Cuff in 2012 where Kauer (DJ Nark) and his crew brought tracks off the beaten Billboard path—at a taste level that could compete with any serious DJ in the city.
"I wanted to show that some of the queer DJs in Seattle could throw down at least as well, if not a lot fucking better," says Kauer. "I wanted to show that not all gay DJs and gay people were just running around screaming their tits off to Madonna."
Bottom Forty doesn't play any one type of music—Kauer says his sets will "go from the darkest, people-fisting-each-other-in-the-corner Berlin techno and end in diva, hands-in-the-air disco, with everything in between." The diverse collective includes Kauer and DJs Riff Raff (Alea Mahone of Shade, "who's totally killing it in Seattle right now"), Jayson Spaceotter ("our burner and music encyclopedia"), Derek Pavone ("calm and quiet but amazing with disco and house"), and most recently Hyasynth (Karen O'Branovich, local dancer and the collective's first "straight" member). Their tagline: "Bottom Forty is a mirror ball in New York, a basement in Chicago, a cruise in L.A., and a night in the desert," and they aren't lying—their shows are as transportive as advertised.

GIF by Rachel Robinson
Bottom Forty currently holds two standing parties, Interiors at Kremwerk every second Saturday, which starts with $1 beers on the patio in the evening and goes hard with DJs and dancing until 4 a.m., and Dickslap, which has been at the Eagle every third Friday for almost five years, beginning as a protest party against 2010 regulations from the Washington Liquor Control Board that unfairly targeted gay nightlife. And this week, Nark will host some of the most spectacular Pride events in the city. Nark's fifth annual Gender Blender, which has raised almost $20,000 for LGBTQ causes over the years, will be held at Neighbours, featuring Violet Chachki, winner of RuPaul's Drag Race. Nark is also sponsoring drag queen and RuPaul finalist Ginger Minj at the Baltic Room on Thursday, throwing a special Kink Pride edition of Dickslap on Friday, and on Saturday hosting their third annual Pride Cruise, a daytime party aboard a ship with dance floors on two decks.
Kauer always wants "everyone, everybody, and every body" to attend his events—"straight people, house-heads, drag queens, or break-dancing beat boys." This is especially true for this year's Pride. "Pride is where we all come together in solidarity and support each other," Kauer says. "And even though next week we'll all go back to our exclusive things, maybe gay people will feel a little less apprehensive towards the straight community, and maybe the straight community will feel a little less apprehensive, too, because they just went to this big gay weeklong rave."
music@seattleweekly.com
Gender Blender Annual Drag Show & Benefit Neighbours, 1509 Broadway, narkmagazine.com. $35–$70. 21 and over. 9 p.m. Thurs., June 25.
Later Hater With Bianca Del Rio and Ginger Minj The Baltic Room, 1207 Pine St., 625-4444, balticroom.com. $7–$20. 21 and over. 9 p.m. Thurs., June 25.
Dickslap! Pride Edition The Eagle, 314 Pike St., narkmagazine.com. $10. 21 and over. 8 p.m. Fri., June 26.
Pride Cruise With DJs Won Love and James Cerne The Islander Boat, 1611 Fairview Ave. E., narkmagazine.com/pride2015. 21 and over. SOLD OUT. Sat., June 27.