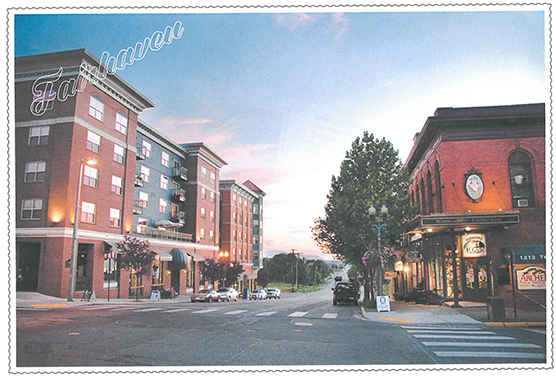 Photo by Peter James
On a brilliant, sun-dazzled morning, Fairhaven, a compact and charmingly quirky Bellingham neighborhood, is coming to life. Everything looks fresh and clean, as if newly painted: the air, the buttery light, and the deep blue bay waters just a few sloping blocks away, where a ferry is being readied to haul backpack-toting travelers to Alaska. It is an early June day, and a few old hippies are poring over the paper at Tony's Coffee House, a magnet for the town's bohemians, and marveling at the saga of the two murderers who escaped from a concrete fortress in New York's Adirondack Mountains.
While I marvel at the dozens of free parking spaces, sans meters, a young woman in a purple peasant dress tends to the city flower pots near the handsome old Knights of Pythias Building, a long-ago meeting place for the town's secret societies. Across 11th Street—the commercial heart of this historic district—they're tidying a few outdoor tables at Dirty Dan Harris Steakhouse & Seafood restaurant, named after Dirty Dan, Fairhaven's scruffy, booze-smuggling founder, a rather foul-smelling character who arrived by row boat in Bellingham Bay in 1854.
"I smile every day I walk out of my condo here," says Robert Spector, who with his wife bid Seattle goodbye in April. "I left more in sorrow than in anger. It doesn't feel comfortable any longer. Compared to this, Seattle is out of scale. You still have a city sensibility in Bellingham, but it is so much easier here."
It is difficult to quantify, but people like Mimi Osterdahl, owner of a co-working space in Bellingham, has little doubt that a Seattle exodus is fully in motion and that Bellingham is becoming a popular refuge. "We've had people come to Workspace recently and say Bellingham reminds them of old Seattle—that they are looking to get back to some place that promises a simpler life."
Perry Eskridge, government affairs director for the Whatcom County Association of Realtors, says, "No question about it, we are getting tons of people coming up from Seattle, people who say they are just sick and tired of it. For most of them, it's a lifestyle choice, but we actually do hear people saying that they have Seattle fatigue."
Observes Nick Hartich, executive director of Downtown Bellingham Partnership: "We have a similar geography as Seattle, all that natural beauty of the water and mountains, but here it's a whole lot easier to access it."
Jody Finnegan, who runs a shoe store in Fairhaven, offers a simple explanation for why some disaffected Seattleites are Bellingham-bound. "Who can blame them? It's God's country up here."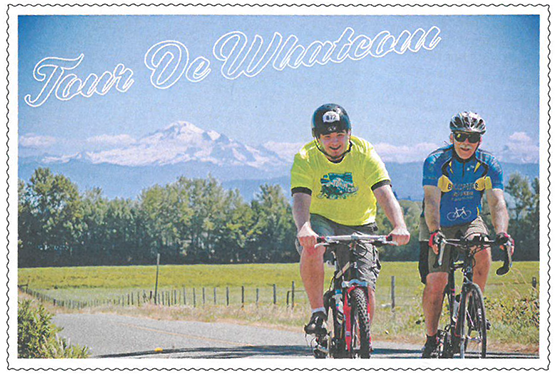 Photo by Cesar Cruz
Before heading north to meet with some of those who have soured on Seattle, I revisited some decades-old stories about our increasingly bloated city, where a recent count showed more than 70 cranes hovering over downtown. I was struck by the glowing, breathless prose once heaped upon Seattle.
Nostalgic old-timers may remember when Harper's in the mid-1970s proclaimed Seattle the most livable city in America. A few years later, Rand McNally dubbed us the top vacation destination in the nation. Then along came Savvy, naming the city the best place for women to live, and Sports Illustrated, anointing this a heaven on earth for outdoorsmen. Such darlings we were, the chosen people. We read more books than anyone, attended more movies and bought more sunglasses, as Tim Egan noted in his classic Northwest primer The Good Rain.
Egan reprised Esquire's romanticized view of Seattle's lifestyle as "a major subculture of lawyers-turned-carpenters" where "on a famous ferry going into famous Seattle, dusk on a November night, the sky, the water, the mountains are all the same color: lead in a closet. Suicide weather. The only thing wrong with this picture is that you feel so happy."
And the topper: In May 1996, when dot-com money was running at a high tide, the cover of Newsweek depicted pundit and editor Michael Kinsley, clad in yellow rain gear with a salmon nearly nipping at his nose. It was a well-choreographed cliché tucked under the headline: "Swimming to Seattle: Everyone Else Is Moving There. Should You?" Indeed, Seattle's population went bonkers, having added almost 153,000 new residents in the past quarter-century to its current mark of 668,000.
Nowadays, a steady trickle of fed-up and stressed-out older, self-employed (for the most part) Seattleites are swimming—or, metaphorically speaking, rowing, like Dirty Dan—to Bellingham, the northernmost city of more than 50,000 in the contiguous U.S. "We used to be the place for parents looking for an apartment to put their kids in for college. Now we're seeing parents looking for a place to put themselves," says Bellingham real-estate broker Lori Reece. "The trick, though, is finding a job. You have to be at a certain point in your life to make this work."
The reasons behind the farewell to the Emerald City are hardly surprising: the horrendous cost of housing, the escalating disparity of wealth, the rising level of homelessness, the onslaught of massive (and generic) high-density developments, the constant lamentations about gentrification, and the complaints that the ranks of technology workers are homogenizing the culture. Then there are the road closures, the road diets, the roadblocks, and the epic any-time-of-day traffic jams that can mess with the psyche—making you question whether, say, it's worth the time and effort to get to that new restaurant on Capitol Hill that you've heard such good things about, never mind being able to park once you arrive.
Ted Van Dyk, a veteran of national political campaigns dating back to the days of Hubert Humphrey, explained his recent decision to return to his native Bellingham after 15 years in Seattle. A longtime observer of Puget Sound politics, he wrote in an April column for Crosscut: "Seattle once was a city of working and middle-class families, possessed of a feisty civic politics that looked out, in particular, for those at the bottom and striving to rise. Now, as in much of America but [in Seattle] more so, it is a city of rich and poor. It has become too expensive, and its taxes too high, for the people who once constituted its core."
And so, for Van Dyk and other weary souls, Bellingham beckons.
Parking is abundant, traffic minimal, the cost of living considerably more modest. The average rent for a one-bedroom apartment is $710. The median home price is $303,000, compared to Seattle's $559,950, as of May 1. Long gone are the sawmills, the two coal mines, and the rotten-egg odor that emanated from the mammoth Georgia-Pacific pulp mill. Last month, in fact, the American Lung Association gave the city a perfect score for being among the least ozone-polluted places in the U.S. There's virtually no industry here, save for a couple of oil refineries to the north. The biggest talk around town is about the increasing number of coal trains and the proposal to build the giant Gateway Pacific coal-export terminal at Cherry Point. Health care and education (Western Washington University, predominantly) drive the economy. In a city of 80,000, nearly 30,000 are college instructors, staff, or students.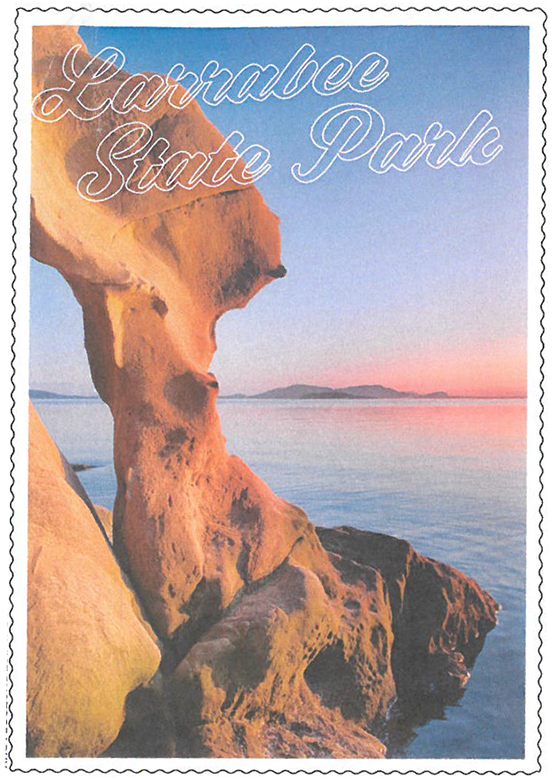 Photo by Alan Majchrowicz
For many residents, the lure is the great outdoors. "I walk out of my house and I am on a bike trail. The mountains are five minutes away," enthuses Bill Miller, who moved to Bellingham from Bellevue five years ago. His wife owns a clothing store in Fairhaven. Miller says practically everyone in town is either running, hiking, kayaking, or climbing. Mountain biking is especially popular on Galbraith and Lookout mountains.
"People are here to be outside; they're not worried about wining or dining," notes Lisa Lee, who left the Eastside several years ago and recently opened her second Serendipity shop (the first is in Kirkland) in Fairhaven. All this may explain a Gallup survey taken earlier this year that found that just 18.7 percent of Bellingham's residents have a body mass index of 30 or more (the standard for obesity), making the city the fifth leanest in the nation.
The town is chock-full of delightful oddities as well. Down at the century-old Waterfront Tavern overlooking Bellingham Bay, local oldsters still tell stories of days when serial killers drank here—in the mid-'70s Ted Bundy, who confessed to killing 20 women; later, Kenneth Bianchi bellied up to the bar at some point before he was arrested in the killing of two college roommates. He and a cousin, Angelo Buono Jr., were later convicted in the Hillside Strangler case in Los Angeles.
Turns out it's all a myth, concocted years ago by a bartender with an overactive imagination, says Tavern owner Lynne Farmer. "But we did have the D.C. snipers here," she adds, referring to John Allen Muhammad and Lee Boyd Malvo, who both lived in a Bellingham homeless shelter before embarking on a killing rampage that left 10 dead during a three-week period in the Washington, D.C., area in October 2002.
With no football team at Western, the town has embraced the Roller Betties, an all-female roller-derby team including such menacing names as Poundora Di Stroya, Isahella Vicious, Luna Tick, and Sugah Bomb.
Casa Que Pasa's potato burrito is legendary, as is the local Yogoman Burning Band, who a few years ago wrote a song titled "Seattle Sucks a Big Ass Chode."
Robert Spector and I agree to meet at the Book Fare Café atop Village Books, a storied institution since Chuck and Dee Robinson opened it 35 years ago, serving as a veritable living room in the Fairhaven neighborhood.
Spector is a speaker, a consultant, and the bestselling author of a number of coffee-table books chronicling the histories of such legendary Northwest companies as Frederick & Nelson, Rainier Bank, and the Simpson Timber Company. He's best known for The Nordstrom Way to Customer Service Excellence (1995), a well-received tome that detailed the Scandinavian business practices that enabled John W. Nordstrom—who, by the way, in the late 1800s toiled as a street grader in Fairhaven—to rise from a single shoe store on Pike Street to become the largest clothing retailer in the country.
Spector, 67, grew up in Perth Amboy, N.J., where his parents owned a butcher shop. He moved to Seattle from New York's West Village in 1977 and soon met his wife Marybeth, a third-generation West Seattleite, who ran a little shop in Pioneer Square's Grand Central Arcade. "It was a big town, not a big city." Gazing out the bay window onto Fairhaven's well-manicured streets, he muses, "You know, Seattle has always aspired to being Los Angeles or New York, whereas Portland just wants to be Portland. And now, we are becoming San Francisco.
"I'm not against progress, but we don't have the infrastructure to support this progress," Spector goes on. "In many ways, Seattle has fallen in love with itself, and it is an unhealthy narcissism. The tunnel is a good example, a good metaphor for this: that we were going to build something that's never been done before and yet it's going on time and on budget. Yeah, sure.
"I used to say Seattle was the right size. We used to get from our house near Alaska Junction [in West Seattle] to downtown in 12 minutes. Now it's a half-hour or more," says Spector. "We're becoming ghettoized, upscale ghettos. Yes, the mom-and-pops in West Seattle that I've written about will get new customers by creating these urban villages, but the older customers will head somewhere else. The downside of an urban village is you can't get to them. You're going to build this cool new neighborhood with cool new restaurants, but you can't get there!"
Spector echoes a sentiment I've heard from a number of people over the past couple of years—that Seattle has become too dense, too expensive (we jumped from being the sixth most expensive city in the U.S. last year to #3 this year) and that city leaders are moving too quickly in remaking a city with tech-fueled development. As of June 1, more than 450 large-scale development projects were in the works throughout Seattle. We've turned into a veritable construction camp, awash in orange cones. Even Microsoft's Connector buses, carrying blue-badged workers, can barely get through. Emmett Watson has to be rolling in his grave; the longtime Seattle newspaper columnist promoted a "Lesser Seattle" movement with the motto "Keep the Bastards Out."
"I used to say Seattle was the right size. We used to get from our house near Alaska Junction to downtown in 12 minutes. Now it's a half-hour or more. We're becoming ghettoized, upscale ghettos."
Gentrification has already transformed Ballard and Belltown into upscale playgrounds, complete with hot yoga studios and boutique gyms for workers who make more than $100,000 a year. It has become, with apologies to Cormac McCarthy, No City for Old Men. Councilmember Tim Burgess recently told me of the anger he's witnessed from those who live in established neighborhoods whose zoning now includes room for multifamily dwellings.
"They are squeezing out the middle class, and that is not healthy," says Spector. "There is such a chasm that is growing between the haves and the have-nots. I don't think we are looking at the ramifications of what progress entails." Flashing a grin, he asks, "You know about the 20-year theory? It means whatever time you are in a particular place or city, someone will say, 'You should've been here 20 years ago.' "
Ted Van Dyk was born in Bellingham at the height of the Great Depression, when it was a blue-collar town of 30,000. His father took home $1.84 a day as an unskilled worker at the Bloedel-Donovan sawmill on the waterfront.
"There was no talk of income inequality. We were all poor," Van Dyk says during lunch at Skylark's Hidden Café, a cozy, unpretentious eatery in Fairhaven. "Now we really have no industry here at all. Education is the core of the community. There are 30,000 students, teachers, and staff. Did you know 70 percent of the people of Bellingham hold library cards?"
Van Dyk, who spent 35 years as a senior advisor to the likes of George McGovern, Teddy Kennedy, Jimmy Carter, Walter Mondale, and Gary Hart, is clearly proud of his hometown and glad as hell to be back. "You know, there were 375 in my class, the class of 1951, and half of them are still alive, and half of them still come to the reunions."
For the past few years in Seattle, he'd rented a condo in Belltown, but earlier this year, when he was informed he had to move out for two months at his own expense so the building on Elliott Avenue could be renovated, Van Dyk decided he'd had enough of the big city. "I got a place here, the same space and everything, and for one-third of the price. But I'll tell you, life is so simple, so pleasant here. It took me 10 minutes to change my car registrations and address when I moved here a few weeks ago."
Like many other longtime Seattle residents, Van Dyk missed that "big town" feeling. The traffic jams are now as bad as those he encountered while living in Washington, D.C., New York, and Los Angeles, which is blamed in part on undertaking several simultaneous huge transportation projects. What most irks him, though, is Seattle's political environment. "From [former Mayor Greg] Nickels onward, our mayors have rubber-stamped everything the developers want. I remember sometime back when [former Councilmember] Peter Steinbrueck told me, 'What can we do? Vulcan has lobbyists all over City Hall every day,' and I told him, 'Why don't you just say no?'
"Everything is comity," Van Dyk continues. "We all need to get along. They all think alike on the Council. They think like mid-level bureaucrats. It's like what Churchill once said of the Germans: 'They are estimable in the individual and so deplorable in the collective.' " Van Dyk volunteers that he voted for socialist Kshama Sawant, but quickly adds, "but I wouldn't want three of her on the Council."
Though his landlord problems might have been a tipping point that led him back to Bellingham, "I've been getting fed up with the city for some time." He goes on. "Actually, the destruction of Yesler Terrace was the last straw. That low-income project has such significance locally and nationally and now they are going to put up another high-rise commercial project."
After lunch, Van Dyke takes a stroll down 11th Avenue and his mood brightens. "It's so good to be back," he says. "Bellingham has a real pull. The spirit of this place is pretty much the same way it has always been. It's like a time warp. Yes, a lot of us are coming back."
econklin@seattleweekly.com