Pete Capponi is a luminary in Seattle's garage-punk scene. You may know him as a long-tenured member of local legends Coconut Coolouts and The Intelligence, or as a current member of faux-nihilistic rabble rousers Steal Shit Do Drugs. You may even recognize him from Fancy Lads, Dancer 'n' Prancer, Stallion, Underworld Scum, The Honey Hush, Du Hexen Hase, Telemesser, Lamborghiniz, and, by his estimation, "many more short-lived bands." He is also one of the leading lights of Pizza Fest, a Seattle staple since 2010 and, for this contributor's money, the best summer festival in the Northwest.
Seattle Weekly recently had a chance to chat with Capponi about where Pizza Fest has been, where it's going, and all the flying pizza boxes in its wake.
SW: How did the first Pizza Fest come about?
Capponi: The first one happened in Chicago in 2009, curated by my friend Brian Costello who happens to now play drums in [third-night headliner] Nobunny. He contacted me, Ruben [Mendez], and Lacey [Swain] from Coconut Coolouts and said we should do it in Seattle in 2010. It was really fun and a success on many levels, so we decided to keep doing it for the next few years.
What was the impetus to move it to Seattle?
It was originally meant to be a fest that moves from place to place every year. No one took the reins on that front, so we kept it in Seattle.
It seems as though more and more bands playing Pizza Fest have a national presence. Do you think that strips a little away from the homespun DIY feel, or do you see the festival growing as part of a wider national underground network?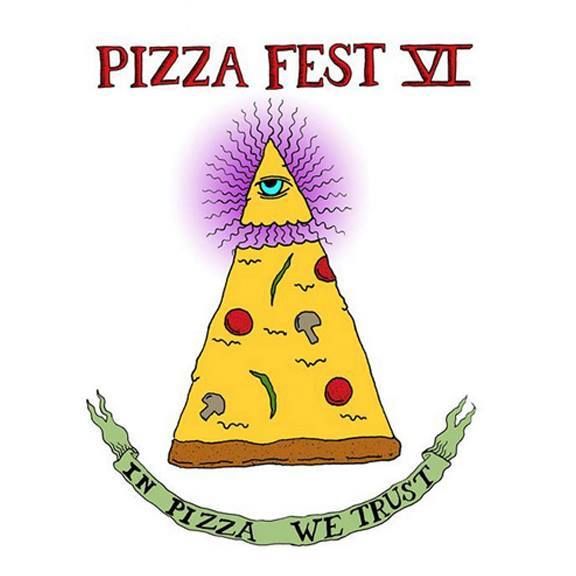 I want Seattle to be thought of by bands and booking agents as a highlight of their tour. Like, come here on the weekend because people in Seattle will go apeshit and buy all your merch, party with you afterwards, and take you night swimming... and to brunch the next day after you crashed at their house. It's like that at Pizza Fest. I always have bands texting me after leaving Pizza Fest saying they wish they just kicked it in Seattle for the weekend. That speaks to how truly rad our music community is here.
So yeah, I want to feature touring bands in that sense. There are way too many truly killer local bands to only think of it as a showcase for touring bands. It's a blessing and a curse that we're starting to have more of a national presence. I'm not complaining, though. They're all great. It's not as simple as making it take up more days or book longer bills. I see lots of small fests get huge and bloated. I want to be smarter than that. Pretty funny thing to say for a punk festival called Pizza Fest, I guess.
Was there a point when you noticed that Pizza Fest was getting bigger?
Last year on the first night, a young couple were the first people through the door, and walked up to the merch table. I didn't recognize them. The dude asks if I'm "the famous Pizza Pete." I told him, "Well, I guess so. Which bands have you come to see?" He told me he didn't know any of the bands, but just heard Pizza Fest was really cool and that he should go. On the last night, Elaine [Grabicki, Pizza Fest co-organizer] came up to me at 10 and told me it had sold out already. I was shocked, honestly. Then she said, "You should probably look outside at the steps [the staircase leading to the Highline's front door]." There were about 100 people standing out there on their phones texting people inside or waiting for people to leave so they could get in. I couldn't believe it. I actually got choked up!
Is the emphasis on pizza part of a deeper meaning, or is it just that pizza is the greatest thing ever?
Pizza is party food! And it's easy to eat while you're holding your beer watching a band! It's cheap, too. And the Ramones liked it. So, no, there's no deeper meaning.
How many Pizza Fests have you performed in with a band?
I just realized the other day that I am the only person to have played every single Pizza Fest. It's a point of pride, or maybe a point of shame in 20 years when I look back at this ridiculousness? Or at least when I look at pics from the pizza-eating contest. Who knows?
What are some of your favorite memories?
Rich from Golden Pelicans losing his keys in the dumpster and diving in head-first with his legs up in the air to get them probably takes the cake. Current pizza-eating champ and record holder Ty Emsky eating a large cheese pizza in five minutes flat. The downright controversy over the 2011 contest when all the boxes got tossed in the air.
music@seattleweekly.com
Pizza Fest VI With Nobunny, Bod, Childbirth, SSDD, Mean Jeans, Full Toilet, and more. El Corazon, 109 Eastlake Ave. E., 262-0482, 8 p.m. Thurs., Aug. 6 & Sat., Aug. 8.; Chop Suey, 1325 E. Madison St., 538-0556, 8 p.m. Fri., Aug. 7. pizzafestseattle.com. 21 and over. $10–$15 each day; three-day pass, $30.