Seattle's Best Ideas 2015
The most ingenious innovations to come out of the city in the past year.
By SW Staff
Tue., Aug 4 2015 at 10:13PM
Each August, Seattle Weekly recognizes the best that this city has to offer in our Best of Seattle issue. We identify the people, places, businesses, and performers who are doing the most exemplary of work. But this year, while thinking about this issue, we had an idea: What if we did something entirely different? What if we wrote about ideas? Seattle has always been a city of ideas, but recently it has been bursting with them. This abundance of innovation is, without a doubt, one of the best things about this city. These ideas are coming from everywhere; the arts, restaurants, and the tech sector, of course, but also in governance from local leaders who have shrugged off the Seattle Process and embraced the idea of the city as laboratory for democracy. Some of these ideas emerge from a need, some in response to threats, and others from a place of internal reflection. Wherever they come from, there are a lot of them. And so, for this year's Best of Seattle, we decided to recognize some of the best ideas—five to be exact—that have emerged from the great brains that are pushing this city into a brighter future. Of course, behind each idea was a great story, and each one of those stories started with two simple words: What if ... MARK BAUMGARTEN, EDITOR-IN-CHIEF
BEST BUSINESS IDEA
What if the CEO and the Secretary Had the Same Salary?

When Dan Price raised the minimum salary at his business to $70,000 and took a huge pay cut, he disrupted his life... and his industry. Story by Patrick Hutchison, photo by Daniel Berman
BEST TECH IDEA
What if There Were More Black Tech Leaders?

HACK the CD takes the hackathon to a population that isn't used to seeing itself in tech. Story by Daniel Person, photo courtesy of Notework|Alive & Black
BEST ACTIVISM IDEA
What if We Listened to Indigenous People?

Slowly but surely, Seattle's non-Natives have started to acknowledge the stories of the people who lived here before them, and are making exciting new history in the process. Story by Kelton Sears, photo by Alex Garland
BEST ARTS IDEA
What if We Brought Art Buyers to the Art?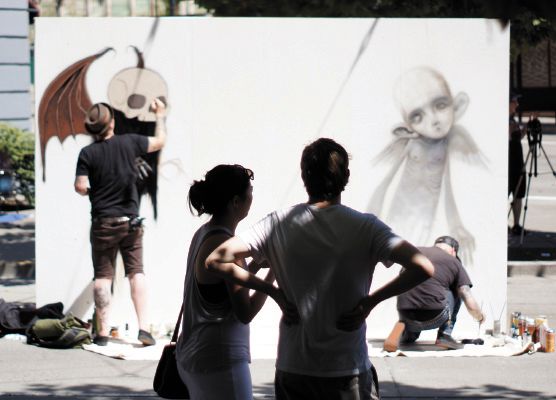 Collect bridges art and tech by busing potential patrons to the galleries, where they may actually start buying art. Story by Brian Miller, photo by Christopher Zeuthen
BEST POLICY IDEA
What if We Used Obamacare to Help the Poor Even More?

With ORCA Lift, King County uses data for good and overcomes a huge obstacle facing social programs. Story by Casey Jaywork, photo by Daniel Berman