I recently read a rant... er, story in a local publication that got me thinking about the business of food trucks. The writer focused on the immaturity of Seattle's food-truck scene and complained about extensive wait times for food (10 minutes was apparently too long), the high costs, and menus too diverse to be efficient or good.
The piece went on to imply that there were good profit margins to be made by not having to pay high labor costs, reduction in prep time, and the purchase of expensive equipment. It went even further by comparing the Seattle food-truck scene to the hawker stalls of Singapore and Hanoi—where labor and food costs are a fraction of what is paid here in the good ol' U.S. of A. Knowing a bit about this business, I couldn't help but poke holes in the illogical arguments. My goal—to explain the harsh realities of this difficult business model.
To help in this endeavor, I enlisted the aid of three of Seattle's pioneering food-truck founders: Roz Edison of Marination and Good Bar, Josh Henderson of Skillet and now the Huxley Wallace Collective, and Matt Lewis, of Where Ya At Matt? and Restaurant Roux.
A Day in the Life of a Food-Truck Owner In order to get a better understanding of the business, I wanted a sense of a typical day of running a food truck from my trio of food-truck masters. All agreed that the operators of the truck are essentially looking at about a nine- to ten-hour day on average to support a two- to three-hour service window—from setting up for service and driving to and from locations to breaking down and cleaning. Add to that, prep time in a commissary (typically happening while the truck is out or in the evenings), truck maintenance, or catering events later in the day, and that time is extended by anywhere from four to six hours.
The Need for Speed Says Edison, "We used to operate in a space where six years ago—maybe there were 10 trucks of our nature that roamed around Seattle. Now, there's over 180. What restaurant has that many direct competitors to fend off? None have seen their competitive landscape expand to that degree."
Many of today's food trucks have upped their game. People can now get a wide variety of street food, much of which is made with locally sourced ingredients and costs less than you might pay in a traditional restaurant. Others go for the speed of service when they don't have time to sit in a restaurant. But how fast is fast enough?
I asked my food truckers about the ideal time from order to service. Lewis led the pack with a service time of "ideally two to three minutes," where Henderson was a bit longer at "seven to eight minutes." Edison was right in the middle at three to four minutes and added, "We can do as many as 95 tickets in an hour, and we start to get upset with ourselves if we take much longer than that."
As far as reducing the number of menu items to increase speed, all parties agreed that three to four menu items was ideal. Lewis added that, "The speed at which people produce has nothing to do with number of items on the menu—it has to do with the skill set of the people on the truck and their systems. Most trucks don't have extensive menus, but remember: It's usually a mom-and-pop-type operation. Most people that run a truck don't go to culinary school and have never been exposed to systems to produce high-quality food quickly."
Rolling Gold Mine or Romantic Folly? Sure, food trucks provide an opportunity to start a business for $50,000-$100,000 versus a brick-and-mortar restaurant, which can cost many multiples of that amount.
But are food trucks a highly profitable business with little overhead? Lewis said, "I can guarantee that they aren't. We're in Seattle, where local and sustainable is on everyone's mind—whether they're at a food truck or at Canlis. Just because the walls are smaller doesn't mean your food or labor costs are any different."
Plus, he said, "Overhead isn't that much cheaper than a traditional restaurant. Sure, you can buy a food truck cheaper; but outside of that, some of these guys in food-truck pods are paying over $100-$125 a day just to sell there. If they're running five days a week, then that's $2,000-$2,500 a month in rent. Add on top of that the health-department requirements that all food trucks have commissary space, and you're now looking at over $3,000 a month in fixed overhead before you sell a thing."
Edison added that, "You have to maintain and insure a large, flammable kitchen on wheels. These vehicles take a beating every single day. You hit one pothole and you're out—you miss a day. Any time taken to repair the truck is lost revenue. And it's much more difficult to get these trucks repaired. They're basically commercial kitchens driving around in an older vehicle on city streets."
So I dug deeper into the business model of running a food truck to understand the economics of the business. I wanted to know how much it really costs to run one of these things and how profitable they can be. I collected input from the trio and compiled my mini-P&L, below.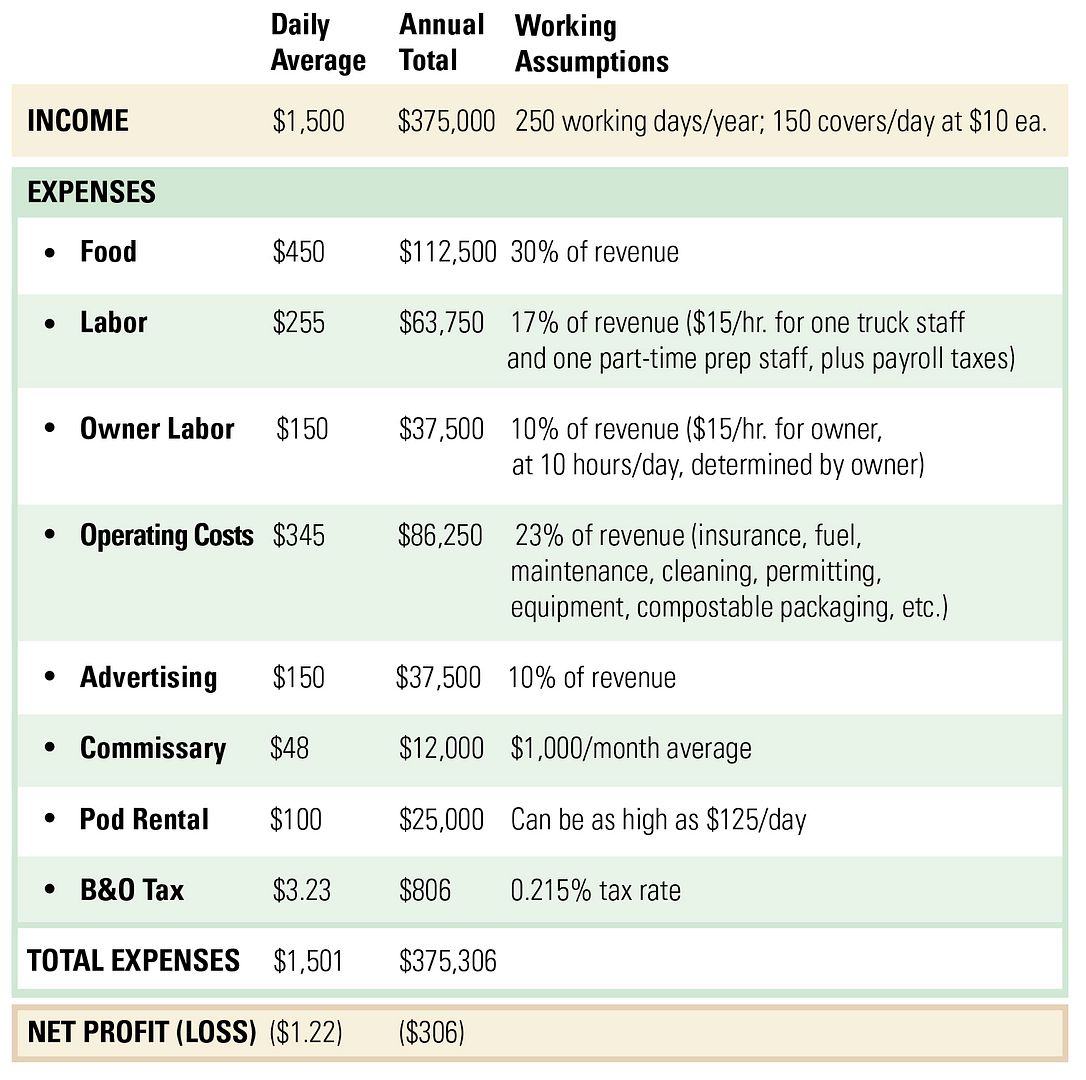 These numbers do not paint a pretty picture—nor do they support the notion that there's a ton of savings to be passed on to the consumer because they operate out of a truck. Essentially, after you sink 50-100 grand into your truck/kitchen/home, you now work 10-plus hour days and hope to hell that you can turn 150 covers in 3 hours or less of service. You read that right—150 covers in 180 minutes, or 1.2 covers per minute every day for 250 days a year. If you're lucky enough to average that level of business every day of the year (including those dreary days in winter), then you may just walk home with enough profit to pay yourself minimum wage.
All three food-truck owners agreed that most of the successful trucks are also doing catering. Edison pointed out that some owners have evolved their businesses into brick-and-mortar spaces due to the profit constraints presented by the truck model. "There's not a single truck from the 'old guard' that hasn't expanded to brick-and-mortar. Why? If we could sit back and retire on a single truck, we'd roll with that. But it's just not possible. It's a pretty honest way to make a dollar—but nobody's getting rich off a single truck."
On the Road Again For all the kitsch, charm, and personality that food trucks bring to the masses, they are, by and large, businesses with limited upside—and with costs that street-food vendors in other parts of the world are much less encumbered by. Do you really think the guy selling prawns farmed raised in raw sewage by slave labor on the streets of Bangkok has that kind of overhead? I don't.
The fact is that here in Seattle we have a much more discerning food-buying public than in other places where street food is cheap, abundant, and in many cases unregulated. We want our farm-to-table this and our organic that—and we should be willing to pay for it.
So Seattle, please don't lament the embarrassment of riches we have on the food-truck scene, for it didn't even exist a few short years ago. And please don't try to compare us to places where people make less than a dollar a day. Remember—you all wanted $15 per hour, right? Enjoy the fact that you're supporting a small business, eating some damned tasty food from the region, and that you have a few minutes to relax and enjoy dining al fresco.
food@seattleweekly.com