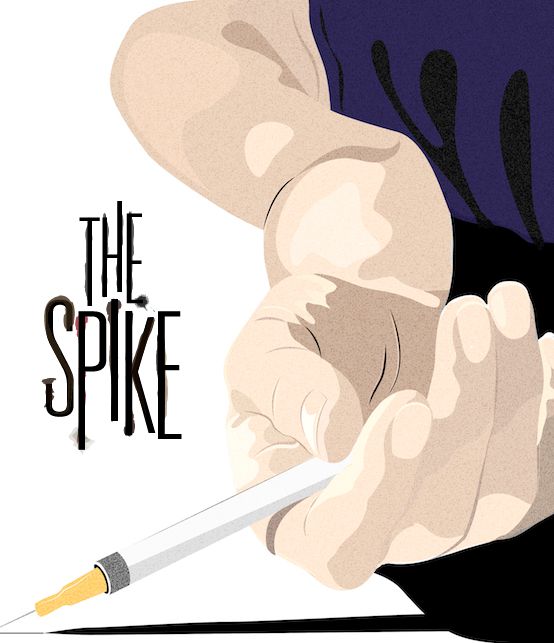 It wasn't until the evening after Lance Knight suffocated under the weight of his own lungs that his body was discovered. When his roommates left for work that morning, they'd assumed the pale 20-year-old, the newest member of their St. George, Utah apartment, was sleeping late. When they returned and found the door to his $350 rented room still closed and locked, they called 911 to come break it down.
Police found Knight collapsed on his air mattress. He'd vomited, and foam was clogged in his mouth and throat. Knight was a recovering heroin addict, but other than a handful of syringes still in their blister packs and a bottle of injectable testosterone that Knight's doctor had prescribed, his room appeared to be a drug-free zone.
Back in Seattle, Knight's father Brian felt like someone had punched him in the gut when he heard the news. Over the phone, his ex-wife said it was suicide.
"How do you know it's suicide?" he asked.
"Well, they found him dead," she replied.
"Okay. Okay, I need to talk to people."
Nearly a thousand miles from his son, Brian frantically called Lance's recovery sponsor. He told Brian it was all speculation at this point. "Nobody really knows what happened, other than he had been in his room," he said.
It was an overdose, a method of death that had been stalking Lance for a quarter of his life. The former Poulsbo resident had used drugs, primarily oxycodone, since he was 15. He would crush the pills, then heat the powder on a piece of aluminum foil and inhale the fumes through a plastic tube. Smoking oxycodone smells like burnt marshmallows; the fumes pass through the mucous membranes inside the nasal cavity to the bloodstream and then the brain, where they scramble parts of the nervous system related to reward and emotion. After smoking Lance would feel euphoric, vomit, then feel euphoric again. The warm, soothing buzz would cover his entire body like a hot bath on a cold night. Suddenly, the world was a pleasant place to be.
Wages as a kitchen hand in rural Washington didn't cover his new habit, so he found a way to monetize his passion: carrying drugs, and later selling them. At first, Brian—who'd moved to Seattle after he and his wife divorced in 2004—didn't realize anything had changed with Lance. But before long, his son started to disappear for weeks on end, riding down to San Francisco with a group of older guys in a Cadillac Escalade. They'd pick up oxy in the Tenderloin district, then turn around and drive back up to Seattle, where they'd sell it for a couple thousand dollars per batch. Brian recalls sleeping with his cell phone under his pillow, hoping for a reply to his frantic texts: "Just let me know you're okay." When Lance did call, he sounded sick. Impurities in the fumes from the opioid's pill-packaging, plus cigarettes, were ravaging his throat.
One night the Poulsbo police showed up at his mother's house, where he lived. They knew what Lance was up to, but he knew they knew. "The drug dealers are smarter than the police—they're always one step ahead," says Brian. Though the police tore the hell out of the place, they didn't find much: just enough to put him on probation.
By the late 2000s, prescription opioid abuse came to be recognized as a public health crisis. State legislatures, including Washington's, passed regulations that dried up the supply of drugs like oxycodone. But what they didn't, couldn't, legislate were the habits. Deprived of oxy, Lance moved to street heroin. By now, he'd begun to lose weight. He was becoming some kind of deep-sea creature: Cut off from the sun, his skin grew pale, and his eyes sank into his head like oysters in their shells. He became verbally abusive, and played his parents against each other, assuring Brian that "Mom is lying to you" about how bad things had gotten.
And then one day he'd had enough. He called Brian. "Dad, I'm just tired of this," said Lance. "I'm tired of living this way. I think I need to go to rehab."
"He sounded very logical," says Brian, chuckling. "He was very upfront. He wasn't desperate. It wasn't like he'd hit rock bottom yet. He was just like, 'I'm tired of it.' "
Brian sent him to Sundown Ranch, a recovery center in Yakima. At the end of the 28-day program, Brian sat in on a facilitated confession, in which Lance dumped all his shameful secrets into the open. Lance had owned a gun; during deals, Lance had both pointed a gun at other people and had a gun pointed at him. "He told us about all the money, he told us about all the people's lives he had destroyed because he was a dealer," says Brian.
After getting clean, Lance moved to Seattle to live with Brian in his West Seattle apartment, by Alki Beach, from the fall of 2009 until February 2011. Brian taught him how to do laundry. They'd cook dinners together, and Brian would drive him to therapy and Narcotics Anonymous meetings and GED testing sessions. Bent on fixing his son's life, the project manager in Brian manifested with a vengeance. "I was convinced I could save him," he says. But isolated from his friends and without a car, bored with TV and chain smoking, Lance began to use again. He'd disappear to his girlfriend's house in North Seattle for days at a time, and Brian noticed things around the apartment had begun to go missing.
So, goaded by his family, Lance tried to get clean again. He fled to Utah in an attempt to extricate himself from his old life. When that didn't work, he bounced back to Seattle and then Poulsbo, where he stayed with his mother until she had to rescue him from a heroin overdose. So he went back into detox, back into treatment, back to Utah. There, he managed to hang on to sobriety for several months, until one night in July of 2012, he didn't. Lance sat in a friend's car and injected himself with heroin for the last time. Then he returned to his new home in St. George, crawled into bed, and died.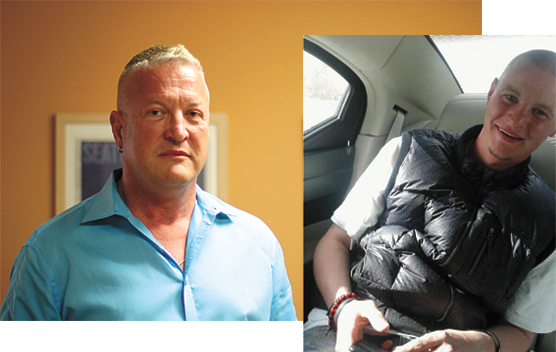 Brian Knight lost his son Lance, right, to a heroin overdose.
Stories like Lance's have been on the uptick. Heroin use, which had been relatively stable through most of the decade, began to spike in the late 2000s throughout the United States. Cheap and plentiful, the drug is a staple commodity in an underground market that is as big as the globe and as intimate as your arm. And while heroin has enjoyed widespread popularity since the end of World War II, demand has soared in the past five years as jonesing prescription opioid addicts like Lance have migrated to the street.
"If you're addicted to opiates, and you've used opiates for a long time, your brain chemistry has changed," says Dr. Caleb Banta-Green, a drug-use researcher at the University of Washington's Alcohol and Drug Abuse Institute. "You lose your free will, because your priorities—literally, your biological priorities in your brain—are rotated around, so that the opiates become number one."
Banta-Green is perhaps the most knowledgeable person in King County when it comes to regional drug trends. Analyzing data collected across a wide range of sources, Banta-Green found that heroin use and mortality has spiked: Drug-treatment admissions for heroin in King County have doubled since 2010; and the rate of heroin-related deaths is now higher than its former peak in the 1990s.
Researchers trace the rise in heroin use, in part, to the doctor's office. In the late 1990s, there was a shift in health-care philosophy that emphasized treating patients' pain rather than just the underlying ailments causing it. Opioids that had previously been restricted to ailments like cancer or physical trauma suddenly became widely available for more broadly defined problems like chronic pain. At the same time, Purdue Pharma introduced and aggressively marketed OxyContin (the brand name for oxycodone), a painkiller designed to gradually release opioids into the body.
As the sheer amount of opioids prescribed to Americans suddenly jumped, the drugs naturally found their way onto the street.
Users quickly figured out how to circumvent the drug's time-delay feature, making oxy the vehicle of choice for people who wanted to get high on prescription drugs. "The Gucci, the drug that people wanted,"—people like Lance—"was OxyContin," says Banta-Green.
As a consequence, recreational prescription opioid use skyrocketed. In the span of just one year, from 1999 to 2000, recreational use of prescription opioids nearly tripled in King County, and the trend continued throughout the decade. "Opiate prescribing went up 300 percent throughout the 2000s," says Banta-Green.
It took several years for policy makers to catch up. "Washington state worked very hard to rein in [prescription opioid abuse], starting in 2007," says Banta-Green. "We saw a very substantial leveling-off of prescribing those stronger opiates in 2009." That decline persisted in the years that followed, as did a fall in prescription opioid deaths. In 2010, drug manufacturer Purdue reformulated OxyContin to make it harder to get high on. The same year, the Washington state legislature changed the law to make them more difficult for doctors to prescribe.
That move likely saved lives. But, as we now know, it also pushed many addicts out of the frying pan and into the fire.
Heroin deaths in King County began to rise in 2009. Starved of their oxycodone and similar opioids, addicts were going to the street for their fix, a trend mirrored around the country. In 2009, nearly half of heroin users in King County reported that they'd begun their journey into addiction with prescription opioids. Be it due to naïveté, ideology, or simply a lack of good choices, lawmakers had shifted thousands of users from the doctor's office to the street.
Shilo Murphy runs a needle exchange near the University of Washington. Photo by Christopher Zeuthen
Withdrawal from opioids isn't lethal, as it can be with alcohol or benzodiazepines (Valium), but it is deeply unpleasant, particularly for people with the kind of trauma or poverty that might drive them to drug abuse in the first place. Medication-assisted detox can ease the withdrawal by manipulating the brain receptors that trigger cravings. But without meds, a seasoned opioid addict can expect perhaps a week of snot, sweating, vomiting, nausea, and hot- and cold-flashes, plus—and often more importantly—the resurfacing of painful emotions that had previously been repressed by their drug use. Some addicts do manage to white-knuckle their way out of opioid addiction, but many—separated from friends and resources—are overwhelmed by the painful emptiness of their sober lives. Others, recognizing themselves as "addicts" who are a scourge on their friends and family, fall into a cycle of despair that heroin is particularly good at feeding.
For those on the frontlines of the new heroin epidemic, it's that loss of hope that is nearly as dangerous as the drug itself.
"If you think you're going to die tomorrow and you're worthless, what does it matter whether or not you use a clean syringe?," asks Shilo Murphy, who runs the University District's needle exchange. The 39-year-old executive director of the radical People's Harm Reduction Alliance, clad in dark jeans and a black denim vest covered in political patches advertising the needle exchange, peers out from beneath the massive woven cap that houses his formidable dreadlocks. The Alliance is best known to the general public for handing out clean crack pipes, but to users it's the place where they go for help instead of judgment.
We talk in an office at the University Temple United Methodist Church, a long brick building across the street from the UW law school that hosts one of their needle exchange sites. Plants bask in sunlight from the window, and the office is strewn with donation materials and drug-safety pamphlets. "The police, the prosecutors, the entire system is set up to stop [drug users] and to shun [them]," Murphy says. "We spend trillions of dollars convincing drug users that they're worthless human beings.
"That has been successful," he says, "in the sense that a lot of drug users have a lot of self-hatred."
The holy grail of Murphy's work, he says, is to reverse that exclusion—to welcome drug users back into the human community. "Our job ... is to convince them that they're worth something," he says, because "then you will make different choices" than someone who revels in self-destruction. So the Alliance tries to meet users where they're at instead of telling them where they should be. Sometimes this looks like the abstinence that Lance tried and failed to achieve; other times, it's finding a way to stabilize their drug use.
Murphy's motto, he says, is "Be the best damn drug user that you can be."
"We do over a million syringes a year just delivering to the suburbs. The suburbs have just as much injection drug use as the city."
He shows me the Alliance's supply room. Brown cardboard boxes are piled up to the ceiling, packed so deep there's barely room for us to shimmy between them. Boxes of syringes are stacked in towering brown columns.
The Alliance gives out a lot of syringes—about 3 million per year to King County residents, says Murphy, and collects back as many as 5 million used ones. About a million of the former go to suburban users, he says—a demographic that he saw rapidly grow starting around 2010. That would have been around the same time that Lance, and thousands of others, began their migration from Big Pharma to black tar.
"For me, it was a really sad and stressful time," says Murphy. For a couple of months, the phone at the Alliance was ringing off the hook from prescription users asking for help. "We were getting multiple calls every week," says Murphy, from frightened suburbanites trying to figure out how to buy heroin. Callers would say "I'm so scared" and "You gotta help me." But Murphy couldn't: The Alliance doesn't hook people up with drugs. "It was hard to hear all these young folks in this really chaotic and traumatic experience," he says. "We saw these folks quickly change into injection drug users, sometimes on the streets, sometimes in the suburbs." Stable drug use, says Murphy, was transforming into unstable drug use, and quality-controlled drugs were being replaced by heroin off the street. "Our delivery service really skyrocketed, to where in the Eastside and North King County, we do over a million syringes a year just delivering to the suburbs. The suburbs have just as much injection drug use as the city.
"The average drug user," he says, "was much younger, and much more, let's say, lack of city smarts or street smarts. It was really sad, that whole story and that generation. There wasn't really a lot of older drug users to help teach them. They were left on their own."
None of this seems fair to Murphy. "We give people OxyContin," he says, referring to society at large, "which is essentially legal heroin, and then we tell them that they can't have it anymore and the only way they can get it is street heroin. We also let drug cartels be our FDA on what's quality control. We allow people to ingest horrible cuts of drugs, with people getting horrible allergic reactions to stuff it's [mixed] with." Criminalization, he says, only drives people further into addiction, cutting them off from the social bonds that can help addicts to cope with undiluted reality.
"It's not that hard to figure out that beating a human being up isn't helpful," says Murphy. "It's not that hard to figure out that stripping someone of their rights and dignities by taking them to jail is a detriment to society."
Dr. Caleb Banta-Green studies drug use at University of Washington. Photo by Christopher Zeuthen
Banta-Green, the UW researcher, agrees. "There's no doubt that criminalizing drug use and drug users leads to all kinds of harms," he says. But to their credit, he says, local leaders have been ahead of the curve.
The county has several programs that divert people from jail, including work-release and home detention. Since 2005 the county's Community and Human Services department has worked with county jails to direct mentally ill and chemically dependent prisoners into services such as housing. In the past decade or so, the overall jail population has dropped by nearly a third and the juvenile population has roughly been halved, though these decreases have disproportionately benefited whites.
Even more promising has been Law Enforcement Assisted Diversion, or LEAD. Begun in 2011, the pilot program gives a small group of police officers the discretion to redirect suspects arrested for "low-level drug and prostitution crimes" away from court and toward "community-based treatment and support services—including housing, health care, job training, treatment, and mental health support," according to its website. Concentrated in Belltown and Skyway, the program has had enormous success. Arrest rates for participants following their involvement in LEAD were cut by more than half in comparison to a control group of non-diverted arrestees.
But it's a first step, not the last one, says Lisa Daugaard, advisor to LEAD and a policy director for the Public Defender Association. "It's a transitional vehicle moving away from the War on Drugs," she said in a recent interview.
In addition to the Alliance's needle exchange in the University District, Seattle has two other needle exchanges in downtown and on Capitol Hill. The Alliance and the downtown exchange offer Noloxone, an antidote for opioid overdose also known as Narcan, as do several clinics and pharmacies. There are six methadone clinics in the city, and a take-home alternative to methadone is buprenorphine, also called Suboxone, which works by blocking the receptors in the brain that trigger withdrawal cravings.
At the state level, lawmakers passed the Good Samaritan Drug Overdose Law in 2010, after half a decade of debate. That law provides immunity to prosecution for drug possession to anyone who calls 911 to report an overdose. An early evaluation found that drug users said they were much more likely to call 911 for an overdose once they became aware of the law.
"Treatment's a really big deal," says Banta-Green, "and we need to get more of it out there to more people." This means that rehabilitative programs can't always narrowly focus on treatment per se; they also have to offer stability to the chaotic lives of addicts, particularly the homeless. "There's a lot of homelessness among the most acute users," he says, "and to the think that they're going to somehow grapple with opiate addiction while still not having housing is unrealistic."
One thing we haven't done yet: safe injection sites. These are spaces where intravenous drug users can shoot up under the supervision of trained nurses and counselors. Vancouver, British Columbia, has had one called InSite since 2003, and it works. A 2011 study published in the English medical journal The Lancet found that after InSite set up shop, illicit drug overdoses within half a kilometer dropped by more than a third.
According to a 2009 report summarizing various scientific evaluations, InSite also reduced public injecting, lowered syringe sharing, and increased participation in addiction treatment—all without any discernible negative side effects. At least three different evaluations have each concluded that the facility saves taxpayers money in the long run—as much as four-fifths of what they would have paid, sans InSite, for downstream crisis services like police and ER doctors.
InSite's website brags: "Although there have been 1,418 overdoses at InSite between 2004 and 2010, staff were able to successfully intervene each time. There has never been a fatality at InSite."
By comparison, 314 Washingtonians died from drug overdoses in 2014.
On July 12, 2012, Brian Knight watched his son's body be put to rest in a Utah cemetery not far from where Brian's parents are buried. At the service, he read lyrics from John Lennon's "Beautiful Boy":
Close your eyes
Have no fear
The monster's gone
He's on the run and your mammy's here
Beautiful, beautiful, beautiful
Beautiful boy
Beautiful, beautiful, beautiful
Beautiful boy
After Lance died, Brian began to come apart at the seams. He would stand in the shower screaming and crying, then drink himself to sleep. He nearly lost his job as a manager at the Port of Seattle, he says, because of how distracted he became from his work. "I've spent the last three years trying to work through that grief." It comes and goes, he says, like an emotional tide.
For half a year he tumbled down into depression. Then his daughter, also a recovering drug addict, relapsed.
Care of her 3-year-old daughter fell to Brian. He sheltered her with routine: rise at 6 a.m., daycare from 7 a.m. until 4:45 p.m., then cooking, eating, and cleaning up from dinner, then playtime, bath, quiet time to wind down, a storybook and a song, and bed by 8 p.m. Rinse and repeat. Every other Friday they took the ferry to Bainbridge Island, where Brian's ex-wife would take her until Sunday afternoon. Other weekends they'd visit the parks and beaches near his apartment in Alki, or they would go see Brian's partner in Bellingham, where the child would pick berries in his garden and watch the ducks.
It was his connection to his grand-daughter, the knowledge that another human being depended on him, that finally pulled Brian out of his personal hell. "I was spiralling downhill very fast, in my depression," he says, "so I had to stop doing that, pull up my bootstraps, and be responsible for her.
"I had to kind of pull myself up out of myself," he says. "Having to take care of another person ... and be responsible for another life was what saved me."
With time, he's been able to think about his son, and how other families can avoid going through the pain he did.
Fundamentally, he's decided, the solution to drug addiction is empathy. "I do question the tough-love, strict-boundary approach," he says. "That may work for some people, but Lance was so far gone. He needed more help than any of us realized.
"In the beginning, I thought drug addiction was a choice," Brian says. But now, "I've accepted that drug addiction is a disease ... and that [addicts] don't know it's a disease until they've made that choice."
cjaywork@seattleweekly.com
Learn more about overdose prevention at stopoverdose.org.