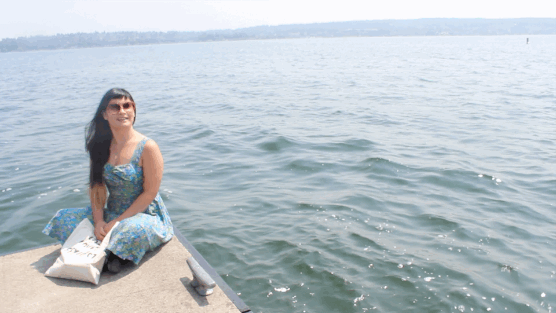 Briana Marela is so soft-spoken, it's hard to hear her over the waves lapping at the dock we're sitting at in Magnuson Park. The loudest she gets during our interview is when she excitedly points out a huge white bird that suddenly swoops in over our heads.
For her lucky first-time audiences, Marela's initial quietude is all part of the bait-and-switch of her performances. She'll often begin with a simple "Thank you" and a nod before she starts, eliciting a few carefully formed "oh"s and "ah"s into the microphone. Utilizing a custom looping/sampling program she designed using the Max/MSP coding language (picked up during her stint in Evergreen University's electronic-music classes), those utterances and fleeting melodies begin to pile on top of each other in preordained intervals. Bit by bit, Marela's hushed intonations weave a breathing, pulsing tapestry, spinning over the course of a minute or so into a bubbling choral swell before the song really starts, suddenly floating onward atop it all. What begins as a few whispers crests into a warm harmonic tidal wave.
"I just really love singing with other people and being in choirs, which is a funny thing to say given that I play on my own a lot," Marela chuckles.
This week, Marela's intricately crafted one-woman choral work is about to flood out of the intimate Seattle/Olympia DIY and house-show scene it's been percolating in for the better part of seven years. All Around Us, her third full-length LP, is coming out August 21 on the prestigious Jagjaguwar label, home to heavyweights like Angel Olsen, Bon Iver, and Dinosaur Jr. Marela will join Cave Singers as the only Seattle-based artists on the roster. After that, she's heading out to perform in Europe before supporting critically acclaimed Norwegian songwriter Jenny Hval on a North American tour. (They'll appear at Barboza on Saturday, Aug. 29.) It's all a bit of a whirlwind right now, but just like her music, this sudden peak was preceded by a lot of quiet.
Speak From Your Heart, Marela's previous record, came out in 2012, a year before college came to an end. Suddenly her Evergreen community disappeared. One by one they all moved to different parts of the country to start the next steps of their lives.
"Just getting out of college, I was like, 'What the hell am I doing?' " Marela says. "I was just trying to be, like, 'How do I keep doing this art that I love? Can I keep making music and find success on my own? And the answer, which ended up being the first song on the new album—I answered myself: 'Yes. You can.' "
The result, "Follow It," which opens All Around Us, serves as a telling blueprint for her unique style—aside from her trademark layered choral work, it shows off her unusually straightforward lyrical approach. As the title Speak From Your Heart might suggest, Marela isn't one for obfuscation or cryptic metaphor. She tells you exactly what's going on in each of her songs. "If you see another way, follow it wherever you are," she sings very frankly at the climax of "Follow It." That disarming clarity plays to her advantage, given her interest in one of the most historically overwrought and mystified topics in art history: love.
"One of my goals in life is to understand what love is and what relationships really mean," Marela says—a search that took on new urgency after her friends left Olympia, a romantic relationship came to an end, and Marela spent an isolating year living back at her mother's house in Shoreline before moving to Seattle. "I dunno . . . it sounds super-cheesy, but I really think love is one of the main reasons for living," she says. "I think it's important to try and fully understand what that means and my songs are an attempt at attaining that higher knowledge, if you want to call it that."
In "I Don't Belong to You," one of the album's whirring, oceanic ballads, Marela comes out and explicitly states her working definition of love, one clearly influenced by her academic musical study: "What does love mean in this day and age? To me it's a moment where we resonate, two frequencies close in phase. And if we stay in tune or drift away, why does that matter today?"
"That's actually one of my favorite lines I've ever written," Marela tells me when I ask about the strikingly candid lyric. "That so accurately describes to me what love is. When frequencies are in phase, their amplitudes are greatest. They double. But when they are out of phase, they are so much quieter, you can't quite hear them—they actually diminish each other. Like waveforms, I think when you are in love, you are in phase. But I don't think you can be in phase with someone forever."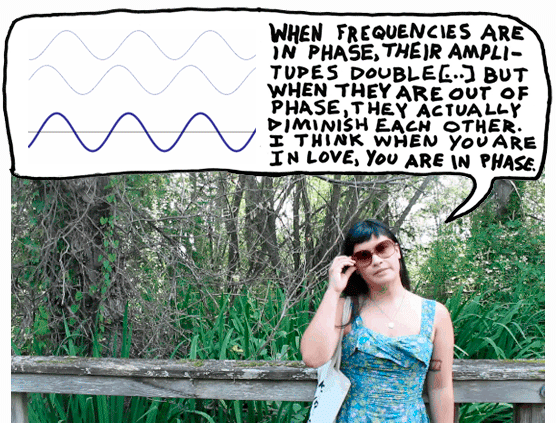 After recording demos of the songs she wrote in reaction to this period of reflection and solitude over at The Unknown in Anacortes (Phil Elverum's cathedral-turned-studio), a chance encounter dramatically changed the fate of All Around Us. During her first U.S. tour, an artist at a gallery she performed at in Rhode Island bought one of Marela's tapes. He ended up casually playing it for his best friend—Alex Somers, the Reykjavík-based producer and visual artist known for his musical collaborations with longtime boyfriend Jónsi Birgisson of Sigur Rós. Taken by Marela's music, he reached out and offered to produce the album.
Suddenly Marela found herself in Iceland, tinkering with Somers' array of unusual noise-making toys, Sigur Rós' piano, and collaborating with her heroes in Amiina—an internationally renowned, Reykjavík-based neoclassical group known for their haunting string compositions that incorporate bowed saws, glass harps, and zithers. "I fangirled so hard working with them," Marela says. "I'd instruct them how to play in my own strange way, like 'Play this part kind of ghost-like?', and they went 'Oh yeah, like this,' and did exactly what I'd imagined. They were insanely good at improvising."
With Somers' distinct production style, Amiina's string contributions, and the clattering percussion of Samuli Kosminen (the Finnish drummer of múm), Marela's album has that unmistakable Icelandic feel—one fans of Sigur Rós (or any Icelandic band, for that matter) will pick up on instantly. Unplaceable ambient rattles and whizzes, created largely with feedback from a Fisher Price toy microphone/stereo set, apparate in and out of the record. Liberal use of vari-speed studio techniques warp vocal lines and melodies, creating the sensation of time bending forward and back. Songs build and build and build until they reach epic, volcanic moments. But despite her Icelandic adventure, her upcoming Jagjaguwar debut, and her high-profile national tour, Marela hasn't forgotten her local roots. Those relationships lie at the core of not only her music, but her identity.
"My biggest goal with recognition is just being able to go 'Listen to all this great music from the Northwest,' " she says, "It's so rad. I wouldn't be making the music I do if it weren't for the community here and the relationships I've made here—my friends and loved ones influencing and supporting me. I love playing small, intimate shows for people here, and I hope I don't ever have to stop doing that."
ksears@seattleweekly.com
Briana Marela With Jenny Hval. Barboza, 925 E. Pike St., 709-9467, thebarboza.com. $10. 21 and up. 7 p.m. Sat., Aug. 29.