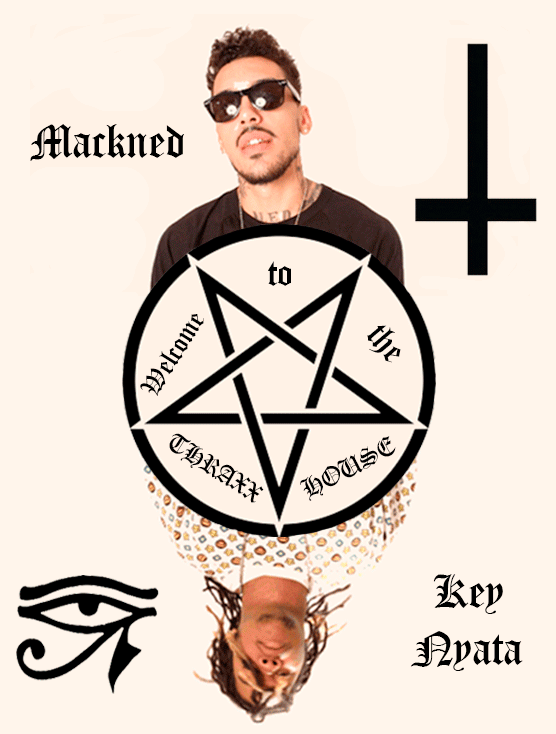 he Emerald Tablets of Thoth, a purportedly ancient 13-volume repository of Egyptian wisdom, serves as the foundational text of Hermeticism, one of the key magical and alchemical branches of the Western esoteric tradition. Some centuries after its creation, it's also a foundational text for Thraxxhouse, a year-and-a-half-old subculture, equal parts brilliant and bizarre, started by two young, talented, lonely rappers in Seattle, Key Nyata and Mackned.
Thraxxhouse is often described as a hip-hop collective, but nobody from the crew I talk to seems to accept that title, even rejecting it outright. "I can roam in hip-hop. I've made hip-hop songs. But it's not a thing I deem important to my artistry and my career. It's never going to be just one thing with Thraxxhouse," Key says. "Houses usually have more than one room."
He's not kidding. As of this writing, the Thraxxhouse collective numbers more than 40 members: rappers, producers, singers, fashion designers, artists, videographers, even a couple of skateboarders. Though Seattle is its birthplace and stronghold, Thraxxhouse stretches far beyond the city. There's a robust outpost in L.A. (the location of a short-lived, literal Thraxxhouse where many members lived), key Thraxx figures on the East Coast and in the Midwest (including gothic crooner Wicca Phase Springs Eternal), and members as distant as the Netherlands (home to visual artist Hidden Behind Leaves).

Wicca Phase Springs Eternal's sigil, indicative of the crew's
distinct GOTHBOICLIQUE style.
Thraxxhouse's fan base is growing as well, aided by the members' strong Internet presence and willingness to play shows across the country. When I first talk to Ned, he's just returned from playing a few dates in Texas, and a month or so before that he was in L.A., playing warehouse shows to 1,000-person crowds. There are plans for Thraxxhouse to go on a nationwide tour later this year, with as many members as possible.
It's not the first time they've tried to travel the country: Last year they attempted a similar tour, albeit on a smaller scale, at a time when Thraxxhouse wasn't nearly as big as it is now. Warsame Warsame, who manages much of Thraxxhouse's Seattle talent, admits "We fucked up on that tour, it's DIY, things happen." At one point, Key lost his wallet and got stranded in Texas while the rest of the group flew out to New York.
As Thraxxhouse's legions of members and fans swell internationally, so does their acclaim. Mackned's new album, FEMALE, released earlier this month, scored features on major online music outlets like the UK's FACT Magazine and Noisey. (Ned excitedly texts me the link to the latter article at four in the morning the day it's published.) Their small but devoted fanbase eats up everything the crew puts out; many of the songs on the official Thraxxhouse Soundcloud page have upwards of 10,000 or more listens.
Thraxxhouse puts out more than just music, however. The long-sleeved T-shirts, hats and basketball shorts that they produce frequently sell out. More often than not, these in-demand items are covered in occult imagery (pentagrams, sigils, and Freemason insignia, especially in Wicca Phase Springs Eternal's GOTHBOICLIQUE style), almost always black and always proclaiming, in loud, prominent letters, the Thraxxhouse name.
Thraxxhouse members wear these clothes with pride, though they're simply one part of the aesthetic they've curated for themselves. Other determining factors include a love for witch house, a short-lived, obscure music genre, that just about every member draws influence from. Elements from Japanese anime and video games surface often. Special reverence is given to Lil B, the self-made internet rap phenomenon, both for his distinct stream-of-consciousness "based" rap style and his relentlessly positive attitude. A number of them even proudly abstain from red meat.
This last detail, the group's Thraxxdiet, is casually referenced in a wide selection of Thraxxhouse-sanctioned songs, though nowhere quite as directly as in the vegan-rap manifesto of Yung Bruh's "veggies" off his 2014 album, Emocean:
Catch me eatin' apples with a fat-ass spliff
I'm a young vegan thug, ain't no laughin' bitch
Other similarly Lil-B-indebted tracks from Yung Bruh (the son of Digable Planets/Shabazz Palaces star Ishmael Butler) include "goth ritual" and "are you online?"—also key ingredients in Thraxxhouse's peculiar cultural smoothie.
To understand the fascinating, confusing mishmash of occult, goth, hip-hop, punk, anime, pro-vegetable, anti-meat, and Tumblr-core styles that is Thraxxhouse, and why it has attracted such a wide, deeply committed audience, you first need to understand who its founders are and where they come from.
Mackned is tall and slim, his sharp features framed by a narrow strip of beard. Short frizzy curls crown his face, and when he talks his gold teeth gleam. He proudly wears Gucci flip-flops (as he's quick to point out when we first meet), joggers, and a tank top that reveals the tattoos that cover his chest and neck and run down his arms all the way to the backs of his hands. A whole story could be written on his tattoos alone—a few choice samples include the Thrasher logo; Pikachu; bubble letters reading "Fresh Prince"; and his most recent piece, a portrait of Nikola Tesla on the left side of his neck.
Key Nyata's skinny dreads, some tipped in bronze, spill out over a visor that reads "aintnobodycool" in the checkerboard style of the old Cartoon Network logo. When he smiles—something he doesn't readily do—his face lights up. It's a stark contrast from his music videos, which often feature him rolling his eyes to the back of his head as if possessed.
Key and Ned's personalities appear to be in opposition to each other. Ned is always in motion, cracking jokes or checking his Twitter, perpetually carefree. In comparison, Key has a quiet seriousness and more than a little ennui. Key was born in the summer, Ned in the winter. Yet, they both understand each other in a way that others do not. By way of explanation, Key says that they have "a contrast so far apart it brings them together." That might have something to do with their similar upbringings on opposite sides of the city.
As Mackned tells it, there are two sides to West Seattle, his lifelong home: the white and the mixed. The lanky rapper grew up in the latter, attending Chief Sealth High School and running with gangs. It's a period of his life he is reluctant to revisit at any depth, and one he doesn't celebrate in his music or personally. But it's an environment he knows well.
"That shootout that happened in Capitol Hill the other day—I was in that. I was just driving past," Ned says, referencing the event on Pine and Melrose in the early hours of August 15. "I heard shots, and I seen the nigga drop. But I wasn't fazed by any of it."
He tells us it's nothing he hasn't already seen.
On the other side of the city, in Seattle's Central District, a young Key was exposed to similar circumstances, growing up with a single parent in gang territory, but he managed to avoid gang affiliations. "In my generation, I had the choice to be on that side or not," he says. "I chose not to. I chose to make music and play sports."
Music became a creative outlet for them both. Mackned's family has a strong musical legacy: His dad was in Cold, Bold and Together, one of the Northwest's classic soul and funk bands of the '70s, featured on Seattle reissue label Light in the Attic's classic Wheedle's Groove compilation. (Ned counts famed saxophonist Kenny G as his godfather.)
After starting his nascent rap career, Ned was adopted into Seattle's Moor Gang hip-hop collective thanks to Nacho Picasso, the group's breakout star. Key, on the other hand, was taken in at the young age of 16 by Raider Klan, the popular cross-country rap collective started by Florida-based Three 6 Mafia-obsessive SpaceGhostPurrp. The experience led to whirlwind tours while the rapper was still in high school.
Despite their newfound hip-hop families, Mackned and Key Nyata both recall feeling lonely. Having grown up isolated in tough situations, that loneliness sent them searching for answers.
Independently, they started looking for those answers in unusual places. Acquaintances introduced Mackned to West Seattle's Masonic temples, which led to a few months of intense study on a variety of New Age esoteric topics. Key in the meantime was already exploring cosmic themes in his own music. The two intially started collaborating after playing a show together, but they found a common sense of spirituality that wasn't present in the Seattle hip-hop community at the time.
"I was trying to talk to people about it for a long time, but nobody understood it but Key," Ned says.
Key points to his song "Religion of the Stars" off of Thraxxhouse Mixtape: Independence Day Edition, from July of last year, as an example of the Emerald Tablets' spiritual influence in their music. Over a dark, brooding instrumental, Ned raps almost mindlessly, as if possessed by some all-knowing being:
Thoughts to reality
A life without fantasy
Body bound to gravity
Above is where the palace be
My mind open
My thoughts potent
I remember different
A clear vision
Now both men say they feel spiritually content—or "answered," as they put it. They use Thraxxhouse, at least partially, to encourage those who feel lost to do their own soul-searching. The unending stream of pentagrams, esoteric insignia, and crosses, as well as the crew's relentless lyrical references to witches, magick, and higher consciousness, makes a sort of spiritual salad they hope the Thraxx-curious might sort through and sample to arrive at their own conclusions.
"That's what we're here to do. Find yourself completely," Key says. "I can't force everybody to do what I think is the right thing. For me it's just the searching part. Whatever you deem correct in your life is what's correct. I can't tell you what's right and what's wrong. I can lead you to the river, but you choose what side of it you wanna drink from."
On a recent Sunday night, just about every member and known local associate of Thraxxhouse, close to 20 all together, is crammed into Ned's West Seattle one-bedroom apartment. After leaving their shoes at the door, they pour into Ned's kitchen, where he in turn pours codeine cough syrup, apparently a Thraxxhouse favorite, into Styrofoam cups, diluting it with Sprite. Others retreat to the couch, playing a cartoony Xbox baseball game or using a Macbook as a surface to roll joints.
I notice the microphone at Ned's kitchen counter, and he tells me that Female, his fifth and most recent LP, was recorded right there among the cereal boxes and Styrofoam cups. Compared to Thraxxhouse Mixtape, released little more than a year ago, it's remarkable to see how far Mackned has come on Female. It's a point of maturation for him, and the most fully formed musical vision to come out of the Thraxxhouse collective thus far. While much of his earlier work played more directly with the infamously weird Lil B and his trademark "based" aesthetic and vocal cadence, on Female Mackned fully establishes his own style. It does contain what Key calls "secular music"—party tracks that lack the spiritual and emotional undercurrent of Thraxxhouse, tracks intended to reach a wider audience (like the album's tipsy "100 Oz.")—but much of it is pure unadultered Thraxx.
The record's breakout track "White Mountains" is a perfect entry point to the sound. With distinct notes of sorrow in his voice, Ned raps—or, maybe more accurate, sighs—"I got more pints than bitches, ay/I got more plugs than real friends" over a slow, sparse, and ambivalent choral beat that sounds a little bit like Enya. It's not hip-hop, it's something completely different—a poignant, emotional slow-burner equal parts beauty and bleakness. Loneliness, a common theme in Thraxxhouse, is front and center in this song. It makes you want to cry into your cup of lean.
Lately, Ned has developed an alter ego of sorts that is reflected on his other recent project, July's Hurt Cobain EP (to which a follow-up has already been completed). Ned feels a deep connection to the Nirvana front man, sharing both Cobain's preference for opiates as well as his feelings of isolation despite his group's rising popularity. "It's this feeling you get when you know you have gifts and you have to use them," Ned says. "Your ideology is a little bit different than the rest of the world. You sacrifice your body, but you become the best at what you do."

(L-R) Mackned chills with Thraxxhouse manager Warsame Warsame, The Flavr Blue's Lace Cadence (who helped originally
introduce Key to Ned) and prolific producer Keyboard Kid.
As much as the Thraxx crew might love drugs, the members want to make it clear that they don't promote drug use. Just look at "Role Model," Female's most brutally honest song. Delving deep into his past, Ned laments the poor role model he's become for his younger brother.
It might seem strange that loneliness is such an ever-present sentiment in Thraxxhouse, since the group is so large. But it's part of what brings all these people together, their desire to scrape out a familial connection among likeminded individuals. This West Seattle gathering at Mackned's apartment, I'm told, is one of the rare times the crew has been all under one roof. Perhaps that explains the loneliness—they're friends who interact primarily on the Internet.
"We have a Thraxxchat, which is a group chat where we talk to each other all day, every day. That's how we stay updated. If we got personal shit in our lives, we talk to each other about it all. It's a real big support system," says Malcolm Byrd, who goes by Tokyo GLD when releasing his more explicitly grunge-influenced rap.
Every single Thraxx member I talk to stresses that Thraxxhouse is, first and foremost, a family.
Top: "White Mountains" producer BroBak (left) and grunge-influenced rapper Tokyo GLD (second from right) watch a Thraxxmember smoke a joint. Middle: Key Nyata beams in for a FaceTime Thraxxchat. Bottom: The result of a long day of Thraxxskating.
Later in the week, the collective hosts a release party for Female at a Belltown gallery, in anticipation of a rare Thraxxhouse blowout scheduled for September 2 at the Crocodile. The crew is confident it will sell out.
The DJ wears a Pink Floyd T-shirt and spins, without exception, Mackned and Atlanta hip-hop auteur Future (a line from a recent Future song inspired Ned's Gucci flip-flop purchase). Warsame is doing his best to make the event go well, stressing about setting up a projector to get visuals going, but no one else seems too concerned.
The Thraxxhouse fans in attendance seem to lean heavily female and younger, wearing revealing outfits in dark colors. One sports a septum piercing and gold teeth just like Ned's. One young woman tells me she's been to every Thraxxhouse show since she discovered them last November. A couple of artists from a show in the neighboring gallery drop in, and they seem extraordinarily out of place.
The girls ask Ned to pose with them for photos, predestined for Instagram and Twitter, and he happily obliges. Key shies away from the attention, staying invisible for most of the night.
Mackned poses with art his brother made for him. The phrase "teenage guillotine" became the chorus for Female standout track "Elissa Steamer."
Warsame tells me he hopes to make this event a monthly ritual. The crew feels that establishing a relationship with fans is crucial to the foundation of Thraxxhouse. "At shows, most rappers do their shit and leave," Key says. "We stay around and kick it with people. We talk to our fans, take pictures, smoke with them, talk with them."
Sometimes the Thraxxhouse family even extends to the artists' fans. Earlier this year, Thraxxhouse played SXSW, where they met one of the collective's newer members. "Warsame and [Thraxxhouse member] Wilt Gameberlin found this kid who was in head-to-toe Thraxxhouse merch at, like, 3 in the morning," Key says. "This kid is a Thraxxhouse superfan. We were taking care of him this whole week, because he had ran away from home to come to our SXSW show. Now he's in Thraxxhouse. His name is Ryan Gothling, and he's like our mascot. I don't think any other group would take in a fan like that and make him family."
It's this ethic that separates Thraxxhouse from so many musical subcultures. Thraxxhouse doesn't pride itself on exclusionism; even though much of their music may be cold, they're warm and welcoming even to me, an outsider just there to document their wild existence. For all their sensitivity and loneliness, they're happy to make you feel like a part of the weird Thraxxfamily, even if only for a short time.
THRAXXHOUSE With Mackned, Key Nyata, Larry June, Yung Bruh, Horse Head, and others. The Crocodile, 2200 Second Ave., thecrocodile.com. $12 adv./$15 DOS. All ages. 7 p.m. Wed., Sept. 2.