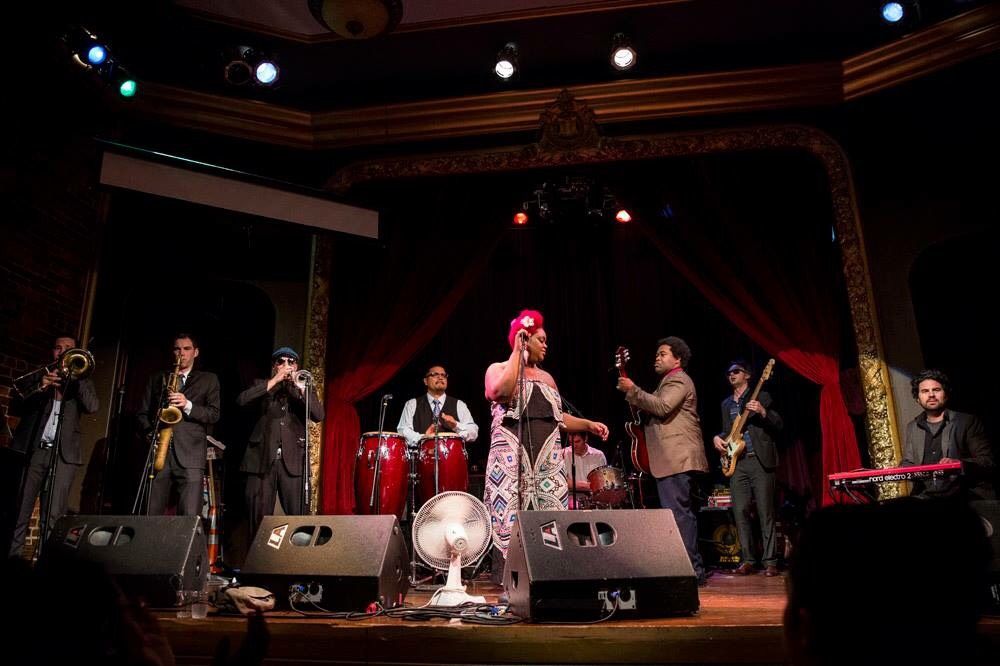 Grace Love, a Seattle soul singer with a powerful, booming contralto, uses some unconventional methods to create her distinct melodies: Sometimes she'll sing into a whirring fan, or make up lyrics to go with the whoosh and slap of windshield wipers. In pursuit of a particular sound, she's found herself trying to mimic the wail of a crying baby or its mother's soothing coos.
"Babies hit those notes that nobody can actually hit," Love says, sipping a chai latte, sitting across from me at a table in Capitol Hill's Solstice Café, her purple braids tied in a knot above her head. "And fans . . . they're like cheap AutoTune!"
Love's voice can fill a room like an avalanche—but early in life she wanted, of all things, to be a politician, "because," she says, "of ignorant people like Trump. I wanted to protect the arts and facilitate amazing opportunities for people who make this world go round." Only in 2006 did she start singing professionally, though she'd sung in public much earlier. Her mother sang in church and performed in a girl group with Love's aunts in Memphis—but Love wasn't one of those kids who grew up in the choir.
"I think I only sang once and I think I was about 4 years old," Love laughs. "I stole the mic from my mom, who was singing 'This Little Light of Mine,' and I told her I could do it on my own. She was like, 'All right, ya little diva!' "
When Love was 16, she told her father she didn't want to attend church anymore, and he didn't put up a fight. "My religion is music," she says. "My faith is in song."
Love, who will play Bumbershoot on Saturday with her band the True Loves (eight members, including horns, guitars, and percussion), caught the performance bug at 19, cast in Ain't Misbehavin' (named after a Fats Waller song) at Tacoma's Little Theater. But only last year did she decide to take the plunge and try out life as a front woman. Previously, she'd worked in Manchester, England, recording backup vocals for dance tracks for DJ Zed Bias, to whom she was introduced by a man she met while she was singing subway gigs in New York City. The 15 or 16 tracks she recorded with Bias got played on BBC Radio 1 and throughout Europe.
After all her travels, she found a home in Seattle, where she's lived for a year and a half (though she grew up in Tacoma). She's secured a band and a bandleader—guitarist Jabrille Williams—who provide the Dap Kings-style pocket upon which her voice thrives, while also challenging Love to transition into the life of a performer.
"I'm really, really, really super-hard on myself," she says. "But I'm trying to roll with the punches more. For a long time I've been a planner. Then everybody in the band was just, like, 'Grace, just go with the flow.' I don't like doing that, but I said OK. Now, though, we need to start planning—the goal is to hit Europe next year, hopefully in the spring. Then do a U.S. tour and hit Jazz Fest."
Maybe the best example of the True Loves' vibe is "Mean to Me." The title itself has two such precise and extreme meanings—cruelty and adoration—and the raw emotion in Love's voice as she belts the lyrics is magic. Seeing her live, it's as if you can watch her reliving the difficulties of being in love right before your eyes, while backed up by a tight, bold rhythm section she adoringly calls her "chariot." "They don't like that term, but I love it!" she smiles.
"That song came from a place of hearing some old stuff and trying to make it new again," she says. "I was listening to Fats Waller, Ray Charles—just all kinds of different artists who made simple songs that were really distinctive. It isn't just about a relationship—it's about friends, family, anyone who's taken you all the way up and just dropped you."
Love, who will release her first full-length with the band in October, says there's one thing people should know about her when it comes to a live show. "When I get offstage—it's amazing to see fans there so excited—and I don't want people to think I'm rude, but I usually run as fast as I can backstage to get my bearings. It's a result of all that adrenaline, a wave of nerves, and me thinking, 'Yes! I did it!' "
3:30 p.m. Sat., Sept. 5, Broad Street Stage
music@seattleweekly.com