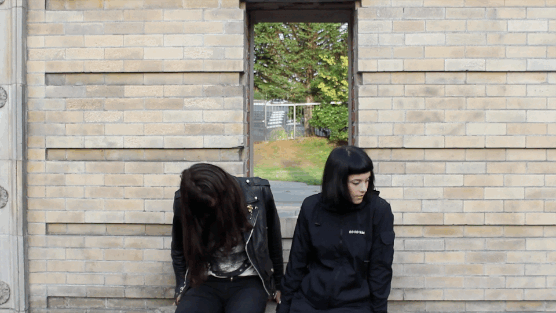 Starship's classic "We Built This City (on Rock and Roll)" was written about San Francisco, a city most are loath to compare to Seattle. But it's pretty inarguable that, yes, Seattle was also built on rock and roll. At Bumbershoot's "Between Garage & Grunge" show last weekend, featuring Fantagraphics curator Larry Reid's collection of classic Seattle punk posters from the mid- to late '70s, a number of the artifacts on display proudly promised that audiences would be subject to absolutely "NO SYNTHESIZERS."
It's something most modern Seattle show posters could still accurately promise. We here in Seattle love our guitars so much, we built an enormous shrine to Jimi Hendrix next to the Space Needle. It's supposed to resemble a smashed Stratocaster, but you probably know it better as that purple blob called the EMP.
Back in 2012, all this guitar worship made it pretty tricky for Youryoungbody, a local dark-electronic duo that had just released its first EP, USER, to find anybody to play with.
"When we started, we were scrambling to find bands to fit on a bill with," Youryoungbody singer Duh Cripe says. "We played some funky lineups, but I think that's what makes us so appreciative of the musicians in the scene. Electronic fans are pretty damn loyal, and stylish as hell."
Flash-forward to 2015: Seattle is a very different place. Thanks in part to the 2014 opening of downtown's Clockwork Orange–inspired dance club Kremwerk, Seattle's electronic, guitar-free, "stylish as hell" crowd now has a dedicated home base. Not only is the city experiencing a sudden upswell in quality electronic acts, but, to Youryoungbody's benefit, a sudden upswell in quality dark-electronic acts. With the witch-house-inspired hip-hop of recent Seattle Weekly cover subjects Thraxxhouse; the "dreamcore space punk" of Bailey Skye's gender-bending project Nightspace; KEXP DJ Sharlese Metcalf's cold-wave crew False Prophet; Golden Gardens' ethereal club goth; and KA's "doom-gaze," all of a sudden Youryoungbody is finding itself at the center of a burgeoning local scene.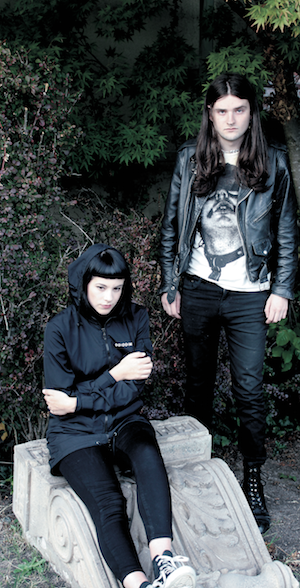 "I really like what's been coming out of Seattle's electronic scene recently and been feeling inspired," says Youryoungbody producer Killian Brom (who worked on the music for popular video games like Left 4 Dead, Starcraft 2, and DOTA 2). "Seattle has a habit of being fairly isolated when it comes to music trends, which can produce some cool results. All the groups you mentioned we have a pretty close connection to, and [we] all go to each other's shows."
In a surprise move, Youryoungbody suddenly released its fifth record, the Betrayer EP, on August 19, to the collective delight of its growing number of Facebook fans. Betrayer is the duo's most articulated sonic thesis statement thus far: a collection of four gloomy, frost-bitten graveyard rave tracks that came out of a particularly tough time for Cripe, who says she was dealing with "some pretty bad social anxiety when we started recording" a year ago. The record's immediate tonal touchstone is Crystal Castles, but Youryoungbody's approach is far more hi-fi and chill than Alice Glass and Ethan Kath's frenetic Gameboy-goth dirges.
"I think our theme with this was to be able to strip the songs down so that we could play them on just a piano, which is something we haven't done before," Brom says. "Personally I've been really into using traditional rave synths in toned-down and unusual ways."
The new toned-down approach pays off—standout tracks "January" and "The Garden" are sophisticated enough for the dance floor and a rainy day alone at home. In part that's because the tracks don't needlessly beat you over the head with wanton sub-bass, but also because of the strong melodies that came out of another new songwriting approach.
"In the past I would make a rough draft of something I was working on, show Duh a bunch of stuff, and we would pick one to do vocals on," Brom says. "This time we tried working on stuff at the same time, and got some very natural-sounding results." On Betrayer, Cripe's vocal lines are more intertwined than ever with Brom's production—a clear step forward for the two as they continue to develop their own particular voice in Seattle's emerging crowd of darkwavers.
That voice, and how it's perceived, is something the band is very aware of as they move forward—in part because of the bad taste the black-metal scene left in Brom's mouth after he left his previous band, Drakul. With Youryoungbody, Brom says he at times has felt "pigeonholed as a witch-house artist. That scene had cool elements, but once the genre's sound developed, it became less about sonic and visual creativity and more about how cvlt you could be. I feel like a similar thing happened in black metal. I just want people to be themselves and push boundaries rather than criticize things for not conforming to their ideal version of being 'outside the box.' "
This burgeoning Seattle scene's ability to push outside of that very narrow aesthetic and sonic box laid out post-King Night will be the key to its success—something Thraxxhouse is proving with its brilliant and bizarre New Age, punk, and grunge spin on the theme. If Betrayer is any evidence, Youryoungbody's self-awareness of those trappings and vocal desire to push past them are starting to work. By the time a full-length comes out, don't be surprised if a lot of people start loosening that death grip on their guitars.
Youryoungbody With Force Publique, Nightspace, Aeon Fux. Narwhal, 1118 E. Pike St., unicornseattle.com. $7. 21 and up. 9 p.m. Sun., Sept. 13.
Kelton Sears serves as music editor for Seattle Weekly. He can be reached at ksears@seattleweekly.com. Follow him on Twitter at @keltonsears.