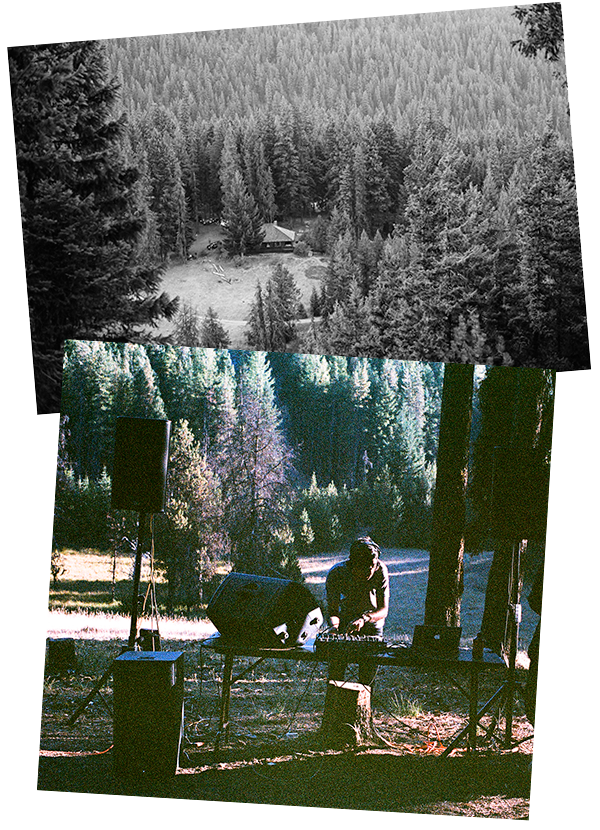 On a recent Saturday night, the heart of Seattle's dance scene is beating fiercely at a cabin in the woods. Fifty people have driven three hours to be here, following 11 of the city's most talented, visionary young DJs and producers, who will spend 16 straight hours filling the Washington wilderness with music. It's an unlikely scenario. But as is the case with Seattle's techno underground these days, the unlikely has become the inevitable.
The feeling at the lodge party is that of a castle in the sky. Eddie Lee does a somersault over the laps of eight people inside a four-person tent right before he spins techno as hard as diamonds for two hours. People play ping-pong during Nick Carroll's explosive, indulgent 3 a.m. set that unravels every nerve ending in the room. Dawn breaks over the mountaintops as Kayla Waldorff's sunrise set echoes through the valley. The sound here is better than most Seattle venues, and that is by some effort—someone even drove from the city after a 10 p.m. restaurant shift to bring a replacement cable for the subwoofers. People are dancing, kissing, and talking, or lounging inside an art installation that's been set up: Fabric wall paintings arranged like a Bedouin tent. A friend cuts off a lock of hair with someone's knife and then eats it. People trade shirts on the dance floor, share their food, booze, cigarettes, and bedding. By 9 a.m., the bodies of everyone too exhausted to stand but too in love with the music to leave are slumped against the cabin walls, trying to prolong the waking dream of secondnature's latest party.

Photo by Nick Carroll
"It's been a big shot in the arm to have them around because I was a little bit worried about Seattle's future in terms of dance music, I really was," Cody Morrison says of secondnature and the wave of young new promoters and artists it's affiliated with. Morrison, organizer of the peerless warehouse and loft parties High + Tight, is the unofficial godfather and benefactor of Seattle's underground dance community. "I mean, fuck, I'm 40 years old, most of my friends are in their early to mid-30s, and this isn't the kind of thing where everybody keeps going forever. This will either burn you out or life changes."
Most of the major nights or crews in Seattle's electronic landscape date back to the early 2000s. Decibel Festival and dance promoters Shameless were both founded in 2003, the Innerflight crew in 2004. House-music party Flammable has been running at Re-Bar for more than 20 years, and Seattle's Electric Tea Garden, which consolidated and defined so much of the local underground culture, ran for almost 20 years until it closed in 2013. Seattle's last techno-only collective, Sweatbox, stopped having nights when ETG shut down. The Motor dance night series is only three years old, but it's an extension of Seattle's 13-year-old Debacle Records. Even relatively newer events, like High + Tight or the Train Car House Party, are run by people well out of their 20s. And though there are some younger crews in town, like OMW, Night Shift, or Customs, they're exclusively club-oriented and therefore necessarily above-ground.
But in the past several years, a group of young people from the basement incubators of Tacoma have moved to Seattle and reinvigorated the city's interest in heady techno, experimental electronics, and DIY underground dance culture.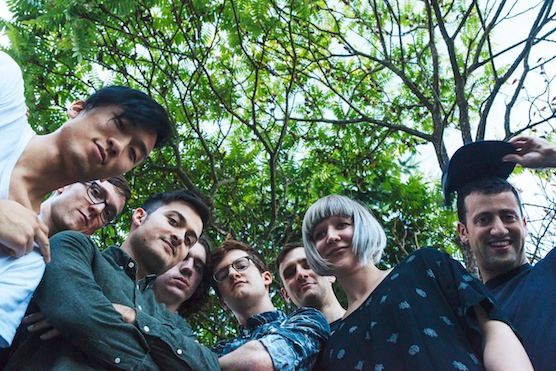 secondnature photo by Cecilia Corsano-Leopizzi
The primary players of this new guard are the eight members of the techno collective secondnature and their tight network of friends and collaborators, such as Kirsten Thom and Matty McBride, creators of the monthly ambient, drone, and experimental night Elevator. Secondnature events cover a wide spectrum, from homies-only off-the-grid outdoor gatherings to major-label collaborative and independent bookings at Seattle venues; in between are small, dark city basement shows with cerebral techno from obscure imported artists like Varg, the Swedish black-metal-turned-spooky-acid-electro producer.
Five of secondnature's eight members and both members of Elevator are graduates of the University of Puget Sound in Tacoma. They all started DJing at KUPS, the college radio station, and cutting their teeth at college house parties. Their swift rise since graduation has been meteoric and locally unprecedented.
"It's very surreal," says secondnature co-founder Nick Carroll. "You'll have agents hitting you up about artists you thought you'd have to be banging on their door to get, and they're just like, 'Oh, we've heard about this thing, what's going on in the Northwest these days?' It was literally just college kids partying and doing music, and it's steamrolled into so much more."
Elevator has been responsible for booking both the legendary New Age musician Laraaji and celebrated experimental computer composer Holly Herndon, both of whom were booking coups not only for Elevator, but for the whole city. "Me and Matty [McBride] were talking about dream bookings, and Laraaji was one of mine," Thom says, "and Nick [Carroll] was like, 'You should just e-mail him,' and I did to see what would happen, and he was like 'Sure, I'll do it.' And that made me feel like, if I can book my favorite artist of all time, I can book anyone."
"It was sort of surprising to me to find out that we could do whatever we wanted," Elevator's McBride echoes.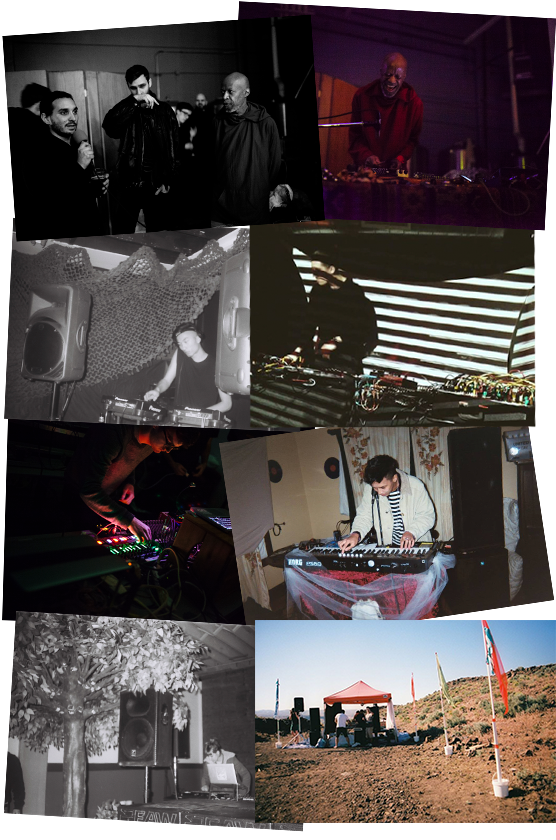 Secondnature and Elevator's guerrilla parties range from warehouses to mountain lodges to packed basements, and their aboveground events have brought legends like Laraaji (top row) to Seattle. Photos by Diane Barbé, Nick Carroll, and Cecilia Corsano-Leopizzi
Sure, you can measure secondnature's success by its high-profile bookings and the visibility the DJs and producers within the collective have achieved. They've released studio albums, played shows in Europe and Canada, have a nearly sold-out party at this year's Decibel Festival, and have been praised individually and collectively by many media outlets, including premier global online electronic music magazines Resident Advisor and XLR8R. But by far their greatest success has been the cultivation of new meaning, depth, and energy in Seattle's techno and dance scene.
Sam Melancon, founder of the experimental label Debacle and the monthly dance party Motor, is very frank about the influence of Elevator and secondnature. "I'll be pretty honest about this," he says. "I think up until recently, what I perceived of the Seattle electronic scene was somewhat older, lifers, people going to the same things . . . When all of a sudden those kids started coming up from Tacoma, it was like, this is what we need. We need young kids who are super-motivated, who are not at all dilettantes—they know what they're talking about, they know what they're doing, they are organized. They came out of nowhere and were a legit scene, and created a legit scene. I think it's becoming obvious that they're the next wave."
"They came out of nowhere and were a legit scene, and created a legit scene. I think it's becoming obvious that they're the next wave."
"I think people want an experience, and I don't think anyone was getting it," says Chloe Harris—a Seattle native and head of experimental label Further records who DJs, produces, and performs under the name Raica. "Just having an Ecstasy and drinking beer, you're supposedly having a great night, but that doesn't seem like it's an experience. Like with Elevator doing something in a brewery in Georgetown, that's kind of an experience, because it's a weird place. You have to get there, it's not on the Hill. When raves first started here, that's how it was. You'd get a phone call or a message a few hours before, or a map, and you'd have to try to find it. And I think people were missing that experience. Going to a club isn't like that, it's just a meat market."
Secondnature's recent lodge party, three hours outside of town, is an example of the kind of old-school, truly transportive, music-centric experience Harris is talking about. This weekend's Decibel after-hours show at downtown club Kremwerk, which will run from 1 to 11 a.m. Sunday morning, is a kind of urban encore to the lodge party that will demonstrate how well secondnature can translate their aesthetic to a club. The after-hours show will feature performances not only from secondnature members Nick Carroll, Kayla Waldorf (DJ Aos), Ted Shin (Fugal), and Ben Block (Simic), but also a DJ set from Qu, leader of the New York label Strength Music, and a live set from Aurora Halal, the internationally acclaimed organizer of New York outdoor electro fest Sustain-Release. The music will be world-class (Resident Advisor recently hyped the event on its front page, calling it "one of Seattle's more prominent techno parties in recent years"), but a 10-hour party that runs well past dawn and includes art installations and breakfast is something novel for most young Seattleites. And for a city that's been house-centric for the past 10 years, so is techno.
"How much house music can you listen to?" Harris says. "How many more funky fucking bass lines can we do? It's the same shit, it doesn't really change, you need to do something to make it interesting for people. Otherwise they'll get really, really bored. . . . I think that people are ready to hear more experimental techno. I think that if [secondnature] was around 10 years ago, it wouldn't have worked. Everyone who listened to techno didn't leave their house. But now they leave their house."
Even though they host dance parties, secondnature's music isn't always easy to dance to, and the point isn't getting fucked up or even hanging out. The point is to be brought as close as possible to the music, and the members take great pains with both the sound quality and the room's atmosphere to facilitate maximum audience immersion. For a covert party at the now-defunct OHM gallery in the Central District, long-time secondnature collaborator Louise Croft-Blake (DJ Biome) covered the walls in black plastic, draped the ceiling in mesh and pine boughs, ran red lights and flickering old televisions full of static, and let the strange dark techno pound away at the intimate dance floor.
The reason these Tacoma transplants party the way people partied 10 or even 20 years ago is likely because they've modeled themselves closely on their revered Seattle forerunners. "When I was at UPS," says Kayla Waldorf, "the majority of my time spent out in Seattle was at Electric Tea Garden at the Sweatbox parties, going to Decibel, and High + Tight's legendary Loft parties. What I've heard over and over from the people I consider our 'techno aunts and uncles' is that 'You guys are doing it right . . . ' I mean, I really used to idolize all those guys, and I never thought I would be hanging out with them or working with them."
Amazingly, secondnature and Elevator aren't only working with their heroes, but also helping them. By knitting cliques together and roping in younger crowds, they've increased the reach and relevancy of the groups that made them want to move here in the first place.
"A lot of people have come up to me and been like, 'So what do you think about Elevator moving into your space?' " Debacle Records head Melancon says, "and I'm like, 'Are you kidding me? Do you know how many shows we get to see now?' They're pushing me—I can't rest on my laurels. And they're bringing people into that scene who would never go to a drone or noise show two years ago, who are now buying records and being excited about whatever odd person is coming.
"They were a completely important tipping point for Motor," he adds. "Having them pop up symbiotically helping us—and I mean actively helping us—I don't think we could have done anything if they hadn't been, like, 'Here's a wave of kids who want to come to your show.' . . . A lot of the reason the [Motor] shows have been amazing is that almost 90 percent of the time there's a secondnature person on it or helping with it. That's incredible—you don't get a windfall like that in music very often, where a built-in scene just shows up out of nowhere."

(L-R) Elevator's Matty McBride and Kirsten Thom with secondnature's Nick Carroll and Eddie Lee, hanging in Thom and Carroll's West Seattle home with their pomeranian Luna. GIF by Cate McGehee
Morrison says that for High + Tight's show last February with the influential techno label Sandwell District, he e-mailed 525 people and an incredible 350 showed up. "It wouldn't have happened five years ago," he said. "And I'll take it a step further—without people like Eddie and Nick and Kirsten and Alex and Kayla and Nathan, and then the whole Motor/Debacle insurgence of energy, that wouldn't have happened. That kind of turnout would never have happened without them."
It's fitting that secondnature has been a boon to High + Tight, because Cody Morrison basically hosted the collective's debutante ball in Seattle. When he was booking at Capitol Hill's Q, he booked Cio D'Or, a German dub-drone producer, and had to figure out an opener.
"I took a Facebook poll," Morrison says, "who should I book for this? And several people actually reached out to me privately through that thread and were, like, 'If you don't book Eddie Lee, you're a fucking idiot.' They were so strongly in his corner, and I was like, 'Well, who the fuck is Eddie Lee?' "
"That was the first time we heard of [secondnature]," Harris says, remembering that night. "I was just, like, 'Who are these kids, this is so cool, what the fuck's going on?' "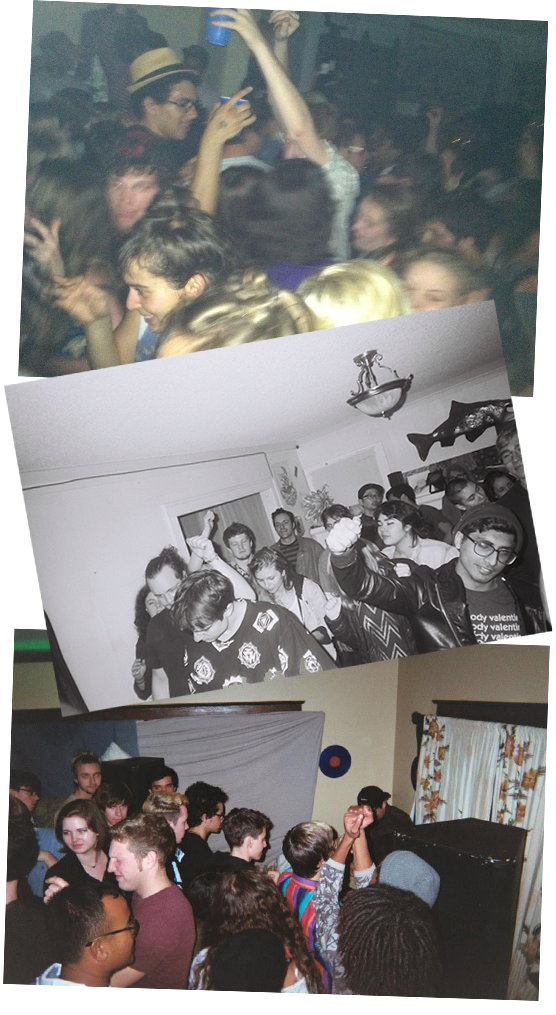 Photos by Nick Carroll and Diane Barbé
At 29, Lee is the oldest member of the Tacoma vanguard by five years, and the impetus of the scene that grew up around UPS. "He's the grandfather, he's in charge," McBride says. "He introduced all the techno quality."
Not only was Lee the first person at Tacoma's UPS house parties to start spinning techno, but he was also the electronic-music director at KUPS, the student-run radio station that was the center of the community.
The members of secondnature and Elevator may have found each other through the radio station, but it was at their parties where their sound, style, and hosting capabilities were forged. Before Lee and Carroll, "there was, quite literally, no dance scene at UPS," one current student says.
"We would push it as far as we could until we got shut down. One time our friend who lived at a good party house even got arrested and spent the night in jail for having too many noise complaints."
"In Tacoma, you had to create your own fun," Carroll says. "You could go to a bar, but the bars sucked. There weren't many venues, if any. It taught us that if we want to go to parties that we wanted to go to, we either have to throw them ourselves or find them in Seattle, and you can't go to Seattle every weekend."
"So we basically threw a lot of parties," Lee adds.

"We threw a lot of parties," Carroll says. "At the expense of both of our GPAs."
"The attitude was 'Fuck it, let's party until the cops come,' " says Alex Markey, a secondnature member and one of Seattle's finest up-and-coming producers who works under the name Archivist. "We would push it as far as we could until we got shut down. One time our friend who lived at a good party house even got arrested and spent the night in jail for having too many noise complaints." Tacoma has deep punk and DIY roots, and secondnature's first parties (and their parties today) reflect that influence.
"When we first started DJing together," Lee says, "techno was not something most of the kids had heard at parties. Most parties were iPod hip-hop parties or rock bands."
Carroll claims that "year zero" for electronic music in Tacoma was when Lee's friend DJ Baboonface (Isaac Lewin) was asked to DJ a girl's birthday party. "[Baboonface] had been a crate-digger for a while and had a big collection of funk, boogie, lots of other records. [The birthday girl] asked him to play some Lil Wayne, and he said, No way, I'm not going to.
"Lots of people said he was an asshole for not honoring her request," Carroll recalls, "but he stuck to his guns, ended up DJing the party, didn't play any Lil Wayne, and [Lee] saw that you could DJ a party and play stuff you were actually into that wasn't garbage Top 40."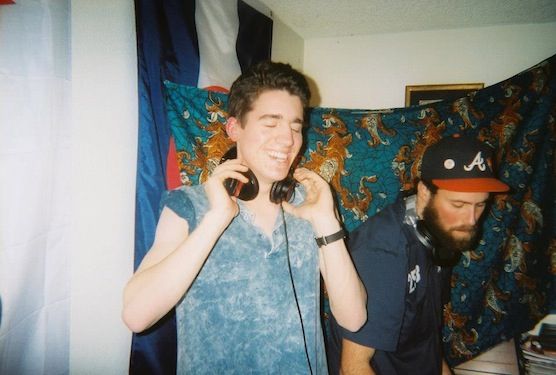 Ben Block (Simic) and Isaac Lewin (Baboonface) at the dawn of Tacoma techno.
The key to secondnature's early success was sound. The fledgling crew would round up as many speakers as they could and borrow subs from whomever had them. "It set us apart from the other parties on campus," Lee says. "Kids wanted to come to the house parties we were throwing because they knew they could expect a party with a lot of effort behind it." In addition to superior sound, the DJs were spinning vinyl on Technics and mixing CDs, often incorporating visuals from a borrowed library projector. Lee and Carroll quickly began promoting and throwing parties of an anomalous caliber for college kids and teenagers. And after Carroll bought a pair of QSC speaker towers with money from managing an ice-cream bicycle operation and a cash gift from his parents for his 21st birthday, "everything changed."
"I don't think electronic music would have blown up in Tacoma without the QSCs," says Carroll. "They've sound-tracked a lot of hedonism-slash-community-building exercises."
This set of speakers was also their ticket into the Seattle scene. "If you're not throwing the party, you have to compete to get booked with everyone else who's competing to get booked," Carroll says. With the speakers, they could throw their own shows in Seattle without relying on bars or venues, which is all they knew how to do anyway.
It's impressive and surprising that the members of secondnature and Elevator are only in their early 20s, but it's not a coincidence that a city like Tacoma, which lacks a robust bar and venue circuit, skews young. There is closer collaboration and involvement between people under and over 21 because "getting carded" isn't a shibboleth that keeps you out of shows. And just as Lee helped Carroll develop his tastes and talents, secondnature and Elevator members have nurtured yet another generation of even younger producers and DJs.
Currently 21, Jack McGougan attends UPS, works as the production manager of KUPS, and has earned recognition in Seattle through his production work as as_dfs. He remembers Carroll, then a senior, having freshmen such as himself over to teach them how to mix CDs.
"It was inspirational for us young folks," says McGougan. "The older folks were always interested in getting younger people involved, never cliquey, very inviting. There's a whole group of younger people in Tacoma right now that have been seeing this and starting to DJ." McGougan still has a flier from a basement show Carroll and Lee headlined. "I got to, like, listen to hard fucking techno melting my face off at 18. That's priceless."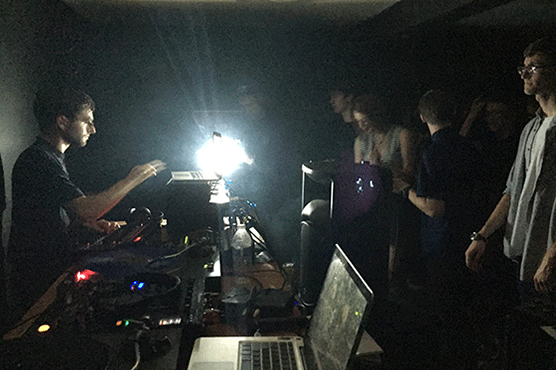 Seattle producer Novacom plays a recent Tacoma house party organized by McGougan. GIF by Tiffany Wan
Current KUPS director Will Winston remembers a night in their dorm room when they and McGougan both received a text that DJ Eddie Lee was playing in Carroll's basement. "This was the first time I'd ever heard techno music DJed at a party," Winston writes, "and watching Eddie with his head lamp and collection of CDs was transformative for me, even though I couldn't appreciate it fully at the time . . . In terms of secondnature influencing myself and my peers, I can say with certainty that I would not be the person I am today without them."