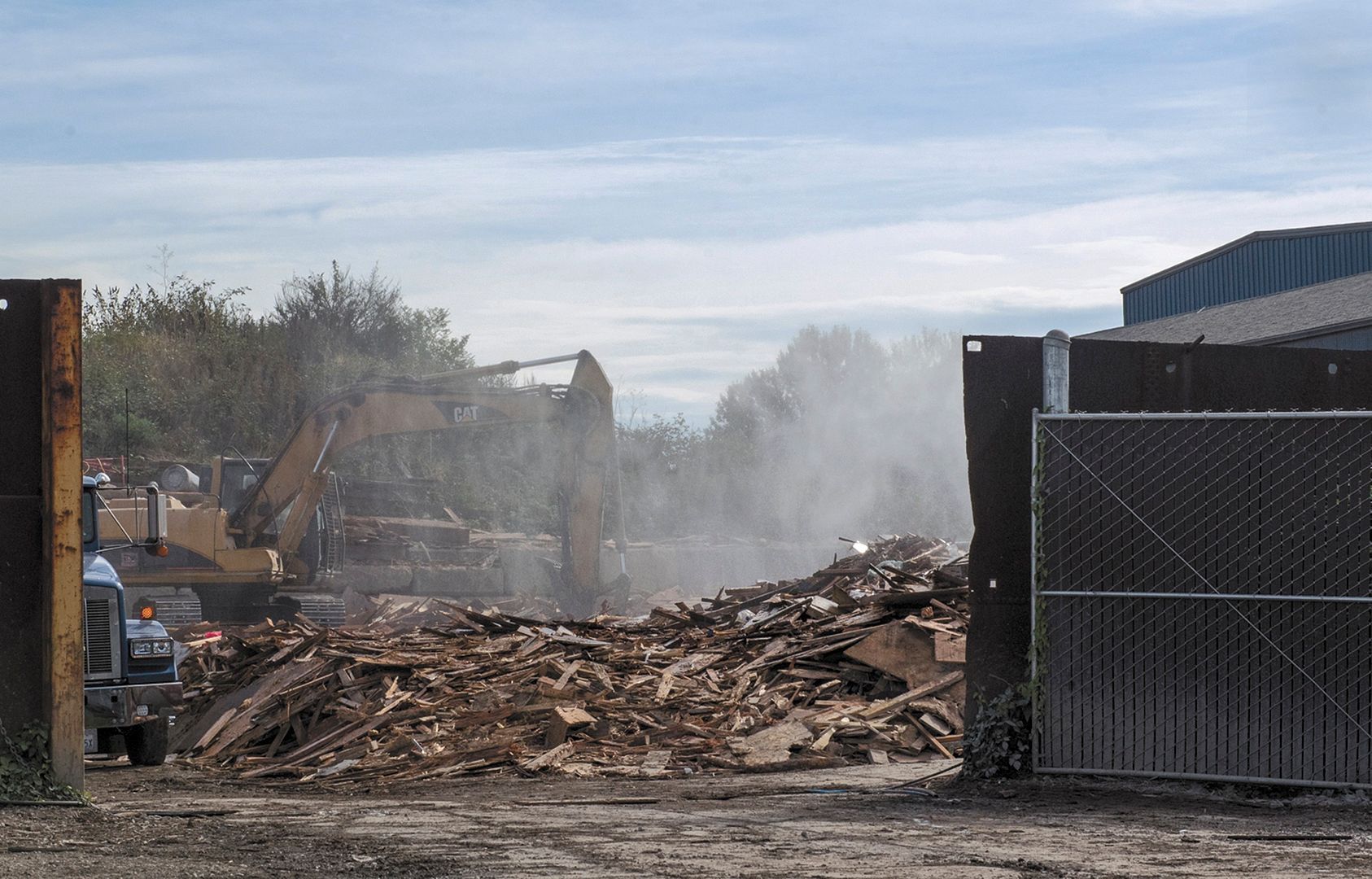 Mist is sprayed on refuse at CDL Recycling. Misting is one strategy to mitigate dust in the area, but some neighbors say it's not enough.
In early 2015, Kelly Welker began to notice that the gritty air she was accustomed to breathing near her home on Flora Avenue South, in Georgetown, was grittier than usual. Within a few minutes of leaving her house, it would get into her eyes and burn. It would get into her sinuses and burn. It began searing her throat and coating her tongue, leaving a chalky, metallic aftertaste. The sinus pressure went from her face to her ears at night, and the burning feeling settled deep in her chest. "I even went in for a CT scan," she says. "I felt like I had to take a running start to breathe."
Soon her 4-year-old son's eyes started turning red and raw, too. Welker and her husband and son all began to have nosebleeds. She was constantly wiping a pale, powdery dust from her kitchen table and floors. It settled in thick layers on her car and windowsills and shelves. One day, eating lunch with a neighbor, Diana Bodwin, at the corner of East Marginal Way South and Corson Avenue South, the two women noticed clumps of dust gathering in their hair—"white chunks in our hair," Welker says, "falling from the sky."
And it wasn't just Welker and Bodwin noticing this—it was most everyone who lives in the roughly three-by-four-block rectangle just off East Marginal Way South, the only slice of Georgetown that's zoned residential. Bodwin remembers coming home one night and within half an hour developing a debilitating headache, so painful that she couldn't bring herself to clean up the white dust that was accumulating on her son's Legos. Another day, driving down East Marginal, Bodwin's young son suddenly started rubbing his eyes and screaming from the backseat, "My face hurts!"
It burned, Bodwin says. "As soon as it hit you, it burned. It burned your airways and it burned your throat." Sacha Davis, a Georgetown resident since 2000, ended up in the hospital with her 5-year-old daughter, who'd had a severe asthma attack for the fourth time that year. Still others thought they had colds, or sinus infections, or allergies. But if they left the area for a while—even just up the hill, to West Seattle—the symptoms would disappear.
"We were joking about it!" Welker says, appalled. "The neighbors, we were going outside and saying, 'Oh, do you have that metallic taste in your mouth again?' And sometimes it tastes like plastic. So, 'Do you have that plasticky taste in your mouth again?' "
A former cross-country runner and part-time nurse, Welker has a sturdy build, thick, gray-blonde hair with a platinum streak, and a determined, strident voice—the kind of person who has no qualms making everyone at a public meeting stare uncomfortably at their shoes if she needs to speak her mind. And in this case, she did—along with Bodwin and half a dozen other neighbors who had the energy and the anger and the time. "I just couldn't take it anymore," she says. "We shouldn't be living like this."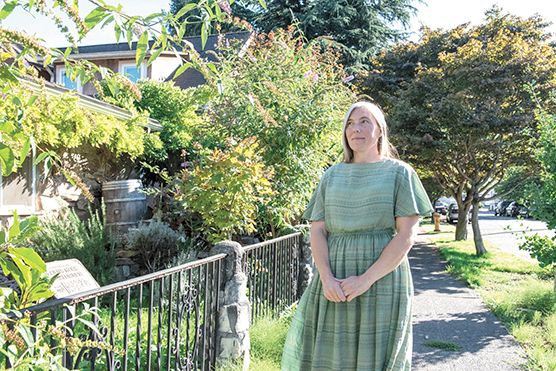 Kelly Walker says her family's life has been overturned by increased air pollution in her neighborhood.
Georgetown is arguably the oldest neighborhood in Seattle—"the birthplace of King County," in fact, since its first non-Native settlers beat the Denny Party, who landed at Alki Beach in November 1851, by two months. By the time Georgetown was annexed to Seattle in 1910, it had already been crisscrossed by the region's first railroads and crammed with industrial and commercial activity that included a steam plant, a brewery, and two dozen saloons. In 1913, engineers began dredging and straightening the nearby Duwamish River to make room for barges and shipping vessels. What was once meandering river became industry-ready mudflats. It was then that factories, steel manufacturers, and shipbuilders took up residence alongside the new canal, beginning what would be an era of environmental degradation, with companies regularly leaking oil, sulfuric acid, and raw sewage into the surrounding soil and water.
The Boeing Company arrived in the 1920s, and by the end of World War II had built nearly 7,000 B-17 bombers in Georgetown. Its manufacturing plants leached (and at times actively dumped) thousands of pounds of toxic chemicals into the Duwamish, including sludge full of polychlorinated byphenyls (PCBs), now a known carcinogen.
At the time, few batted an eyelash at slinging "500 pounds of acetylene generator waste per day" into the river, as a Department of Ecology survey from 1945 notes. But public perspectives on environmental health have shifted considerably since. Studies now suggest that if you live in Georgetown or South Park, your life expectancy is 13 years shorter than it would be if you lived elsewhere in Seattle. Georgetown's air is also consistently pegged as the city's worst. In 2013, a report by the University of Washington and Puget Sound Sage found that there are far higher concentrations of diesel exhaust and other traffic-related air pollutants in Georgetown and South Park than anywhere else within city limits.
Today, the neighborhood's small line of houses is still flanked by facilities like Seattle Iron & Metals, which occasionally coughs out giant plumes of blue or black or orangy-red smoke; Boeing Field; and the rerouted Duwamish, now a bona fide Superfund site being painstakingly cleaned by the EPA and the Washington Department of Ecology to the tune of $342 million. Freight trains, sometimes stacked with coal or crude oil, create so much noise that houses rattle each time they pass, and nearby Eighth Avenue South, which isn't fully paved, often sees diesel-fueled trucks barreling down its flanks, churning up dust and filth.
The roughly 1,600 residents who live here now, up from about 1,180 in 2000, are not like those who lived here in the early part of the 20th century. They no longer work at the facilities they live next to. Instead, since the median home price in Georgetown is still about two-thirds that of the rest of the city, most residents are here because they've found a home they can afford. And in Georgetown, it turns out—one of the few affordable places to live in the fastest-growing city in the country—sometimes it's difficult to breathe.

The vast majority of Georgetown is zoned for industrial use.
Welker knew that the air quality in Georgetown wasn't great. But what she witnessed this past spring was markedly different than what she'd seen in the decade since she moved to the neighborhood. This was a visible, clammy, eye-burning plume of dust settling on her neighborhood like a shroud. "I was walking home one night, and I saw the dust in these huge floodlights," she says. "So I followed it."
The trail led her to a nondescript building on East Marginal Way South: a construction-debris recycling facility called CDL Recycle, a subsidiary of Woodinville-based Drywall Recycling Services. Drywall, she would later learn, is believed to cause many of the symptoms Georgetown residents were experiencing: persistent throat and airway irritation, difficulty breathing, asthma attacks.
Welker called the company directly, but that didn't yield much. "We don't produce dust or mist," she says she was told. She proceeded to file dozens of complaints with the Puget Sound Clean Air Agency, Public Health–Seattle/King County, and the state Department of Ecology. She spoke with representatives from Seattle Public Utilities, from the mayor's office, from Puget Soundkeeper Alliance, and several more from CDL Recycle. She made calls, wrote e-mails, took photos and videos. She had troubling phone conversations with some agency representatives, who, she claims, told her things like "Nothing will change until you make this a political issue" and "Well, at least you don't live in San Bernardino or Beijing. You can still see."
The dust persisted. She grew obsessed. On April 22 she created a Facebook page called the 6900 Flora Dust Bowl, named after her block, as a way to document the effects all this was having on her community. It quickly became one of the most thorough and up-to-date repositories of information about environmental health those few blocks have ever seen.
In late May, a friend of Welker's, angry on her behalf, sent a flurry of e-mails to a dozen Seattle media outlets as a last-ditch effort to get some eyeballs on the issue. "There's a big dust plume at the end of my street, and there's nothing we can do but report it," Welker told me at the time. "And we keep reporting it. And we're not getting any relief."
The media blitz that resulted brought a lot of attention to East Marginal Way South—for a couple of days, anyway. Georgetown was suddenly crawling with reporters, microphones, and cameras; headlines like "South Seattle Residents Complain of Industrial Dust" and "Georgetown neighbors say dust clouds causing health problems" flooded the airwaves. CDL Recycle president Brian Thompson kept telling reporters, over and over, that they were doing their best. "We're not trying to make everybody hate us," Thompson said then. "We're trying to do a good thing here. We've invested a quarter of a million dollars in dust suppression this year."
Georgetown residents now have the ear of the mayor's office, the Department of Planning and Development, the Department of Neighborhoods, Seattle Public Utilities, the Puget Sound Clean Air Agency, the Seattle/King County Public Health department, and a slew of other departments and agencies. CDL Recycle's managers are putting together an impressively thorough dust-mitigation plan that could soon result—if all the city permits go through—in an entirely new building designed to enclose the dusty work they do. In the meantime, the company has made minor adjustments that have made a big difference; most residents' health issues aren't nearly as acute as they were in the spring. And most agree that CDL Recycle is doing its absolute best to be a good neighbor. But its best might not be enough.
"I do believe that everyone is acting lawfully," Welker says. "That's the devastating part."

The Duwamish River has long attracted heavy industry to its shores.
There isn't much of a residential neighborhood in Georgetown—just a handful of blocks sandwiched between Corson Avenue South and Ellis Avenue South, plus a few more alongside the Georgetown Playfield. All around the neighborhood (minus some areas zoned for commercial use), from Lucille Avenue to the other side of the King County airport and from Interstate 5 to the Duwamish, is zoned industrial—and has been for at least 40 years, says Tom Hauger, Comprehensive Planning Manager at the Seattle Department of Planning and Development (DPD)—as far back as he's seen zoning records, anyway. "And there's been a potential for conflict that whole time."
Bryan Stevens, who does industrial permitting at the DPD, says that while it's tough to get a hold of zoning maps that far back, he has seen a map from the 1940s showing every corner of Georgetown zoned as "manufacturing—essentially today's version of industrial zoning. It wasn't until sometime after that that some areas were reclassified," he says, "likely to match the existing development that was on site." The city, in other words, chose to do what was probably deemed a good thing at the time: zone the quasi-residential areas as officially residential.
Industry has come a long way in 60 or 70 years, though—and so have residents' expectations. That "potential for conflict" Hauger notes has led to real conflict, again and again. The CDL issue was hardly the first community-wide struggle with industrial encroachment.
"As long as I've been in Georgetown, it's that kind of tension," says Sacha Davis. "It's that push and pull between the interests of the businesses and the interests of the community." And historically, she says, industry has had the upper hand by numbers alone—the residential slice of the pie is just so small. "It's not just that we can be overlooked; we have been. It can and does happen, regularly. People forget that we live here."
In 2003, for instance, Southwest Airlines proposed bringing all its Seattle air traffic through the small King County International Airport at Boeing Field. (It was a multi-year battle, but ultimately the proposal didn't move forward.) In 2007, the Greg Nickels administration proposed building a waste-transfer station in the neighborhood. (Residents, again, protested, and the plan was abandoned.) When the South Park bridge was being rebuilt a couple of years ago, Georgetown saw a massive influx of detoured truck traffic crossing the First Avenue South Bridge instead. "All of a sudden we had lines and lines of semitrucks going down East Marginal, spewing out diesel fumes a block from my house," says Davis. A few years ago, Kathy Nyland, now director of Seattle's Department of Neighborhoods and a 13-year Georgetown resident, remembers an intense, caustic, burning smell from some kind of smelter on South Orcas Street. "Oh, I've seen some things, let me tell you," she says, laughing, "Some things I don't want to remember."
There's the endless litany of acute events, and then there are the long-term fears. "We're living with the legacy of Boeing, what they dumped in the soil around us," says Davis. "We're living with the legacy of the Duwamish—taking a totally normal river and straightening it—and the dumping that happened there. I don't know what kind of soil my house is sitting on. I just don't know."
This legacy isn't news to most Seattleites. And in Georgetown, it's become almost laughable—if it weren't so terrifying. Residents often joke about "the smells of Georgetown," which are constant and ever-changing. On August 12, one resident posted on the 6900 Flora Dust Bowl Facebook page: "I know this is a dust bowl page, but where is that smell coming from we've all been smelling for the last month or two? It's been making me sick this last week."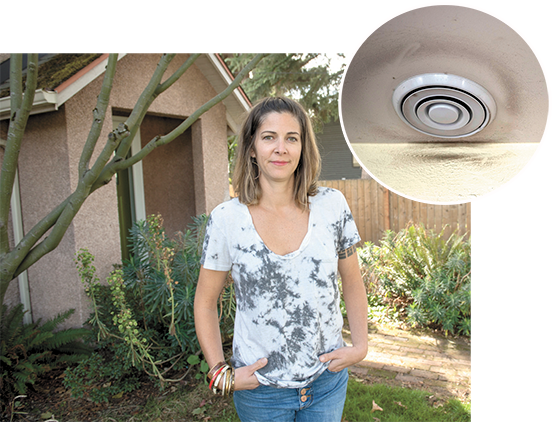 Julie Johnson moved to Georgetown in 2006.
The physical stress of breathing drywall dust or taking a deep whiff of melting vinyl takes its toll, but so does the fear that somehow all this is going to end up shortening your life, or your children's lives. And for those who choose to do something about it—to engage in what seems like a never-ending battle against industrial impact in the neighborhood—it can be exhausting.
"Georgetown is constantly defending itself—constantly," says Julie Johnson, mother of two and Georgetown resident since 2006. Not everyone can spend the time it takes to file complaints, to call representatives, to knock on local businesses' doors to get answers, to "be really noisy," she says. Welker says her effort in this case has been possible only because, for the time being, she's working part-time.
"It's hard to live in a neighborhood like this and feel like you're constantly fighting," says Davis, "And we are. It's endless. As soon as we get something resolved, something else pops up."
To wit: The current draft of Seattle's Freight Master Plan, set to be finalized this fall, will add at least 500 load-bearing diesel trucks each day to Ellis Avenue South, one of the roads directly bordering Georgetown's residential zone.
"I love living in Georgetown, I've lived here for a long time, I have the best neighbors," says Davis, echoing several other Georgetown residents. The community itself is tight-knit—in part, some say, because they've had to band together against the encroachment of industry and crime, over and over. "But when I leave [the neighborhood temporarily], there's a huge sigh of relief, because I'm able to get away from this."
Mario Pedroza, supervising inspector for the Puget Sound Clean Air Agency, which covers King, Kitsap, Pierce, and Snohomish counties, has been on the enforcement side of things for more than three decades. He plays it by the book, but he is the first to admit how infuriating the air-pollution violation process can be—for residents, regulators, and businesses. While the agency is, essentially, the Puget Sound region's sole air-quality cop, it has only one line of recourse when it comes to dust: According to the state's Clean Air Act, the agency can issue financially punitive tickets to those businesses that allow "fugitive dust" to leave their property.
The fugitive-dust rule, however, can go only so far. "The regulation for dust is a classic," says Pedroza, who tells me gleefully that he's about to retire. "It says, 'Use reasonable measures to minimize dust.' It's not a zero-dust regulation. If we go there, and there is some dust being regulated, and it seems reasonable what they're doing, it's not a violation."
Plus, despite the flurry of complaints Georgetown residents launched toward the agency this spring, and the pile of photos and videos (in 2015, according to public records from the agency, there have been about 25 complaints from CDL's Georgetown location), there is no way for Puget Sound Clean Air to issue any kind of ticket unless one of their inspectors catches a business in the act. This spring, in Georgetown, they were never able to do so. Residents' complaints can only alert inspectors to the issue, nothing more.
Which makes it seem, to residents like Bodwin, that "all the people with all the regulatory authority feel like their hands are tied. All of them. OK, they have to be there when the problem is happening. But bullshit! If they were out there any day in April or May, they would have seen a massive problem, because there was a massive problem!"
Of course, says Pedroza, people are frustrated. He gets this all the time. "They live there, they're there 24/7. 'We want you to come and park your car here so you can wait for it to happen.' We have 12 inspectors that cover four counties and almost four million people. We don't have the ability to do that. We simply do not." What they can do—and have done, in this case—is put pressure on a business to clean up its act (which often works, he says, as businesses don't often survive if they "go rogue").
Still, even if a clean-air inspector is able to find a violation, the agency can't simply shut down a business' operations. The company can contest the violation and appeal any decision in court. Plus, ticket or no, actually resolving the issue is another matter entirely. The Puget Sound Clean Air Agency is the air-pollution police, not the agency that designs solutions to dust problems—that's divvied up among a variety of city departments.
"From the public's point of view, we're friggin' useless," says Pedroza. "From their perspective, we just stay here in our little office and watch the world go by. And that's frustrating for us, too, because we like to solve problems. But some of them are not amenable to quick solutions."
The Puget Sound Clean Air Agency, for instance, installed temporary air monitors for three weeks at three sites in Georgetown's residential zone, including one on Welker's lawn, following the CDL complaint. These monitors are designed to measure smaller particulates—the ones that are, scientifically speaking, the most likely to cause long-term health problems—but not the larger ones that make life in Georgetown so unpleasant on a daily basis. And the short-term experiment found the air quality to be "good" in both Georgetown and other parts of South Seattle—"good," that is, according to federal EPA standards.
Clearly, this kind of thing "drives people crazy," says Pedroza, before mimicking the stolid affect of a rule-abiding inspector:
" 'There is no violation of federal standards of this pollutant in the air.'
'Does that mean it's healthy?'
'There is no violation of federal standards.'
'Does that mean it's unhealthy?'
'There is no violation . . . ' "
He interrupts himself with a laugh, then mock-tears his hair. These portable air monitors, he says, are new for the agency, and, like many such things, don't (and probably won't) give communities the answers they'd like. "Some people will think automatically that because it's there, they're going to know what [the pollutant] is, and where it's coming from, and whether it's going to harm them or not. And it can do none of that," he says. "It just gives us some background information."
The community's frustration—measured in the hoarse timbre of Welker's voice, or the dozens upon dozens of complaints and e-mails and phone calls, or the hundreds of Facebook posts—is tangible. "I don't care who you are," Welker says. "You can tell me until you turn blue. If we have white chunks falling from the sky on our heads when we're just eating a sandwich, there's no way that I believe that anybody in this city, state, or county is actually regulating anything having to do with the environment."
Leonard Di Toro, an inspector with the King County Public Health Department, was among a variety of inspectors who visited the CDL facility and found no, or very limited, violation of anything at all. Residents find this hard to believe. But the facility, he says, is typically scheduled for inspections four times a year, "and given the concerns the community has had, we've changed our protocol on this site: We're inspecting them once a month." But, alas: "We're not experts on dust and particles. We focus on the physical controls of dust leaving the site," such as tarps or other barriers. "Puget Sound Clean Air are more the experts in that."
As for health concerns, it's impossible to prove actual correlation, so it's tough to know where to go or whom to ask. Even the public health department—the people who, residents think, should be the authority on health issues—don't have responses to any medical questions. Health concerns, Di Toro says, "are being addressed in the sense that people in the community point to the source and we're looking into that." But this kind of thing is actually unique for him "given the proximity of the Georgetown neighborhood and the industrialized area—it's more challenging in that respect."
The most responsive party during this whole debacle, according to resident Julie Johnson, was CDL Recycle. "It's not Puget Sound Clean Air, it's not anyone from the mayor's office necessarily, it's CDL," she says. "And thank God! If they weren't good neighbors, this would be a different story."
Welker believes CDL is trying, too, but her experience has often led her from anger to apathy. If she calls, e-mails, and sends photos, and if inspectors come by and routinely find nothing, she feels bereft of any recourse that exists for an environmental health issue like this.
"I don't think they go anywhere—it's just a repository of information," she says, half sarcastic, half exhausted, noting the dozens of complaints she's filed with multiple agencies this year. "What's the point? If [the dust issue] is not happening now, they'll just come out and tell me it's not happening now. And it feels very much like it's designed that way. That might be the point of the whole thing. 'We're not doing anything for you. So give up, lady.' "
Diana Bodwin is a single mother, with bright eyes and a confident stance; she describes herself as a "straight shooter." She works in medicine, has two advanced degrees, and has lived in Georgetown for seven years. She was as distraught and livid a few months ago as Welker still is, although now, she says, she's "a lot more calm about the whole thing." At the time, though, the massive headaches, the layers of dust, her son's burning face, and the sheer helplessness of it all contributed to a sort of panic, then a malaise. All the while, friends and acquaintances she vented to about the issue kept giving her the same irreverent response: Why don't you just move?
"You feel really invisible, and you feel really like you don't matter, like you don't exist," she says, getting heated. " 'Make more money.' I was told that I should get married, and then I could have a partner and me both putting most of our paychecks toward a house, and then I could live in a neighborhood where I don't have problems like this. I was told, 'Well, you live in an industrial area; what do you expect?' I was told so many horrendous things in those days when I was feeling so upset and depressed about this. People were just like, 'It's your own fault.' "
Bodwin, like many of her neighbors, moved to Georgetown because it was cheaper. "I bought here because I could afford to buy here," she says. "I didn't buy here because I think it's really great to be in the middle of a bunch of industry. Nobody thinks that! We would all pick the nice, clean places that don't have the problems that we have. But Georgetown was at the top end of my range when I bought. I was just glad to be in a place and be in the game."
In 2000, the median home sale price in Seattle was $225,000. Today it's much closer to $500,000, and Zillow predicts that number will jump to nearly $550,000 by mid-2016. Home sale prices in the 98108 zip code, which includes Georgetown and South Park, are still well below that, at about $350,000. (By comparison, the median in both Wallingford and Magnolia is almost $700,000.)
"People who have lesser budgets, who can't afford the $900,000 house in Ballard—because yeah, that's what it is now!—are looking to the south end," says Matt Martel, a real-estate agent for the South Lake Union–based agency Findwell. In his experience, though, most people aren't thinking about air quality. While homes don't often go for sale in Georgetown or South Park (both are very small residential areas, after all), when they do, he says, "People still want to look at them. And those are multiple-offer situations in those neighborhoods—the same thing they're doing in Ballard, but at a much lower price level."
"I was naive," says Johnson, who moved to Georgetown from a rental in Wallingford nine years ago. "I didn't think about air quality when I first moved to Georgetown. I was just excited that we could afford to buy a house somewhere in Seattle."
And while there was always a certain amount of pollution in the neighborhood, and residents expect it to a certain degree, Bodwin says this spring's event "crossed a big line"—no neighborhood should be "assaulted" like this. "It was a complete violation of my living space. I was literally covered in drywall dust. I had to take all the cushions off the couch. I had to pull everything out and wipe everything down. I can't live like that. That's not fair. I don't care if I live near industry. If it's going to be that bad, and that's the level that we're going to tolerate, then there shouldn't be a residential area here."
On August 17, about six months after residents first started noticing burning eyes and throats and sinuses, the Georgetown Community Council held its monthly meeting at Coliman, a Mexican restaurant on Corson Avenue South. It was a hot, muggy evening, and there was no PA system. Residents unable to hear over the roar of the industrial-sized fans making the place bearable hollered at whomever was speaking to talk louder. Welker emceed, and the room was packed not only with residents, but with representatives from the Puget Sound Clean Air Agency, the City of Seattle, CDL Recycle, the Duwamish River Cleanup Coalition, and the federal EPA. There were several presentations—from a police officer, from CDL General Manager Mike Sheldon, from inspectors at Puget Sound Clean Air. And for the most part, things seemed civil.
Still, Welker spoke up. "I don't think I'm the only Georgetown resident who has more than, like, five air filters," she told everyone, fiercely. "I know people who have them in every room and it's not doing anything."
Welker says she has had it with suggestions that she do more to filter her air, putting the onus on her instead of on industry. And soon she'll be getting a whole lot more shifts at work. She still has a small child. She won't have time to work on any of this—to file complaints, to manage the Dust Bowl Facebook page, to actively participate in meetings, and to advocate ad nauseam, as so many Georgetown residents have, for better industrial buffers.
"Is it always going to be about air filters?" she demanded at the meeting. "Or is someone going to say something about zoning?"
According to Comprehensive Planning Manager Tom Hauger, and to city zoning maps, Georgetown already has an "industrial buffer" zone. It's "currently applied around a portion of the Georgetown perimeter and limits some of the uses that can go there," Hauger says. To many Georgetown residents, however, such a distinction is invisible. Finding a way to install industrial buffers that are truly effective from the residents' point of view—such as "green walls," foliage barriers designed to block dust and filter the air—is a conversation the community has wanted to have for years, according to neighborhood czar Kathy Nyland.
But will this, the most recent battle in a long, long war, make that conversation finally happen? "I don't know," she says. "I have no idea."
"I'm still sort of waiting and holding my breath," says Johnson, pointing out that her faith in the community to work together on issues like these hasn't faltered, but "I just have to have faith that the regulating systems and the city government will do the right thing here." It's possible that city and agency reps will just "show up at the meetings and make it feel like, 'Yeah, you've got our attention,' but nothing is actually happening." And, unfortunately, "Something as simple as the air you breathe," she says, "is not something you can wait a long time to start to notice improvement on."
Today, at Welker's house, the indoor air filter is consistently coated in black grime. She still wipes down her dust-laden kitchen table every few hours, and strongly considered buying dust masks for her family. Sacha Davis' asthmatic daughter is doing well, for now, but her son was off his allergy medication for only a week in the spring before he had to get back on it. And, as usual, "Everything that you put outside gets covered in soot," says Johnson, including her infant son's high chair.
But some, like Johnson, see the CDL dust issue as an opportunity. The City of Seattle just launched a interdepartmental team focused on public health in the Duwamish River Valley. "Environmental justice" is a concept that the Puget Sound Clean Air Agency is finally trying to put into action in their work. (The day I visit their office, the phrase is all over the conference room's whiteboard.) CDL Recycle will attend every Georgetown Community Council meeting for the foreseeable future, particularly regarding progress on the enclosure they aim to build in the next few months. All of this—including the Georgetown Community Council meeting itself—is an "opportunity for industry and government and the community to be working together to come up with creative solutions," says Johnson. "Suddenly we could be looking at Georgetown as a model for something, instead of this neighborhood that's on the defensive."
Steve Lee, Mayor Murray's senior policy advisor—the man leading the new interdepartmental team focused on health in the Duwamish River Valley—chimed in at the Council meeting when things were getting heated. Welker had raised her voice, echoing her neighbors' concerns about the Freight Master Plan that would send more diesel trucks down the roads that sandwich Georgetown's residential area. "The air filter is black on my ceiling—right now," she said, thumping the table.
Lee's voice was hoarse but calm. "The complexity of the issue is just becoming clear to me. I understand there's a problem; I don't have a solution. But I'm here," he said, folding his arms and taking a step back. "So let's consider this a start."
sbernard@seattleweekly.com