Argentina is hardly known for its pizza. Yet that's where this story about the best deep-dish pie in Seattle begins.
It was in the midst of a 2005 teachers' strike, and David Lichterman, a Chicago native studying abroad, had some time on his hands in the backwater town of Santa Fe, Argentina.
"They told me 'Don't go anywhere, this happens all the time,' " Lichterman recalls. "But they stayed on strike for a whole month. I was like, 'Fuck this, so what do I do in this town?' "
Though he grew up in Chicago, Lichterman says he wasn't obsessed with deep-dish pizza. He enjoyed a slice as much as the next Chicagoan, but it never crossed his mind to make his own until he was deprived of it. "The pizza was so terrible," he recalls. "They were using queso cremoso, this cheap, gross mozzarella substitute, and premade doughs."
Inspired in part by the phenomenal pies he'd had at Papa Del's in Champaign, Ill., as a college student, he went to Walmart to get real mozzarella—"I know, weird, right?"—and started making pizzas for his friends abroad, baking them in a corner convenience store thanks to the kindness of its owners. "I had no idea what I was doing, but it went over well. Bush was coming to Argentina, and I'm like, 'I hate that guy,' so I made a pizza and went with the Communist Party to protest him. I didn't get many college credits that semester, but who cares?"
Without anyone there to learn from, Lichterman looked at recipes as a starting point. "A lot of it is reading what people have tried . . . through the magic of Google and some message boards. From there, you make your own changes, and some of my initial changes were terrible, but I was having a blast."
After that, he went to Spain for another study-abroad program, and made more pizza there before heading home to finish his degree in computer engineering at the University of Illinois and being recruited by Amazon, which brought him to Seattle in 2007. After a few all-consuming years at Amazon, he went to a startup, started moonlighting as a band photographer for KEXP, and returned to making pies. It wasn't long before he started feeling antsy at his job and thought about opening his own pizza place. But he was hesitant.
"People had been telling me for years to open a restaurant, but I know that's like throwing all your money in a fire," Lichterman says now. "But then someone mentioned a pizza truck, and there's this false perception that that's easier, and I was like, 'Oh shit. I can do that.' So I held these taste-testing parties to find out what variation of crust was best. And then this thing got started. But the job was still paying me to show up, and though I wasn't happy, I knew about opportunity costs. So I kept it quiet from my work friends."
By this point, Lichterman had read Peter Reinhart's The Bread Baker's Apprentice inside and out, and was fed up with the lack of good deep-dish pies in Seattle. "What always bothered me about Seattle [deep-dish] pizza was by the time you get it home, you might as have well have dipped it in oil," he says. "It's falling apart. It should hold its own. Even with all the toppings, the crust should be able to support its weight."
He didn't go the food-truck route, but was making pizzas from his own kitchen. Things were going well, but his big break came two months ago when he read a blog post from one of his all-time favorite food writers: J. Kenji López-Alt at Serious Eats. In the post, López-Alt railed against Chicago deep-dish pizza. "He was shit-talking about deep-dish, and I was like, 'Hey there, buddy, I love your writing, but please don't do me like that,' " Lichterman recalls. "I was, like, 'Some of it's good,' and he was, like, 'No,' and then he posted a recipe of him trying to make it using a cast-iron pan. I told him that's a myth—and other stuff, like how you're not actually supposed to use cornmeal because it makes the crust bitter."
After "educating" López-Alt on the many nuances of making good deep-dish pizza, the jaded writer told Lichterman via Twitter that he'd soon be in Seattle on a book tour for The Food Lab: Better Home Cooking Through Science and was free on September 27. "So it was, like, am I going to be making my hero pizza? If so, I need to get into a real kitchen, because if he likes it, this is going to blow up." Lichterman located a commissary kitchen in SoDo where he could make a serious pie and prepared for López-Alt's arrival. Though he'd been making pizzas for his pals for so long, he'd never made them for a stranger, particularly one with a pedigreed food background.
"Kenji came out, he tried it, and tweeted that 'This Chicago-style pizza from @windycitypie proves that Chicago naysayers just haven't tasted enough. It is amazing.' I went to my parents and cried."
Lichterman isn't crying now, though—he doesn't have time to. After leaving the startup, he now makes about 17 pizzas a day, seven days a week, completely on his own. He makes all the deliveries too, though he just hired his first employee. The commissary kitchen even paid to get him a pizza oven. He's spent exactly $20 on advertising, to boost López-Alt's post about his pizza on Facebook.
"People I don't even know are writing to tell me how much they love my pizza," he says. "I got an order from Brian Tatman of Tat's Deli, and he was, like, 'You're doing a great job,' and I've been eating Tat's deli sandwiches forever, so I'm like, 'It was an honor to cook for you, man. Most of my body is made up of your food, digested!' "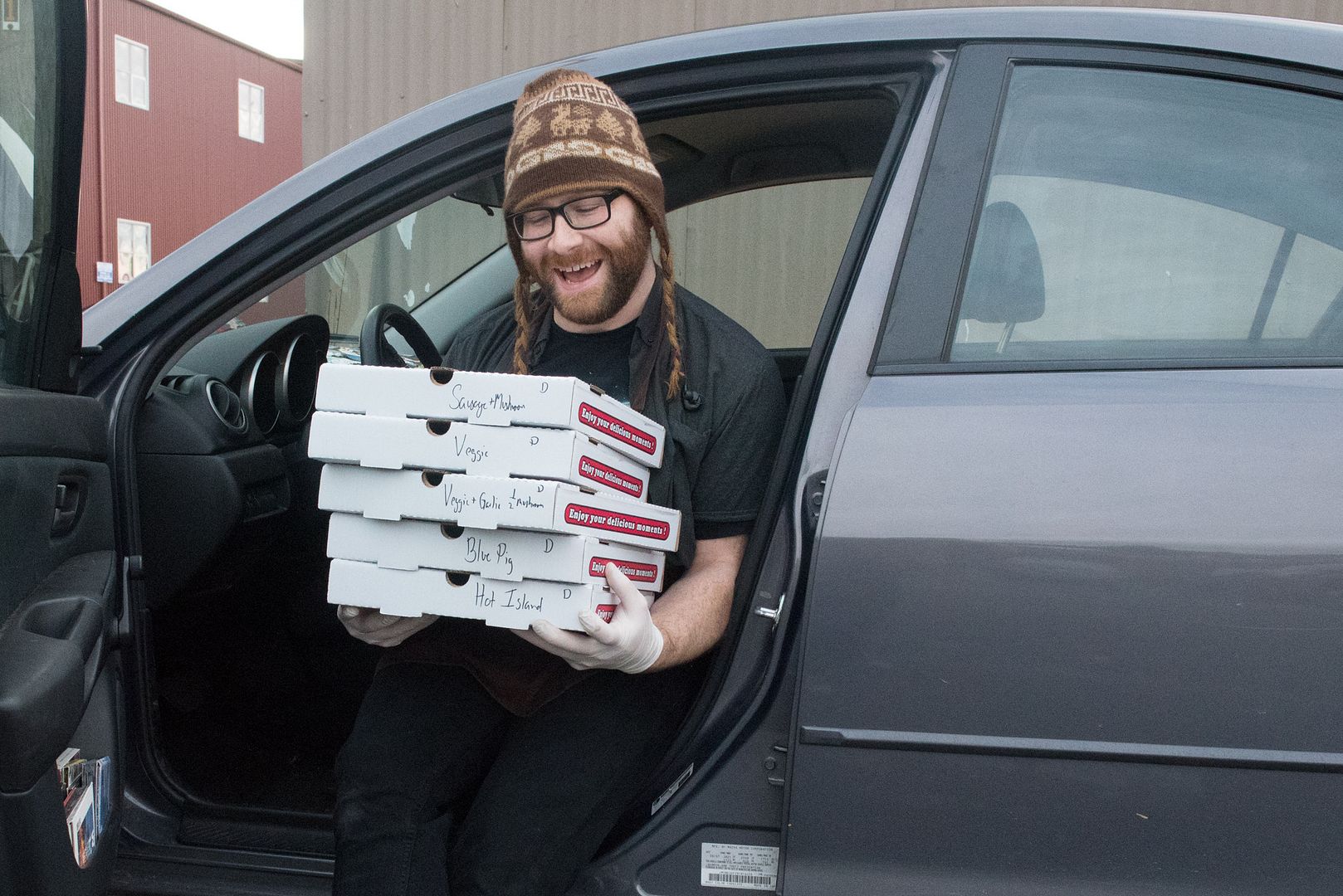 So by now you're likely wondering what exactly makes this pizza so coveted. After having three varieties delivered to Seattle Weekly's offices—a veggie pie, the "Meatza," and the "Hot Island"—it's clear that the caramelized-cheese edge is what really stands out. Lichterman is quick to tell me that he took that from Burt Katz, formerly of Pequod's pizza in Morton Grove, Ill., but more notably of Burt's Place—a beloved, but recently closed, deep-dish hole in the wall he later owned with his wife there. "They had this place where you'd order a day ahead of time, cash only, unlisted number . . . and then Anthony Bourdain ate there." You can guess the effect that had on the business.
"On my Windy City Pie site [windycitypie.com], "I gave a little tribute to Burt when I found out he retired. He developed this thing that I'm clearly taking. One of the things about cooking is that imitation is the best compliment. It's sort of the same as open-source code... that's a great idea and I'm going to do it too."
There's also the dough—enriched, spongier, and sweet, which he says he learned from his old college haunt, Papa Del's. It's also a rather civil deep-dish—not three inches thick and oozing cheese, which makes it less greasy and allows the flavors of the sauce and the toppings, like housemade sausage, to flood your taste buds. "Of the sausage Lichterman says, "It's more garlicky, not fennel-based." On the "Hot Island," it makes a tasty foursome with jalapeños, pineapple, and garlic that's roasted for five hours in olive oil.
"I'm making my own pizza, and taking cues from pizzas I've loved throughout my 30 years. I always wanted to do something meaningful. I have no idea what the purpose of life is, but this feels right. Open-source software was really important to me too, but take me back 10 years and I never would have imagined that I'd be making people happy doing this."
Nicole Sprinkle is Food Editor for Seattle Weekly. She can be reached at nsprinkle@seattleweekly.com or 206-467-4318. Follow her regular food posts on Instagram at @seattleweekly.