On Sept. 11, 2014, Red Light Management's Adam Foley was sitting in his office in Virginia waiting for a weekly sales report. He knew what it was going to say, but he patiently waited anyway. His newest clients, the two Seattle men who record and perform under the name Odesza, had just released their sophomore LP, In Return, three days earlier. When the electronic Billboard charts finally published, there it was: Odesza at #1.
"No, I wasn't surprised," Foley tells me a little over a year later. "It was like, 'Great,' then we turned away from it and just kept going." As of this week, In Return will have sat on the Billboard electronic chart for 66 consecutive weeks, 46 of those in the top 10.
During our conversation, Foley casually drops a lot of outlandish numbers like these:
"They have a million-plus Pandora plays a day," he says.
"They have literally sold out our entire world tour over the past year and a half," he says. "New Zealand, Australia, Europe, North America, multiple nights at a number of stops."
"They've consistently been in the top 10 on the iTunes electronic album chart every week since they released In Return in September," he says. "Pretty crazy, right?"
"But why?" I guffaw at the poor man. "This is insane. I, just, hold on a minute, just . . . I know you've touched on a couple of reasons, but I still don't understand. How did this happen? The Internet? Is it really just their music, the Internet, and 'working hard and keeping your heads down'?"
I'm here looking for concrete management plans, marketing strategies, or Illuminati algorithms that might elucidate some of these surreal statistics. You don't go from messing around in your basement to selling out three nights at the 2,800-capacity Paramount Theatre in three years just by being nice young men. The last local act that pulled off a three-night sold-out Paramount run was Death Cab for Cutie in October—but they formed in 1997, not 2012, and have been on a major label since 2004. It took Macklemore, ostensibly Seattle's "biggest" musician, six years after his debut LP came out in 2005 to sell out three nights at the 1,100-capacity Showbox, not even half the size of the Paramount—and it certainly wasn't the last stop of his sold-out tri-continental tour. Macklemore did go on to sell out three nights at KeyArena in 2013, which, at this point, seems like the next logical step for Odesza.

Odesza performs one of its two sold-out shows at Chicago's 3,224-capacity Aragon Ballroom. Photo by Jonathan Gipaya
But Foley, who also manages Colorado EDM superstar Pretty Lights, has explained the startling rise of Odesza mostly with platitudes you might hear from a proud dad whose son's soccer team just won the league cup. More mind-boggling, Foley keeps calling Odesza "underground" and "DIY." I will later learn that while Foley is absolutely telling the truth, those words mean something very different for the breezy, cinematic electronic act than it meant for indie underground poster children Death Cab for Cutie, DIY Billboard-topping case study Macklemore & Ryan Lewis, or Seattle's spirit band, Nirvana. It's why Odesza is running laps around Seattle's musical legends without a lot of Seattle really realizing it.
Or at least I certainly hadn't noticed. And apparently today, still, neither do a lot of people in Bellingham, the band's birthplace. According to Brent Cole, editor-in-chief and founder of Bellingham's 17-year music-scene magazine What's Up, "I don't think a whole bunch of people here are aware of it. Maybe people deep in the music scene know it. But people who know Death Cab is from [Bellingham] might not know Odesza is from here." Cole says that a number of times when Odesza has come up in conversation, friends are shocked to hear they are from Bellingham and live in Seattle.
Which is precisely why I'm pushing Foley to explain what the tipping point was for Odesza—that leap from Northwest underground to global sensation that locals seem to have missed.
"I expected really early on that Odesza would do well," Foley says. "My 'manager vision' was, like, 'Oh, crap, this is gonna be massive.' "
But how did you know? Why did this happen so quickly?
"I just knew. I knew it like the sun was going to come up."

Photo by Daniel Berman
The enormous electronic-chart-topping, ticket-selling, festival-trotting, continent-devouring, icosahedron solar orb that is Odesza first peeked over the horizon in the early summer of 2012 at Bellingham's Western Washington University.
While Bellingham makes sense as a motherland for an introspective indie-rock band like Death Cab, a city where locally brewed kombucha flows freely on tap and wearing shoes is generally scorned is the last place you would expect one of the biggest contemporary electronic acts in the world to form. That's precisely why Harrison Mills and Clayton Knight met.
As Knight and Mills, respectively, would later explain to Gigwise.com: "Folk was massive" and "Every single kid in our school was in a band that sang and did shoegaze postmodern indie rock."
Meanwhile, Mills was in his room between his design classes, chopping up songs on his laptop and rearranging the sounds on his MPC sampler for his instrumental hip-hop-inspired project Catacombkid. A huge fan of film scores, he studied composers like Ennio Morricone and Philip Glass, creating beat-driven tributes to the film Drive and mashups of cinematic bands like Sigur Rós.
By a mutual friend who happened to be an avid skier, Mills was introduced to Foley, now based in L.A., who at the time was doing music syncs (industry-speak for film and ad placements) for outdoor action sports films and YouTube ads for companies like North Face. Foley licensed a number of Mills' piano-driven instrumentals for his clients, befriending and casually mentoring the young up-and-comer in the process.
Meanwhile Knight, a math and physics major, did play guitar in an indie band at WWU for a brief spell, but he was always more interested in the electronic end of that slippery "indie" spectrum: M83, Four Tet, Boards of Canada. These crossover acts managed to appeal to fans outside their niche by blending classic electronic dance rhythms and synth-heavy songwriting with post-rock structures and a keen sense of ambience. The result was something both Sigur Rós and Aphex Twin fans could appreciate. Odesza would later pull off a very similar feat, albeit with a more diverse, populist recipe.
Thanks to the wide net these influential acts cast, Knight eventually got into classic four-on-the-floor house music, the foundation of many of these new rhythms he was hearing. So he started mixing electronic elements into his indie band, eventually rubbing up against the limits of the classic rock-band setup. He left to focus on his own solo atmospheric electronic project BeachesBeaches, which found him flipping Beach Boys songs and old soul records into warm, relaxing ambient tracks with subtly driving beats.
For three years, Mills and Knight operated unaware of one another, each convinced he was the only person in Bellingham doing what he was doing. One day near the end of their senior year, the two finally met in the basement of Knight's house on Iron Street thanks to an introduction by a mutual friend. Discovering they shared similarly rarefied (by Bellingham standards) musical tastes, the two immediately hit it off.
Curious as to whether their production styles matched as well, they decided to meet again and jam in that same basement. They wrote three complete songs in three hours.
They were ecstatic. But excited as they were, the clock was ticking.
Mills had just graduated, and thanks to Western's design program, he was on track to jump right into a full-time design gig at a firm in Seattle. Having tasted a potential music career through his small ad syncs with Foley but rapidly staring down at a "real job," Mills insisted that he and Knight write an album before summer's end. Knight still had one summer quarter left before he graduated, but at Mills' insistence, he obliged, and the two spent their last three sunny months in Bellingham recording their first LP, Summer's Gone. They chose the name "Odesza" from one of their mutual favorite songs, "Odessa" by electro-psych group Caribou. Finding that Odessa was already taken by a UK metal band, they subbed in the "z" and called it good.
Knight didn't imagine the project would last longer than the summer.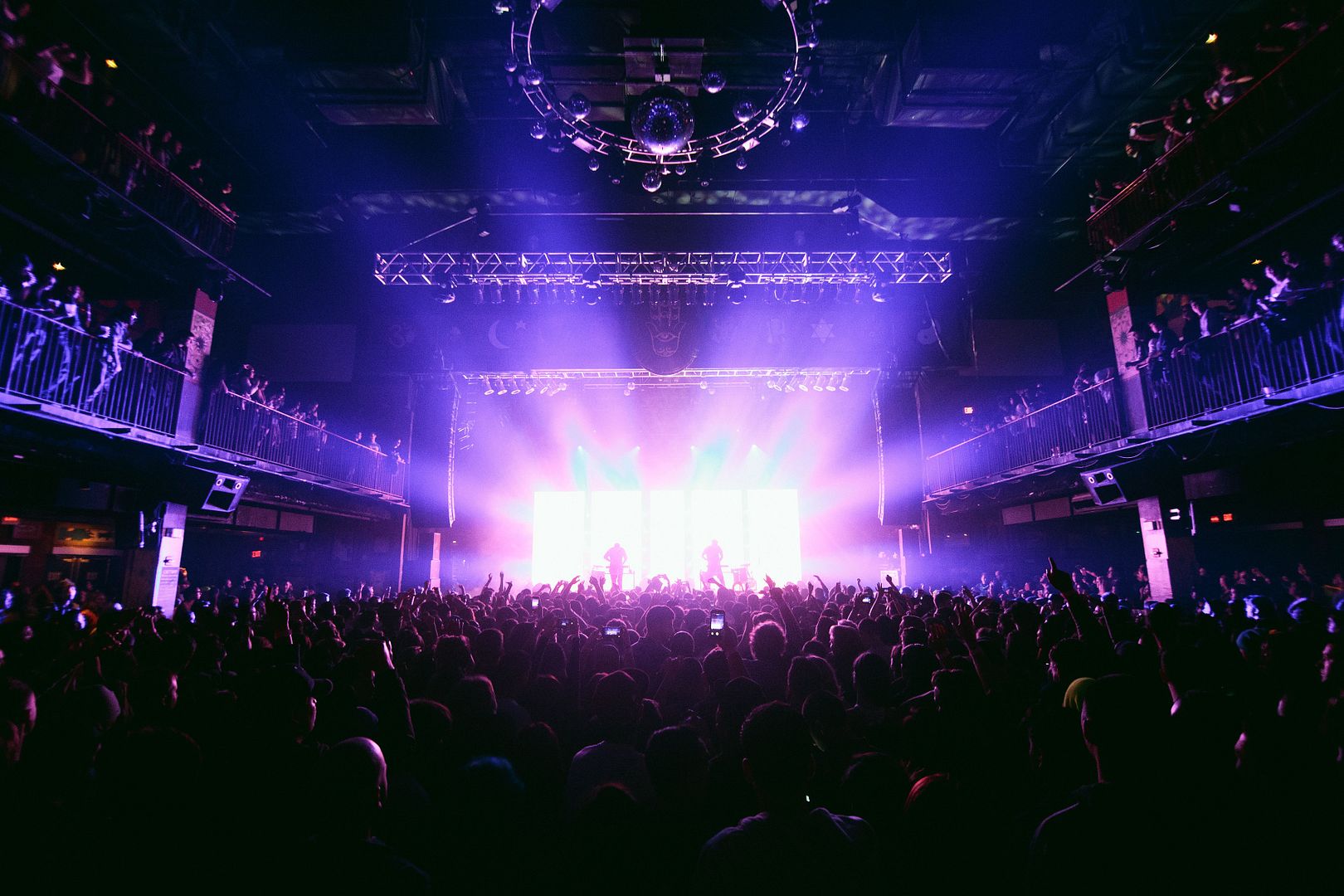 Odesza performs a sold-out show at the 3,000-capacity Terminal 5 in New York City. Photo by Jonathan Gipaya
"We were awful ," Mills tells me, laughing jovially and putting a large Baja fish taco into his mouth. "We had just finished Summer's Gone and were showing it to everyone, all our friends, and they were like, 'Well, do you want a gig?' And we were like, 'Uh, we don't even know how to play this music live.' At our first show, we were MIDI-connecting our two computers over the club's wi-fi, it was so janky."
"Eh, it worked pretty well for what it was, but I'm sure it sounded like shit," Knight says, dabbing a chicken strip in some barbecue sauce. "There were some serious lulls in our ambient dance party."
Fresh off the sold-out European leg of their tour and preparing to start the sold-out North American portion, Odesza is here in Seattle's Pyramid Alehouse scarfing happy-hour food as I take notes. The duo is revisiting its very first show.
It was very bad, they say.
But it was also very sold-out.
The Wild Buffalo, a cozy 450-capacity venue near Bellingham's central business district, was completely packed the night of Nov. 9, 2012, when Odesza made its live debut. A lot of the credit for the ticket sales goes to the night's headliner, Beat Connection—a popular Seattle electronic pop band born of the University of Washington. Reed Juenger, Beat Connection's resident producer and DJ and a personal friend of Mills', later confirms the duo's strange setup at that first show.
"They eventually switched to Ethernet, but yeah, at first it was shit, man," Juenger chuckles. "They were using the club's wi-fi to synchronize the time codes between two computers in [music production program] Ableton. Bold move right there."
Despite Beat Connection's established college fan base, a good chunk of the credit for that night's sell-out still went to Odesza, even though the act had never set foot in a venue.
The mind-boggling web frenzy that is still furiously rocketing Odesza to exponential stardom started almost immediately after the group uploaded its very first song. In August, a month before Summer's Gone was released and two months before their Wild Buffalo live debut, the duo posted the record's down-tempo single "How Did I Get Here?" on Soundcloud. At the time, the now-ubiquitous Swedish music-streaming site was just beginning to gain major traction, announcing in May 2012 that it had 15 million registered users. While the music industry at large was starting to bicker about the business ethics of streaming platforms like Soundcloud (from which Sony pulled a number of artists this year, including Adele and Kelly Clarkson), the site was proving a fertile platform for people outside the industry—namely underground electronic and hip-hop producers—thanks to its smoothly integrated social-networking features.
"So since I went to school for, basically, brand development, I understood that you have to create an infrastructure for... buzz, essentially," Mills tells me. He started researching Soundcloud users with decent followings who were posting music similar to Odesza's, e-mailing them the track. While the approach was much more scattershot than the usual route—sending it to radio stations or major music blogs—the hope was that Odesza might tap into the growing legion of secret Internet trendsetters commanding "armies of people" with their strange podcasts and unusually popular Soundcloud accounts. In Mills and Knight's philosophy, those were the people who really cared about the music.
Partnered with Odesza's slick, clean design aesthetic, the strategic e-mailing worked magic. Five days after it was uploaded, "How Did I Get Here?" hit #1 on Hype Machine, a music aggregate site that ranks songs based on how many music blogs across the web are posting it. But it was two days into this Hype Machine frenzy that Mills and Knight received their most crucial endorsement, their fascinating first big break.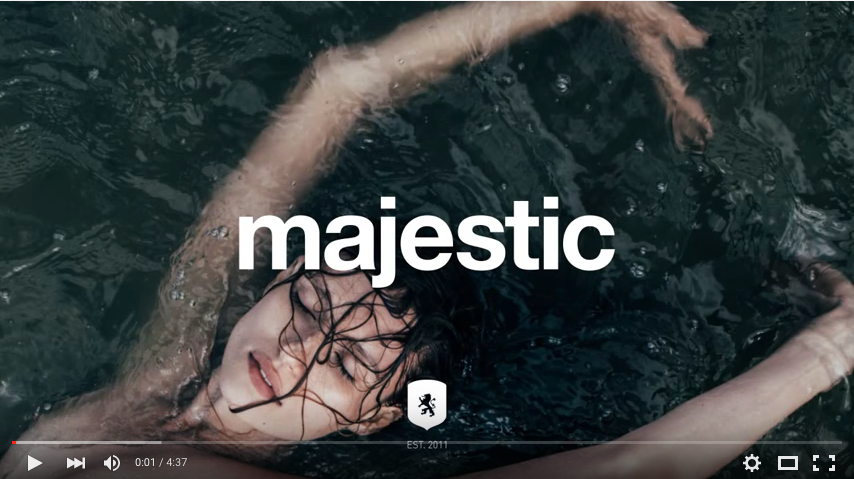 A typical ​Majestic Casual YouTube background.
A very mysterious German known to the public only as "Nick" serves as the mastermind behind Majestic Casual, one of the first successful independent YouTube music channels, launched in 2011. In May, Rolling Stone ranked Nick as one of the "17 Young Innovators Shaking Up the Music Industry." You've probably never heard of him, and that's by design. The photo he sent to Rolling Stone for this honorary write-up is cropped just below his neck and above his mouth, obscured by an intense solar lens flare. This is very on-brand for Majestic Casual.
The incredibly successful formula that has garnered Majestic Casual 2.28 million subscribers, 32 million plays each month, and annual revenue that some speculate is as high as $1.2 million, is really quite simple—a millennial update of one of the oldest marketing strategies there is.
"They'd take a picture of, like, a super-good-looking girl with a dreamy Instagram-style filter over her, put the Majestic Casual logo and a song over it, and the plays would just go, like, insane," Mills tells me, snapping his fingers twice for emphasis. "Like, millions, just like that. Like, 500,000 plays on every song within a day, just putting clickbait pictures of beautiful women at a resort on top of them."
"Pretty standard," Knight says dryly.
"Pretty amazing music, though!" Mills says.
Majestic Casual's trendsetting taste drew from a pool of underground Soundcloud and Hype Machine–approved producers consciously reacting against the aggressively bass-heavy, dubstep EDM dominating airwaves. Instead, Nick favored smooth, subdued tracks that, while certainly descendants of mainstream EDM, took the sound in a much lighter, "casual" direction—or, in other words, that of acts like Odesza. In his Rolling Stone interview, Nick says, "I like having what we call Kopfkino in Germany: listening to a track and imagining a movie scene. That's what I try to give my subscribers." Odesza's Lily Allen–sampling "How Did I Get Here?" fit the bill perfectly—the demure ambient hip-hop beat, the relaxing tempo, the fluttering vocal samples that, when not chopped into non-lyrical utterances, simply repeated the evocative but vague line "How did I get here?"
Thanks to the endorsement of the enigmatic, seemingly horny German with "armies of people," manipulating the tides of the electronic-music industry from what we can assume is his bedroom, Odesza's very first song, "How Did I Get Here?", officially blew up the Internet. It would eventually score a million-plus streams on YouTube via Majestic Casual. The channel would become one of the duo's biggest early supporters, posting a number of subsequent Odesza tracks for its enormous audience to discover—that is, before the channel got unceremoniously shut down just last week for violating copyright restrictions. The crackdown made headlines in international electronic-music news outlets like FACT Magazine and Thump (although, mysteriously, Majestic Casual returned to YouTube completely intact on Tuesday).
Again, this all happened within five days of their first song posting; Summer's Gone wasn't even out yet, and Odesza hadn't played a single show.
Unsurprisingly, when the 11-track Summer's Gone did see the light of day in September 2012, the Internet devoured it, its second single, "iPlayYouListen," immediately leaping to another #1 on Hype Machine.
"You know when you're in high school or something like that, and you're playing music, and you kind of dream about, 'Oh my God, what would success be like?' " What's Up!'s Brent Cole tells me. "You don't dream about slogging through local venues for a couple of years like most rock bands and then becoming successful. You dream about playing a couple of shows and then suddenly, everybody loves your music and you're on a bunch of major tours. Well, that's what happened to these guys."
Three shows. Three shows is all it took before Odesza scored the first of what would soon be many major tours.
While the two bedroom producers quickly learned how to perform their self-described "headphone music" in a live setting and began writing their next record, they also started aggressively pursuing Foley, sending him regular e-mail updates on the insane web success of Summer's Gone. The two desperately wanted Foley to sign on as their manager given the success he'd had managing Pretty Lights. The"electro hip-hop soul" artist was at that point a mega-festival regular, having headlined the mainstage one night of that year's Sasquatch music festival.
"At the end of summer 2012, Pretty Lights was pretty similar to where Odesza is now, selling out everywhere they went and blowing up, but not on as big of a scale as Odesza has," Foley says. "I was so busy with Pretty Lights that I couldn't fathom taking on another artist at the time."
But Foley couldn't stop listening to Summer's Gone. And the crazy numbers Mills and Knight were sending him didn't hurt either. So Foley decided to fly up to Portland to see the duo play its third show. Odesza's intense studying and refinement paid off—he was blown away.
"I was like, 'Holy crap,'" Foley says. "I would never have known that this was these guys' first tour. They were better than anyone else I'd seen at that level. They were really young, right out of college, made an amazing record, so I wanted to see what they could do out on the road."
So Foley signed on, and as an "experiment," in Mills' words, set them up on a March 2013 West Coast tour with Emancipator. The popular Portland-based electronic producer's chilled-out sound had been a big influence on Mills and Knight, and as a headlining act, he had enough draw to sell out midsized venues across the country. After scheduling a follow-up West Coast tour that spring with Beat Connection, festival spots started flying Odesza's way—Summer Meltdown, Oregon's What the Festival, California's Lightning in a Bottle and Symbiosis Gathering, a prestigious dance-tent slot at Sasquatch, and a mainstage set at Capitol Hill Block Party.
The duo's live show received rave reviews at every stop, in part because from almost the very beginning, it was consciously built for a massive outdoor stadium-level infrastructure instead of small intimate venues. Mills and Knight would go on to master the craft of bombastic, large-scale live performance, inviting the University of Southern California drum line to join them onstage at Coachella and the Chicago Bulls drum line at Lollapalooza.
In April 2013, Odesza hit one million Soundcloud plays. That November, to coincide with the release of the duo's new record, the My Friends Never Die EP (three songs from which immediately hit #1 on Hype Machine), Foley set Odesza up on the tour that would cement it in the highest ranks of the festival world—a supporting tour with Pretty Lights.
"These are crowds of thousands of people, probably none of which knew our music, but the connection between their fan base and ours really worked," Knight says. For reference, the local stop of the massive tour was at Kent's 6,500-capacity ShoWare Center, which normally hosts the Seattle Thunderbirds' hockey games.
While there have been a lot of tipping points in Odesza's meteoric career, manager Foley says a number of them happened through that tour. Not only did Odesza vastly expand its audience by converting Pretty Lights fans at arena-level shows, but an official remix Odesza did of Pretty Lights' "One Day They'll Know" exploded, scoring millions of streams on Soundcloud and a sync spot in the #1 box office sci-fi action film Divergent, where it was featured in a party scene. But the biggest takeaway from the tour was the lesson Odesza learned from Pretty Lights about building an audience.
"He's never had a #1 hit on radio, almost no radio play, but he's selling out arenas," Mills tells me, wide-eyed.
"Kids who don't have a lot of money will find a lot of money to spend on tickets to a Pretty Lights show," Knight adds. "You can connect to an audience on a massive scale without having the radio promotion. Especially now with the online community. It's become a whole lot easier to tap into communities than it was before when you had to rely on a bunch of other factors."
Knight and Mills' wildly successful 2013 wrapped up in December with the end of their Pretty Lights tour. In February 2014, to support My Friends Never Die, Odesza went on to sell out 30 of the 44 dates on its first headlining U.S. tour before officially starting what would become a global takeover in September, the duo's sold-out continent-spanning tour in support of its chart-topping second LP In Return.
In a September Billboard article, Mills and Knight are pictured posing with Pandora CEO Brian McAndrews and chairman Lars Murray. The article tells how Odesza, along with the Rolling Stones, proved rousing successes as the two test subjects for Pandora's brand-new live-music presale program. Through Pandora, Odesza sold out its entire allotment of 25,000 presale tickets for their In Return tour startlingly fast—one 3,000-seat venue in the presale sold out in 27 minutes thanks to one targeted ad campaign. "The presale campaign utilized audio ads featuring the band, banner ads on the site, posts on Pandora blogs, and a dedicated page, all targeting Odesza fans on Pandora," the article reads. "The strategy was not so different from a traditional radio marketing campaign, except, rather than that 'carpet bomb' approach, Pandora offered a 'drone strike' targeting Odesza fans."
A follow-up Billboard article, an op-ed written by McAndrews, uses Odesza and the Pandora presale program as proof of why " 'free' music is worth so much."
This elucidates in part why Odesza managed to explode so quickly and on such a huge scale without Seattle or Bellingham realizing it. The duo—whom Foley lovingly refers to as "the poster children for streaming"—connected to a massive mainstream audience that, perplexingly, is simultaneously underground. Their well-oiled machine identified isolated global channels receptive to its sound and made it as easy as possible for those channels to access them. In a subversion of the typical industry model, Odesza is aggressively pro-streaming.
"I think people are just afraid to just let go," Mills tells me. "Putting out music on CD and all that stuff. The truth is, people just want convenience, and if you stand in the way of that, you are going to get hurt. If people really care about your music, they are going to find a way to support you." Indeed, when Odesza put a simple branded black beanie on sale on its Facebook page, the entire stock sold out in under an hour.
But obviously this isn't the only secret to Odesza's success. If the answer was simply "streaming," then every schmuck on Soundcloud should be selling out arenas.