Ericka Frodsham scrapes the last of the soup from an enormous stockpot into a yogurt container without a lid. It is after 9 p.m. and Aurora Commons is technically closed. But without a home, Frodsham is loath to leave.
She slides the topless container into a Ziploc bag. Her fingers are darkened, swollen, her nails filthy. Dozens of silver bangles around her wrist don't so much as tinkle. She dons a man's thick sweatshirt from the closet of giveaway clothes.
"Stace, we gotta go!" Frodsham calls out to Stacy, who is in the bathroom. She spoons some of the cold, congealed soup into her mouth, then grimaces. "Aren't you supposed to cook the beans all the way?"
"They are cooked all the way," counters Lisa Etter Carlson, who co-founded Aurora Commons and whose husband and two children wait for her at home. Carlson looks younger than Frodsham, but they are both 36. A volunteer brought in the bean soup for dinner.
"They're crunchy."
"I don't think the beans are crunchy." Carlson pauses. "Did you just fart?"
"The beans made me do it," Frodsham says without cracking a smile. "It's because of the beans I have stomach issues."
"No, it's not the beans. Every day you have stomach issues."
"It's because I eat out of dumpsters." She hasn't fazed Carlson. "OK, I don't eat out of dumpsters," she admits, "but I have."
"You know where you're going tonight? Or no?" Carlson asks. The light pitch of her voice doesn't change.
Outside, cars whiz by, sloshing through puddles left after a day full of rain and a night that promises more.
Frodsham sighs. She's going to go to work. She will spend the early morning hours with men who drive by and pick her up. Frodsham recently gained some notoriety after KUOW used photos of her to illustrate a story carrying the headline, "Why Is There So Much Prostitution on Aurora Avenue in Seattle?" As sympathetic as the photos were, they only scratched the surface of Frodsham's daily struggle on Seattle's most maligned street.
This night, her blond wig is tucked in her purse. Her eyes can barely stay open. She drags her words when she talks. She wears white socks with flip-flops and a pair of jeans and looks like someone who doesn't give a damn. Or someone who just got out of jail.
"You didn't know I've been in jail?" Frodsham asks Carlson. The cops stopped her for trespassing and found a warrant for her arrest.
The two women have known each other for five years, and both are familiar to the police. They phone Carlson when someone gets into trouble, like when Frodsham got caught using someone's lawn hose as a shower. They sometimes call just to check if Frodsham is doing OK.
"Do they really?" Frodsham asks.
"Every once in a while," Carlson says.
She asks if Frodsham talked about sharing a motel room with any of the other women who were also out working most of the night.
"I don't share a room," she says, her voice a drug-induced calm, her face betraying a past of irreparable mistakes and violations.

Ericka Frodsham was doing well until her demons caught up with her. Photo by Morgen Schuler
The Commons is for Frodsham—as it is for many others—a haven along Aurora Avenue North, a busy thoroughfare in Seattle that never grows quiet, haunted by destitute, desperate souls who call the area home. The stories that have accompanied so many people through Carlson's door are miles long and years deep, compounded by drug addiction and sexual exploitation. Those who run Aurora Commons believe that cultivating a community through a network of care and caring is the best way to solve problems in a neighborhood where many are ostracized and live with few resources.
Three weeks before Frodsham complains about the beans, on a Wednesday morning, the Commons' kitchen is bustling with the regulars, who are pulling eggs out of the fridge or frying potatoes. Carlson and co-founder Karen Cirulli greet each person with a hug. New people are introduced all around to the others.
"There is something so dignifying about making an egg," says Cirulli, who, like Carlson, lives in the neighborhood. She has long, curly hair and today wears duck boots.
People talk and eat together at the dining room or on bar stools that face the kitchen. Seated in front of an electric fireplace is a black man in a striped stocking cap and broken eyeglasses reading a newspaper. Above book-lined shelves, big wooden letters spell out "The Peoples Library." Near the front door, a tall man wearing an eyepatch secured with duct tape talks to another man seated in front of a computer used for e-mail, Facebook, and playing video games.
The idea behind Aurora Commons, Cirulli says, came from a question—"Who is your neighbor?"—that a pastor asked the congregation she had belonged to more than five years ago. Cirulli thought about the people who lived on Aurora.
She and Carlson started holding barbecues every week in the backyard of the apartment complex where Carlson was living—just across the parking lot from where the Commons is now—to bring together those neighbors who lived in the nearby apartments and homes. The come-as-you-are welcome and food on the grill pulled in the neighbors who camped out in parked vans, RVs, or tents. The neighbors who pushed shopping carts filled with the sum of their belongings. The neighbors who walked the streets at night, entertaining men to pay for food, drugs, and maybe a $55 room with a shower and a locked door at the Oaktree Motel.
Yet, come October, cold and rain made the barbecues impossible. So the women inquired and signed the lease to a former coffee shop. With help from the small congregation of Awake, a Christian reform church they also helped establish, Aurora Commons opened in April 2011. It is funded largely through individual donations, and today the Commons is open to all Monday through Wednesday from 10 a.m. to 1 p.m., with an average of 70 visitors each day. Wednesday night (5–9 p.m.) and Thursday morning (10 a.m.–1 p.m.) are only for women, the majority of whom are sex workers.
Spend a little time at the Commons, and you can't help but see Aurora Avenue in a new light.
For example, unlike the neighbors on Nextdoor who criticized the seedy motels, Cirulli counts motels as part of the network of services those in the Commons use.
"They're on the front line," she says, explaining that motels harbor women fleeing domestic violence and those with severe addiction. Veterans and the sexually exploited or abused with post-traumatic stress disorder may not be able to stay in shelters crammed with bunk beds full of people. Motels, she says, give people independence. A person might stay for a night or till the money runs out.

Aurora Commons provides a place to relax, read, and connect. Photo by Morgen Schuler
That Wednesday in the Commons, Frodsham has on the blonde wig. Her blue eyes are smeared with eyeliner. She wears a low-cut shiny peach blouse and a short jean skirt. She sits down beside Cirulli on the couch and takes off her tall leather boots and her socks. Her toenails are painted a sparkly turquoise.
Bill, who never gives his last name, sets a disposable tin with warm water and a rag at Frodsham's feet.
"Put your feet in here," he says. He kneels in front of her. Outside the Commons is a van from a clinic offering free foot and wound care. Blisters and wounds from scratches or needles can get infected if not kept clean. Bill doesn't wear blue latex gloves like the medical professionals in the clinic or the ones providing free hepatitis-C testing. Bill isn't a nurse or a doctor. He, like Frodsham, had just stopped by the Commons for a cup of coffee, a meal, and companionship. He wears a black leather jacket and a black cap with a Harley Davidson insignia over wavy gray hair. His thick salt-and-pepper mustache curls down around the edges of his lips.
"It feels better, don't it?" he asks Frodsham, massaging her feet in the warm water. "Those feet have put in a lot of miles."
Frodsham leans back against Cirulli, who drapes one arm around her.
"You know what I found out?" Bill asks. He doesn't wait for an answer. "I found out that you're a good person. I really did. You don't have to try. You already are. No matter what anybody says. You are very precious. You always will be. You're so good. So good. It's hard to get it in our heads that we're good."
"People say I'm bad," Frodsham says.
"People tell us that. But we're not. You're not bad. Never have been."
A painting hangs on the wall—a red and blue heart suspended above waves. Arteries connected to the rest of the body have been cut. The title: "A drowning heart won't stop beating/A beating heart won't stop growing."
"I want to take you home with me," Frodsham says. "But I don't have a home."
"You play cribbage?" she asks him. She learned when she was a teenager.
She was 12 going on 13, still playing with Barbie dolls, Frodsham's mother says in a phone interview, when some girls in a gang befriended her. She was vulnerable, her mother says, remembering that Frodsham was a bit heavier than the other girls.
Then one day a guy she met in an arcade along with some others abducted her. She was beaten and prostituted against her will. "I lost my virginity on 'The Track,' " Frodsham says, using the colloquial term for the place she now finds herself so often, soliciting clients and exchanging sex for money. She escaped after a week, but Frodsham's best friend accepted a bribe and lured her back. This time she was beaten and abused so badly her own father didn't recognize her. What they did to her, Frodsham says, was so awful she can't talk about it. Her older sister said Frodsham was "traumatized beyond repair."
"I felt so ashamed," Frodsham says. She would take off from home on her own, come back, then leave again. She went through treatment after treatment for drug addiction, only to relapse. The drugs helped her forget, but she needed money to pay for them, so she would turn tricks.
She had three daughters. When Frodsham disappeared, her older sister and mother cared for the girls. When her pimp was in prison, Frodsham got better, her mother says. Five years ago, Frodsham was getting straight A's at Lake Washington Institute of Technology and nearly finished with a medical-assistant degree. Her girls were living with her. She went with her eldest daughter to a Black Eyed Peas concert in Tacoma. They got pedicures and stayed in a hotel where they got room service. Six months later Frodsham's demons caught up with her. She took off again, and her daughters haven't seen her since. Her oldest, now 15, says she keeps track of her mom through King County's inmate lookup service.
"Yes, I'm a drug addict," Frodsham says. "I go on dates. But I don't do it near houses. I don't do it near schools and churches.
"Things I do aren't the greatest. Altogether, I think I hurt myself more than . . . " Big tears slide down her face, and fingers with French-manicured nails brush them away. Under each clavicle are two scars, as wide and deep as the knife she once carried that a john turned on her. The blade cut deep into her flesh before she got it back; she stabbed him before she blacked out. "The things that I do hurt me more than anybody I know," she says.
"These are people," Cirulli says later, "who are named very differently by folks who don't understand, who have fear, or who just have never had the opportunity to be able to be in a setting like this." Cirulli looks around the Commons' living room. "If our neighbors were able to hear one of the women that they see on the street, to hear their story, they'd say, of course that's why she's there [on Aurora]. The cards they've been handed seem so unfair."
She points to the long table lined by chairs. "That's why we have the Commons. That's why we have this long table where people from different sides of the fence come together and see each other as human."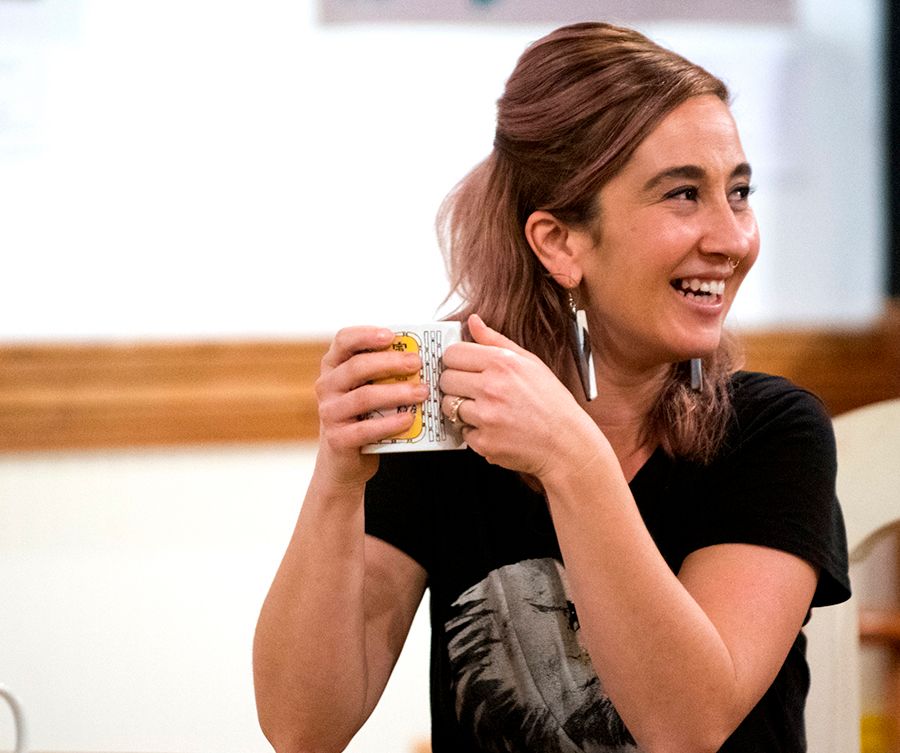 Lisa Etter Carlson started Aurora Commons after her pastor asked, "Who is your neighbor?" Photo by Morgen Schuler
Frodsham carries the crunchy bean soup, hugs Carlson goodbye, and says she loves her. She carries a glass of milk and some plastic bags. She carries her wig. She sets them all down outside to twist a torn cigarette back together. She has time. She is used to walking and waiting and walking some more. She hides her bags in the bushes. But she can't sit anywhere. She can't stop anywhere. And she can't go to sleep.
"It's frustrating," she'd said earlier. "I can't change my clothes. I can't go in the bathroom. I have to poop outside. It's so humiliating."
"There are so many homeless people that don't care," she said. "I was talking to one of my regulars, who is a real-estate agent, about abandoned houses and how much damage is caused by people squatting. Millions of dollars in damage. People don't care. It sucks because I'm homeless and we're just all lumped together. People just assume."
One time she spent three hours helping a man who lost his keys. His roommates didn't help, but a woman who had nothing was willing to help look for his keys.
"Well, one, I thought helping somebody was what you're supposed to do. And two, I wasn't doing anything else, and why not?"
She has left the Commons far behind when she reaches into one of her bags for her wig. Without it, she says she looks "so silly." Her short hair is matted and sticking up every which way. But the wig isn't there.
"Where is it?" She tears everything out—the umbrella Carlson gave her, the high-top shoes she picked up from the clothing closet, a dry pair of socks. "Oh, my God. Fuck. I'm an idiot. Fuck. What did I do with it?" She looks in her purse. It holds a new sharps container for her needles and a Ziploc bag full of condoms. But no wig.
"I can't go to work," she says. Her voice rises high like a child's before she breaks into sobs. Without work, she will have no money. No money to eat. To sleep. For drugs to forget. Not today, not tomorrow.
But she hasn't given up.
Maybe she left it in the Commons. She'll go back and see if Carlson is still inside.
But the Commons is locked up and dark. Frodsham doesn't own a cell phone, and even if she did, she doesn't have a number to call.
She could have dropped it. She hopes she did, and retraces her steps. There, on the rain-soaked sidewalk, she spots a pile of hair.
She heads back north along Aurora Avenue. Perhaps tonight she would get a good-enough trick to afford one of those rooms that cost $400 a month, the small micro-units that share a kitchen and a bathroom.
She would like to go home, her own home, when the night is done. She could cook her own food, sleep in her own bed, and lock the doors. There, maybe she could feel safe.
Seattle Weekly delivers the latest in city politics, crime, and business news. If you know something we should know, e-mail news@seattleweekly.com. Follow us on Facebook, Twitter, and Instagram. Get more Seattle news by subscribing to our weekly newsletters.