Sandrider's "Grunge Band" Volume Compared to 12th Man on ESPN

As everyone joyously witnessed the Saints' 7-34 slaughter against the Seahawks last night, those watching at home were treated to a special surprise.
In order to give some sonic context to how noisy the 12th Man was last night for the Guinness World Record setting crowd for loudest outdoor sports stadium, ESPN's Monday Night Football aired footage of Sandrider's Neumos release show from this weekend. The Good To Die band's mega-heavy rock and roll was almost as loud as CenturyLink Field last night. Check out the stats in the screenshot below.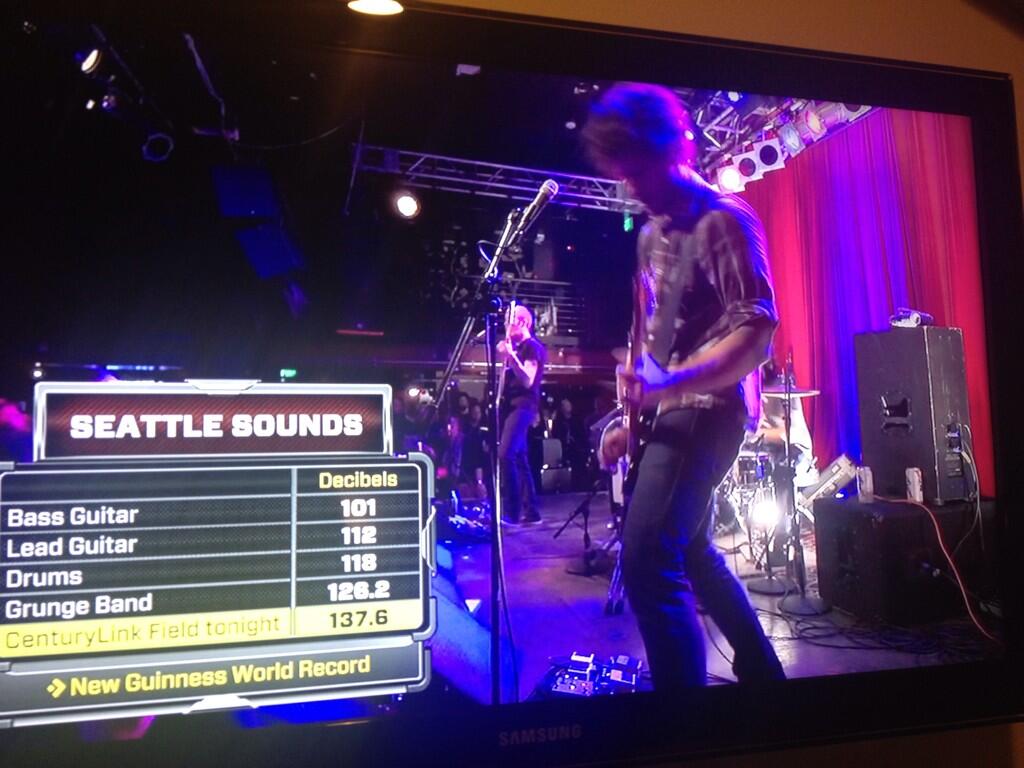 Gift Uh Gab Makes XXL's "15 Female Rappers You Should Know" List

The sole female member of Seattle's Moor Gang rap collective got some much deserved love from hip hop magazine XXL the other day. Gift Uh Gab was named one of the "15 Female Rappers You Should Know" on the strength of her debut LP Queen La'Chiefah and her blistering "Dead Wrong" track. Check out the video below, where she promptly puts a naysayer in his place.
Robin Pecknold Forms a Supergroup
If you've been wondering what Fleet Foxes' frontman Robin Pecknold has been up to lately, apparently he's been practicing a lot of Byrds covers.
As Consequence of Sound reports, Pecknold is creating an "indie supergroup" with members of Beach House, Grizzly Bear, The Walkmen, and Wye Oak for a special tour this January. The group will be covering "note for note" Gene Clark's 1974 album No Other. The tour will accompany a special documentary screening about The Byrds' founding member, The Byrd Who Flew Alone. Unfortunately, the tour is East Coast only.
La Luz Debut New Video for "Big Big Blood"

Even after their harrowing collision with a semi-truck, La Luz is still at it. Besides announcing their opening slot for the upcoming three night string of Built To Spill shows at Neumos, La Luz also released a new music video yesterday at Entertainment Weekly. The kitschy clip for "Big Big Blood" riffs on vintage horror films, and includes masked killers and a beheading.
Fly Moon Royalty Debuting Single From New EP Tomorrow
"Piece of Me," the new single from local hip-hop/neo soul group Fly Moon Royalty is premiering tomorrow in anticipation of their upcoming EP, Unfinished Business, due out Jan 5 on Sportn' Life Records. Check out the video for "Lemonade" from the group's last album below:
Psychedelic Holiday Freak Out Festival This Weekend
Starting this Friday, 38 local bands will be playing the two day Psychedelic Holiday Freak Out Festival on Capitol Hill. For $16, you get a chance to see groups like The Comettes, Kung Foo Grip, Vox Mod and more. Check out the full lineup below, and get tickets here.
The Comettes | Fox and the Law | Kung Foo Grip | Vox Mod | Helvetia | Slow Dance | Tea Cozies | Atomic Bride | Steezie Nasa | Neighbors | NighTraiN | Branden Daniel & The Chics | Black Magic Noize | Xavier Holliday (XVR HDY) | Dead End Friend | Otis Heat | Panama Gold | Jared James Nichols | Dead Ship Sailing | Say Goodbye to These | Kingdom of the Holy Sun | The Mad Caps | Electric Shepherd | Moondog Matinee | Devils Hunt Me Down | Gladiators Eat Fire | So Pitted | The We Shared Milk | Cabana | The Autonomics | The Sun Thieves | Psychedelephant | Killer Ghost | Crazy Eyes | A Happy Death | Detective Agency | Bryce Bowden | Banshee Bones
Watch The Grammy Nominations While Shelby Earl and Bellamaine Serenade You

Over at The Lively Lounge on 3412 4th Ave S this Friday, The John Bishop Trio, Shelby Earl, IG-88 feat. Shaprece, and BellaMaine will be performing live alongside the telecast of the Grammy Nominations Concert live from Los Angeles. Head on over between 6-10 p.m. for music industry insiderness.