Friday at Sasquatch Packed Quite a Wallop (PHOTOS)
By Morgen Schuler
Wed., May 28 2014 at 03:41PM

The Gorge absolutely packed for the Outkast set on Friday for Sasquatch
It almost feels like Sasquatch blew its wad on the first day. There were so many high-profile bands playing with far too little stagger between the sets (many of them started exactly at the same time), which was helped a little by some stages being a bit behind but for the most part I was cursing the music gods for not giving me the power to time warp from one stage to the next and instead hauling my butt up that insane hill from the main stage to the others. That being said, the opportunity to see such a stockpile of baller bands is why we drive all the way out to George and brave the heat, bros, and dust in our faces.


---
Make sure you check out the entire set of photos from Friday's performances.
---


The sets that really had staying power dominated the main stage on Friday. De La Soul (DLS), while seeing their hey day many moons ago, still has pull and relevance. I saw it mentioned in another story from the weekend that if Hip Hop artists attempted to sing about working for a living and making your way through a tough life, it wouldn't play. I'm not sure that's true for smaller acts, but anyone with the popularity of DLS can't relate anymore. This genre is dominated by money, sex and power but in the 80's it was all about relatable scenarios to the working man (plus sex and belongings, but you get my drift); that's where I find my sweet spot.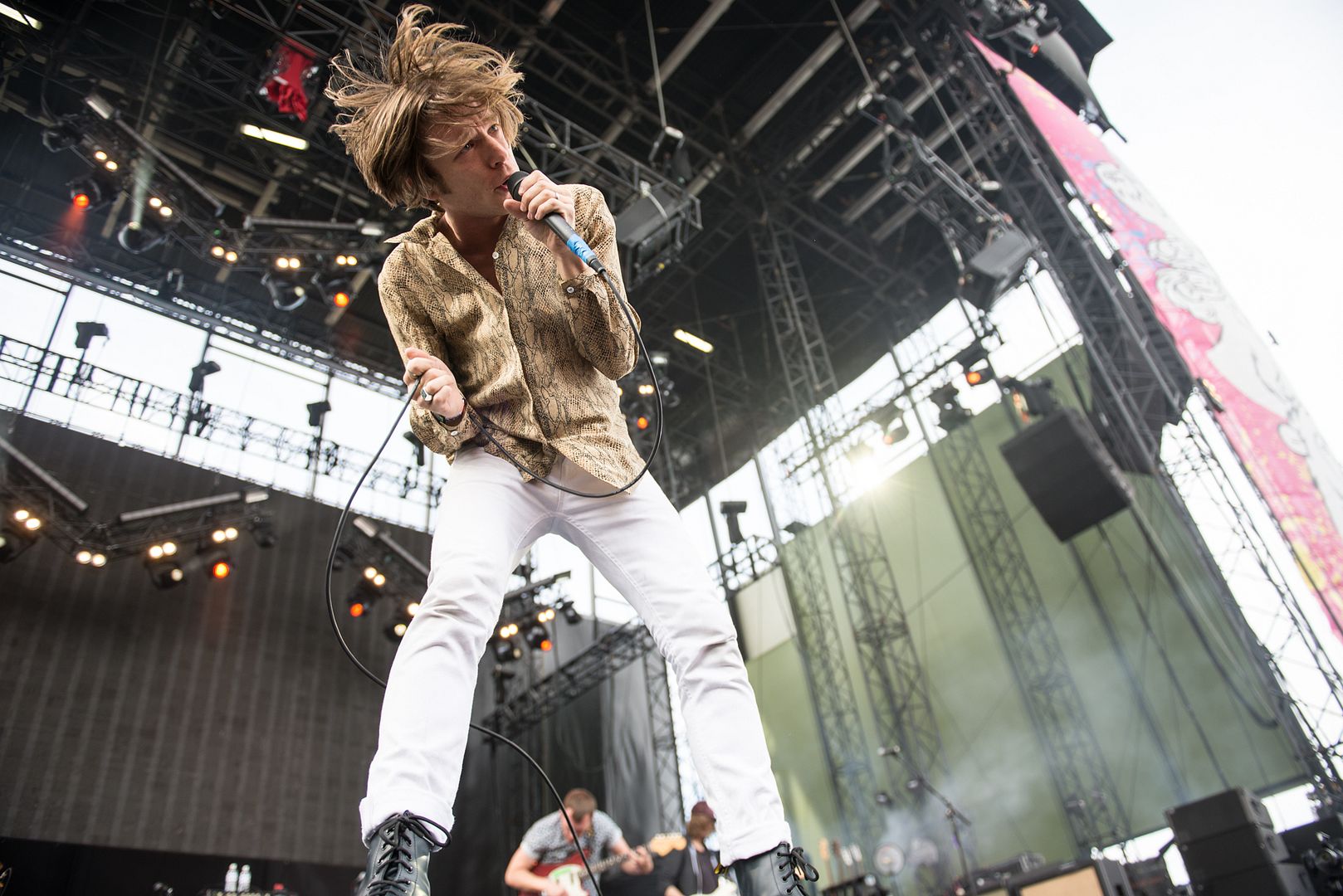 Friday was my first time seeing Cage the Elephant live and despite the mid-day time slot they had gathered quite the throng of music lovers. It's a good thing too, lead singer Matt Shultz nearly ran straight into the crowd as soon as he shed his bright red military-style jacket a third of the way into their set. No maimings and the crowd loved it so I was 100% in. He ran across the stage throughout, and I had to wonder was it the energetic show that had me grinning or the music itself. I think when you're in a live setting like that, you have to have some kind of entertainment value (a la M.I.A. and Lucius, just to name a couple) to keep the crowd absorbed while ten other things are vying for their attention, but it has to be paired with good music. Just hopping around and acting stupid won't pull in fans.



Speaking of enigmatic front men, Foals was later in the evening as the lights were shining, the sun was setting behind the incredible mountain-scape behind the stage and the smoke-machine emanations were catching all of it with a beauty you just can't see anywhere else. It was almost serene, but that quickly dissipated as Foals started in on their show and the vocalist flipped his mop of hair back and forth with every heavily strummed note. Jumping down into the photo pit, allowing his fans a quick touch of his shirt, leaning in as if for a nap, then just as speedily he was back on stage tossing water in every direction (including on himself). I would have gotten whip lash if I wasn't ready for it.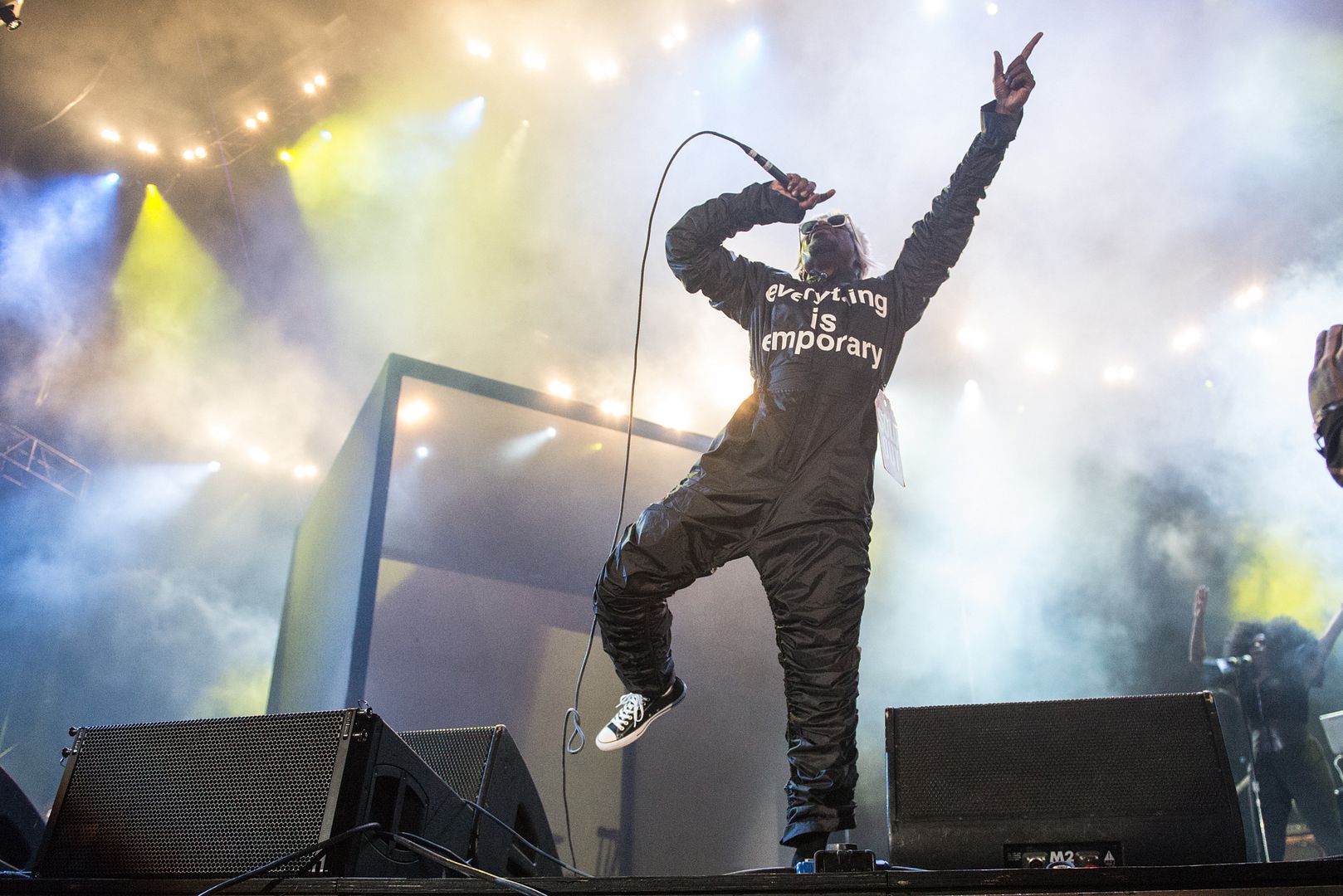 The biggest and most satisfying performance of the night is no surprise: Outkast. While there were no moments where I said "Holy crap!" it was an incredible set of hits spanning their entire book. The stage show wasn't full of fireworks or confetti but it kept the gorged venue (pun intended) in rapt attention screaming at every call out and singing along to hits like "Hey Ya" and "Ms Jackson" far into the night. Political finger-pointing was part of the undertones as Andre 3000 donned a jumpsuit printed with "everything is temporary" and a hangtag with "Sold Out" on one side and "For Sale $" on the other. I have to admit I was looking forward to seeing 3000 in his element after the personally disappointing Jimi Hendrix film at the SIFF opening Gala last week. He reinvigorated my love of Outkast and then some.