David Bazan Goes Orchestral
By Morgen Schuler and Mark Baumgarten
Wed., Jun 11 2014 at 02:49PM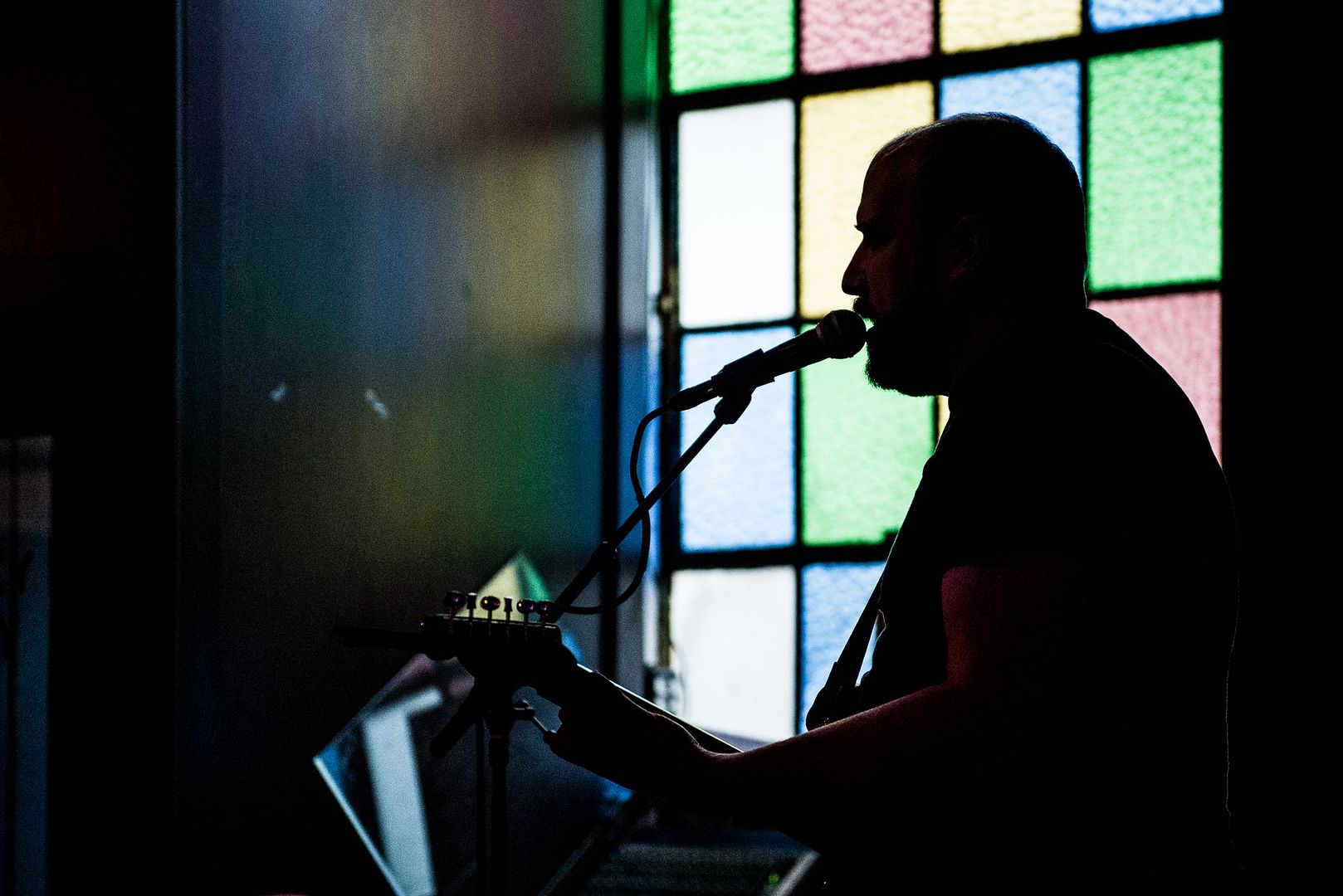 Photo by Morgen Schuler
David Bazan is breathing new life into his back catalog. The Seattle songwriter, who originally gained a following with his band Pedro the Lion, announced today that he will be releasing an album of songs from throughout his musical career, each performed on accoustic guitar and with accompaniment provided by the Passenger String Quartet.
Now, before the cynics accuse him of repackaging old goods with a well-worn gimmick, it should be noted that the songs Bazan has chosen for the soon-to-be-released Dave Bazan + Passenger String Quartet Volume I (streaming free now) don't simply feel rehashed; they feel reimagined. These beloved songs have been given a respectful dusting off, the orchestral treatment adding nuanced percussion and a playful feel throughout, providing some levity to the otherwise thoughtful, yet downtrodden lyrics. The tracks chosen range from Pedro the Lion's 1998 ​When They Really Get To Know You They Will Run to last year's solo Strange Negotiations and are evenly weighted between Pedro and solo work.
What does this mean for fans both die-hard and fairly new? Well, Bazan will be playing all those favorites you have on mix tapes and playlists during his upcoming tour with the Passenger String Quartet. That often sweet and most-times painfully melancholy voice will once again be heard throughout the country including a stop in Seattle at the Neptune on November 21st.
The Passenger String Quartet has become quite the hot commodity itself making musical friends with everyone from Tess Henley to Kris Orlowski to Grammy award-winner Judy Collins. Led by Seattle's stringed sweetheart Andrew Joslyn (freshly off tour, along with a couple of his fellow Quartet-mates, with Macklemore) they create dynamic string arrangements for stand-alone performances as well. We caught up with Joslyn to talk about the album.
---

Seattle Weekly: How, exactly, did this project come about?
Andrew Joslyn: Back in 2012, I was hired to write string quartet arrangements for a Tacoma Cathedral's show, which had Kevin Sur, Pretty Broken Things, and David Bazan on the bill. Aaron Stevens, the promoter, asked me to contract Passenger String Quartet to play at the church, and I just wrote up charts for all three groups. I was stunned that Bazan was receptive to the idea, and also extremely excited.

Once we performed the show, it was obvious that there was something special about what had happened, so David and I chatted about it, and agreed that it would be awesome to put together an album.

I didn't hear from him for about a year after that. I actually thought he was punking me and giving me the Seattle deep freeze. I texted him, and called, and at one point thought I was getting a little too desperate, so I backed off. Soon enough he called, had a calendar, tour, plan, and everything. And it was like a landslide had hit me. I guess that is how he works. Once he could focus on this album, he was all in.


He had everything worked out, then?
Well, just when he would like to tour, where to record, and overall game plan. Actual recording, and artistic direction I had a lot more say in, when we finally got into the studio.


Did he have the tracklist figured out, or did you help with that as well?
Well, he initially asked me which songs I heard strings on, and what I thought would work for arranging. So I sent him a list of my top 15-18 tracks (from all across the Bazan catalog). And he went through, and decided which he felt comfortable with, and which he thought would work for an album. We went into the studio and actually recorded 12 songs, but two were cut since they didn't quite fit in the overall scheme of things. I think we might release them later.


What got cut?!
"Please Baby Please" and "Shit Talker." I think "Shit Talker" will need a little bit more work—but I liked the arrangement and where it can go potentially.


So, were you a big Bazan fan before you worked with him?
I've been a fan of David Bazan for a long time. I remember listening to him on the road when I used to tour the west coast with my first band. Admittedly I'm a later Bazan fan, but his albums Curse Your Branches, and Pedro The Lion's Achilles Heel were really powerful to me.

"Hard To Be" floored me the first time I heard it, and "I Do" also had a similar effect. I hadn't heard his album Control until he asked me to do the arrangement for "Priests and Paramedics"—that quickly became one of my top favorites of his catalog. He became my favorite songwriter in Seattle after I heard Curse Your Branches, and Control just reaffirmed it for me. Just having the opportunity to work with him, was like a crazy fan-boy moment. I think him calling the album, Vol.1, made my year.


What was your favorite song to work on?
I actually really wanted to work on "Hard to Be." Hopefully I can convince him to allow me to do that one on the second volume. But for the songs that are ACTUALLY on the album, my favorite arrangement was "Priests and Paramedics." I actually went about it as a pseudo-canon (round) with baroque counterpoint and it just came together really beautifully. It was also really good for me to work on because of the subject matter, and the beautiful bleakness of it. Trying to write a string quartet arrangement to match that was a nice challenge.

Another tune that I really enjoyed working on was "How I Remember." It was the most aggressive arrangement on the album, and pushed the quartet to really deliver a raw, powerful performance.