Name a Seattle country band—any Seattle country band—and chances are that "Country" Dave Harmonson has likely played with it. He might even be an official member.
He rattles off a few to me over a beer at Elliott Bay Brewery in Burien. "Cahalen Morrison and Country Hammer, Ganges River Band, Country Lips, Annie Ford Band, the Swearengens, Side Saddle, T & D Revue, Tequila Rose, Wes Jones Band, Papillion Saints, Zoe Muth . . . "
We meet in Burien because it's halfway between my house and the airport, where Harmonson's just wrapped up a gig for the Sea-Tac Airport Music Initiative, playing tunes for travelers passing through. He's no stranger to this part of King County either, he tells me between sips of beer. He also plays "a little gig every now and then at C.C.'s [Lounge] here in Burien."
Harmonson, 63 as of a few weeks ago, actually lives in Ballard, the irrefutable capital of Seattle's alt-country and roots scene, but folk and country music's been in his blood since he was a boy, growing up in the songwriter-drenched state of Texas (see "Happy Hours"). A self-described "acoustic music nerd," he moved to the Oregon coast when he was 5, went to high school in Tacoma, and shortly thereafter became involved in Tacoma's underground folk and open-mike scenes.
It was there that he met Dudley Hill, a founding member of gypsy-jazz group Pearl Django, at a coffee shop called Court C. "I remember seeing him play," Harmonson says. "He was flat-picking bluegrass, and he was the best I'd ever seen." He was hooked. "I saw people who really knew what they were doing, and I said, 'I gotta start learning this.' "
Harmonson proceeded to do just that, expanding on the guitar playing he learned from his sister on an acoustic. He soon became frustrated trying to play over noisy cafe crowds and went electric. "I decided to get a Telecaster," he says. "They're gonna hear me, goddamn it!"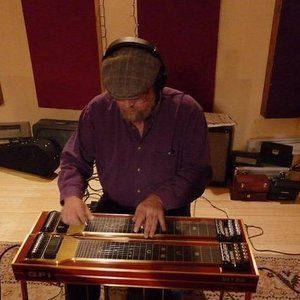 Courtesy Dave Harmonson myspace pageHarmonson made a living throughout the '70s and '80s with a slew of country groups that have all since disbanded—bands like Lance Romance, Stampede Pass, Shade Tree, and Road Apple that toured the country circuit throughout the Pacific Northwest into Colorado, Montana, and Wyoming. All told, Harmonson's opened for the likes of Dwight Yoakam, Commander Cody, the Amazing Rhythm Aces, New Riders of the Purple Sage, Asleep at the Wheel, Mel Tillis, Mickey Gilley, Fred Eaglesmith, EmmyLou Harris, Flying Burrito Brothers, Vassar Clements Band, James McMurtry, and Justin Townes Earle. "I was working 51, 52 weeks a year," he says. "Five or six nights a week. Once in about '84 we did something like 60 days straight," he says.
Those years cemented his love of the guitar and the musician's life. "I went 25 years without a day job," he says. But then, when he had kids—two boys, both now grown, and both of whom play the bass—"I wound up driving a school bus for 15 years."
Harmonson returned to the country scene in 2006 with his first solo release, I'll Have the Country Music Please, but things didn't really take off again until he connected with Zoe Muth in 2010, while the singer was helping to ignite Seattle's roots renaissance with her classic country sound. He toured with her around the globe before parting ways when she moved to Austin.
Not only can you hear Harmonson's long love of country music and the guitar on his upcoming release, Alive & Pickin', you can see it. He opens a copy of the CD to reveal the track listing and some photos.
"That's a six-string Fender lap steel," he says, pointing to what looks like a plank of wood strung with six strings. There's a similar looking instrument on legs. "My 10-string Sho-Bud pedal steel," he says, pointing out its pedals and knee levers. Also pictured with Harmonson are a G&L ASAT electric, a Huss & Dalton acoustic, and a Carl Barney archtop.
When asked to describe what he likes playing best, Harmonson is noncommittal. "I'd say I'm a guitar player who plays pedal steel," he says.
The songs—all covers of country classics, including Waylon Jennings' "I'm a Rambling Man" and Merle Haggard's "Mama Tried"—are "kind of a legacy thing," he says. "I've been doing [them] for over 30 years. Over the years I've learned hundreds of songs, and a bunch of them get left after you do them for a few years. These are the ones that have survived that I feel are important for me to play and I still enjoy doing them."
Harmonson enlisted the help of friends to flesh out the idea—among them local country crooner Davidson Hart Kingsbery, who designed the album art, and vocalist Andrea Peterman, who sang harmony. The rest is mostly just Harmonson and his song and guitar of choice. He dedicates the album to his friend, the late Eric Eshelman, who was a "huge influence on me" and " 'made' me listen to Merle Haggard, Buck Owens, the Flying Burrito Brothers, and much more."
"I'm still alive and pickin', and I still love it!" he proclaims on the liner notes.
"It only took me 40 years to get here," he adds, shortly before he leaves our meeting—for a gig, of course.
"COUNTRY" DAVE HARMONSON With Ganges River Band, Evening Bell. Conor Byrne Pub, 5140 Ballard Ave. N.W., 784-3640, conorbyrnepub.com. $10. 9 p.m. Fri., June 27.
gelliott@seattleweekly.com