As the April 22 deadline for the King County special election approaches, the future of Metro transit hangs in the balance. If passed, Proposition 1 will mean a $40 hike on car tabs (including the expiration of a $20 tax, but the addition of a $60 one) and a .1 percent increase in the sales tax. The knee-jerk reaction from some drivers: Screw that. Why should I pay yet another fee just so bus riders don't have to walk another couple blocks to a revised route? It's a reasonable reaction, but it barely scratches the surface of what will really happen if the proposition fails.
"Gutted" is a word that has been uttered more than once to describe the cuts that Metro says it will be forced to make if it doesn't receive the funding: 181 routes will be altered or canceled and 80 percent of all riders will be affected. That's pretty heavy.
Anti-tax advocates have said the cuts would be a painful first step in the long-awaited cleanup of a bloated system—an argument bolstered by the Bureau of Labor Statistics' ranking of Seattle public-transportation employees among the highest-paid in the country. Some have even gone so far as to speculate that Metro is bluffing and the severe cuts will never happen.
Transit advocates disagree, saying that the proposition's failure would create a domino effect that will impact the jobs, homes, and way of life for more than just bus riders. Will reduced seat availability push people into driving, causing more congestion? Will students have to find alternatives to riding Metro to get home? Will riders with irregular schedules and no car be left out in the cold and out of luck?
Unfortunately, the quietest voices are those that will more than likely be hardest hit. So we took to the streets, stood in the lines, got on board, and asked riders what they thought between their stops.
Low-income riders can most often be found on the outskirts of King County, in places like Burien, where the 139 bus line currently takes Burien residents in a loop, with stops all around their small city and to the Highline Medical Center. If Metro cuts go into effect, that line will disappear, with others rerouted to make up for the loss. Leticia Gaytan, a student at South Seattle Community College, is worried about what losing the 139 will mean. She's able to walk to other stops, though she mentions that they aren't all that easy to get to by foot from her home. "I would have to go quite a ways to find another route, and it's up a steep hill."
Monzerrat Carmona relies solely on the income she earns from babysitting, and counts on the 139 to get to her job. Even with the line running, commuting via bus has its challenges. "I have to use the bus every day," she says. "But when I go home, I have to walk because this bus ends too early for me to take it home." She isn't surprised that the line is on the chopping block. "When I don't see a lot of people on the bus, I say 'Oh. no.' I'm scared because I think they're going to cut the bus line." The reroutes will most likely take up at least some of the slack from the loss of the 139, but coverage will drop. Even if she is able to work out the kinks of using a different bus line, a lot of time could be wasted simply reaching a new stop.
Then there's this: None of the reroutes will service the bus stops within Highline Medical Center. If there are no direct drop-off locations to take riders into the center, then staff and patients will be forced into taxis or have to walk. The next closest stop is about four blocks away, a five-minute walk.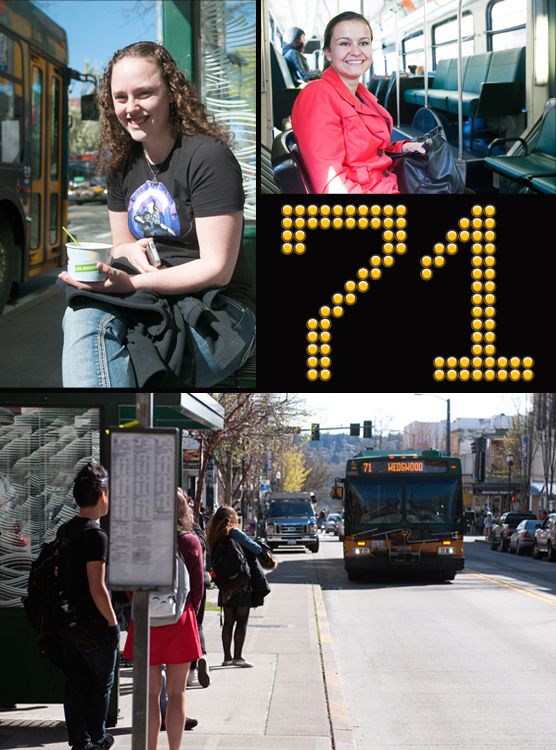 Among the most popular lines scheduled for a drastic shift is the 71, which goes from Wedgwood through the University District to downtown Seattle and on into SoDo. Currently the bus comes every 30 minutes and runs until midnight. Under the new cuts, it will be reduced to once an hour on a rerouted line that skips University Avenue altogether and beelines from Magnuson Park down 65th, hopping directly on I-5. It will also stop running at 7 p.m. "I get off work at 10 p.m.," says Catherine Menkel-Lawrence. "If it stops before 7, I have no way of getting home . . . I don't own a car, so the only way I have to get around the city is the buses."
Sara Drescher rides the 71 only occasionally, but says, "There's a lot of people in the area that couldn't actually get downtown if it doesn't pass. I'm hoping, not right now, but soon I'm hoping to be going downtown for a job. And then I would depend on this bus every day."
If the 37 is cut, it'll be difficult for a lot of people in Alki, says regular rider Tyler. "I have to catch this bus two hours early so I don't have to stand. The one later on is so full there aren't any seats, so I'd have to stand in the aisles." He says right now his neighbors can catch the 37 as it passes near their houses, but the nearest alternative, the Rapid Ride C Line, could be as far as a mile and a half (or about a half-hour walk) from the existing route. This raises a secondary, irony-laden problem: where to park your car just so you can take the bus.
The driver of the C Line—who says he drives it nine and a half hours every day, five days a week—is concerned for himself as well as his riders. "The ripple effects on people that have to use the bus are going to be enormous," he says. "Wherever they gather to get on the C Line, it will become a Park & Ride. My line is hugely busy in the middle of the day, not just during rush hour. I'm not sure what that's gonna do to my quality of life."
The 106 bus line starts in downtown Seattle and heads through Georgetown, Beacon Hill, Rainier Beach, and Renton. If the Metro cuts go into effect, it will skip Georgetown and instead reroute to Martin Luther King Jr. Way on the other side of I-5. Much of what will be lost will be replaced by the 124, but there are stops in Georgetown used solely by the 106. Will the 124 take those over? Presumably not; that line is not set to reroute to those particular stretches. However, the 106 and 124 run parallel through SoDo, about three blocks apart. Readjusting to the new line may not be much of an issue in terms of distance, but the frequency of the 124 will not increase. Twice as many riders on a single bus running at the same frequency as before could cause a bottleneck.
Adrian Lopez, a student, rides the 106 to volunteer down south, something he does three times a week. "It's OK for me," he says. "I may need to take a new route. Sometimes I take another bus anyway." At more convenient times he catches the 124.
Most riders, like Lopez, assume they won't be affected by the elimination of just one bus line. But if that leaves only one option to get from SoDo and Georgetown to Renton, they're likely to feel a pinch. Another group of bus riders affected by this change are high-school kids. A lot of students get on at Georgetown in the middle of the route after many riders have already boarded downtown. There could be a lot of standing at stops as full buses pass those students by.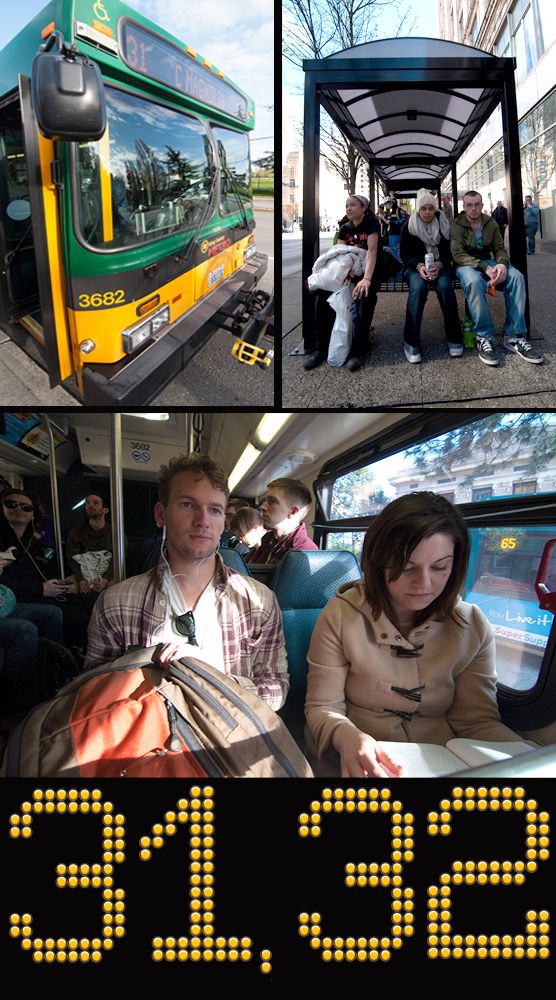 On Metro's 31 and 32 lines, the faces change but the stories run together, sounding many of the same notes again and again: I ride this bus to work. It's the only one that serves my neighborhood. If it didn't come, I'd ride my bike when I could, but that's only part of the year. If the wait gets too long, riding the bus won't be worth it. I might have to move.
Despite riders' worries, most of this east-west combination is scheduled to remain intact even if the proposed cuts go through. According to Metro, buses will wind their way from the University District through Fremont and around the back of Queen Anne hill about as often as ever.
At the heart of the cut to these lines would be the cancellation of the 31. Since the two lines run mostly on the same route, the thinking goes, canceling one and beefing up the other ought to enable the retention of most services while cutting costs.
But like other series routes—such as the 71/72/73 buses—the routes for the 31 and 32 split near their ends. Both come around the back of Queen Anne from Fremont on Nickerson, and diverge at the south end of the Ballard Bridge, where the 32 turns toward downtown while the 31 heads into Magnolia. Cutting the 31 would save frequent service along Nickerson and past Seattle Pacific University, but leave anybody trying to commute east out of Magnolia dependent on a transfer.
"It looks good on paper," said rider Maggie Lindley from her seat on the 32. "You just go from here to there and you transfer. But if the buses come every half an hour, you could be waiting 29 minutes."
news@seattleweekly.com