In March, controversial Mars Hill pastor Mark Driscoll made headlines by declaring he would quit Twitter—and social media altogether. The quick one-two punch of outrage over plagiarism allegations and the revelation that his Seattle-based megachurch had paid for his most recent book to make the New York Times Best Sellers List had the 43-year-old church leader reeling. The man revered by thousands of registered Mars Hill members, but often compared by critics to a domineering cult leader, needed a break from tweeting, he said.
Stephanie Drury, a 39-year-old mother of two, needed no such break. In fact, Driscoll's reaction to the scandal—delivered in an apologetic letter—provided Drury with the fuel for her own twitter account, @FakeDriscoll.
"If you had any clue the number of marketing experts and PR teams behind one repentance letter, you'd think I wasn't repentant at all!" she tweeted in response. Soon after she added:"To be clear, these are decisions I came to with my stylist, my PR firm, and the help of our senior pastor, Jesus Christ."
Drury lives in Shoreline, where she pretends to be Mark Driscoll on Twitter for her roughly 3,800 followers. "Mars Hill Church asked me to make it clear that this account is fake," the profile bio reads. "I told them I don't know how much clearer it could be than being called fakedriscoll."
Getting to know Drury, it's a believable interaction. On a coffee break from her nine-to-five at Harborview, where she has worked as a risk analyst for 15 years, Drury's acerbic wit slices through our conversation like a Ginsu. "He's just got this snake­-oil-salesman vibe, couched in relevant hipness," she says of the real-life Mark Driscoll, whom she started parodying five years ago. Many of her @FakeDriscoll tweets, she reveals, are crafted while riding the bus to and from work. A typical barb, riffing off Driscoll's noted misogyny, reads: "Prayers requested for the weekly Driscoll Girls' Weigh-In today. Hoping to see an improvement in their numbers from last week." And a typical response falls for the parody, if briefly: "I was about to tell you to fuck off & eat a dick until I saw it was from Fake Driscoll, . . . then I just laughed."
What Drury is doing isn't odd; in fact, it's become a well-recognized online pastime for countless people. Twitter has 255 million active users every month, and no one—including the representatives from the company who declined comment for this story—seems to have any idea how many of these run parody accounts. But it's a lot. Twitter is full of fakes, from @TheSoftballGuy to @KimJongNumberUn and @PharrellHat. Locally, no fewer than five parody accounts channel Bertha, the hopelessly stuck tunnel-boring machine.
While Twitter champions and protects the user creativity that makes it all possible—even going as far as to host an annual Twitter Fiction Festival—the company's firmly established parody policy outlines what is and isn't allowed. A parody account, for instance, can't take its subject's name without a distinguishing word like "not," "fake," or "fan," and can't utilize the exact logo or trademark as an avatar. Twitter allows anyone who feels wronged by a parody account to file a trademark or impersonation complaint, though, as the platform's parody policy outlines, content is removed from the social media platform only "in response to a Terms of Service violation or valid legal process." With parody long protected under the First Amendment to the Constitution, Twitter keeps its involvement minimal, stating simply in its policy that "users are solely responsible for the content they publish and are often in the best position to resolve disputes amongst themselves."
Drury may be far from alone in her Twitter parody pastime, but her motivation makes her unique. Some do it for laughs. Some, I found, do it for money.
@FakeDriscoll, on the other hand, tweets for salvation.
Around the time that Stephanie Drury was discovering the restorative powers of Twitter, Christian Dumais was doing the same. Sort of.
It was in October 2009 that the writer and comedian first tweeted as @DrunkHulk. It was a simple introduction: "HULK DRUNK!" Since then he's pounded out more than 4,500 tweets and attracted roughly 193,000 followers. This hasn't gone unnoticed: @DrunkHulk has been called a top Twitter parody or satire account by FOX News, The Huffington Post, and NPR, among others. Patton Oswalt and Time both follow him.
Dumais is American, though he lives in Wrocław, Poland. He picks up the phone just after 7 p.m. his time on a Friday night. The 39-year-old sits at home, sounding a little depressed. "I promised myself a long time ago that I wanted to live in Europe, because Hemingway did it," the writer and university lecturer tells me. "Poland was never in my top-10 list."
"Twitter isn't very popular here," Dumais says of the far-off country he's called home since 2003. The jokes he tells via @DrunkHulk—typically monosyllabic, inebriated, all-caps takes on pop culture or current events—don't really land with his new countrymen, he explains. This assessment includes his wife.
"She thinks it's ridiculous," Dumais says. "She appreciates it, but you know . . . she's Polish, and she's not as interested in pop culture as I am. A lot of the jokes she's just really not that into. . . . I don't blame her."
A glance at @DrunkHulk's timeline reveals that, yes, the boozy giant's exhortations are ridiculous.
• AMERICA TELLING RUSSIA NOT TO INVADE ANOTHER COUNTRY LIKE JUSTIN BIEBER TELLING MILEY CYRUS TO STOP ACTING FOOLISH!
• HOW COME BEN AFFLECK NO SHOW HIS BIRTH CERTIFICATE!? WHAT IS HE HIDING!?
Being @DrunkHulk has been a "fun adventure," Dumais says, describing it as a challenge that rewards with instant gratification. Poland, he explains, can be rough for an American abroad, and crafting jokes that work in 140 characters or less as a big, green, wasted superhero helps him connect to the outside world. Plus, whether he's completely comfortable with it or not, @DrunkHulk is his crowning creative achievement to date. It has "opened up some nice doors" for him, he admits.
As one might expect, Dumais—who prides himself as a writer of "more serious fiction"—says @DrunkHulk was created on a whim. "From the moment I thought of [@DrunkHulk] to the moment I tweeted the first thing, it was like five minutes. . . . I didn't expect to be doing it by the end of the week, and it turned out to be one of the most successful things I've done.
"You spend all this energy, and you think this is the story that people are going to love," he says of his other writing, "and then you do this one thing without even thinking about it . . . "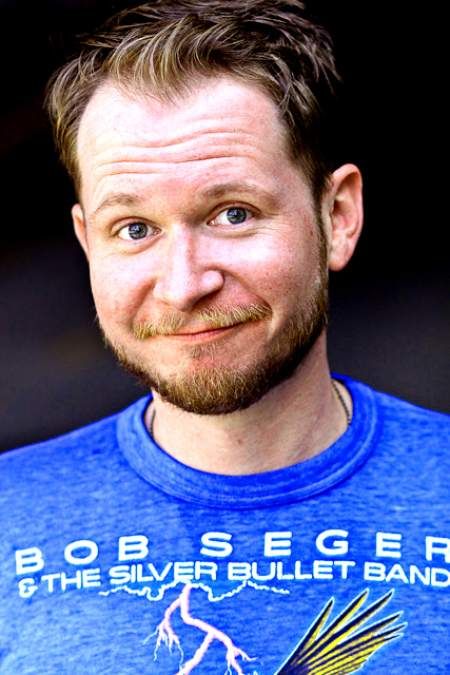 In Los Angeles, 38-year-old writer and comedian Mike Burns also uses Twitter as a creative outlet, and also via a fictional character. But unlike Dumais, Burns rarely sounds disappointed; instead, he comes off as a man who's created a lifelong friend.
Burns is better known for @DadBoner, the Twitter account belonging to Karl Welzein—a fictional Midwesterner with cut-off sleeves and a rather staggering alcohol problem. Welzein is a Grand Blanc, Mich., native who has used Twitter as a personal diary since 2010, even though he doesn't really understand how it works. With over 148,000 followers, he tweets about love, loss, bold flavors, and (occasionally) redemption. It goes without saying he's really looking forward to the weekend, you guys.
This past Mother's Day provided a good example of the typical @DadBoner approach:
• Just wanna say a special Mom's Day 'what's up' to all the thick & natural consensually erotic babes from coast to coast, you guys.
• Might have to head out. Gotta be piles of single mom lonelies out there just cravin' the firm touch of a swagged out bad boy.
• Nothin' gets a single mom achin' to make another mistake like easin' down your shades for a wink followed by a successful 'cep flex.
• Gotta respect the ladies, you guys.
The four-tweet bit sparked nearly 800 retweets, easily reaching hundreds of thousands of people.
Burns, who shares some biographical info with the character he created—like a Midwestern upbringing and a love of Bob Seger and beer—was famously outed as @DadBoner's creator by Deadspin in 2012. He says he thinks of Welzein's tweeted life like a TV show, busting out strings of tweets in episodic fashion. The approach paid off late last year when the Harper Collins imprint It! Books published a @DadBoner hardcover titled Power Möves: Livin' the American Dream, USA Style. Much of the continuing @DadBoner humor, Burns says, is found in getting to "watch a real man's life fall apart over simple, stupid things." Currently Burns is working on a @DadBoner TV pilot, which he says has been ordered by a major cable network.
When it comes to parlaying fictional Twitter fame into real-world fame, in other words, Burns has done about as well as you can. @DadBoner is the gold standard of Twitter parody.
But that's not to suggest the otherwise unknown comic and script writer has made any real money from it yet. "If you add it up, in the amount of time I've spent doing @DadBoner, I would have made way more money working at Starbucks. I mean way more," he says.
Luckily, as Burns puts it, he's "not a money guy." "It was one of those things where the only thing that could stop it was your imagination," Burns says of @DadBoner's beginnings. "I would buy a six-pack or a 12-pack, and play Karl."
"There's absolutely no shame," Burns says of the biggest thing he's done in his career to date, even if it amounts to playing make-believe on Twitter. "I love Karl. He's one of my best friends. . . . I laugh my ass off when I write that thing."
Darwyn Metzger is a money guy. Sure, at the end of the day, he says, he creates Twitter parody accounts for entertainment—and to entertain himself—but that's just part of it. There's also the promise of a paycheck.
You can find out a lot about Metzger with a Google search. At 30, the L.A.-based social-media and marketing maven lives an impressive existence online. He's been on Facebook since 2004. He relocated to California from Colorado six years ago, after going to high school in the suburbs and attending the University of Denver's school of business. He once gave a Hangover-inspired best-man toast at a friend's wedding (available on YouTube), and, as L.A. requires, he has headshots and TV production credits to his name.
Metzger is young, confident, and good-looking, and, as ridiculous as it may seem, he probably makes more money on Twitter than you or I do at our day jobs.
The first time we speak on the phone, Metzger tells me he's sitting outside after enjoying "a delicious meal." He's people-watching, in L.A., he says. I get the feeling he has sunglasses on as he discusses his career to this point, which includes working as a social-media and tech expert for a nationally syndicated broadcast news magazine anchored by Leeza Gibbons and playing sidekick to Tribune Broadcasting's "Kurt the CyberGuy." Going further back, Metzger once produced a Homeless Real World Internet spoof series that featured real-life homeless people shopping in upscale neighborhoods and engaging in cardboard-house-making contests, among other acts that critics derided as exploitive. (Metzger, meanwhile, maintains that the experience was "overwhelmingly positive" for participants, giving them a voice and resulting in three of them getting off the street for good.)
As much as he's done in the real world, Metzger may have done more in the cyber realm, which is the reason for our conversation. "I'm probably a little bit of a different profile," he says when he finds out my interest is Twitter parody.
On Twitter, Metzger is Jesus—to be exact, @Jesus_M_Christ (the "M" stands for "Messiah"). It's an important designation to make, it turns out, because the son of God is all over social media.
And Jesus is just the start. Metzger tells me he lords over roughly 300 parody or character Twitter accounts, including @ShermanRants, a Richard Sherman profile he quickly claimed in the aftermath of the cornerback's epic post-NFC Championship Game outburst. Today @ShermanRants has about 6,000 followers, which isn't terribly impressive until you realize Metzger's hundreds of other online characters have similar if not larger followings. @Jesus_M_Christ appears in the Twitter timeline of 461,000 people, including the verified accounts of @macklemore and @BarackObama.
As Jesus, Metzger delivers Twitter messages—like "Sorry I haven't tweeted. Been smiting bitches like IDK what today"—with dollar signs in his eyes. In fact, he says he has a team of 20 freelance writers across the country pumping out 140-character editorial content for his army of parodies. While he says he acquired the @Jesus_M_Christ profile from its original creator, Metzger describes a creative process in which he comes up with the idea for a Twitter character like @ShermanRants and then "hands it off" to his writers—a team he says largely comprises comedians and former journalists, "some of the best writers in the country" with a gift for crafting short and sweet messages people want to share. When it comes to money and the anonymous tweeters he employs, Metzger declines to get specific. "Let's just say everything is worth everyone's time," he says.
All this Twitter fiction falls under the umbrella of Metzger's Phantom Firm, a 3-year-old startup that specializes in "engineering and seeding subversive digital propaganda on behalf of brands, political campaigns, TV shows, films, and celebrities." It sounds creepy, but Metzger, Phantom's CEO, calls it "the next evolution of advertising, marketing, and branding."
Perhaps the truly creepy thing is that he's probably right. And the fake tweeting is just part of it.
As with most things online, making money with Twitter comes down to attracting mouse clicks and eyeballs. For Metzger, some of this is simple enough: For every few jokes @Jesus_M_Christ delivers to his thousands of followers, the Twitter messiah will also send a link to a post featuring, say, celebs in yoga pants—directing readers to content on a click-baity affiliate site like ChaCha or teennewz.com. Jesus earns money based on how many clicks the yoga-pants article gets from the tweet.
Even at a few cents per click, the money can add up. A recent article for Vice's Motherboard by freelance Internet and technology journalist Steven Melendez profiled college kids doing just this sort of thing with parody accounts they've created, some claiming to bring in "hundreds or thousands of dollars per month." Shelby Laufersky, for example, described by Melendez as a 19-year-old Michigan native who runs accounts with followings in the hundreds of thousands, reports earning two cents a click and $25 to $60 per day, or more than enough to cover her small monthly rent check.
Discussing his reporting, Melendez stands by his financial figures. "It's not very much [money] per ad or per click, but the sheer volume starts to bring the money home," he says. Melendez estimates that there are "a few hundred people making decent money" this way, and at this point says there's been a gold-rush mentality to the monetization of Twitter parody that makes it difficult for newbies to get in on the action.
But as Metzger tells it, what he does with social media is "gold-laced filet mignon compared to that tripe. " As one might expect from someone with his shameless entrepreneurial flair, Metzger's vision for Phantom is far grander than well-timed social-media punch lines. Phantom's real end game, he candidly explains, goes beyond pushing clicks. It's all about creating "native advertisements" for clients that are "so compelling people will actually share them." He says Phantom has a dozen or so clients, and what he sells them is some next-level Don Draper action.
Describing the native-advertisement approach, Metzger says Phantom dreams up social-media-based ad campaigns with the goal of spreading them viral. As part of the push, Metzger's army of parody accounts, along with other social-media "influencers" (read: celebrity partners Phantom works with who have substantial and engaged online followings to leverage) are used as amplifiers. If it works like it's supposed to, the brand-filled content Phantom produces is bounced across the Internet with the help of @Jesus_M_Christ, @ShermanRants, and others, reaching far more people than a traditional print ad or television commercial ever could. Often the TV, brand, or celebrity clients who hire Phantom don't fully comprehend how the message-spreading works, Metzger admits—but they've come to terms with the idea that it does.
"It all comes down to driving organic views to whatever your client wants and doing it in a way that engages and entertains the audience," Metzger says. "It's no longer good enough for a brand to have their name on the peripheral of someone's life. . . . Social media is this atomic bomb, that if you know how to use it right can be massively powerful.
"People are becoming too sophisticated. They don't want commercials," he continues. "They know when you're trying to sell them, and they're bored with it. What Phantom does is the future of marketing."
While their approaches differ, Ted Murphy, the 37-year-old CEO of Florida-based IZEA.com, which bills itself as an online marketplace that allows people to get paid for creating sponsored content on behalf of brands, sees the future of marketing in a similar light. He tells me he's been developing ways for content producers to "democratically" monetize social media "since MySpace was cool."
Today Murphy says a celebrity with a large, engaged following could fetch six figures for a single tweet. His company was created to help facilitate such transactions, along with much smaller ones. Murphy says IZEA works with "the full spectrum" of online content producers, from "A-list celebrities to college students and moms."
"What's happening is social media and marketing have become so intertwined," Murphy says. "Those two worlds have definitely come together, and what you've seen over time is this movement toward sponsored content that has really started to gain steam."
While Murphy admits that this style of marketing is still in its infancy "in terms of adoption," he says it has "really started catching wildfire in the past six months."
Which is exactly what profiteers like Metzger already know.
Stephanie Drury has never made a cent off @FakeDriscoll. Her payoff, she says, has been more meaningful.
She paints herself as a preacher's kid who remembers a Texas childhood filled with church-induced guilt and manipulation—an experience she describes as "spiritual abuse." Drury hasn't spoken to her parents in eight years, she says, since they disowned her.
"I think from the very beginning, when they would tell me that God would be upset if I didn't do something," Drury says when asked when the abuse started. "Spiritual abuse is saying to people this bad thing is happening to you because you didn't pray hard enough, making you feel like a piece of shit. . . . If I was still in communication with my parents, they would still be doing it."
These days Drury considers herself "a Christ-worshipping agnostic" who teaches Sunday school at a neighborhood church, bakes bread for Eucharist, and also admits religion is something she still "wrestles with really hard." Of the possibility of a higher power, she says, "I can't write it off."
"It's been the worst thing and the best thing that could have happened to me," she explains of being disowned. "The worst, obviously, is it's so painful. It's the ultimate abandonment, I guess. I had to go through the grieving process even though they're still alive. It was worse than an actual death.
"It's been the best thing in the sense that I feel like it forced me to look at everything, and be able to offer hope for people."
That hope, believe it or not, is often dispensed in 140 characters or less via @FakeDriscoll. Much of Drury's healing—and the healing she tries to help others achieve—happens online, where she also runs the blog StuffChristianCultureLikes.com (SCCL). Both it and @FakeDriscoll, she says, are used to critique the evils of evangelical, big-box organized religion like Driscoll preaches, and both have become community-builders for those trying to escape it. (Mars Hill failed to respond to repeated requests for comment on this story.)
Often, the bro-centric parody tweets Drury fires off with @FakeDriscoll lead people to her longer blog work, she says. For some, it's been like finding a beacon of sanity. Drury says she uses her social media and Internet presence to "help people see better."
Especially at Mars Hill.
Asked how @FakeDriscoll got its start, Drury recalls one of the first spiritual-abuse therapy groups she attended in Seattle and one of the women she met. "She would be shaking every time she showed up, and her story was that she was depressed," Drury says. "She said that when she talked to the counselors at Mars Hill, they told her to pray harder and submit more to her husband. She heard about this [therapy] group, and she would come, and she was like, 'I don't want to tell anyone I'm going here. They can't know, because they'll get really mad.' Eventually she stopped going. I don't know whatever happened to her. . . . That's when I started seeing how bad it was."
"It's really crazy-making," she says of her specific Twitter target, Driscoll, and the misogyny and hate she accuses him of espousing from the Mars Hill pulpit. "I just want to keep showing people how fucked-up it is." To this end, she's turned Twitter into her own pulpit.
As one might expect, most people engage in Twitter parody in search of their "15 minutes of fame." So says John Suler, a psychology professor at Rider University who has written extensively about online behavior. However, he also speaks to some of the other motives.
"Some of those reasons are personal," Suler explains when presented with Drury's example. "Surely they are expressing some part of their personality in the characters they play. It might be a part of themselves that is otherwise suppressed, something about themselves that they wish for or idealize, or some part of themselves they hope to 'remedy' in some way. People often use the characters they create as both artistic expression and to work out some underlying personal issue in a therapeutic fashion."
While Drury says operating @FakeDriscoll and her blog have been personally therapeutic, it's the impact she's had on others that makes it truly worthwhile. She says that since starting her online crusade, she's been contacted by "dozens" of people who've left Mars Hill, at least in part because of the critique she provides.
"Jon," who asked to remain anonymous for fear of a church backlash, stopped attending Mars Hill in early 2012 and says @FakeDriscoll, along with Drury's blog, have "radically changed [his] life for the better.
"The fact of the matter is that I owe more to Stephanie than I do to almost anyone," he says.
It may sound nuts, because we're talking about a woman with a parody Twitter account with fewer than 4,000 followers. But maybe it's not. Andrew, another former Mars Hill member who found himself at the center of a church-discipline uproar first detailed by well-known religion blogger Matthew Paul Turner in early 2012, also credits Drury for helping him see the light. "I didn't quit because of SCCL or @FakeDriscoll, but both of those have helped in my journey since leaving Mars Hill," he says.
"When someone takes the same ideas that are presented by the person that hurt you and turns them into a parody," Jon explains via e-mail of Drury's impact, "it allows you to see the abuser for what he/she/it is."
"One of the fears I have had is that I could get sucked back in, that I could be manipulated into believing again, that if I listen to [Driscoll] in person or even a recording that I'll be convinced I was wrong to leave, maybe I am sinful and evil, maybe I do deserve hell, maybe I should go back and repent," he continues. @FakeDriscoll, he says, is one way "to face those fears, and so many others, from a safe distance."
In other words, it's spiritual-abuse therapy, doled out 140 characters at a time.
"[@FakeDriscoll] feels purposeful, somehow. It kind of started as a joke, then this good stuff happened," Drury says simply, before finishing her coffee and returning to her Harborview cubicle. "It was serendipitous."
mdriscoll@seattleweekly.com