Summer Guide: Fear and Loathing (and Chlorine) at Wild Waves
A journey to the heart of the Northwest's great American water park.
By Matt Driscoll
Tue., Jun 10 2014 at 05:13PM
We were at the bottom of our third water slide when the excitement began to take hold.
"This is the best day I've ever had in my life," my 7-year-old daughter turned and said to me, unprompted and with the sincerity only a first-grader can exude.
It was beautiful, a moment completely devoid of cynicism. And I didn't question the youthful display of pristine naivete. I resisted asking, "What about when your baby brother was born?" or simply pointing out that, "No, dear, in the grand scheme of things, this trip to Wild Waves is not the greatest thing that has ever happened to you."
Instead, I just accepted the statement in the moment for what it was: a ringing endorsement from the little person who is the reason for all the day's sun burns, mediocre chicken strips, and exorbitant locker rental fees.
Sometimes we drive by Wild Waves on Interstate 5 when passing through Federal Way. Like clockwork, my daughter's eyes light up the moment a glimmer of the park's towering water slides and promised adventure become visible. Equally predictable, my wife and I fill with a potent mix of bourgeois superiority and dread. We know a trip to Wild Waves—which welcomes more than half a million visitors each year—would make our daughter shiver with excitement, but the thought of actually heading out to the park scares the shit out of us. We're not really Wild Waves people, you know?
The last Saturday of May was different, however, and not just because of the unseasonably warm temperatures. Years of promises and "Someday"s had brought us to this—we were going to Wild Waves, as a family, come hell or high wave-pool water.
After parking the car, I took a moment to reflect. This was not my first trip to Wild Waves, but it was my first in nearly 20 years. That's a stupid and overdramatic point to make, of course, but it's true, and speaks to my expectations going in. I have memories of Wild Waves, forged during countless summer days at the park growing up. I see eyes bloodshot with chlorine. I see naturally tan lifeguards snapping gum and ruling over water slides. I see Mom smoking a cigarette and reading a Sue Grafton novel on a faded folding beach chair.
We're somewhere near the rentable VIP "villa cabanas" when I realize Wild Waves has changed substantially in the past two decades. Some of the rides I remember are long gone, as I should expect. But while things like the villa cabanas—which accommodate four people, including bottled water and a meal, for a fee of $195 to $250, depending on the time of year—feel very new, they're actually not. The $21 family locker rental fee also seems like a new-economy idea, but it's not. But for our 7-year-old, none of this really matters. The call of the 500,000-gallon wave pool and the allure of the 16 water attractions are powerful and overriding. Whatever impressions of Wild Waves she has is forming on the spot—and by all outward indications, they're good ones.
"You hop into this floaty thing and then ride in a river and get sprayed with lots of water," she says to my wife after we drag ourselves out of the Konga River ride. "First it's slow, then it gets faster. My favorite part is when you get sprayed with the water."
Ah, the innocence of youth. Or is it sage perspective?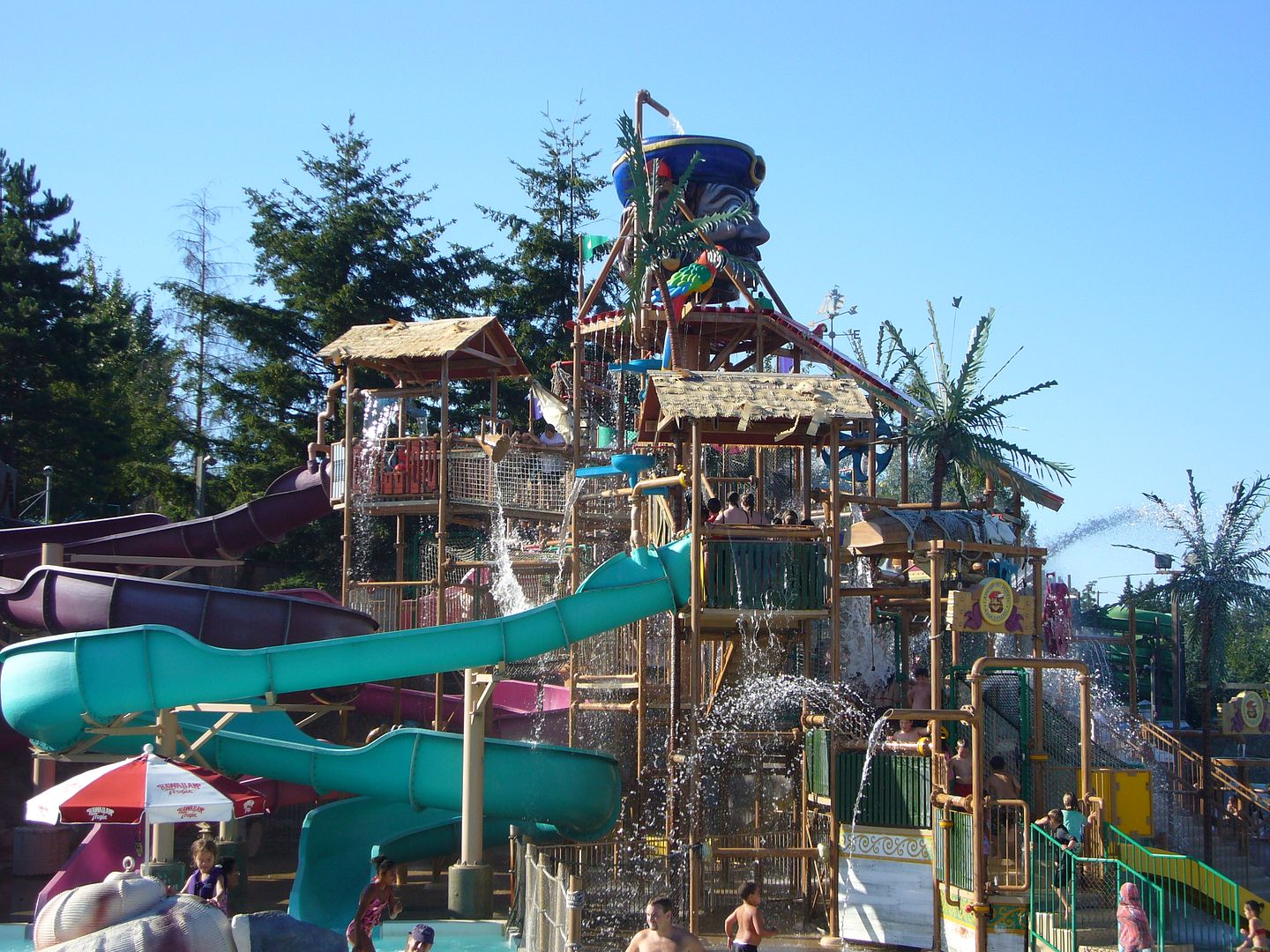 Slide Tower at Wild WavesTo my daughter's delight, we get sprayed by water for nearly seven full hours during our day at Wild Waves, from every imaginable direction. The giant "Pirate's Hook" head, part of the Pirate's Cove children's activity area, dumps 200 gallons every 10 minutes on us alone. And while I might be tempted to give in to the more cynical observations there for the taking—like the expense of it all, or how the doe-eyed teenage girl behind the counter at the hot-dog and burger stand (one of the 800 to 900 high-school or college-age kids employed by the park) looked thoroughly overmatched on this first busy day of the year—the smile plastered on our daughter's face makes these things hard to concentrate on for long. The number of kids currently pissing in the wave pool becomes irrelevant in the unadulterated youthful glow of the moment.
"Do you want to go one more time?" I ask our daughter after being spit out of a curling yellow tube slide and into the approaching evening. Weary, dripping families are already anticipating the park's closure and headed for the gates.
"Yes! Yes! Yes!" she replies predictably.
Slinging the big yellow inner tube over my shoulder for one more go, it dawns on me: Maybe we are Wild Waves people.
It could probably be worse.
mdriscoll@seattleweekly.com