Bite of Seattle Brings Out the Foodie in All of Us (PHOTOS)
By Morgen Schuler
Mon., Jul 21 2014 at 12:29PM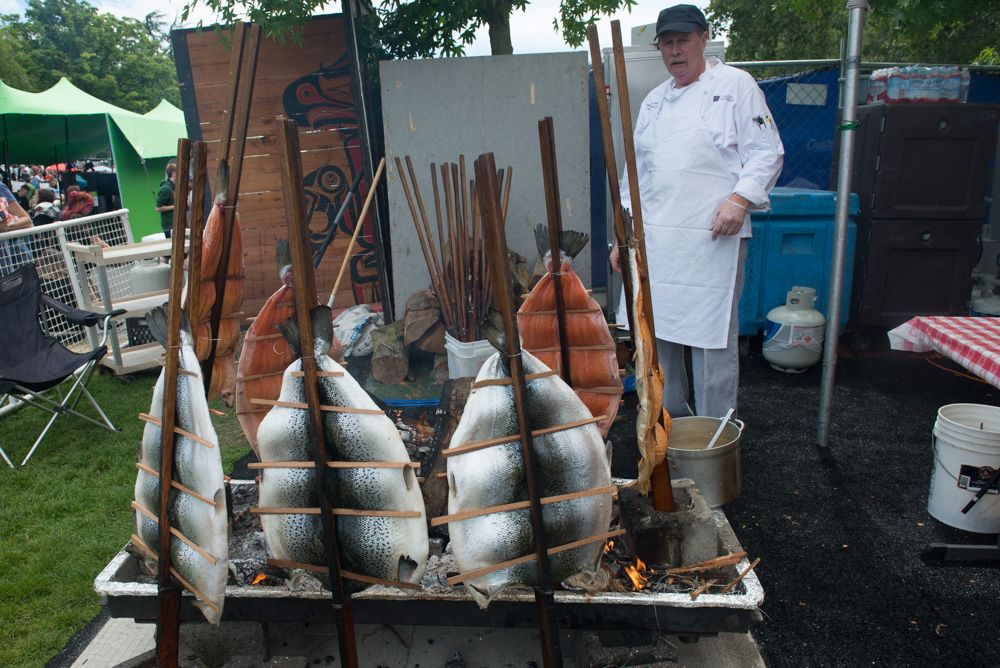 As you can see, with smoking salmon at the festival, Bite was a delight for all senses All Photos By Morgen Schuler
The food presented to us at Bite of Seattle is so varied that it' s hard to categorize this free-to-the-public "festival." In one corner was a wine tasting garden relaxed and easily navigable with a reasonable number of people trying the offerings. Down the alley, a $10 per person fee got you a curated selection of bites from restaurants like Skillet and Miller's Guild, while up on the rooftop of Fisher Pavilion Thierry Rautureau hosted cooking demos with local chefs such as Meeru Dhalwala (Shanik) and Sam Crannell (Lloyd Martin). On the other end of the spectrum are the scone and Shishkaberry stands that populate any type of street affair where large numbers of Seattle citizens roam blocked roadways celebrating the brief pause in our otherwise dreary forecast. Given all this, it's safe to assume anyone who loves food could have stopped by last weekend's event to find something to satisfy their eyes, palate and tummy.
---
Don't forget to check out all the delicious photos from last weekend's Bite of Seattle
---

Like Eric of Oskar Blues Brewing, many of the beer reps were happy to have long conversations about their product
The aforementioned Shishkaberry stand was a popular destination, possibly due to little ones in tow that couldn't deny the tasty treat of berries dipped in chocolate. The beer and cider tasting hall held indoors was also a popular way to spend a majority of the day. It wasn't just the beverages (though obviously, that's why anyone would head in that direction) but most seemed to stay a while for interesting and informative conversation with the reps offering their wares. Rarely do beer companies, especially micro breweries and locally established producers, have employees that aren't well-versed in the craft of beer-making. It makes for a more satisfying experience all around when a consumer knows what goes into creating that favorite frothy beverage; enthusiasts and beer-producers alike seem to have caught onto this, at least at Bite they had.

Food trucks made an appearance at Bite as well
It was a delight to see even some of the local favorite food trucks dotting the scene with Ezell's dishing out their fantastic fried chicken as well as A Fire Inside wood-fired pizza and The People of Chubbs food truck to dish out their savory goodness. Another unexpected, but welcomed sight, were the three stations put up by Birds Eye vegetables and blends. Along with promoting healthy eating habits, they had a whiffle ball station, a "race your veggies" biking station and "make your own sports card" area. It was a refreshing look at food with all the (delicious) greasy, cheesy, fatty, sugary foods packed into the rest of the festival.

No matter who you are, if you stepped foot into Seattle Center this weekend your inner foodie was surely pulled out of its hiding place to enjoy what Seattle had to offer.