Sportsball: The Seahawks' Defense a Black Swan?
By Seth Kolloen
Tue., Aug 5 2014 at 07:39PM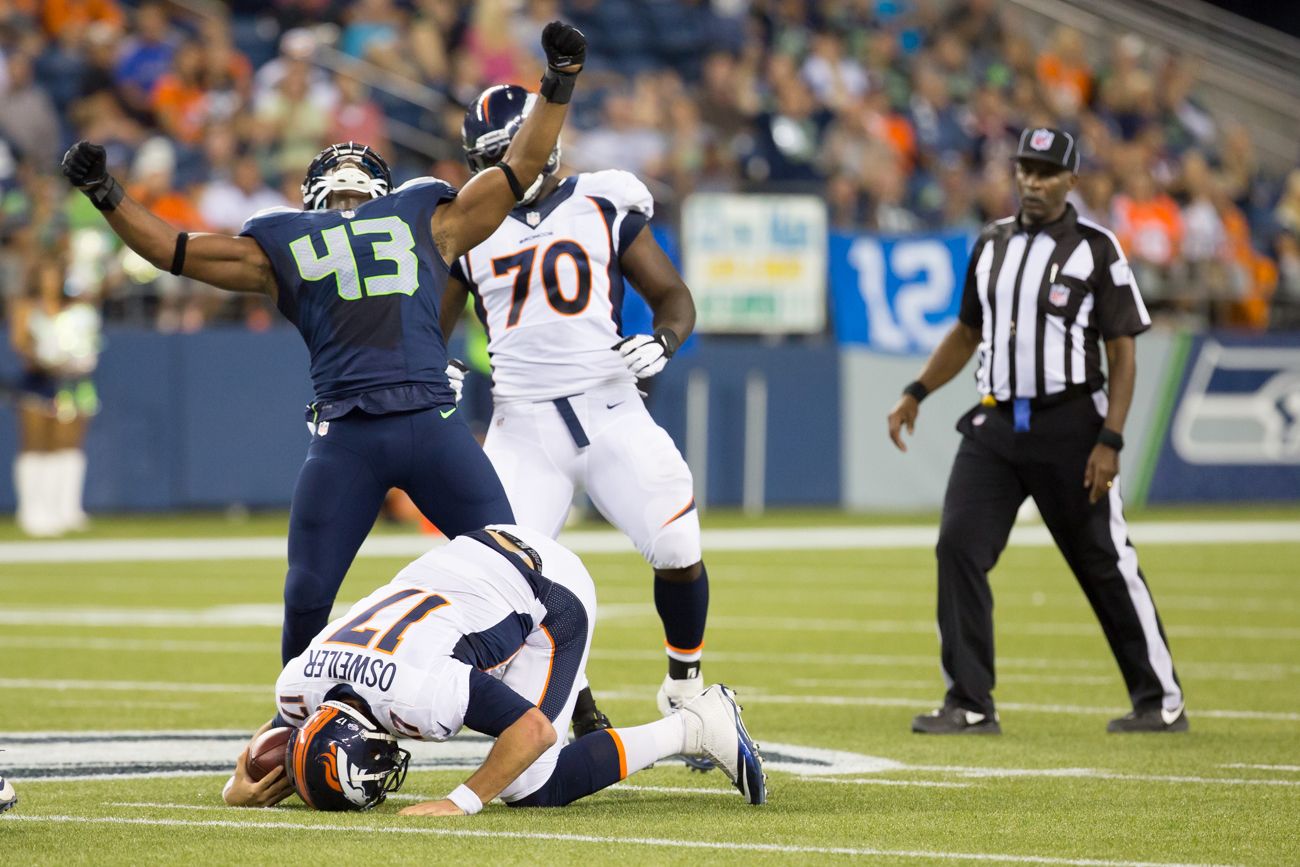 Seahawks' defense can't possibly keep up their elite-level performance. Photo by Jeremy Dwyer-Lindgren
In case you haven't been greedily devouring every blog post, newspaper article, and preview mag story about the 2014 Seahawks, here's the preseason narrative in a nutshell: The Seahawks' offense will have to be better in 2014, because the defense can't possibly be as good.
Maintaining an elite level of performance is very rare, #BecauseScience. For every U2, there's a thousand Right Said Freds who never experienced the same success again. Regression to the mean, they call it. Or, put another way, what goes up must come down.
No recent elite Super-Bowl-winning defense has managed to stay elite the next season. But the Seahawks D is different. Even though it defies the laws of science, logic, and football, they could be just as good as they were last year—and if so, we'll see the proof this week in the first preseason game against Denver.
In the past 15 years, the three best defenses to win a Super Bowl were the 2000 Baltimore Ravens, the 2002 Tampa Bay Buccaneers, and the 2008 Pittsburgh Steelers. All three led the league in fewest points allowed that season; none did the next year. But when you look closely, those declines weren't hard to predict. The '00 Ravens avoided injury to an absurd degree in 2000—10 of their 11 defensive starters played in all 16 games. The '02 Bucs relied on an aging core of players, like 29-year-old Derrick Brooks and 30-year-old Warren Sapp. The '08 Steelers got a legendary performance from linebacker James Harrison, who was 30; he was never as effective again.
The 2013 Seahawks D didn't rely on career years or impeccable health. And they definitely didn't rely on aging players. The three oldest starters on last year's defense were defensive ends Chris Clemons (now 32) and Red Bryant (30) and cornerback Brandon Browner (30). All three are now gone, replaced by Michael Bennett (28), Cliff Avril (28), and Byron Maxwell (26). The Seahawks were already the youngest team to win a Super Bowl—and they're getting even younger.
Early returns from training camp show that the defense is dominant again—holding the offense without a touchdown in last Saturday's team scrimmage. Now the games begin. Last year, the Seahawks played the Broncos once in the preseason and once in the Super Bowl, and beat them by a combined 83-18. No NFL team should be able to dominate another so thoroughly—let alone an AFC Champion. When they play the Broncos again this week, the game should be much more competitive. But if it's not—if the Seahawks lay yet another beatdown on the high-flying Broncos—that's your clue that the Seahawks aren't playing by science's rules.
Maybe the Seahawks D is another kind of bird—a black swan. That's science's name for an event that can't be predicted because it's never happened before. Younger, more accomplished, and more talented than any other defense in the recent past, the Seahawks' course may not be foreseeable based on prior events. This week's preseason game may show just how high they're going to fly.
sportsball@seattleweekly.com